Plenty of Green Bay Packers fans have had the experience of taking a visiting football fan to Lambeau Field, and seeing their eyes open wide – even when they're there to support the other team!
Lambeau Field is often referred to as "The Shrine of Pro Football", and it's not hard to understand why once you've been there.
The Green Bay Packers have played their home games at Lambeau Field for longer than any other team in the league.
However, Lambeau is so much more than just a football stadium.
It's a shrine to professional football in the NFL's smallest city, and home to the Green Bay Packers Hall of Fame where you can explore the history. Tours are available for any fan to see all sides of this iconic landmark.
There's a vibrant area around the Stadium with plenty to see and do, which is open all year round.
And if you're looking to sample some of Green Bay's craft beers and mouth-watering cuisine, then this is the place to head to when you're in Wisconsin!
Where is Lambeau Field Located?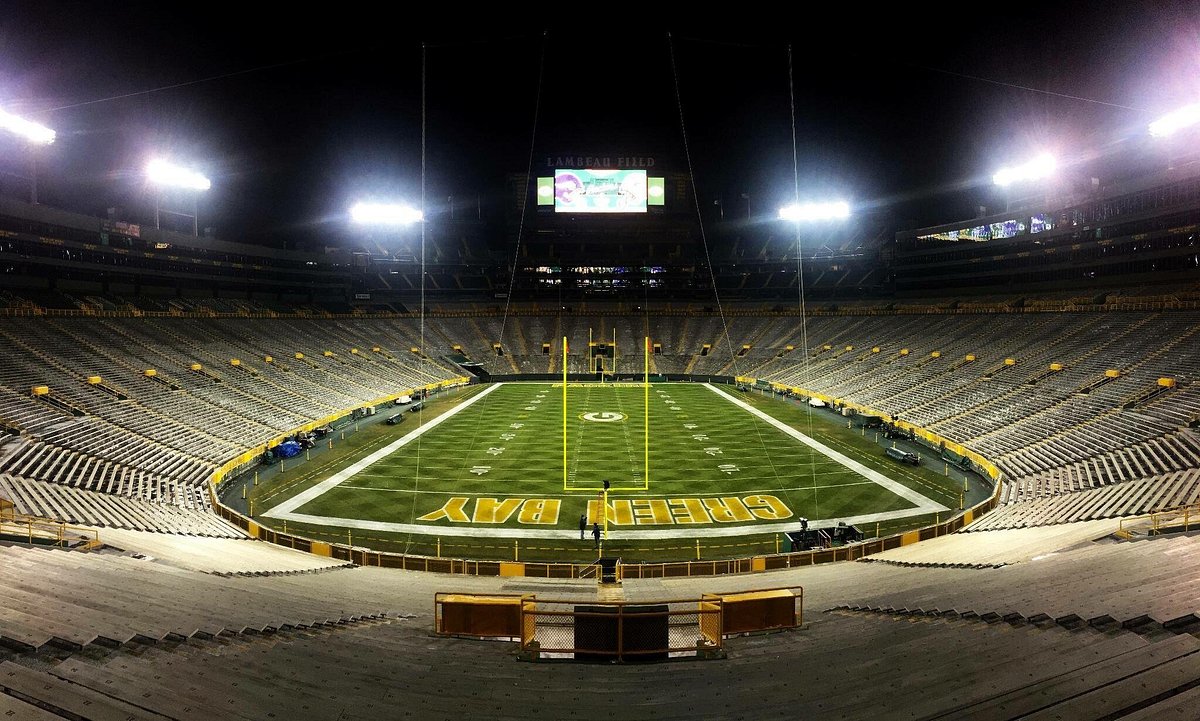 Lambeau Field is located on Lombardi Avenue, a few miles from downtown Green Bay, Wisconsin.
This location offers guests plenty of excellent entertainment options if they're looking to visit the stadium!
As part of the redevelopment of Lambeau Field and the surrounding area, the block across the road has been transformed into Titletown and features places to stay, bars, and restaurants- as well as activities for visitors of all ages.
Titletown's park is open to everyone all year round, with an ice skating rink and snow tubing hill in winter.
In the summer, Titletown hosts outdoor games, free daily activities, a unique playground, and a full-size football field in the heart of the action!
The Best Way to Get to Lambeau Field
There are a number of ways you can travel to Lambeau Field, both on game days and if you're just visiting the park.
Bus Routes
On game day, the Green Bay Metro offers four additional free, efficient, and convenient bus routes for all Packers home games.
These routes start four hours before the game and run for an hour afterward, with buses leaving Lambeau Field every 30 minutes.
Lamers bus service also offers services from several areas in the Greater Green Bay area, as well as other cities in Wisconsin and Michigan's Upper Peninsula.
If you're visiting the stadium outside of match days, you can take the free Green Line (Route 8), or the free Gold Line (Route 9).
Rideshare
On game days, there are specific areas for meeting your Uber or Lyft. Check the maps on the Green Bay Packers website and make sure you know where your driver will be.
Driving to Lambeau Field
If you're driving to Lambeau Field on a match day, make sure you leave with plenty of time to spare – the traffic congestion will be heavy!
The streets around Lambeau Field may also be closed, so be sure to check your route isn't blocked.
There's a pre-game drop-off zone at the corner of Shadow Lane & Frank Street, which is monitored by police.
However, because of congestion, there is no designated post-match pick-up area.
Highway Driving Directions:
Coming from the south on Interstate 43
You'll want to take I-43 north onto Highway 172 west, and then take 172 for 6 miles to the Oneida Street/Ashland Avenue exit.
From there, turn left on Pilgrim Way, and right onto Oneida Street. Continue on Oneida Street for 2 miles to Lambeau Field.
Coming from the south on Highway 41
Drive on Highway 41 to the Lombardi exit (ext 167), then turn right onto Lombardi Avenue. Continue for 1.5 miles to Lambeau Field.
Coming from the north of Highway 41/141
Take 41/141 to the Lombardi exit and turn left onto Lombardi Ave. From here, continue 1.5 miles to the stadium.
Coming from the west on Highway 29/32
Begin by taking Highway 29 to Highway 41, and then take 41/141 for 1.5 miles to the Lombardi exit.
From here, turn left onto Lombardi Ave and continue 1.5 miles to Lambeau Field.
Parking near Lambeau Field
There are 14 parking lots operated by Lambeau Field, most of them in the vicinity of the southwestern side of the ground. However, parking passes are hard to come by in these particular lots.
Season ticket holders can get parking passes, and then passes are sold on a per-game basis ahead of time.
For other nearby lots, PMI sells reserved parking on a per-game basis, which needs to be booked ahead of time.
If you're still looking for somewhere to park, plenty of local property owners offer cash parking near the stadium, and there is free parking on residential streets within walking distance of Lambeau Field.
If you require accessible parking spaces, then non-reserved $40 cashless parking is available for guests with disabilities in Lot 4 off Lombardi Avenue and Lot 7 off Valley View Road. Spaces are limited and are available on a first-come, first-served basis.
If tailgating is something you plan on doing, then make sure you know what's permitted where you plan on setting up. In all Lambeau Field-operated lots, tailgating ends at kickoff.
The Best Bars Near Lambeau Field
The area surrounding Lambeau Field has a number of bars, but on game days they are- if you'll excuse the pun- packed. You might need to look at more than one option!
Johnsonville Tailgate Village
Johnsonville Tailgate Village is the place to head for if you're keen on tailgating on game-day, but you don't have a vehicle – or even if you don't have a ticket!
This bar is free of charge and open to the public, so you can listen to live music and enjoy great food and drinks all while watching the game on any one of their 35 plasma screens located around the establishment.
With floor-to-ceiling windows allowing for plenty of natural light in the large space, the Johnsonville Tailgate Village has a welcoming atmosphere that can hold 300+ guests.
They also offer pre-game giveaways and other Packer's Prizes throughout gameday, so you're sure to have the best time right next door to the Lambeau Field!
Green Bay Distillery
This bar is a family-friendly, sports-focused bar & restaurant, featuring a 66-item menu that has a distinctly Wisconsin flavor.
You'll find that Green Bay Distillery's indoor/outdoor patio room is uniquely suited for Packer tailgating, thanks to the large glass garage doors.
This room also features a full bar and a huge projection screen, if you're after the atmosphere but haven't got a ticket.
Green Bay Distillery has game day reservations for those wanting to book a table, a spot at the game day tailgate buffet, or if you need parking close to Lambeau Field!
There are a limited 150 parking spaces available for $30 each. Or, if you want to park in style, there are 12 VIP parking spaces available for $50.
Badger State Brewing
Badger State Brewing is a craft beer bar and tap room that opened up in 2013 and has an impressive range of locally made beers, hard seltzers, and ciders.
With a tap room, a grass beer garden, and a brewhouse, this is a fantastic place to get a taste of local beverages just a few blocks from Lambeau Field.
You'll also find Badger's offers a range of game day merch. From sweaters to hats, to t-shirts, to pint glasses and beer buckets, there's a way for you to remember the game in any style you desire!
Hinterland Beer
Hinterland Beer offers more than just plenty of ways to quench your thirst. Whether you're looking for craft beer or unique contemporary American cuisine – Hinterland will inspire you to taste beyond your boundaries!
Fortunately, it isn't located in the actual hinterlands – it's conveniently located right across the street from Lambeau Field.
The Beer Hall Restaurant and High Gravity Test Kitchen offer an experience that goes past the normal fare and into the delicious unknown. If you're looking to push your comfort zone on game day, take a look at Hinterland's High Gravity Test Kitchen.
You'll get to taste innovative food and drink pairings while overlooking Lambeau Field – talk about a great way to kick off the game day!
The Best Restaurants Near Lambeau Field
1919 Kitchen and Tap
1919 Kitchen and Tap is located inside the Lambeau Field Atrium itself and is a great place to finish off a visit to the Stadium – though you'll probably have more luck getting a table away from game day.
The spiritual successor to Curly's Pub, 1919 has an impressive beer lineup, but the menu has had a bit of a glow-up. The menu changes seasonally and emphasizes local produce.
It's important to note that Lambeau Field has gone cashless – so you'll only be able to pay with a card. Reservations can be made online or by leaving a number at the desk on busy nights. Diners will then receive a text when their table is ready!
46 Below Bistro
This bistro's name is a homage to the Ice Bowl, the legendary 1967 NFL Championship game at Lambeau Field when the temperature dropped to 46 below zero. It's also 46 feet below the top of the skating rink Ariens Hill!
46 Below is located in the new Titletown development, a block away from Lambeau Field to the northwest.
The bistro serves quick bites, comfort food, and drinks for park visitors. Like 1919, the 46 Below doesn't accept cash.
You can celebrate the game day for free at 46 Below, with live music and fun activities four hours before kickoff.
Taverne in the Sky
This tavern is also located in Titletown – though instead of at ground level beneath Ariens Hill, it's on the fifth floor inside Lodge Kohler (you can eat there without staying in the hotel).
Offering diners fantastic views of Lambeau Field, Taverne in the Sky also offers wines from around the world and a definite upmarket take on tavern food.
Open for lunch and dinner, it's the place to head if you want to look over the field and enjoy new twists on old favorites.
Taverne in the Sky has a special game day menu too, so you're in for a treat if you're visiting for a game.
The Best Hotels Near Lambeau Field
Lodge Kohler
Sophisticated lodgings meet stalwart style at Lodge Kohler. The hotel is located at the heart of Green Bay's new Titletown plaza, directly across the street from Lambeau Field.
Lodge Kholer is a four-diamond hotel, that has 134 guest rooms and 10 suites that offer premium access to all things Lambeau and houses the Taverne in the Sky overlooking the stadium.
Lodge Kohler's indoor family pool, a new fitness center, and the full-service Kohler Waters Spa are among the many facilities on offer!
SpringHill Suites by Marriott® Green Bay
If you're looking to stay in Green Bay for more than a couple of nights – and particularly if you're hoping to get some work done on your trip – SpringHill Suites Green Bay offers you plenty of options.
It's located just a hundred yards from Lambeau Field, and adjacent to the Resch Center and the Shopko Hall Convention Center.
Every room in SpringHill Suites contains a microwave, mini-fridge, large work desk, free high-speed internet access, and a spa-like bathroom.
Add in a complimentary hot breakfast, heated indoor pool, and fitness center and you'll be able to work or relax your way!
Hilton Garden Inn Green Bay
Also, right next door to the Resch Events Centre, Hilton Garden Inn Green Bay has located just two blocks from Lambeau Field – three miles from downtown Green Bay.
The Hilton Garden Inn features pet-friendly rooms if you want to take your four-legged friends on holiday with you, and offers guests access to a fitness center and indoor pool.
You can enjoy a cooked-to-order breakfast and buffet every morning at the onsite Garden Grille & Bar, located on the premises. You also have the option of purchasing frozen and microwaveable meals from Hilton's 24-hour Pavilion Pantry if you need a late-night snack!
The History of Lambeau Field
Construction on Lambeau Field began in October 1956, to replace the small and outdated City Stadium, after the NFL threatened to force the Green Bay Packers to move to Milwaukee where a better facility had recently been opened.
Finished in September 1957, it was then named New City Stadium and was the first stadium built specifically for an NFL franchise.
New City Stadium was renamed Lambeau Field in 1964, after the death of Packers founder Curly Lambeau.
Although there have been negotiations to sell the naming rights to Lambeau Field, no corporate sponsor has yet changed the official name of the stadium.
Demand for seats quickly outstripped the initial capacity of 32,500. The stadium went through three expansions in its first decade of operation, adding more than 18,000 new seats!
The addition of corporate boxes in the 1980s and early 1990s brought capacity to over 60,000 by 1999.
At that point, the facility was again falling behind the Green Bay Packers rivals, and they faced the decision of whether to build a new stadium or to heavily revamp Lambeau Field.
An ambitious redevelopment project began on the site, running from 2001 to 2003. By the end of the redevelopment, Lambeau Field could seat 72,500 – more than double its original capacity.
The new Atrium is the most recent major addition to the Lambeau Field, once again adding modern facilities for the players and increasing the draw for visitors.
The Green Bay Packers Hall of Fame is now located on the main floor of the Atrium, across from 1919 Kitchen & Tap.
The facility uses the latest technology, enhanced interactive displays, and a treasure trove of artifacts to educate and inspire visitors about the rich history of the Packers (as well as the teams of today).
Somewhat remarkably, neither the renovations that spanned 2001-2003 nor 2013-2015 impacted the football season, with every Packers home game going ahead as scheduled.
Despite the constant expansions and redevelopments – as of 2017, Lambeau Field has a capacity of more than 80,000! – there are still not enough seats for football fans.
Incredibly, the Green Bay Packers have sold out every game since 1960- a record that now stretches for more than 60 years.
Where to Get Tickets for Lambeau Field
Tickets for Green Bay Packers games are available from the team's website through Ticketmaster.
If the match you were hoping to attend is sold out (and given their history, it's completely certain that will happen) you might be able to pick up resale tickets through the NFL Ticket Exchange.
Does Lambeau Field Offer Tours?
Lambeau Field offers a range of different tours, with specific add-ons and offerings including a Heritage Trolley Tour which gives you a taste of Green Bay Packers history. Every tour includes visiting the player's tunnel and the sideline.
The Legendary Tour lasts two hours and covers about 1.5 miles of walking. This tour has the particular draw of offering guests a look into the visiting team locker room.
However, it's not available the day before a home game, when Lambeau Field offers another set of tours.
The Champions Tour lasts about an hour and a half and covers about a mile of walking, and the Classic tour is just short of an hour and about half a mile.
For all these tours, you can add on a visit to the Hall of Fame to really get a sense of the Green Bay Packers football experience.
Tickets for a tour can be booked up to 30 days in advance of a specific tour date- so long as you don't have more than 15 people. You can also buy tickets in person!