The Bell Centre, home to the Montreal Canadiens, is known for more than just hockey; it also offers a diverse selection of food options for visitors.
From fine dining to casual eateries, there is something for every palate at this renowned sports and entertainment venue.
Guests can indulge in a unique culinary experience at the M2 Marché-Montréal food hall, featuring eight different food counters and an assortment of beverages, including beers, wines, and cocktails.
In addition to the food hall, visitors can also enjoy classic Canadian treats like Tim Hortons, with coffee, donuts, and desserts available at multiple locations throughout the venue.
For a quick bite, hot dogs can be found at Le Hot Dog stands in various sections of the arena.
Beyond the Bell Centre's food offerings, the surrounding area boasts a range of restaurants that cater to a variety of tastes and dietary preferences.
From plant-based delicacies at LOV de la Montagne to the finest French cuisine at nearby establishments, there is no shortage of dining options for those attending events at the Bell Centre.
Bell Centre Overview
The Bell Centre, located in Montreal, Canada, is a versatile sports and entertainment venue that serves as the home of the Montreal Canadiens ice hockey team.
Built in 1996, this state-of-the-art facility has hosted numerous sports events, concerts, and shows over the years. With a seating capacity of over 21,000 spectators, the Bell Centre is recognized as one of the busiest arenas globally.
When it comes to food options at the Bell Centre, visitors can enjoy a variety of choices ranging from fine dining to casual eateries. The arena showcases a mix of well-known chains, such as Tim Hortons, as well as specialized dining experiences at in-house restaurants like the 9-4-10 Steakhouse, Mythik, and Canti Osteria.
Beyond in-house options, there are plenty of quality restaurants and bars within walking distance from the Bell Centre. Montreal is known for its incredible culinary scene, so visitors can also explore local eateries before or after events.
This combination of on-site and nearby food options ensures that everyone attending an event at the Bell Centre will have a satisfying gastronomic experience.
Food Options at Bell Centre
Concession Stands
Concession stands at Bell Centre provide a variety of quick-serve dining options for event attendees.
One prominent stand is the Deli Montreal located in section 118, which offers Montreal's famous smoked meat sandwiches, pickles, fries, coleslaw, poutine, and more.
Bars and Lounges
The Bell Centre features bars and lounges for event-goers to enjoy prior to attending games or shows. One example is the Sports Bar, situated between rinks one and two, which serves bar food, beer, and other beverages for fans to savor before a match.
There is also the chic and trendy Resto speakeasy lounge that offers a festive pre-event culinary experience, complete with live DJ entertainment.
Restaurants
In addition to concession stands and bars, the Bell Centre also hosts various restaurants for both casual and fine dining experiences. For those who prefer a more upscale setting, the team at Bell Centre's restaurants will even keep your table all night, allowing you to return during intermissions and after the event.
For those looking to explore food options outside the arena, there are numerous restaurants near the Bell Centre that offer a wide range of culinary choices.
Options include Italian, Japanese, Middle Eastern, and Portuguese chicken, as well as burgers crafted by renowned Montreal chef Normand Laprise.
Popular Dishes and Drinks
At the Bell Centre, Montreal Canadiens fans can enjoy a variety of delicious dishes and beverages. One popular place for a tasty meal is the Deli Montreal, located in section 118. Here, visitors can savor smoke meat sandwiches, pickles, fries, Cole slaw, and the classic Quebec dish, poutine.
For a more sophisticated dining experience, the 9-4-10 Steakhouse offers a fine-dining destination for epicureans and meat enthusiasts alike. With a cozy atmosphere, high level of service, and a prestigious wine list, guests can indulge in dishes like Angus fillet mignon and other mouthwatering options.
Another excellent option near the Bell Centre is Kamúy, where diners can try the chef's famous classics such as jerk chicken, accras, and griot, as well as new favorites like dombrey in coconut bisque and fish with a passion fruit beurre blanc. The vibrant flavors and diverse menu make it a standout choice for anyone looking to enjoy a bite before or after a game.
For those craving Korean cuisine, the low-key Mackay street Korean spot offers Korean fried chicken, jigae stews, and japchae noodles. It is an excellent place to enjoy a casual, flavorful meal in the area.
Finally, between rinks one and two, the Sports Bar provides a lively atmosphere for fans to grab bar food, beers, and other refreshments before the game. The menu includes a range of options, ensuring that there's something for everyone at this popular pre-game hotspot.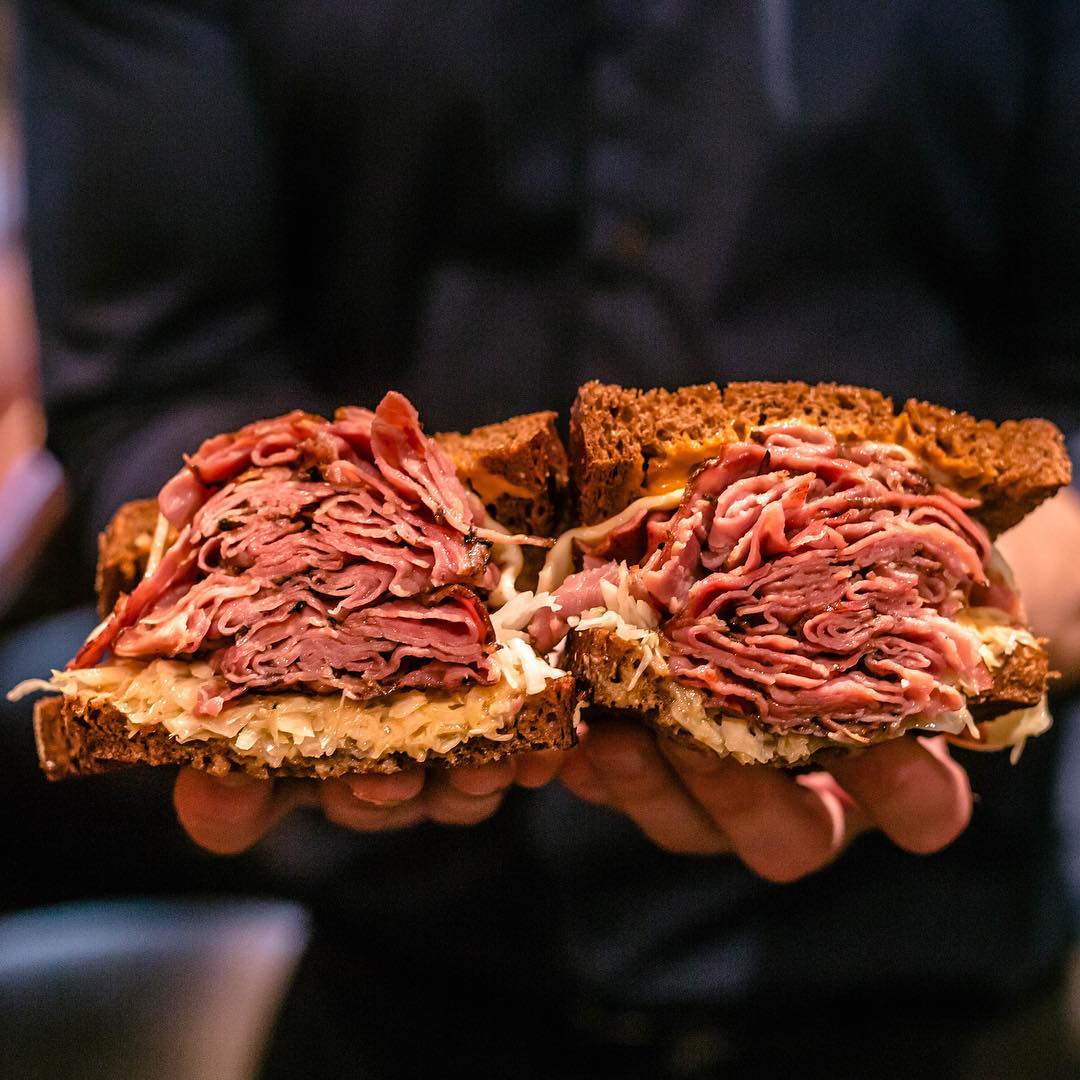 Healthy and Dietary Options
At the Bell Centre, visitors can enjoy a range of food options that cater to various dietary needs and preferences. For those looking for healthier choices, the newly added food hall, M2 Marché, offers a variety of menu items to choose from.
Located within M2 Marché, an experiential bar provides a selection of craft beers with 16 options on tap, cocktails, and wine by the glass. Additionally, nearby restaurants offer nutritious meal options, balancing the Bell Centre experience with delicious and wholesome dining.
For fans with specific dietary restrictions, Bell Centre's Deli Montreal features smoke meat sandwiches, pickles, fries, Cole slaw, poutine and more in section 118, providing a range of options to suit various tastes. The Sports Bar, located between rinks one and two, offers bar food and beverages for fans to enjoy before the game.
In summary, the Bell Centre offers a variety of healthy and dietary options for visitors to choose from, ensuring a satisfying and enjoyable experience for all.
Payment Options and Pricing
At the Bell Centre, a variety of payment options are available for purchasing food and beverages, making it convenient for visitors to enjoy their dining experience. The Bell Centre allows mobile food and beverage ordering through the official Canadiens app or scanning QR codes affixed to the seats. This feature helps guests avoid waiting in long lines and ensures a seamless ordering process.
When it comes to pricing, the Bell Centre offers a range of food options to cater to different budgets. Visitors can find both fine dining and casual dining options at various restaurants within the Bell Centre. Some of the food options include smoke meat sandwiches, pickles, fries, coleslaw, poutine, and more, found in section 118.
For fans looking for a pre-game dining experience, there is a Sports Bar located between rinks one and two, offering bar food, beers, and more. The variety of food options and pricing at the Bell Centre allows visitors to customize their dining experience according to their preferences and budget.
Tips for an Enjoyable Experience
When visiting the Bell Centre for a Montreal Canadiens game or event, there are numerous dining options available. To make the most of your experience, consider these tips:
1. Arrive early: The Sports Bar between rinks one and two is a great spot for grabbing bar food, beers, and more before the game. Arriving early allows you to relax and savour your meal without feeling rushed.
2. Explore the variety of options: The Bell Centre offers a range of food choices, including the Deli Montreal section 118, which serves smoked meat sandwiches, pickles, fries, coleslaw, poutine, and more. You can also find vegan options like calamari, "tartate," cheeseburgers, and fish and chips at LOV de la Montagne nearby.
3. Plan for price: Keep in mind that food and drink options within the Bell Centre can be expensive, so plan accordingly. Bring cash, credit cards and set a budget to ensure you stay within your means during your visit.
4. Be efficient: The Bell Centre is designed to get people in and out quickly, including bathrooms. Consider using less-populated restroom locations and lines at concession stands during non-peak times to reduce wait times.
By following these tips, visitors to the Bell Centre can enhance their dining experience and make the most of the event they're attending.
James is a big time NBA Golden State follower, who makes sure to catch games when he's in the area. He likes to follow International Soccer, with an interest in small town soccer club, Blackburn Rovers located in the North on the UK.