Montreal is among the top places to take a European vacation without going transatlantic.
People prefer staying near Bell Centre because hotels provide the best accommodations and facilities.
Looking for the best place to stay near Bell Center?
Check out our roundup of the best hotels near Bell Center, Montreal.
1. Novotel Montreal Center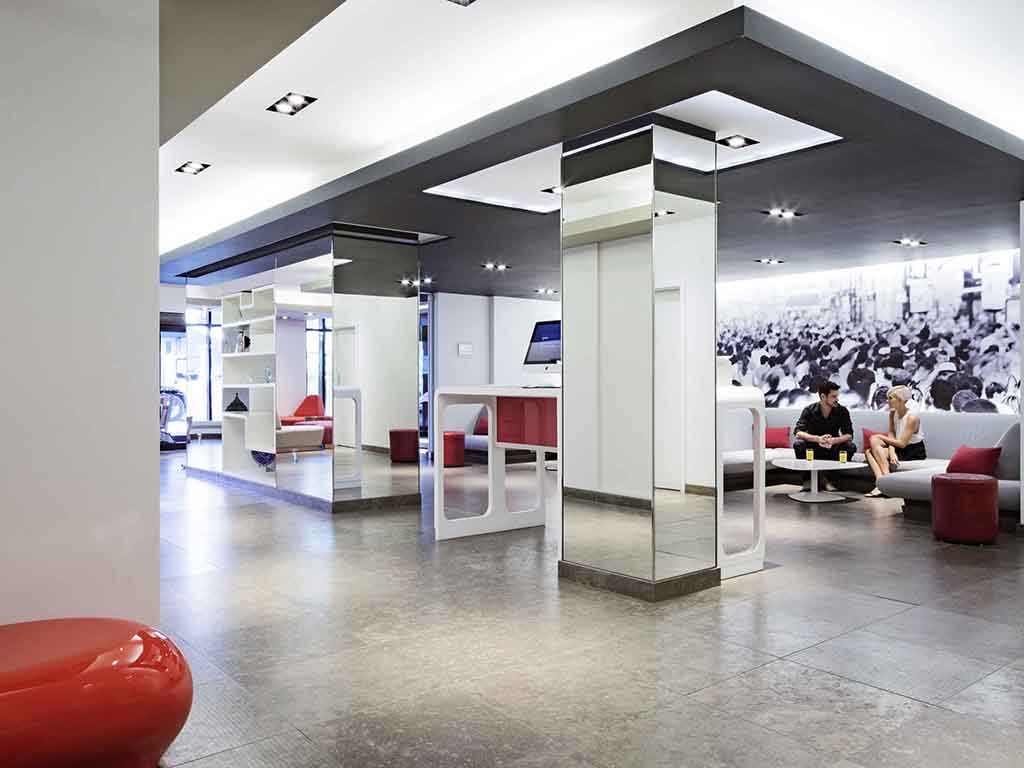 Located in downtown Montreal, the hotel is a few meters from Saint Catherine Street. You can choose Novotel Montreal Center for corporate meetings or family vacation. The bar provides a relaxing atmosphere while the restaurant offers international cuisines.
All meeting rooms in the hotel have free high-speed Wi-Fi. Novotel Montreal Center has three categories of rooms that include superior rooms, next-generation rooms, and executive rooms. Superior rooms have two double beds, a large working area, and a flat-screen TV.
Next-generation rooms are well furnished and feature two double beds, a sofa bed, 48 inches TV, and a coffee maker. You will find a king-size bed, flat-screen TV, bathrobe, and free Wi-Fi in the executive rooms.
2. Hotel Bonaventure Montreal
Hotel Bonaventure is located in the heart of Montreal. A 2.5 garden inhabited by ducks surrounds the hotel. Outstanding facilities in the hotel include an outdoor swimming pool and a kid's pool.
You will have a clear view of the calm countryside from the hotel's top. The main restaurant overlooks the waterfalls and streams. Each guest room at Hotel Bonaventure has a balcony. In addition, the hotel does not allow smoking in the rooms.
Hotel Bonaventure has several free services such as Wi-Fi and local calls. Remember to take advantage of the fitness center when you visit the hotel. Standard rooms at Hotel Bonaventure have similar equipment. However, the size varies with location.
Superior rooms are well equipped and spacious. On the other hand, studios are ideal for guests who want more space and a luxurious experience. Suites boast 980 square feet of space. Book a suite if you want a panoramic view of Montreal.
3. Le Mount Stephen
The magnificent hotel features over 90 superior rooms and suites. All rooms have floor-to-ceiling windows and double beds. You will also find rainfall showerheads and terraces in some guest rooms. You can hold meetings in the 6,500 space.
Le Mount Stephen has an array of amenities, such as a fitness center, allowing you to maintain a healthy lifestyle. You can take dinner at the British-inspired restaurant and later enjoy drinks with your partner at Bar George.
In addition, Le Mount Stephen offers limousine services and an on-site urban spa. You can bring your four-legged friend to the hotel, but restrictions apply, especially during the peak season.
4. Hotel Birks Montreal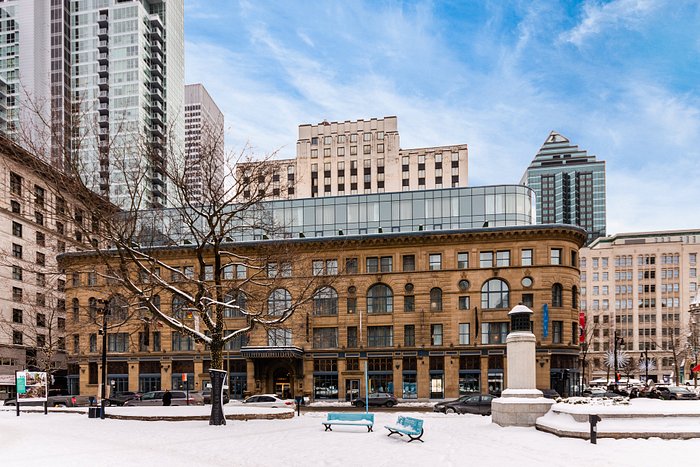 Hotel Birks Montreal is only 300 meters from Eaton Center and 400 meters from Bell Center. Unlike other hotels around Bell Center, rooms in Hotel Birks Montreal are spacious and feature marble bathrooms. In addition, rooms have a work desk and an LCD TV. Ensure to book a guest room that overlooks Montreal City.
Guests choose between express and continental breakfast while at Hotel Birks Montreal. You will also find French dishes in the restaurant. The hotel cooks food with fresh products sourced from farms in Canada. Don't forget to visit the spa and get treated with Valmont skin care.
The reception area is always open, and the staff speaks French and English. Parking at Hotel Birks is free and enough for your friends and family. Customers can request additional items like towels and shower gel. Hotel Birks Montreal allows guests to order room service on the menu, available 24 hours.
5. Fairmont the Queen Elizabeth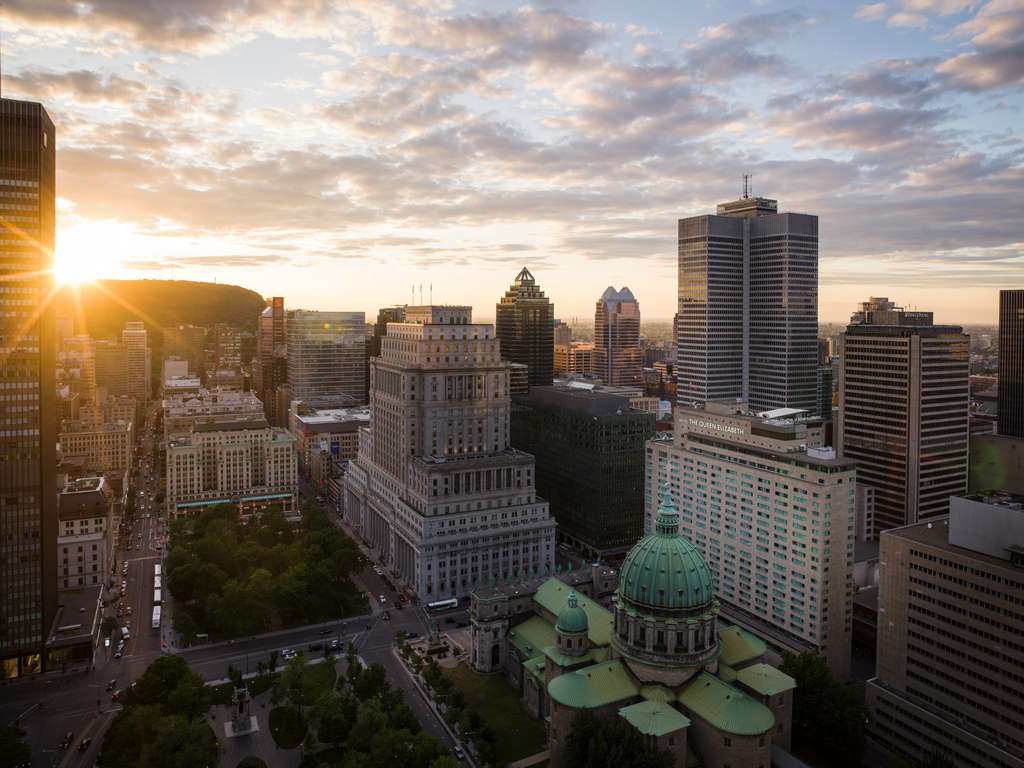 The state-of-the-art facilities in Fairmont Queen Elizabeth, allow guests to enjoy a luxurious ambiance. The hotel is close to several theaters and shopping venues. The wellness center has multiple pieces of equipment for strength training, cardio, and more. You can visit the wellness center any time as it is open 24 hours.
With virtual classes and Sauna, Fairmont Queen Elizabeth ensures you stay active. After a corporate meeting in the main venue, reward your body with a massage at the spa. The staff will give a relaxing manicure or pedicure.
6. Le Square Phillips Hotel and Suites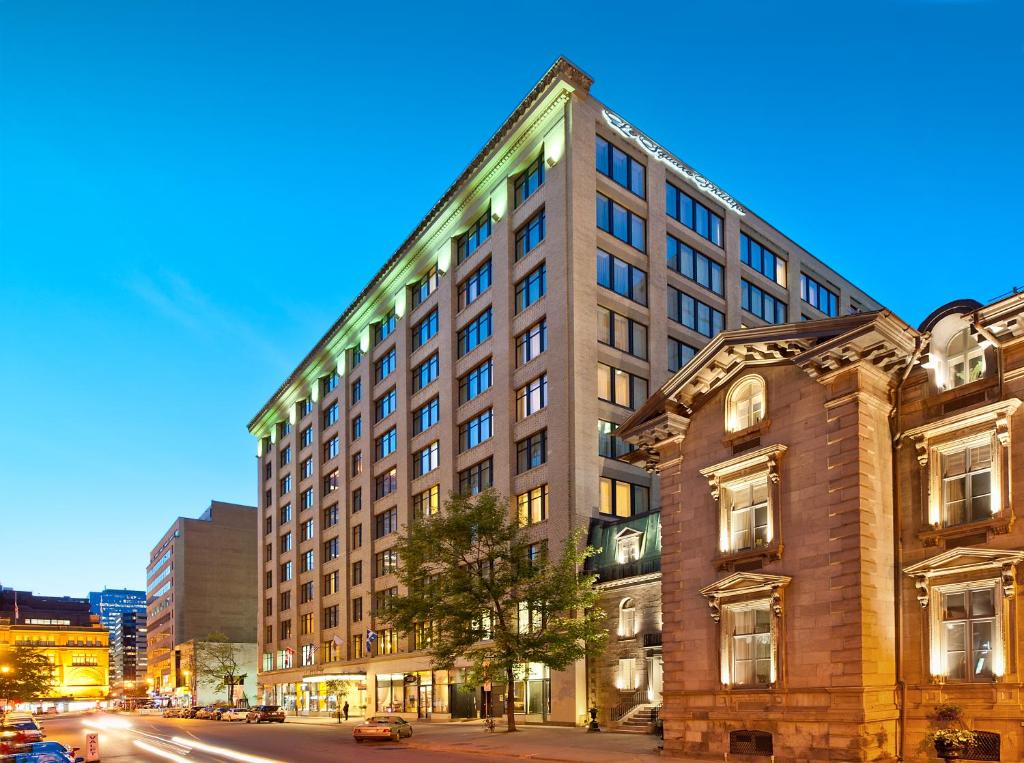 The spacious and refined rooms make Le Square Phillips stand out from other hotels on this list. The hotel has more than 150 rooms, including executive and standard rooms. Le Square Phillips has an outdoor swimming pool and a gym. The terrace on the rooftop allows stunning views of the city.
You can take breakfast in the restaurant or in your private lounge. Guests can also request dinner delivery to their rooms. All rooms have a safety deposit box and a flat-screen TV with international channels. The kitchen has essentials like a dishwasher, coffee maker, and stovetop.
7. Le Center Sheraton Montreal Hotel
Choose Le Center Sheraton Montreal Hotel for a comfortable stay and friendly service. The newly renovated rooms feature a contemporary décor. Enjoy a fresh breakfast or dinner at Sheraton Club Lounge. The bar offers freshly brewed coffee sourced from the Canadian market.
Studio Pressurat trains its staff to pamper you with a relaxing spa treatment. Swim in the indoor pool on a hot afternoon and later visit the fitness center. Le Center Sheraton Montreal Hotel has a versatile conference to hold meetings and family events.
8. Alt Hotel Montreal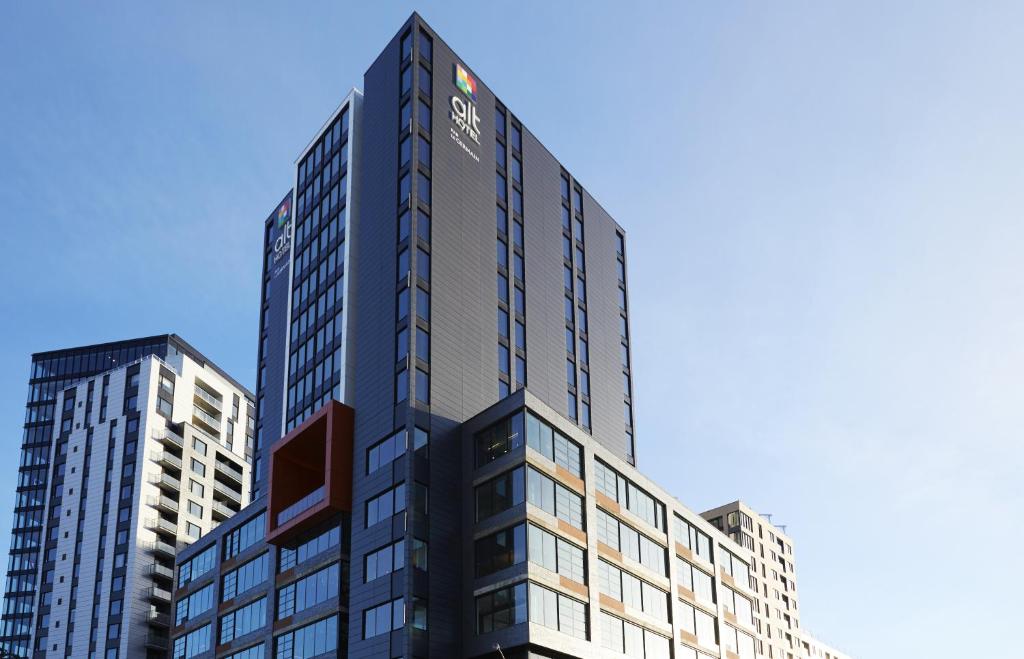 It's time to book Alt Hotel Montreal and take advantage of the 7th-floor space that overlooks Old Montreal. Alt Hotel Montreal has a well-equipped gym with treadmills, stationary bikes, and an elliptical machine like other top hotels on this list.
You can have a tasty selection of various international cuisines at Altcetera. The restaurant offers fresh salads and delicious sandwiches. You can order hot beverages like espressos and tea on a cold morning. Besides, the bar serves alcohol in the evenings.
The main restaurant's breakfast includes muffins, cookies, and granola with milk. Baristas can also make smoothies and juices at your request. Each room has a coffee machine, flat-screen TV, and an iPod docking station.
9. Vogue Hotel Montreal Downtown
Retreat to your spacious guest rooms in Vogue Hotel after a busy day exploring Montreal. Vogue Hotel Montreal provides a minibar and an iPod docking station in their guest rooms. Classic rooms have a marble bath.
Both standard and classic guest rooms have coffee makers and two work desks. In addition, Vogue Hotel allows pets in their facilities. Book the hotel if you are near Peel Metro Station or close to Crescent Street.
10. Sofitel Montreal Golden Mile
Sofitel Montreal hotel sits in a great location next to Lush Mount Royal Park. Rooms feature minimalist touches and eye-catching décor. The suites offer you a breathtaking view of the skylines in the city.
Sofitel Montreal Golden Mile has three rooms: superior, luxury, and junior. Superior rooms have a coffee machine, an iPod dock, and an LCD screen. On the other hand, luxury rooms have a spacious seating area, a marble bathroom, and a work desk.
Choose junior suites if you love privacy. Junior suites in Sofitel Montreal have a separate living room and a bathroom with bathtubs and sinks. Dishes at the restaurant are made with local flavors and products. You will love the restaurant because of the dynamic displays and exceptional services.
Remember to revitalize your mind after a busy day by visiting the gym facility. The gym has different fitness equipment and exercise areas. Alternatively, you can book fitness classes. Sofitel Montreal has certified therapists at the Appia Spa Nomad.
11. Le St Martin Hotel Particulier Montreal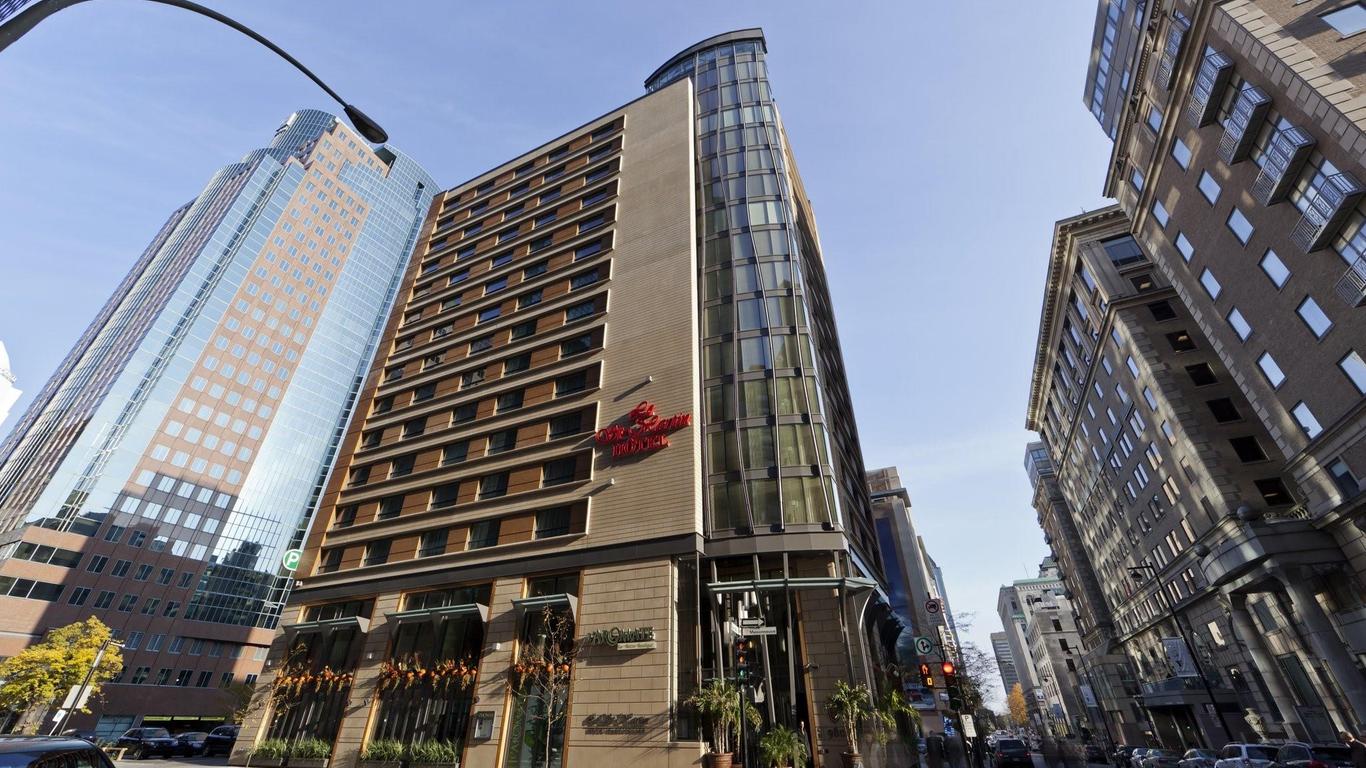 Discover a combination of modern urban style and elegant rooms by visiting Le St-Martin Hotel. You can relax at the outdoor pool after a long meeting. The hotel categorizes rooms into classic, Grand Deluxe, and panoramic rooms.
Classic rooms in the hotel have queen and king-size beds. In addition, the rooms have a private bathroom with a bathtub and shower. Grand Deluxe rooms feature king-size beds and an oval bathtub. You can communicate with your family members through the sliding wood doors.
Panoramic rooms are popular with guests who love natural light. In the panoramic room, you will find a king-size bed and a large fireplace. A bathtub is also available in the bathroom. Other popular facilities in Le St-Martin Hotel include:
Lounge bar
24 hours fitness lounge
Le St-Martin provides quality Wi-Fi services in all areas. Printing services are also free, allowing you to print essential documents when holding a corporate meeting in the hall.
12. Holiday Inn and Suites Montreal Center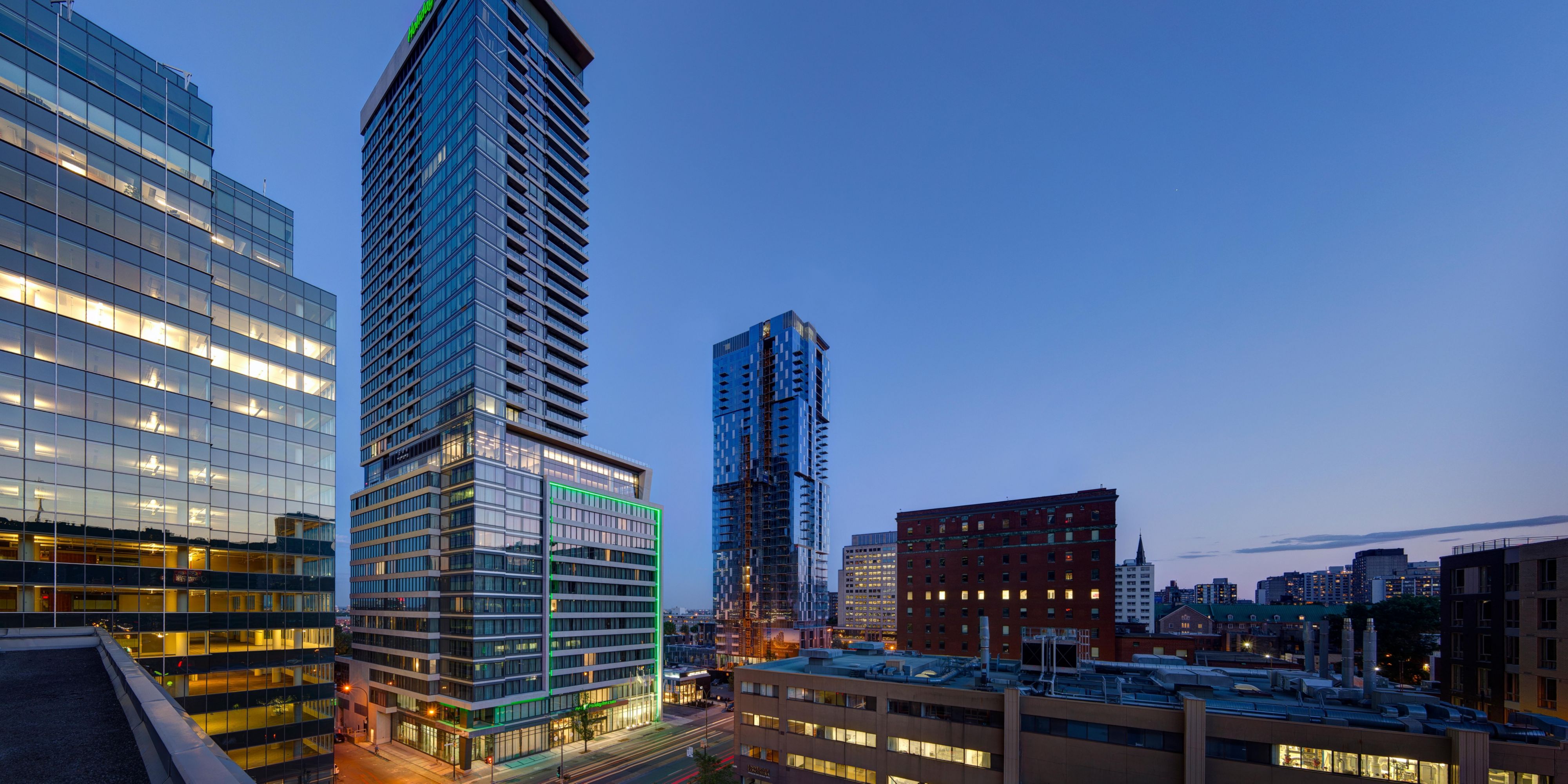 Holiday Inn and Suites is ideally located a few meters from Bell Center. Each room has an air-conditioning system and a flat-screen TV. Also included is a private bathroom and a coffee maker in your kitchen. Holiday Inn and Suites also feature a sauna and indoor pool.
You can enjoy drinks with your friends at the bar. The hotel has enough parking, but their parking lot can't hold pickup trucks.
13. Montreal Marriott Chateau Champlain
Located 0.2 miles from Bell Center, no doubt Montreal Marriott Chateau is one of the most convenient hotels in downtown Montreal. The management renovated the meeting hall and guest rooms to match the modern décor. You can host a wedding or family event in Montreal Marriott's Grand Ballroom.
The stylish hotel has a fitness center and internet services. You can view the St. Lawrence River and Mount Royal from the rooftop. Montreal Marriott allows customers to make dinner reservations from their rooms.
14. Best Western Plus Montreal Downtown
Best Western Plus Montreal is a few minutes from Bell Center and Montreal Fine Arts Museum. The restaurant serves local and international cuisines. The Fitness center, on the other hand, has the latest training equipment such as cardio.
You will find free high-speed Wi-Fi on every corner. In addition, Best Western Plus Montreal has facilities for disabled guests. Your guest room has common essentials like a coffee-making machine and cable TV. However, the hotel prohibits smoking in their guest rooms.
15. Hotel Omni Mont-Royal
The romantic destination near Bell Center has stunning wedding venues and meeting halls. Guest rooms in the hotel are specially designed to showcase the style of Montreal and hold up to 5 people. Each room has a marble bathroom and beautiful linens.
The living room has a 42 inches LCD TV and a docking station. It's worth noting that the management prohibits guests from smoking on their premises. The private bathrooms feature a wall-mounted makeup mirror. You will also find a coffee machine and a microwave in the kitchen.
Besides, you will like the dual-line telephones with voicemail available in every room. Wi-Fi at Hotel Omni Mont-Royal is also free.
16. Comfort Suites Downtown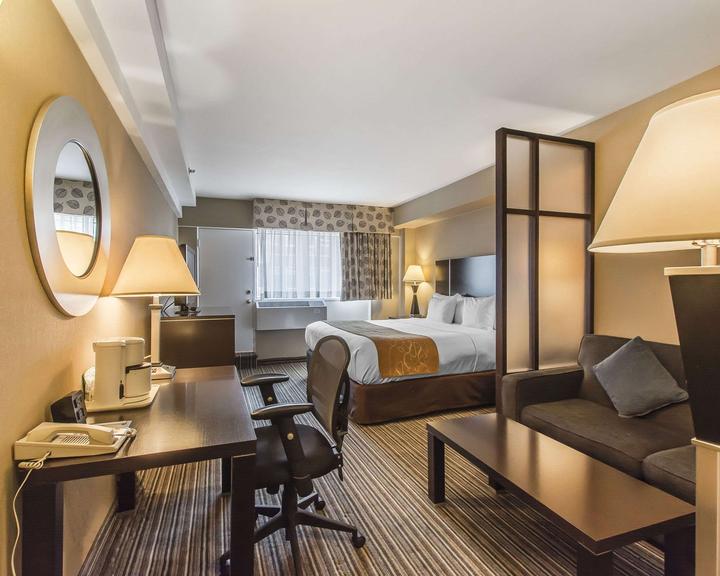 Comfort Suites Downtown is among the few pet-friendly hotels near Bell Center. Comfort Suites serves guests with free hot breakfast daily. The fitness studio has state-of-the-art training equipment. Rooms have ironing boards, coffee makers, and microwaves.
In addition, guest rooms are spacious, and guests have a clear view of Montreal Streets. Comfort Suites ensures you are in contact with the office with a business center.
Frequently Asked Questions
Here are the most common questions about Hotels near Bell Center, Montreal.
What are the best hotels near Bell Center in Montreal?
Bell center has a ton of good hotels to try. However, consider Fairmont Queen Elizabeth and Novotel Montreal Center if you want the best dining experience.
Which hotels near Bell Center in Montreal are romantic?
Le Center Sheraton Montreal Hotel and Hotel Birks Montreal are the best hotels if you want to hold a romantic wedding.
Which hotels near Bell Center are the most popular?
Hotel Bonaventure Montreal and Vogue Hotel Montreal Downtown are popular with travelers for their amenities, delicious foods, and exceptional services.
Final Thoughts
Vogue Hotel Montreal Downtown is the best choice for those who seek to hold corporate meetings near Bell Center. Hotel Birks Montreal will not disappoint for a fun family vacation. If you consider visiting Montreal, the above hotels near Bell Center are the perfect bet.
James is a big time NBA Golden State follower, who makes sure to catch games when he's in the area. He likes to follow International Soccer, with an interest in small town soccer club, Blackburn Rovers located in the North on the UK.