It's vital to look for the best hotel where you'll be staying on your next family vacation. You're thrilled about the family holiday but don't know where to book it. With so many hotels near Rogers Place, the decision is always challenging.
Our team has created a guide to the best hotels near Rogers Place, Edmonton, to make your search easy.
1. Fairmont Hotel Macdonald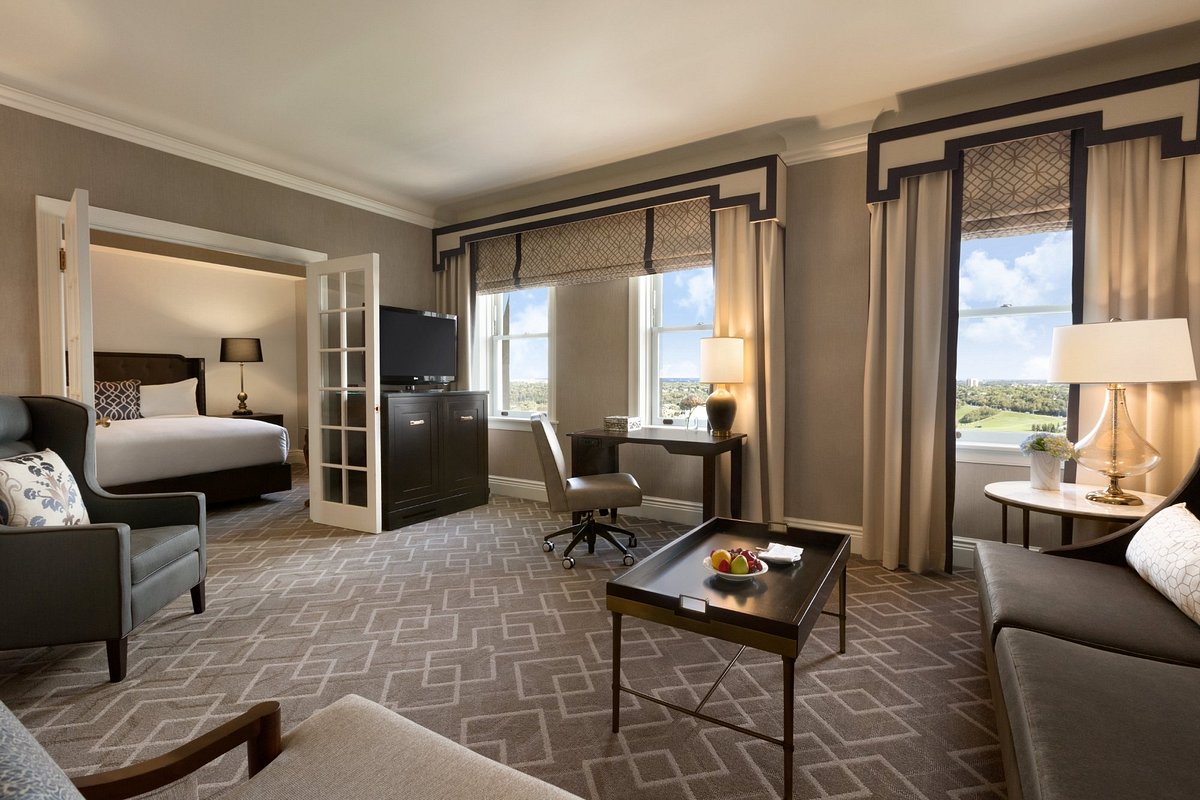 The five-star hotel has been serving guests for over 100 years. You can visit Fairmont Hotel Macdonald and enjoy a classy afternoon tea as you view River Front Park. In addition, the hotel boasts luxurious guest rooms with numerous amenities, including fluffy robes. It's time to upscale your experience in Canada by staying on the Fairmont Gold Level.
Fairmont Hotel Macdonald is the perfect place for your family if you search for personalized and discreet service. Unlike other hotels in Edmonton, Fairmont Hotel provides an unrivaled experience. Guests at the hotel are served with deluxe continental breakfast and all-day coffee.
The upscale hotel comprises a restaurant and spa with top-notch massage services. You will find a giant flat screen in all guest rooms. Every restaurant's air-conditioned room has a seating area, while private bathrooms have a hairdryer. Another crucial thing to note about the restaurant is the 24-hour business center.
Make sure to take your family to the well-equipped fitness center for yoga lessons. Other crucial features of Fairmont Hotel Macdonald include an indoor swimming pool.
2. Matrix Hotel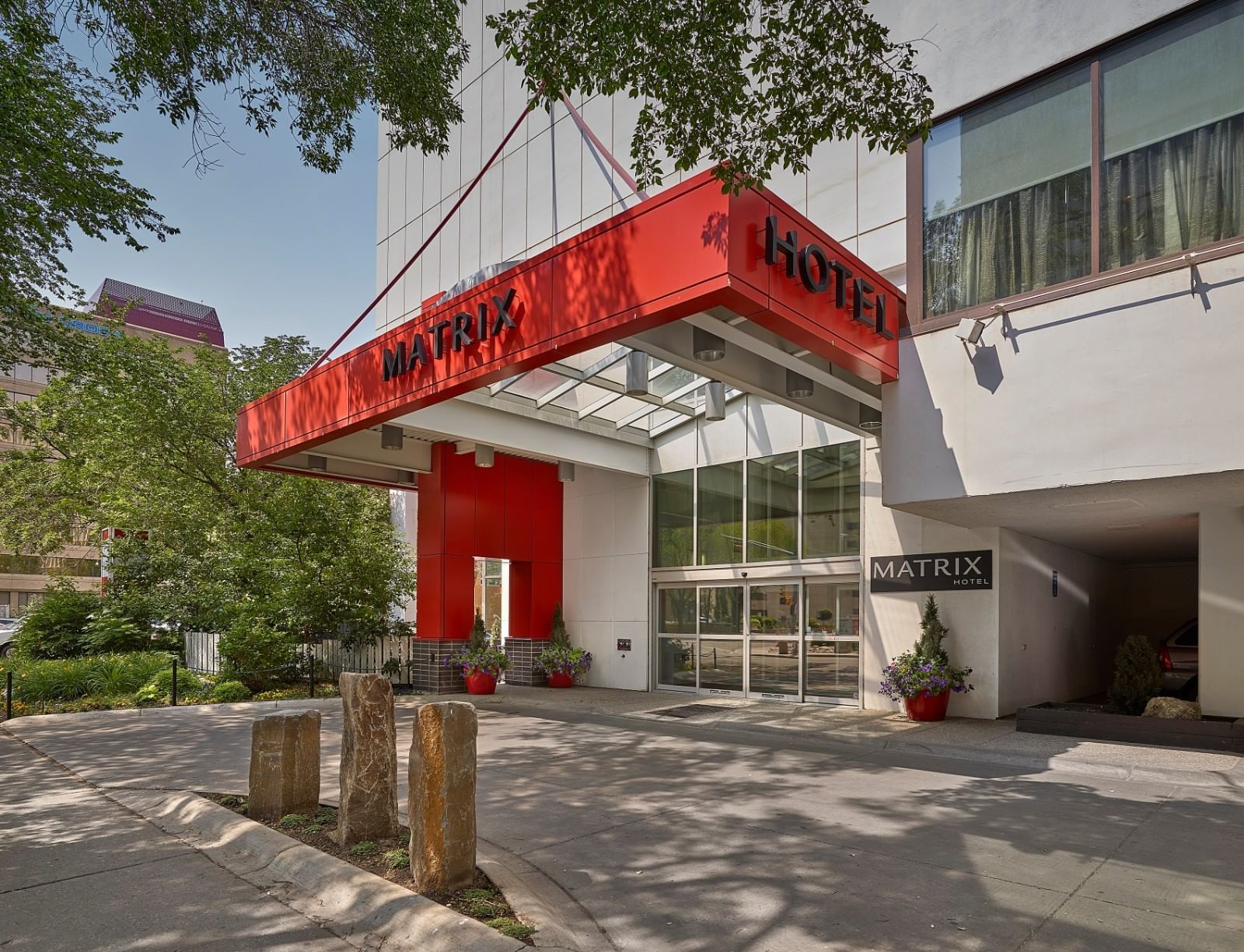 Visit Matrix Hotel, and you may never want to leave because of its modern accommodations. You will have a distinctive hospitality experience when you tour Matrix Hotel. The hotel is in the heart of Downtown Edmonton, specifically near government districts. Thus, it's an indisputable destination for corporate travelers.
Online reviews show that Matrix Hotel is a unique environment where positive experiences are developed. The hotel features minimalist lines with natural stones and wood, which provide guests with a calm atmosphere.
You can take a complimentary breakfast at Matrix and start exploring the business district. Deluxe rooms in the hotel have two double beds with white triple sheeting. Sterling Suites, on the other hand, offer customers spacious space and a fireplace.
If you travel with your family and kids, you can book Platinum Suite. Platinum suites have two-bedroom suites with a separate living room. You will find a fireplace and oversized bathroom in the Platinum Suites.
3. Coast Edmonton Plaza Hotel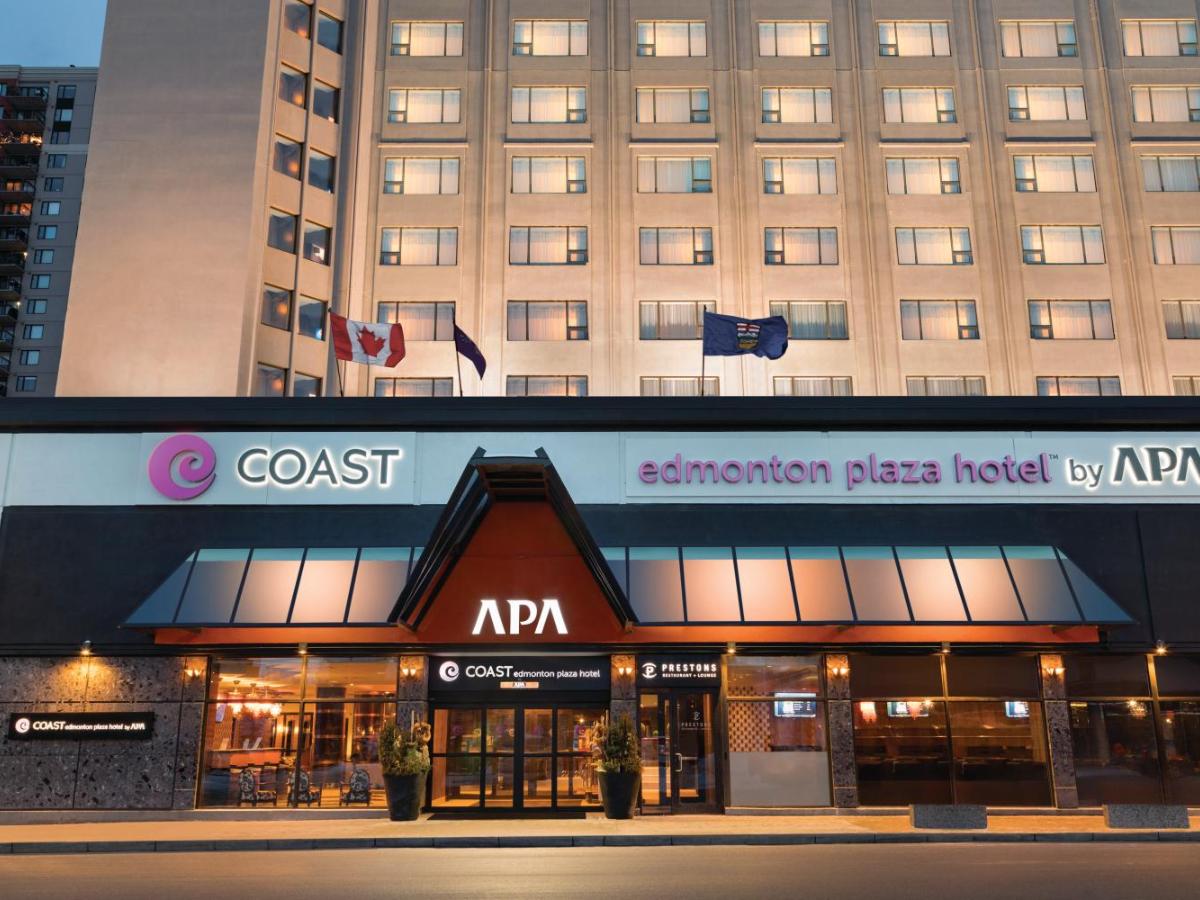 The newly renovated hotel offers free amenities such as Wi-Fi and local calls. Undoubtedly, Coast Edmonton Plaza Hotel is the perfect escape when you are in downtown Edmonton. Guest rooms and suites in the hotel have beautiful origami cranes. Some guest rooms in the hotel provide clear city views.
You can bring your four-legged friend because the hotel has pet-friendly accommodations. Before returning to your guest room, take lunch or dinner with your family at the main restaurant. Coast Edmonton Plaza Hotel also has rooms to hold boardroom meetings. The hotel's contemporary venues can hold at least 500 people.
The staff in the hotel are friendly and fast in serving you. Lastly, the rooms have comfortable and beautiful beds.
4. Union Bank Inn
Union Bank Inn is characterized by a sunbathing terrace and a large courtyard. The hotel is minutes from Rogers Place and very close to Commonwealth Stadium. Guest rooms in Union Bank Inn have ironing facilities and coffee makers. The hotel also provides bath robes and shaving mirrors in their suites.
The restaurant provides local cuisine and several breakfast options. Breakfast is provided for free in Union Bank Inn. The hotel is close to several landmarks such as Shaw Conference Center and Downtown.
Enjoy a tennis court, golf course, and sauna when visiting Union Bank Inn Edmonton. Unlike other hotels near Edmonton, the hotel does not offer airport transfers for guests. You get free evening wine and fruit and cheese. The food is also delicious, and Wi-Fi is rated excellent by customers.
5. Courtyard by Marriott Edmonton
The guest rooms in Courtyard Hotel provide a panoramic view of downtown Edmonton. The courtyard is five minutes from Edmonton City Center Mall and Rogers Place. Travelers can access the trail system via 100th street. On the other hand, the unique menu provides you with a memorable dining experience.
You will enjoy the relaxing atmosphere at the seasonal patio. Most guest rooms in the hotel have natural lighting and state-of-the-art equipment. You can book the private dining room for larger family meetings.
Don't forget to maintain a healthy body at the 24-hour fitness center. The fitness center has free weights, weight machines, and elliptical machines. In the guest rooms, you will find the following:
Bathtub seats
Accessible vanities
6. Delta Hotels By Marriott Edmonton
Located in the vibrant ICE district, Delta Hotels is known for its stylish rooms and beautiful facilities, making it ideal for leisure. The hotel is close to Rogers Place and minutes from the University of Alberta. Book the suites in the restaurant for ultimate comfort. The family-friendly hotel features flat-panel televisions and fast Wi-Fi.
You can hold corporate or family meetings in the spacious 10,000-square-foot rooms. The staff will provide you with bottled water and free newspapers. In addition, breakfast and dinner come at affordable prices.
The only downside is that the guest rooms are small and have no natural light. The distance from the elevator to the rooms is also long. Customers can bring pets, but they should be less than 23 kg.
7. Canterra Suites Hotel
You receive a warm welcome no matter what time you visit Canterra Suites Hotel. The fully furnished rooms have modern appliances. Like other top hotels on this list, Canterra Suites Hotel provides a gym and a swimming pool.
The free high-speed Wi-Fi network allows you to work online from your suite. The air conditioning system ensures that your room is always cool, even during the hot summer. Customers can call their friends for free in the U.S. or Canada.
Canterra Suites Hotel provides secure deposit boxes where you can store your important documents. Your vehicle is always secure in the hotel's on-site indoor parking.
8. Best Western Plus City Center Inn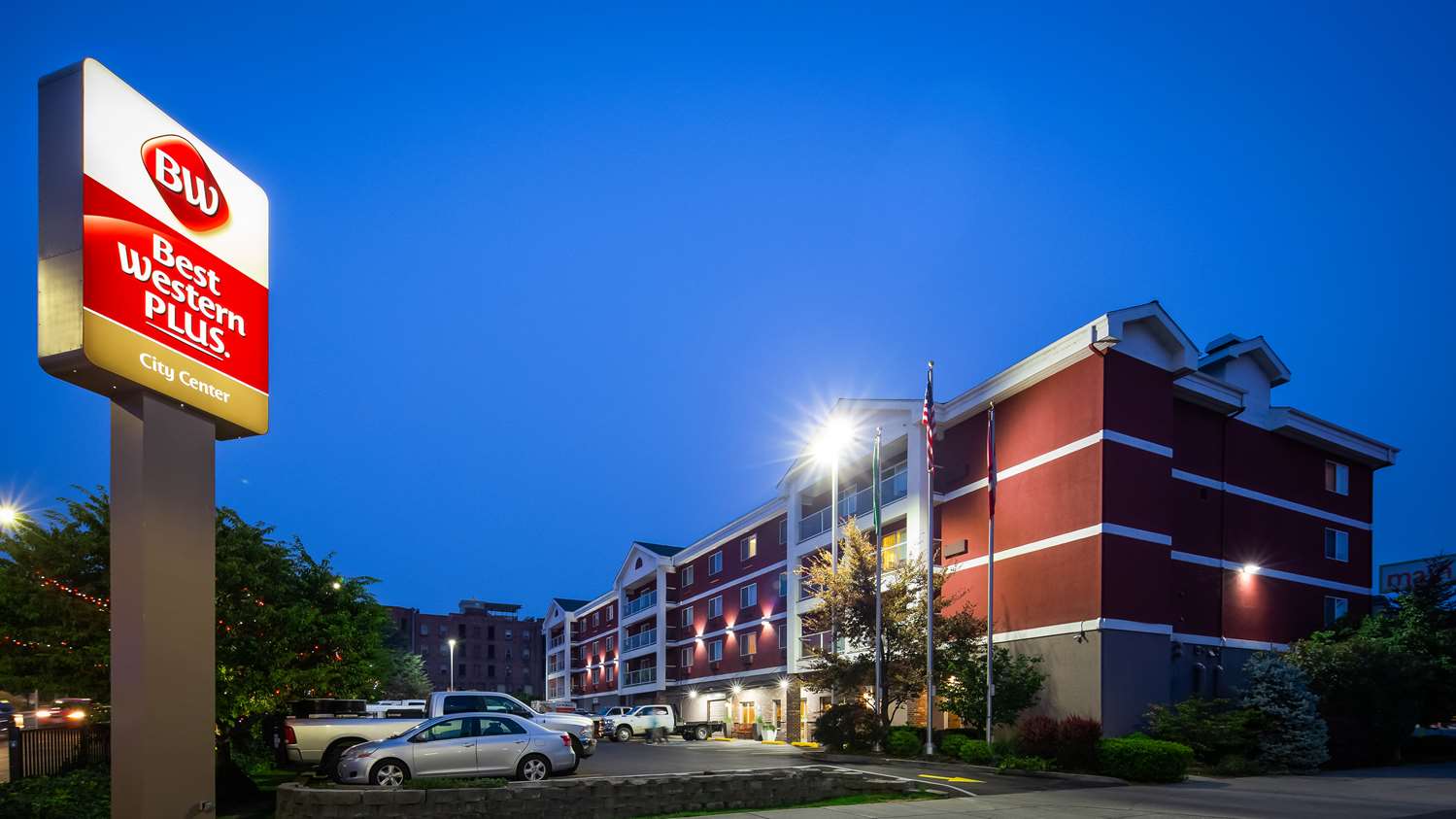 While some hotels will charge the parking, guest parking at Best Western Plus City Center Inn is free. The hotel is eight minutes from Rogers Place Arena and 20 minutes from Edmonton Expo Center. Customers love Best Western Hotel because of the incredible views from the lounge.
The contemporary rooms in the hotel feature exquisite furnishings and huge writing desks. Your kids can enjoy the saltwater swimming pool as you relax in the hot tub with your partner. The hotel does not allow pets in guest rooms. Kids under 17 years will enter the rooms for free, but they need one paying adult.
Best Western Plus City Center is a reputable industry player that provides clean and well-maintained accommodations. Recently, the hotel launched programs to minimize contact between guests and associates. The hotel management has also removed unnecessary items from guest rooms.
The hotel regularly maintains fitness centers and a swimming pool with disinfecting chemicals. You are also provided with hand sanitizers in your guest room. Be sure to observe all safety precautions as advised by the management.
9. The Westin Edmonton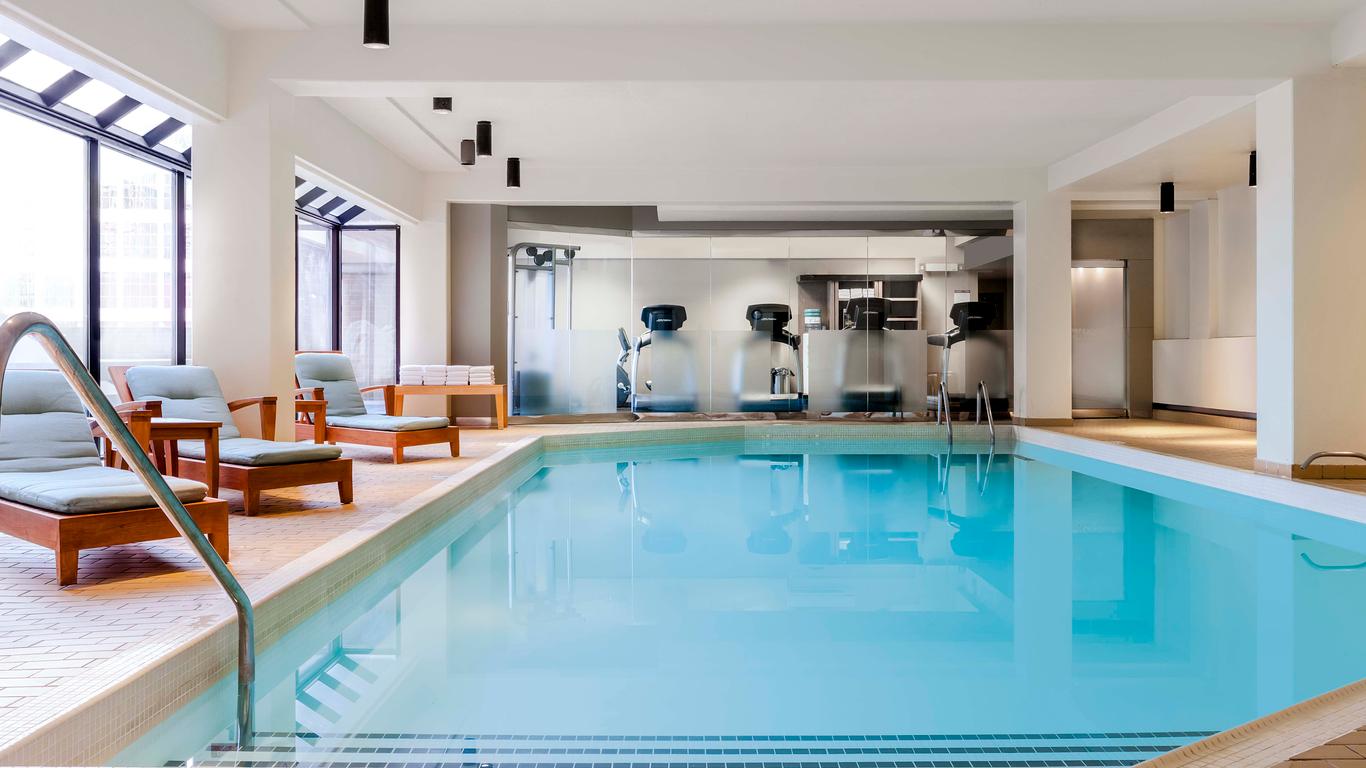 The Westin Edmonton is a few-minute stroll to Rogers Place and Ice District. The hotel's main venue has more than 27,000 square feet of space. The Share Restaurant at the Westin Edmonton offers a delicious breakfast. You can sit at the work desk as you utilize high-speed Wi-Fi.
Westin Edmonton is among the pet-friendly hotels in downtown Edmonton. The hotel is a few steps from the famous River Valley. The fitness studio in the hotel boasts rowing and cardiovascular machines. You will also find strength equipment and a treadmill in the fitness center.
Your kids will enjoy the heated indoor pool. The management provides towels if your kids don't have them. Families love spending time and enjoying nature at Mill Creek Ravine Park.
10. Comfort Inn and Suites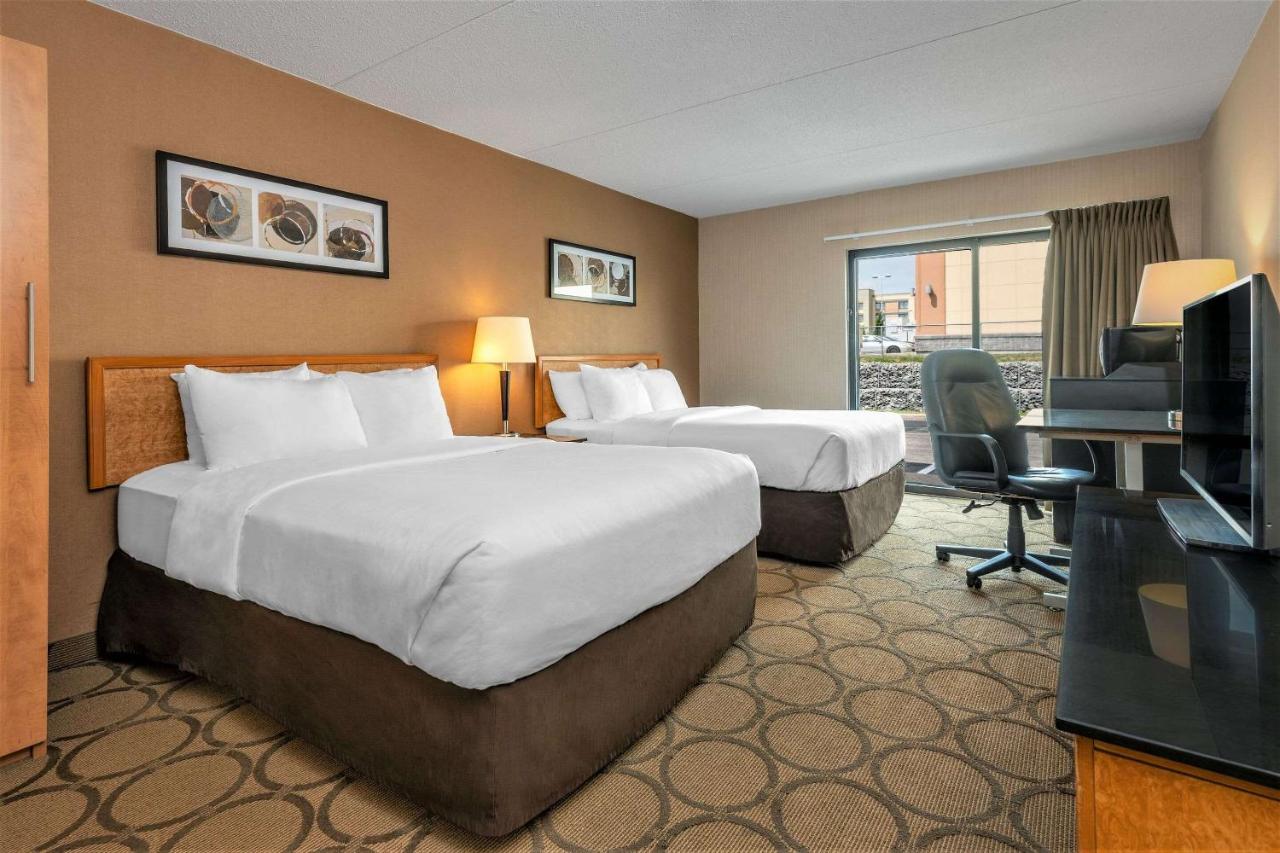 Located 0.6 miles from Rogers Place, Comfort Inn and Suites has top-notch services and modern amenities. Guest rooms in Comfort Inn are well-designed and maintained to give you the utmost comfort. Your family or business associates will have a memorable stay in the downtown Edmonton hotel.
The dedicated staff is knowledgeable and provides exceptional services. Enjoy any dish, including delicious Chinese food, in the hotel. The hot breakfast provided by Comfort Inn and Suites ensures you have enough energy to start your day.
You can check in at 4 pm and check out at 11 am. Remember that you aren't allowed to smoke or carry pets in the hotel. You can use the hotel's fitness center to maintain your fitness routine. However, you need to book a spot in the state-of-the-art fitness studio before.
11. Double Tree By Hilton Edmonton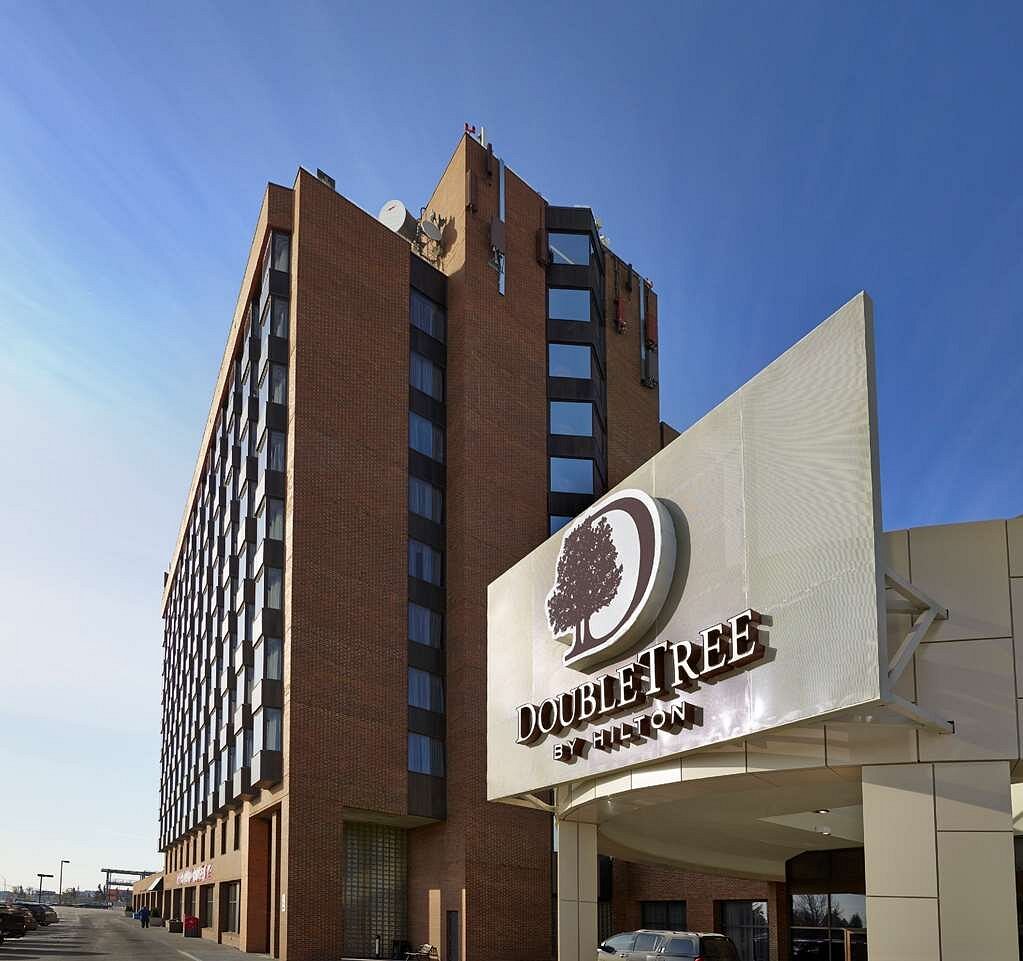 Located near West Edmonton Mall, Double Tree is a pet-friendly hotel with a welcoming environment. The hotel provides guests with free parking and free Wi-Fi. Make sure to enjoy the fitness center and indoor pool. Double Tree Hotel prohibits smoking.
The passage doors in Double Tree have mobility features with a 32 inches clear width. Most public facilities in the hotel are accessible to the physically challenged. Staff in Double Tree are trained to plan every last detail, including menus and seating.
In addition, the air-conditioned rooms feature mini-fridges. Staff provides you with a large desk and chair. Double Tree is conveniently located near Edmonton International Airport and close to Edmonton City Center. Couples love the facility because of its location and amenities.
Besides great hospitality, the hotel offers a vibrant décor. You can request a refund if you are not pleased with the services provided by the hotel.
12. Campus Tower Suite Hotel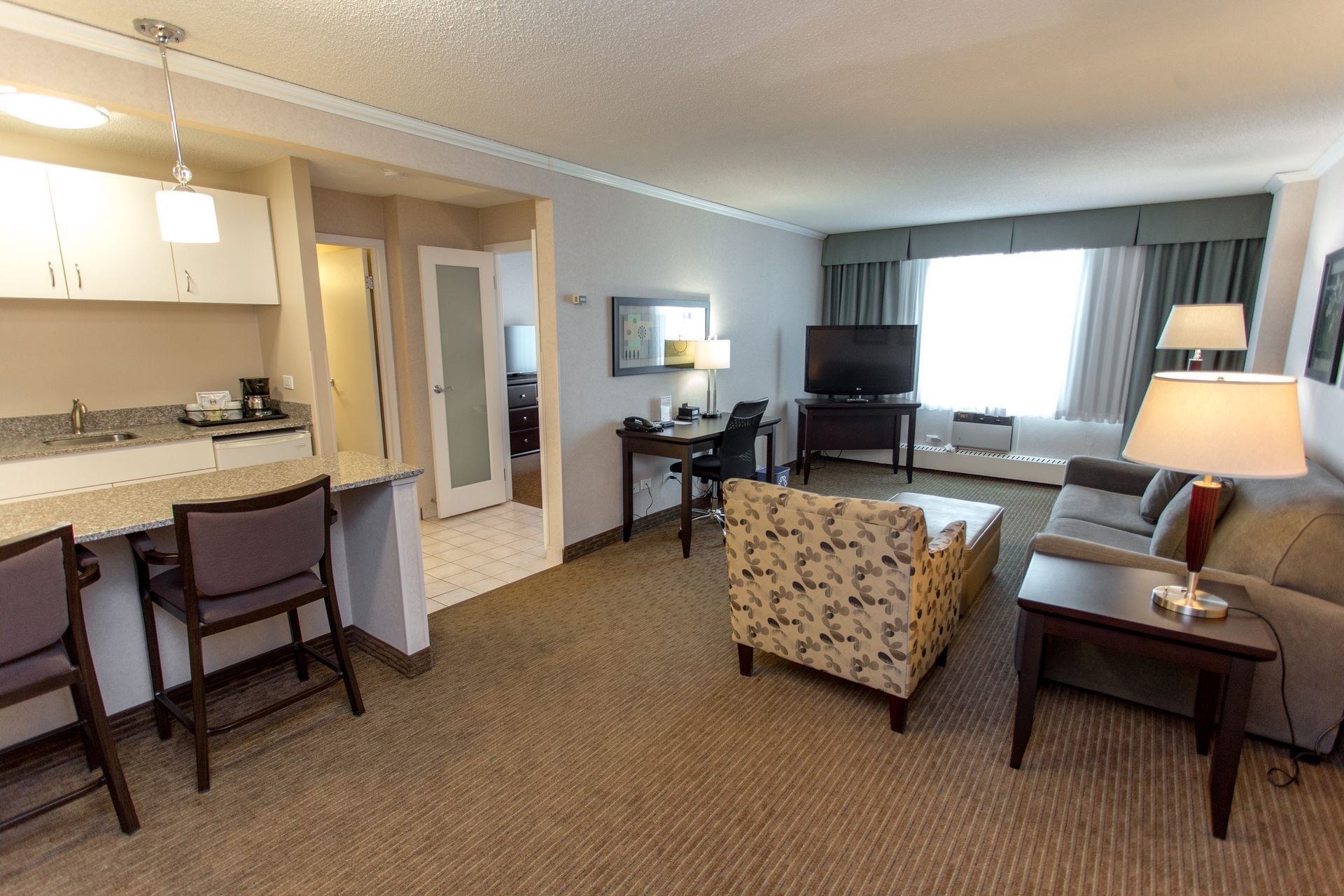 The all-suite hotel is a great restaurant close to several crucial amenities such as hospitals and the University of Alberta. The hotel has attractive rates, making it the top choice for family activities. The thoughtfully designed suites include kitchenettes and free Wi-Fi.
Campus Tower Suite Hotel is pet friendly, so you can bring your four-legged companion to the hotel at a cost. The staff aims to respect processes while ensuring a welcoming customer experience. Guests have praised the hotel for providing kindness and vigilance even in difficult times.
Campus Tower Suite Hotel has several amenities like a well-equipped fitness center and a functioning business center. The hotel also offers dry cleaning services and a free parking space. The complex features multiple restaurants and convenience stores.
13. Metterra Hotel on Whyte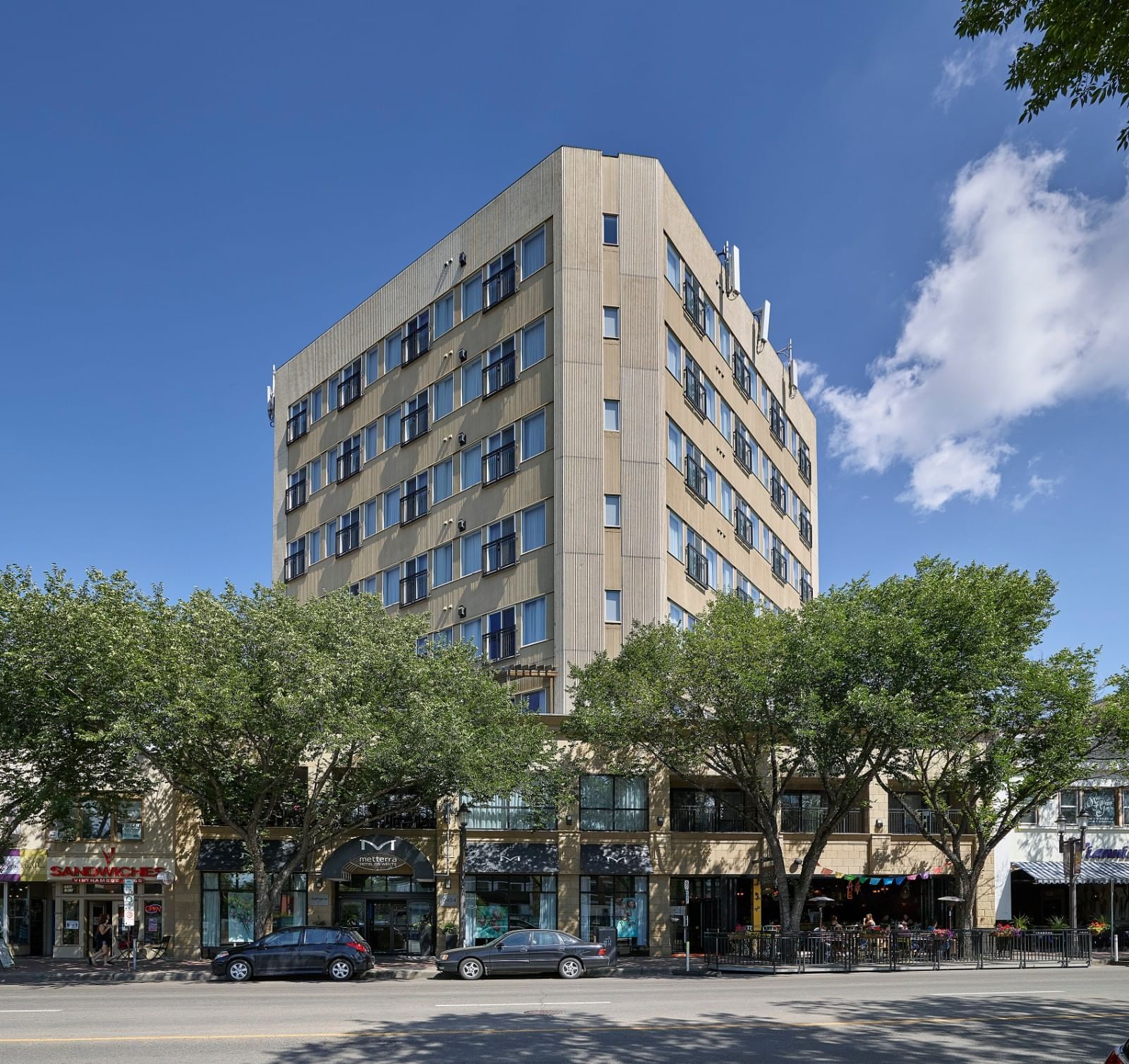 The authentic hotel in the heart of Edmonton provides a memorable hospitality experience. Metterra Hotel is the perfect choice for anyone who loves accessible luxury. Booking the hotel means enjoying proximity to essential services in the business and government districts.
Organic colors and attractive wooden furnishings characterize Metterra Hotel. The staff in the hotel are accommodating and helpful. In addition, the breakfast and dinner are delicious.
Notable attractions close to Metterra Hotel include Whyte Avenue and Old Strathcona Farmer's Market.
14. Holiday Inn Express Edmonton Downtown
Holiday Inn Express has extra-large meeting rooms that can hold up to 160 people. Most guest rooms in Holiday Inn have a balcony and other essential amenities like steam rooms and a swimming pool.
The free high-speed Wi-Fi allows you to work and attend meetings. Parking space at Holiday Inn Express is limited. Guests need to register the number plates when booking the rooms. Service animals are allowed in the hotel, but you must pay 25 CAD daily.
15. Varscona Hotel on Whyte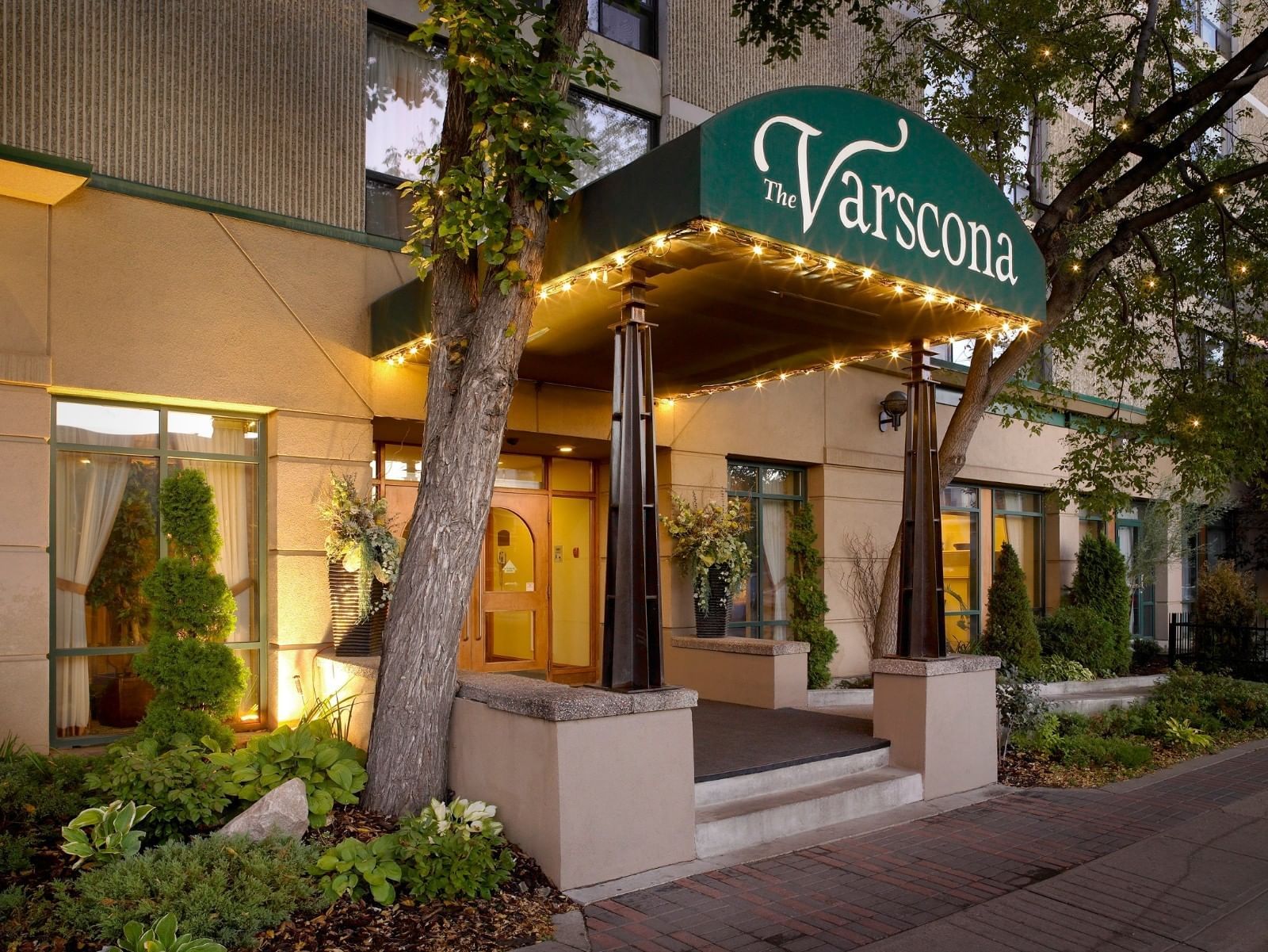 Varscona Hotel is located in a central location, allowing you to access downtown Edmonton and the University of Alberta in minutes. The hotel combines comfortable beds and timeless furnishings. The well-maintained lawns enhance the public spaces. You should be ready for unrivaled hospitality when you book Varscona Hotel.
The dedicated staff in the hotel makes you feel at home. In addition, the team provides free wine and cheese every night.
16. Four Points By Sheraton Edmonton
You will conveniently access Rogers Place and Edmonton South Common when you book Four Points by Sheraton. The hotel boasts stylish surroundings and high-speed Wi-Fi. The main hall in the hotel is more than 16,000 square feet. It's good to note that guests always appreciate the comfort and facilities such as a 24-hour fitness center.
Four Points restaurant has an application that allows customers to receive notifications when their room is ready. Seniors aged 62 years or older will enjoy a 10% discount when booking a room in the Four Points hotel.
17. Fairfield Inn & Suites by Marriott Edmonton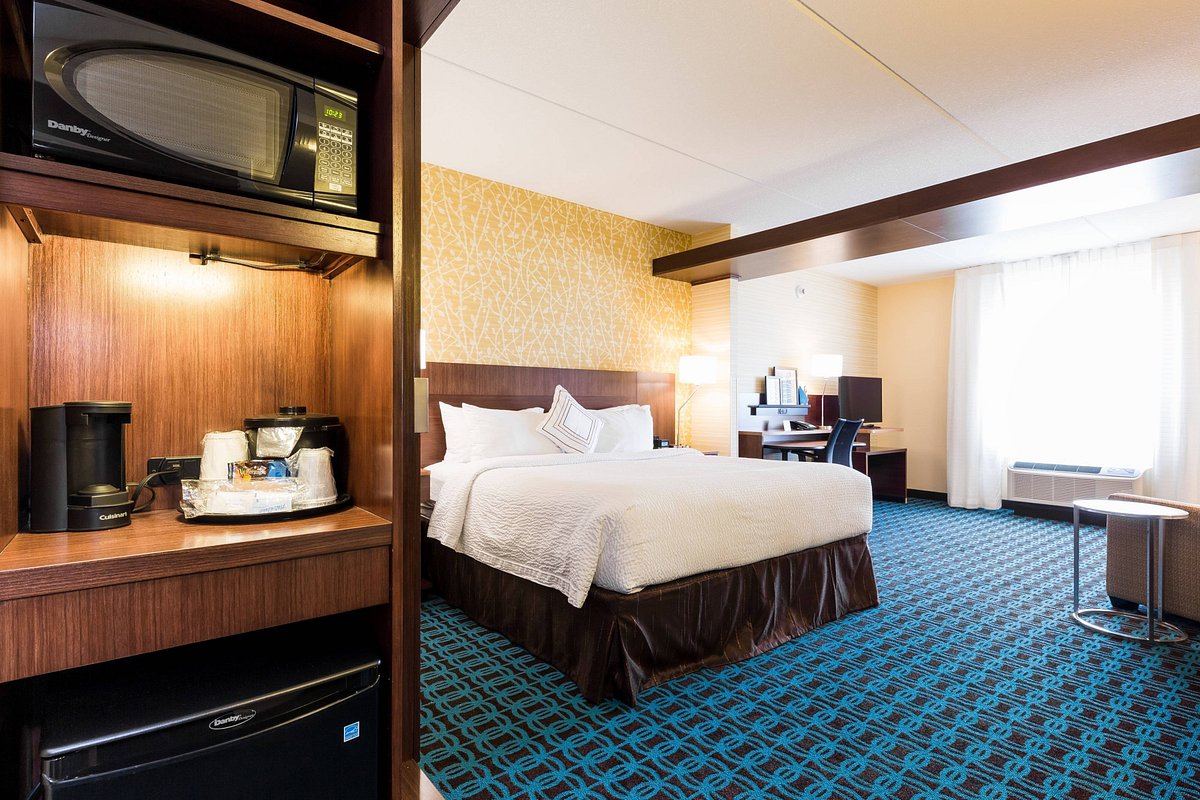 It's time to relax at the renovated Fairfield Inn and Suites. The rooms in the hotel are spacious and stylish. In addition, the hotel provides free breakfast and high-speed Wi-Fi. You can have a refreshing swim in the indoor pool on a sunny day. The indoor pool is always open and free to customers.
The fitness center is open 24 hours to ensure guests maintain a healthy lifestyle. Don't worry if you need to host an event, as Fairfield Inn and Suites have a large boardroom, which is ideal for social gatherings.
Parting Shot
There are tons of hotels around Rogers Place, Edmonton. The above hotels have delicious food, helpful staff, and a relaxed environment. Use the above list to find the best hotels near Rogers Place, Edmonton. Remember to book in advance if you will be visiting the hotels with a large family.