Montreal boasts a rich history and is home to many outstanding tourist attractions. Perhaps the one most appealing to sports fans would be the famous Bell Centre. Home to the Montreal Canadiens, one of the most storied and popular hockey teams in the world, this behemoth of an arena is a must for anyone visiting the city. 
But the area surrounding the stadium also has an impressive selection of places to eat. Here are 14 of the best restaurants near Bell Centre to fill your belly before or after you catch a game.
Au Pied de Cochon
Location: 536 Duluth Ave E, Montreal, Quebec H2L 1A9
Phone: 514-281-1114
To get the true Montreal experience, Au Pied de Cochon is a must-visit and less than a 15-minute drive from the arena. A generational restaurant, Au Pied de Cochon can be found in the Plateau Mont-Royal. It recently celebrated its 20th anniversary and prides itself on preserving and celebrating traditional Quebec cuisine.
In addition to Canadian dishes, Au Pied de Cochon draws inspiration from French cuisine. Standouts include duck breast with morels and their decadent desserts, including maple cream caramel and chocolate mi-cuit. In addition to its impressive dishes, expect to find a varied cocktail menu, locally-brewed beers, and imported wines.
Burger Bar Crescent
Location: 1465 Crescent St, Montreal, Quebec H3G 2B2
Phone: 514-903-5575
Moving down to simpler pleasures, next up is the Burger Bar Crescent. Considered "The Best Burger in Montreal," not only will find delicious burgers there but potentially the famous as well. Ranging from athletes to celebrities, it seems Burger Bar Crescent's burgers draw in everyone, regardless of status.
Open seven days a week, Burger Bar Crescent has built a reputation for its eclectic menu. Along with over a dozen different choices of burgers, there is also a variety of mac n' cheese and poutine to enjoy. If you're feeling thirsty, consider sampling their cocktail menu, with classics including The Hemingway daiquiri and the Lonely Island (a charming twist on Long Island iced tea).
Chez Bong
Location: 1021 St Laurent Blvd, Montreal, Quebec H2Z 1J4
Phone: 514-396-7779
Chez Bong is a Korean restaurant whose owner has more than four decades of experience. Balancing affordability with quality is not an easy feat, yet Chez Bong has authentic dishes ranging from pajeon pancakes to gun man doo dumplings.
If you're looking for a quick lunch, Chez Bong has varied soup options and kimchi. There are also vegetarian dishes, which adds to the establishment's simple, inclusive, and delicious dining experience.
Brigade Pizzeria Napolitaine
Location: 1428 Stanley St, Montreal, Quebec H3A 1P7
Phone: 438-384-0948
Another vegan and vegetarian-friendly restaurant, Brigade Pizzeria Napolitaine is a wood-fired Neapolitan-style restaurant that offers pizza crafted using a method over 200 years old. Founded by husband-and-wife entrepreneurs Jean-Daniel Nadeau and Grace Yeh, you can find this restaurant on Stanley Street, only a short walk from Bell Centre.
Not only is the pizza made here expertly crafted, but you also get to choose how it is made by selecting the ingredients yourself. Despite its seemingly sole focus on Neapolitan pizza. Brigade Pizzeria Napolitaine offers other traditional Italian dishes, such as panuozzo. If you're looking for a fresher twist on pizza, try out their Nutella option or even custom-build your own.
Jerome Ferrer – Europea
Location: 1065 Rue de la Montagne, Montréal, QC H3G 0B9
Phone: 514-398-9229
Boasting thousands of reviews and consistently positive ratings, Jerome Ferrer – Europea is one of the most well-regarded establishments in Montreal. What's more, it's conveniently located on Rue de la Montagne, being just a short distance from the Bell Centre.
While this is certainly not the money saver some of the previous restaurants have been, Jerome Ferrer – Europea offers a theatrical and flashy meal experience. Their menu is centred around French cuisine but does include vegetarian and vegan options.
Ferreira Café
Location: 1446 Peel St, Montreal, Quebec H3A 1S8
Phone: 514-848-0988
A charming Portuguese restaurant, Ferreira Café can be found on Rue Peel. It's a happy medium between the extravagance of high dining and the affordability of other options on this list.
With a focus on seafood, Ferreira Café has lunch, evening, and grand prix menus. Some of their most popular dishes include Angus fillet mignon and porcini-crusted roast black cod. This little piece of Portugal in Montreal provides private rooms, semi-private lounges, and wheelchair accessibility.
Escondite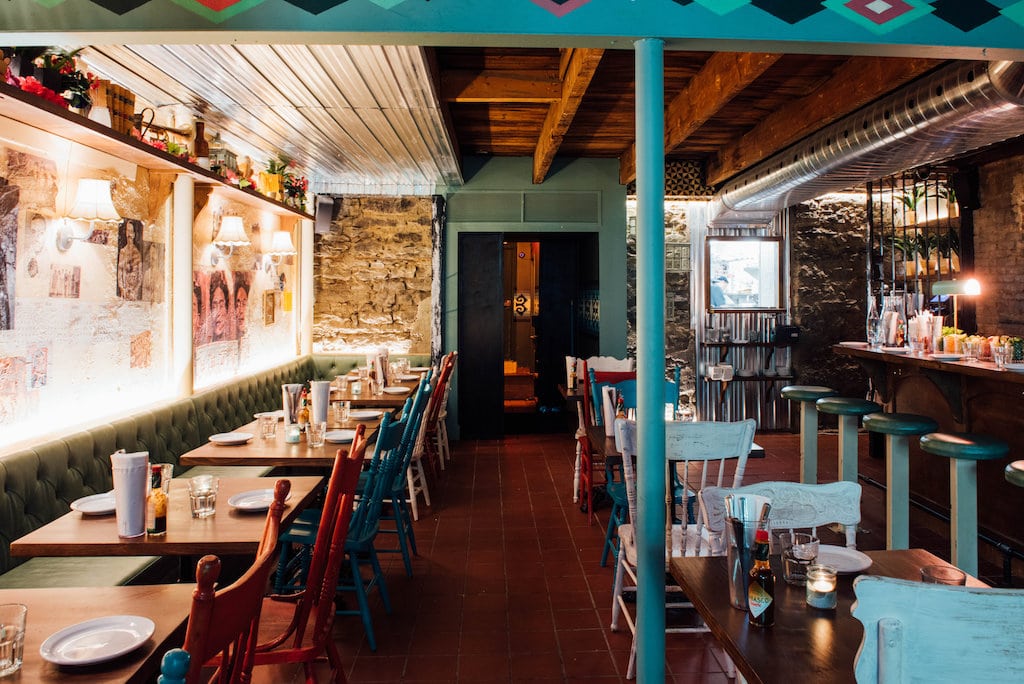 Location: 1206, Union, Montreal, Quebec H3B 3C4
Phone: 514-419-9755
The sister location to an already popular Mexican eatery, Escondite offers delicious Mexican food and a wide selection of alcohol. One of the best restaurants near Bell Centre, Escondite boasts a diverse array of tacos and appetizers.
Should the tacos work up an appetite, try out their delicious churros con Nutella, a decadent twist on a traditional Mexican dessert. When it comes to drinks, Escondite handcrafts their tequilas while also providing a wide selection of beers, cocktails, prosecco and the alcoholic-free Jarritos. If you're dining with friends, be sure to take advantage of their "To Share" option.
Reuben's Deli & Steakhouse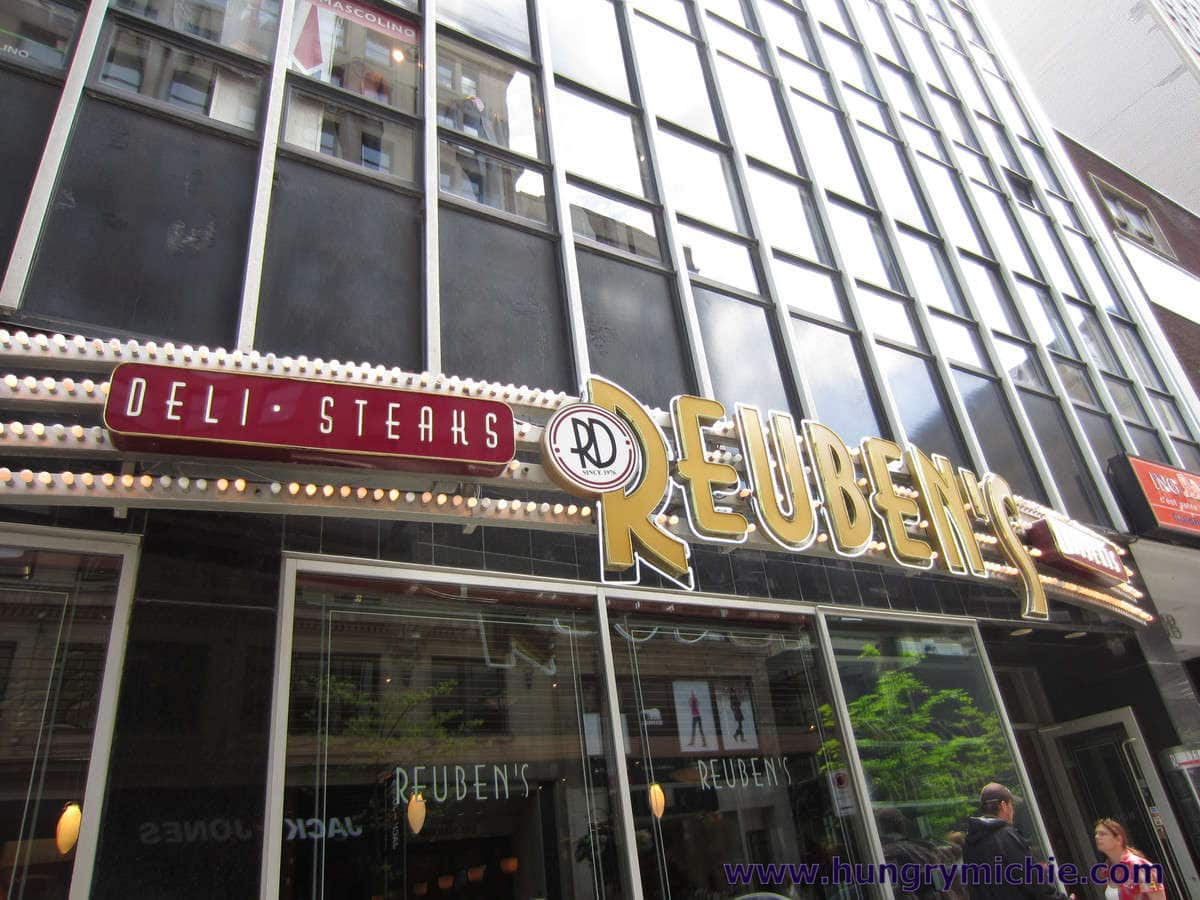 Location: 1116 Saint-Catherine St W, Montreal, Quebec H3B 1H4
Phone: 514-866-1029
Billed as Montreal's premier steakhouse, Reuben's Deli & Steakhouse offers the simple pleasures of sandwiches and steaks, but its menu is much more than these.
Besides an exquisite selection of gourmet sandwiches and house specials, you have your choice of burgers, pasta, and pizzas. If that's not enough, their red velvet deluxe cake is highly-regarded, while their bar features classics and some signature drinks.
La Marinara
Location: 1218 Stanley St, Montreal, Quebec H3B 2S7
Phone: 514-509-4090
La Marinara is an Italian restaurant located in Downtown that's been operating since 2007. It's built a reputation for some of the finest homemade Italian cuisine in Montreal. The atmosphere is relaxed but decidedly Roman, and you can expect your meal to feature only the freshest ingredients. Standout dishes include chicken dijonnaise, gnocchi, and tiramisu.
Naturally, La Marinara has an extensive wine menu, with many imported from Italy. What's more, you can even take advantage of their grocery service. So, if their homemade sauces or dishes strike your fancy, you can take some home with you.
Barranco
Location: 4552 Saint Denis St, Montreal, Quebec H2J 2L3
Phone: 514-282-9000
A Peruvian restaurant with a cocktail bar, Barranco features an eclectic menu, emphasizing Andean cuisine. This restaurant only opened in 2021 but has already generated a buzz in Montreal.
Barranco, named after a gorgeous district in Lima, has staff that ensure that every dish is authentically true to its Peruvian roots. Start with a tapas menu, such as their lovingly-crafted anticucho de lomo fino fillet skewers and end the night with a filling salchipapa la asada. Their drinks menu features some familiar names, but try their Juan El Shaman for a true Barranco experience.
Poutine Centrale
Location: 3971 Rue Hochelaga, Montréal, QC H1W 1K2
Phone: 514-507-9494
If you're visiting to take in a game, visit Poutine Centrale for a quintessential Canadian experience. This casual venue embodies Québécois culture and boasts an exquisite selection of twists on the classic Canadian dish. Not surprisingly, your choices are varied, from gourmet options like their merguez to enduring classics, such as the bacon soucisse.
However, if poutine is not for you, there are numerous alternatives, including burgers, sandwiches, and fries. Whatever you choose, be sure to try out their sugary trous de beigne for a delicious dessert sure to thrill any sweet tooth.
The Keg Steakhouse + Bar – Place Ville Marie
Location: 25 Saint-Paul St W, Montreal, Quebec H2Y 1G2,
Phone: 514-871-9093
The Keg Steakhouse has been a staple in Old Montreal for many years. Here, you will find a relaxing ambiance that delivers an upscale bar atmosphere. Of course, the central theme of The Keg is its lovingly seasoned, high-quality steaks. Yet, The Keg also has a reputation for serving some of the freshest seafood in the city. If you're in the mood, try out their caviar as an appetizer.
Reflecting its name, this restaurant has an impressive drinks menu, with an array of beers, wines, and cocktails, not to mention its signature, The Keg Old Fashioned.
Bis
Location: 1229 Rue de la Montagne, Montréal, QC H3G 1Z2
Phone: 514-866-3234
Called "The Haven of Celebrities" on its website, Bis is the final fine dining experience on this list. At Bis, you will find sumptuous decor married with plenty of delicious luxuries, from a risotto al tartufo to their signature white truffles.
Bis is open daily and has a wide selection of imported wines. Besides its intricately crafted fine dining classics, Bis injects plenty of diversity into its menu, featuring plenty of vegetarian-friendly and gluten-free options.
C'ChoColat
Location: 1255 Bishop St, Montreal, Quebec H3G 2E2
Phone: 514-392-7777
And just as dessert is the grand finale for a proper meal, C'ChoColat is the finale for our list. If you have a sweet tooth, this is the perfect choice to get your sugar fix as it has a varied, delicious menu while benefiting from its proximity to the Bell Centre.
C'ChoColat features a fusion of exquisite sweets from countless cultures, including a Japanese matcha frappe and the utterly decadent cheesecake waffle. Perhaps their most prominent (and irresistible) dessert is their signature crepuccine, a fettuccine-style crepe topped with gelato.
Final Thoughts
The Bell Centre is one of the crown jewels of Montreal. While it has a host of fantastic attractions itself, knowing what is around is equally important for your visit. With this list of the best restaurants near Bell Centre, you can be ready to dine out before and after the big game. So, get ready to explore and sample much of what this vibrant city has to offer.
James is a big time NBA Golden State follower, who makes sure to catch games when he's in the area. He likes to follow International Soccer, with an interest in small town soccer club, Blackburn Rovers located in the North on the UK.