There's nothing better than having an evening out for dinner and a concert or watching the Canucks play.
When it comes to the best restaurants near Rogers Arena, you want to find the perfect spot that's not too far away. But you also want great food and an even better atmosphere.
All within walking distance of Rogers Arena, here is a list of the 13 best restaurants to grab a bite before your event.
Why not also check out our guide to the food at Rogers Arena if you'd prefer to eat at the arena?
Tako
Tako is a Korean/Mexican fusion restaurant with great reviews from Yelp! The most popular item on the menu is the giant burritos. And there's nothing better than cheap food that's filling.
Located right across the street from Rogers Arena, Tako is a small restaurant with various plates. They're all so tasty that you can't go wrong with whatever you choose.
From giant burritos to spicy rice cakes, most of their menu is handheld items you can take on the go. There are even healthier options, like a Bibimbap Bowl with assorted veggies on a bed of rice with a soft-boiled egg and your choice of meat.
With its hipster, casual atmosphere, you can enjoy downtime before going crazy at the arena or enjoy time on the patio after the concert.
Frankie's Italian Kitchen Bar
If you're looking for more of a sit-down restaurant to enjoy before your event, check out Frankie's Italian Kitchen Bar. With its authentic Italian menu, everything is freshly made in-house, from the pasta to the sauce.
Decently priced, these traditional family recipes are the perfect meals for event-goers looking for some comfort food. In addition, they have a classic cocktail and wine list that is great for pairing with each plate.
Four nights a week, there are local and international jazz musicians to listen to while enjoying your meal and drink.
Chambar
A well-known restaurant in the area is Chambar. It is a casual dining Belgian restaurant with an authentic seasonal menu. Popular dishes include Frog Legs and Braised Short Ribs. Their brunch menu includes a classic Belgian Waffle with several ways to top it.
With its great atmosphere, this classy and trendy restaurant has indoor and outdoor seating to enjoy the company of others. So if you're looking for a more refined restaurant to wine and dine in before your big event, Chambar is the place for you.
District Bar & Restaurant
Looking for a fantastic Happy Hour? Check out District Bar & Restaurant. During their Happy Hour, Wednesday through Sunday, they have $4 pints.
This gastropub is a great spot for a simple bite to eat along with a drink from their cocktail menu. Not a cocktail fan? No worries, they have a great list of bourbon and scotch to choose from!
Their food menu is seasonal, so you can enjoy a variety of different types of meals throughout the year.
Shark Club – Vancouver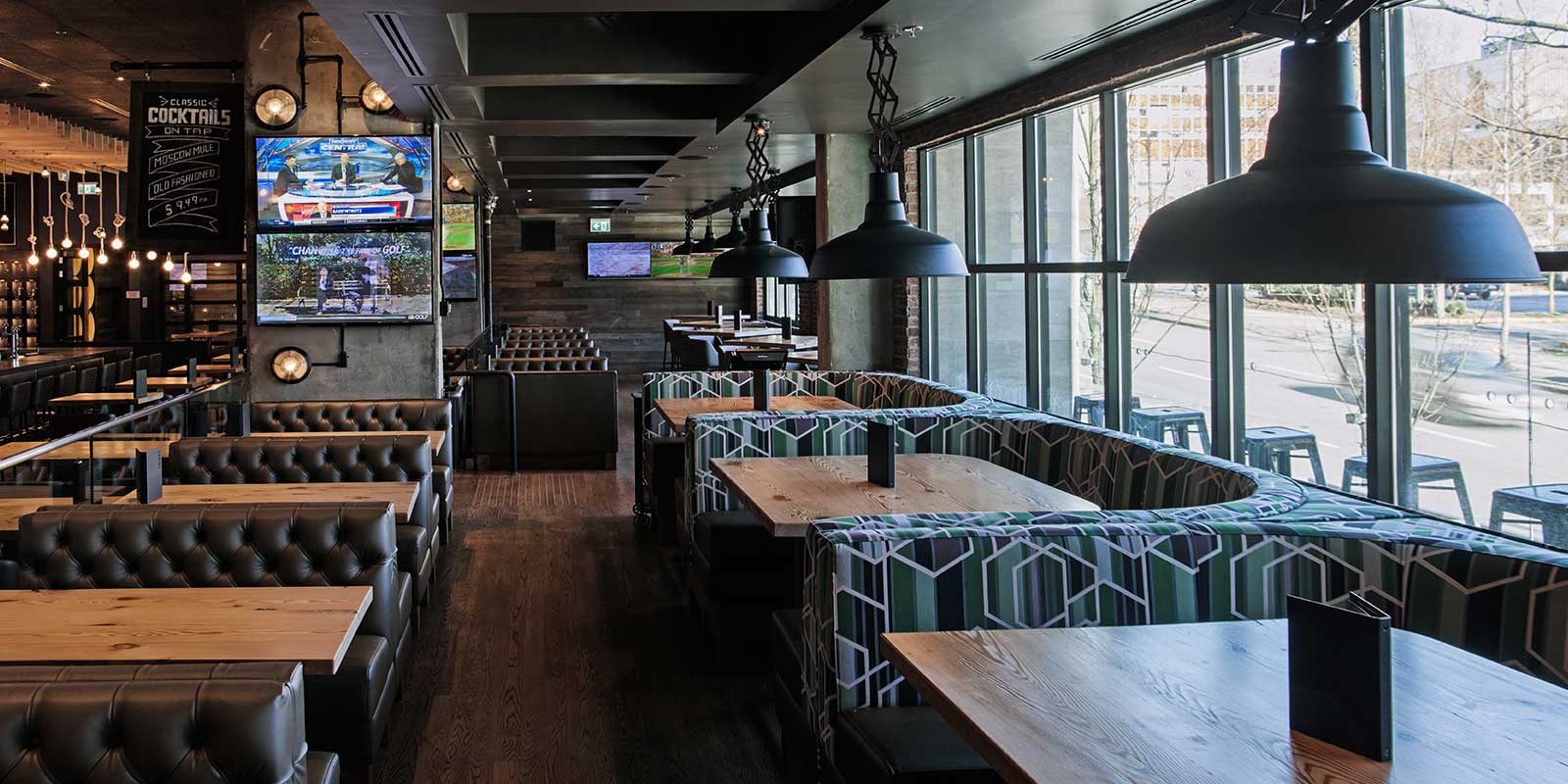 With several locations, Shark Club Sports Bar & Grill – Vancouver is another excellent pregame spot before the big event at Rogers Arena. Known as Sports HQ, you can enjoy some pregame entertainment with big-screen TVs and a fantastic audio system throughout the bar.
Happy Hour is Monday through Friday, featuring a long $5 drink list and a $7 appetizer menu to choose from. They also have a great selection of bar food on their menu, along with their own signature entrees.
Browns Socialhouse QE Theatre
Another great restaurant near Rogers Arena is Browns Socialhouse. They have a great ambiance to enjoy the company of your friends and family. They are a perfect balance between a pub and casual dining.
Check out this place if you love ramen bowls. They have five different ramen bowls to choose from to satisfy your ramen cravings.
This pub also has several gluten-free and vegan options to choose from.
Devil's Elbow Ale & Smokehouse
When it comes to a sports event, there has to be a BBQ joint as an option. Devil's Elbow is that spot. It is the perfect choice for a pregame meal with its smoked wings and meat selection.
A bit smaller but rustic and cozy, Devil's Elbow is excellent for some smokehouse meats, including brisket, pork, and fried chicken. Alongside your meal, there are lots to choose from their craft beer menu.
Moxie's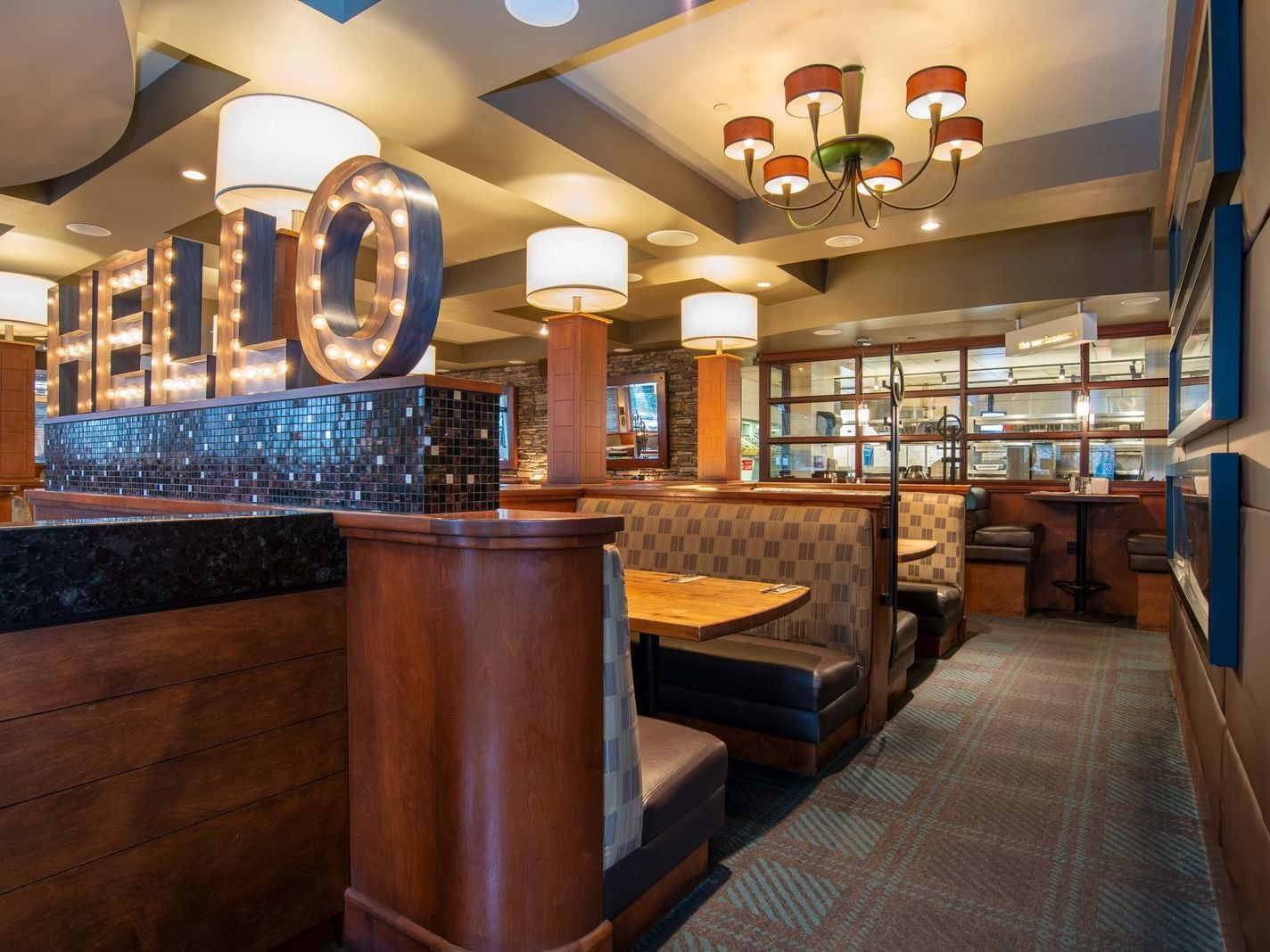 For a great hangout spot, Moxie's is the place to be. With its great atmosphere, Moxie's is a sports bar with an impressive handcrafted cocktail menu.
Moxie's also has daily happy hour that includes a decently sized list of food and drinks. And their regular food menu has a variety of options to choose from.
The Pint Public House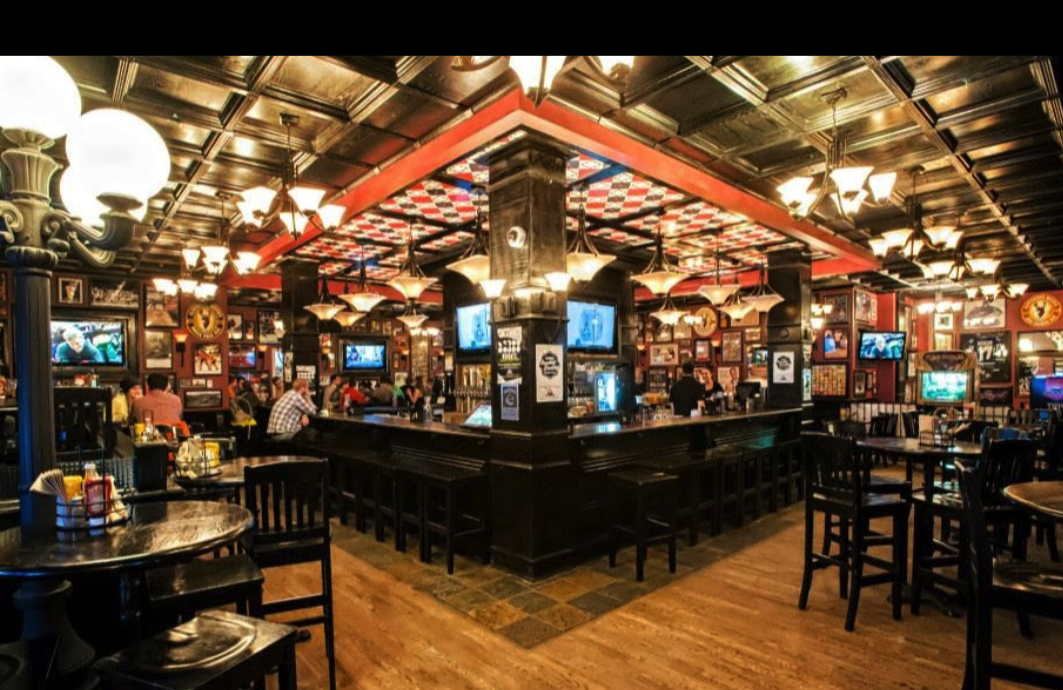 Just a few blocks from Rogers Arena, The Pint has terrific daily specials, like all-day happy hour on Mondays! Their regular happy hour menu includes $5 mugs of domestic.
The Pint's wings are the most popular menu item. They have a "40 Way Menu" that includes 40 different sauces! Wings aren't the only item that can include sauce. You can also choose from steak bites, torpedo shrimp, and cauliflower.
Tsuki Sushi Bar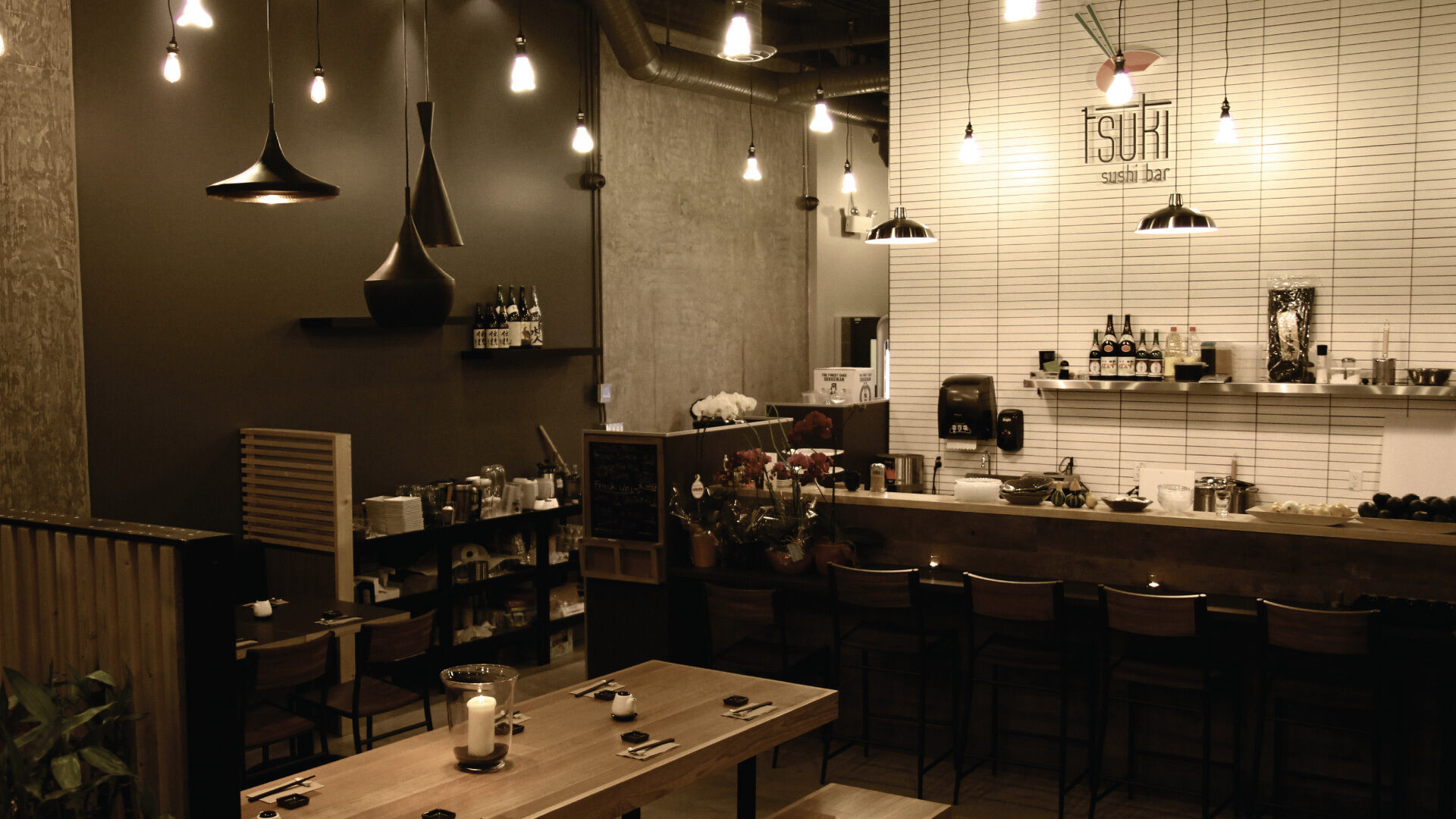 Known for its baked sushi rolls, Tsuki Sushi Bar is the go-to place for sushi before heading to Rogers Arena. With a giant menu, Tsuki has a plethora of rolls to choose from. And it's not overly priced to fulfill your sushi craving. There are many vegetarian options available.
With amazing reviews from several customers, Tsuki Sushi Bar seems the perfect place to enjoy some sushi before the big game. It's also known for its super-fast service.
Einstein Wrap House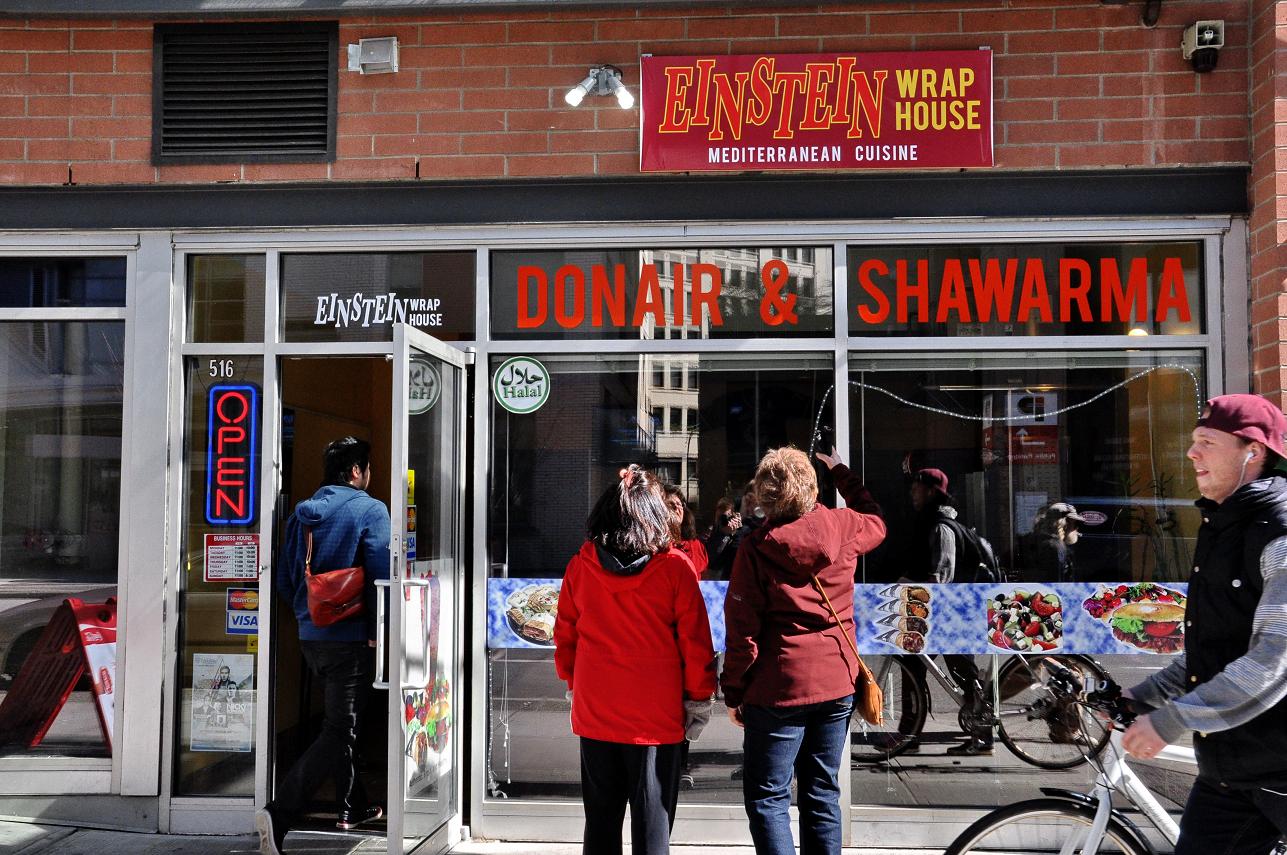 Wrap fanatic? Einstein Wrap House is just a five-minute walk from Rogers Arena. This Middle Eastern/Mediterranean spot serves both quality and quantity when it comes to their meals. At a low price, you can still get excellent authentic food.
Most popular is the Chicken Shawarma Wrap, which is about the length of two Coca-Cola cans! Another favorite is the Lamb Platter, which you can top with whatever fixins you'd like. This made-to-order restaurant allows for as little or as much of all the items in your wrap or on your platter as you desire. And don't be surprised if you end up in a 10-minute conversation with the owners as they make your food.
But don't wait! Sometimes they run out of meat before they even close. So be sure to call ahead of your order to guarantee meat.
The Sportsbar LIVE! At Rogers Arena
If you want to keep to a single location for the entire night, only for significant sporting events, then come to the Sportsbar LIVE! They are open three hours before puck drop for Canuck games.
This place is a larger restaurant that can accommodate bigger parties. It is an excellent environment with music through its audio system and tv screens scattered throughout the building for pregame coverage.
With their decently priced bar food menu, there is a wide range of choices from Fish N' Chips to a classic Cheeseburger to an Ahi Tuna Poke salad.
Final Thoughts
These restaurants are great spots to choose from before watching the Canucks win or watching your favorite entertainer perform at Rogers Arena. Several of these restaurants are even open late to enjoy after your event. Some still have happy hours until they close for fans to come together and enjoy the rest of their evening.
However, these are just 13 restaurants out of the many surrounding the arena. Rogers Arena is close to such a variety of restaurants that you can't go wrong with any of them.
James is a big time NBA Golden State follower, who makes sure to catch games when he's in the area. He likes to follow International Soccer, with an interest in small town soccer club, Blackburn Rovers located in the North on the UK.