Rogers Place, located in downtown Edmonton, is an indoor arena used mainly for ice hockey matches but also serves as a venue for many other events such as concerts and comedy performances. 
While a night at Rogers is guaranteed to be a good time on its own, a great meal after your visit can make it a night you won't soon forget. So if you are planning a trip to or around Rogers Place in downtown Edmonton and want to find fan-favorite spots to grab a bit, look no further!
Here's a list of the best places to eat near Roger's Place. We've put together a culturally diverse list for you so that no matter what you're craving, there's a place for you.
First on our list is Caffeé Sorrentino, located at 10162 100 Street NW Edmonton. Less than 5 min drive and about a 15 min walk from Rogers Place, this Italian restaurant is known as a spot for casual dining.
Many staples of Italian cuisine can be found here, such as pasta, paninis, and even breakfast fare. With over 15 years of service behind them, this restaurant has mastered its menu and aesthetic. Its food and decor contribute to the incredibly positive experience noted by repeat customers of the establishment.
Two main rooms in the restaurant are the Maurizio Room and the Telus Room. The Maurizio Room has more of a comfortable feel to it, whereas the Telus Room is more high-tech and modern. There is a different hot feature menu item every day and brunch on Sundays. Live piano music plays while you enjoy your meal.
The Next Act is located at 8224 104 St NW, Edmonton, about a 10-minute drive from Rogers Place. With their 25 years of service, you can rest assured that they keep customer service and high-quality food.
Add this to your list of go-to spots for casual dining as they have a variety of burgers, soups, and salads. They also house a wide array of beverages that are sure to lift your spirits- these include tap and not-on-tap beer, canned cocktails and ciders, nonalcoholic brews, and red, white, and bubbly wine.
Customers who have visited the restaurant recently frequently rave about the welcoming ambiance, great selection of food and drinks, and friendly staff.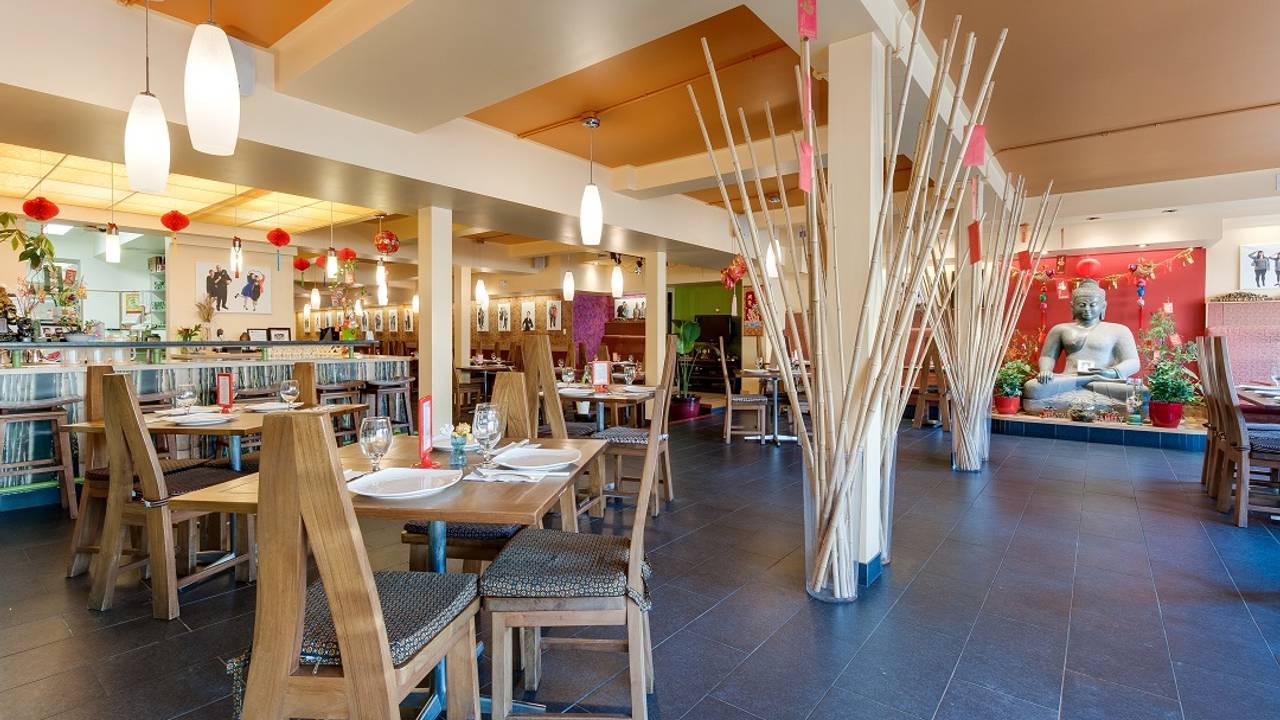 Are you wondering if there are any options close to the venue that are vegan-friendly and delicious? Look no further!
Padmanadi Vegetarian Restaurant is located at 10740 101 St NW Edmonton and has the bragging rights of being voted the best vegan restaurant in Edmonton. If you want to see what all of the hype is about, stop by and have a seat!
At Padmanadi, you can take a trip across Asia through China, Thailand, India, and Indonesia. All without even leaving your seat! This downtown location is part of an ongoing expansion from east to west, as the family-owned establishment originated in Jakarta, Indonesia. The owners have gone on to open several restaurants since Padmanadi's birth in the late 70s.
Though times are ever-changing, you can count on Padmanadi to bring traditional, crowd-pleasing flavors to every dish they serve. Vegetarians and meat lovers alike agree that the flavors and selection offered here are sure to satisfy even the most skeptical of foodies.
Keep the good times going with the exciting dinner and a show-themed restaurant, Japanese village. Located at 10238 104 St NW, Japanese Village is a must-have on any list for dinner options.
This is the perfect place for you if you enjoy immersive atmospheres and high-energy cooking entertainment. With a great selection and even better value for the price, this restaurant could be the perfect addition to your night on the town.
But wait, it gets better! Japanese Village exclusively serves gluten-free sauces and entrees, so gluten intolerant individuals can cross worrying off their list and enjoy the night.
Located at 10310 101 St NW, Edmonton, Joey Bell Tower is one of the several Joey restaurant locations in Canada and is a great place to connect with family, friends, and business associates.
No matter who your company is for lunch or dinner, Joey Restaurants will provide a fantastic atmosphere for your evening. With a view of the chefs preparing food through an open kitchen design, a covered garden terrace, and a modern yet rustic interior, you'll have a great view while you enjoy your meal.
As for the food, the global influences shine through the menu, which includes standard chips and dip, burgers and sandwiches, steak, sushi, and even Hawaiian dishes.
Just across the road from Rogers Place, Old Spaghetti Factory is a perfect option for anyone looking for delicious Italian food. Popular menu options include the French Onion Soup, Cajun Chicken, and the Seafood Linguine Marinara.
All of their menu items except for appetizers and beverages fall under the It's All Included meal plan, where the entire meal is bundled at a low price. No need to worry about crunching the numbers!
This 100% Canadian-owned restaurant has all of the classic Italian cuisine staples you could ask for, from pasta to garlic bread to specialty wine. Have a gluten intolerance? There are many gluten-free options available, and they even have a separate menu so you don't have to worry about spending time endlessly flipping through options.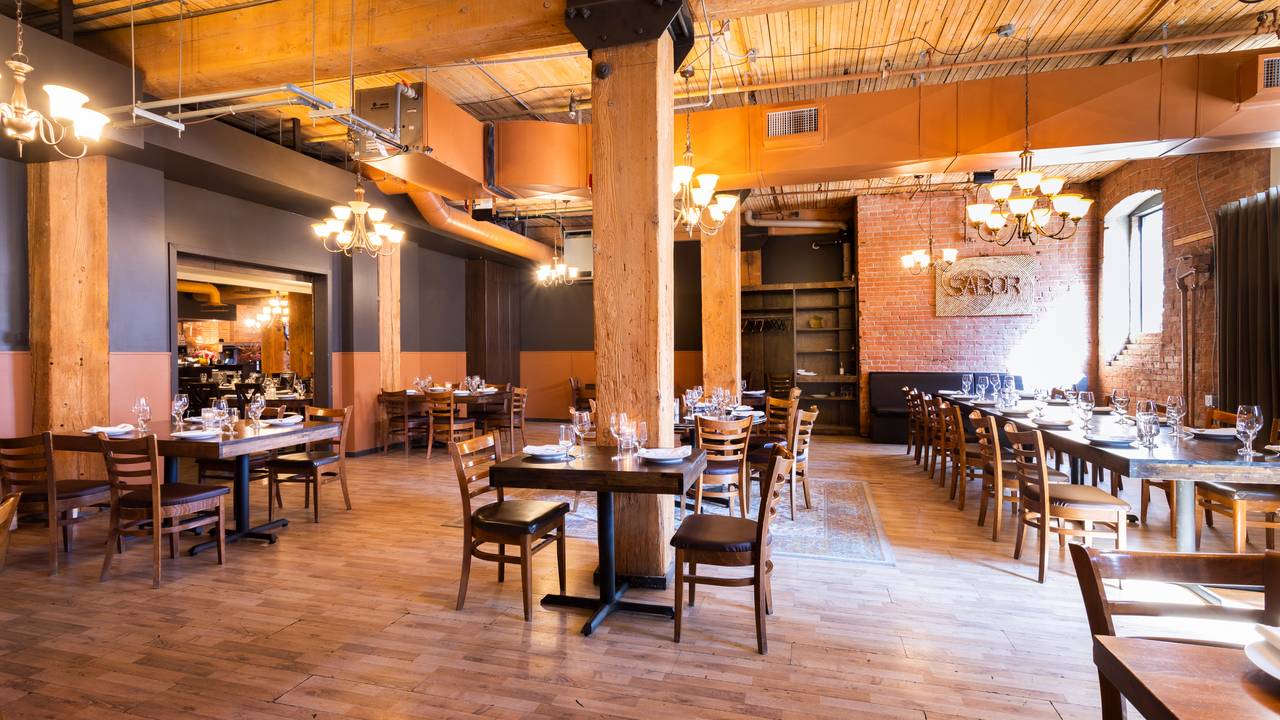 If you're looking for a place to satisfy your seafood craving, look no further than Sabor. Located at 10220 103 St NW, Edmonton, Sabor is here to meet your needs as they are open for dine-in and takeout.
Enjoy food made by people who have a passion for their craft and a commitment to quality. Proof of this commitment can be found in the hand-selected, sustainable seafood where the flavors of Iberian Spain meet Portugal's coastal cuisine. Throw in some live Latin music, and you've got a recipe for a great night out.
Elevate your casual dining game with this very intimate wine bar. Reservations are strongly encouraged as there is limited space inside of the restaurant and every night is a busy night due to its popularity.
Tzin Wine and Tapas is primarily a wine bar, offering a wide variety of alcoholic beverages, but their tapas are also a big part of their appeal. Rated Edmonton's #1 tapas restaurant for 10 years straight, this should be on your radar if it's not already.
There is an ever-changing wine list and you have the option of ordering by the glass, half bottle, or full bottle. This restaurant is located at 10115 104 St NW, Edmonton.
Tres Carnales Rostizado is a Latin restaurant specializing in Mexican cuisine. Elevated authentic Mexican food may be a bit hard to come by these days, but Rositizado manages to meet in the middle to give its customers a quality experience.
It's hard to believe this restaurant used to be a warehouse seeing as how it has such a hip, modern atmosphere. The laid-back ambiance is even reflected in the menu with creative specials like Margarita Mondays, Pizzadilla Tuesdays, and Wine Wednesdays.
There are frequent additions to the menu so regardless of when you make your outing, you won't be bored. Rostizado is located at 10359 104 St NW #102, Edmonton, and offers dine-in, takeout, and delivery as options.
Asian Express Hotpot is a hotpot restaurant located at 10586 100 St NW, Edmonton. Hotpot is more than just a dish- it's an experience. If you find yourself looking for a restaurant where you can be an active part of your meal while also sharing the experience with your party, this is a great option for you.
At Asain Express Hotpot, customization is built into the experience. The meal consists of a choice of soup base, noodles, and proteins with a veggie basket and sauce bar open for use at your will. The food is brought to you and you get to cook it yourself.
This family-friendly restaurant has high chairs available for young children and a spacious interior so you won't feel cramped while enjoying your meal. Customers note that there is quick and friendly service.
The portioning is also said to be filling so you'll get great value for the price. The restaurant follows an all-you-can-eat formula, at one base price with the option of additional charges such as extras and specialty food items.
Final Thoughts
As a multi-use arena, Rogers Place is home to the Oilers and is the host of many different concerts and events. Performers from all over the world use this venue and, as a result, bring individuals from all over to the downtown Edmonton area.
A good meal is the best way to end or begin a night of entertainment, so we have put together a list of the best eats in the area. Whether you're stopping by for a visit to Rogers Place for an event or simply in the area looking for a bite to eat, there are many options to satisfy whatever you're in the mood for.
James is a big time NBA Golden State follower, who makes sure to catch games when he's in the area. He likes to follow International Soccer, with an interest in small town soccer club, Blackburn Rovers located in the North on the UK.