Rogers Arena, home to the Vancouver Canucks, offers fans a wide variety of food choices to enjoy during events. With numerous concession stands and eateries available throughout the arena, attendees are sure to find something that suits their taste buds and dietary preferences.
In addition to classic stadium fare such as hot dogs and burgers, Rogers Arena has crafted a diverse menu that caters to different dietary requirements, including dairy-free, gluten-free, vegetarian, and vegan options.
From unique twists on traditional dishes like the Glendon perogy dog to fan-favorite selections like the Smashburger, this venue presents a memorable dining experience for event-goers of all kinds.
Rogers Arena Overview
Rogers Arena, located in Vancouver, Canada, is the home of the NHL's Vancouver Canucks and a premier event destination. The arena has been designed with visitor experience in mind, providing a range of food and beverage options to satisfy diverse dietary preferences and cravings.
Patrons of Rogers Arena can choose from a wide variety of menu items, including classic stadium food as well as more gourmet-level dining options. Offering everything from the Glendon perogy dog and poutine dog to vegetarian and gluten-free options, guests can find their food of choice in various sections of the arena, such as sections 120 and 330.
The arena's dining experience doesn't limit itself to the stadium's seating areas, as The Sports Bar on-site also offers an extensive array of food and beverages. More information about The Sports Bar can be found at TheSportsBar.ca.
Although outside food and drinks are generally not allowed at Rogers Arena, the wide range of food options available within the venue ensures that guests can find something delicious to enjoy while attending events, games, and concerts at this iconic location.
Dining Options
Concessions
When attending an event at Rogers Arena, visitors can enjoy a wide variety of concession stand options. From classic hot dogs, burgers, and pizza to tasty snacks and beverages, there's something for everyone. A few popular concession options include Triple O's for signature burgers and fries, and Catch for fresh seafood meals.
Restaurants and Bars
Rogers Arena also offers several sit-down restaurant and bar options for those looking for a more leisurely dining experience. In addition to traditional pub fare and a wide selection of local and international beers, many of these establishments provide excellent views of the game or event taking place in the arena.
Food Trucks
On days with big events, food trucks can sometimes be found in the vicinity of Rogers Arena, offering high-quality, diverse meals on-the-go. These mobile vendors often feature gourmet creations and unique food combinations, giving visitors even more options for satisfying their hunger during busy arena events.
Vegetarian and Vegan Options
At Rogers Arena, the needs of vegetarian and vegan visitors are taken into account. There is a collection of food and beverage options that cater to dairy-free, gluten-free, vegetarian, and vegan diets. From plant-based burgers and pizzas to fresh salads and smoothies, arena guests can enjoy tasty and healthy alternatives to the more traditional arena fare.
Popular Food Items
Rogers Arena boasts a wide variety of food options for visitors to enjoy. Many fans may be familiar with the traditional arena favorites such as hot dogs, burgers, and pizza, but the arena does not stop there in terms of culinary offerings. They strive to cater to various dietary needs, including dairy-free, gluten-free, vegetarian, and vegan options, which can be found throughout the venue.
One popular dining option for seafood lovers is Catch, which serves up fresh seafood meals. Visitors can find Catch at sections 101, 117, and the club section. Fans looking for a delicious burger can head to Triple O's, where they offer signature burgers paired with tasty fries.
If you prefer a gluten-free alternative, Whistler Forager is an excellent choice. Additionally, those with dietary restrictions can explore various options at different concessions throughout Rogers Arena to find suitable choices that align with their nutritional needs.
Rogers Arena's food offerings are designed to satisfy a diverse range of tastes and preferences. With its wide selection of menu options, visitors can enjoy anything from classic arena food items to dishes that cater to specific diets, ensuring a satisfying and enjoyable dining experience for all.
App Ordering and Pick-Up
At Rogers Arena, fans can conveniently order food through the app for pick-up at various concession stands. To enhance the game experience, this service eliminates the need for waiting in long lines and allows for a faster and more efficient process.
When attending an event at Rogers Arena, fans can also take advantage of their mobile ordering services.
In addition to app ordering and pick-up, Rogers Arena also offers in-suite food and drink ordering services for premium event attendees. An attendant is available to take orders during the event, with an event day menu provided in each suite upon arrival.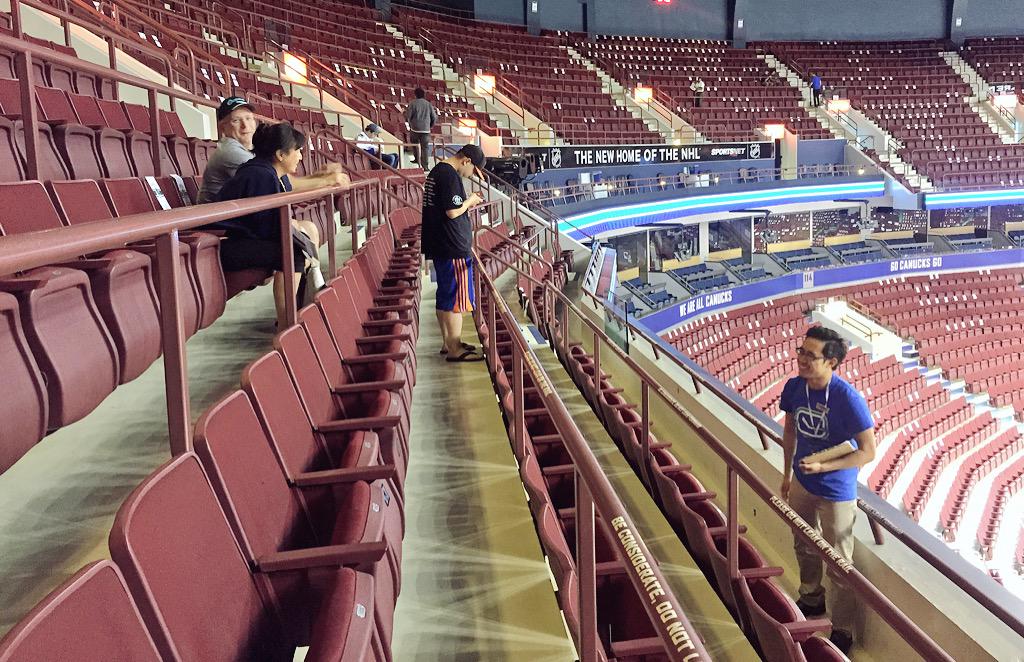 Special Dietary Needs
Rogers Arena recognizes the importance of accommodating guests with special dietary needs and offers a variety of food and beverage options to cater to different diets. These options are designed to be compatible with dairy-free, gluten-free, vegetarian, and vegan diets, ensuring a satisfying culinary experience for all visitors.
Although specific menu items may change, several stations at Rogers Arena provide dietary-conscious options. In addition to traditional food and drink stands, the arena features specialty stands that offer healthier, diet-friendly choices.
For guests with food allergies or specific dietary restrictions, it is recommended to communicate these concerns with arena staff. They can help guide you towards appropriate food offerings and ensure your needs are met safely. Detailed information on dietary guidelines is also available at Rogers Arena's website.
Here's a quick summary of available options at Rogers Arena:
Dairy-free: Options without dairy or lactose-containing ingredients.
Gluten-free: Choices free from gluten, such as gluten-free buns and sandwiches.
Vegetarian: Dishes made without any meat or animal by-products.
Vegan: Meals created entirely from plant-based ingredients.
Remember to stay informed about Rogers Arena's food offerings and ask for assistance from arena staff when necessary. Enjoy a delicious and stress-free dining experience while attending events at this venue.
Payment Options
Rogers Arena provides a variety of payment methods for food and beverages during events. The arena accepts major credit cards such as VISA, MasterCard, and American Express, as well as cash payments.
In addition to these payment methods, certain food court locations outside of the arena may have specific payment options. For example, if you decide to visit the nearby Costco food court, be aware that they only accept MasterCard as a payment method.
When purchasing food inside Rogers Arena, visitors can expect a variety of choices ranging from basic stadium food to more gourmet options. Prices for snacks or items like hot dogs and pizza start at $5 to $7.
It's important to note that most outside food and drinks are generally not allowed inside Rogers Arena. To avoid any confusion, it's best to enjoy the diverse food and beverage options available within the arena itself.
James is a big time NBA Golden State follower, who makes sure to catch games when he's in the area. He likes to follow International Soccer, with an interest in small town soccer club, Blackburn Rovers located in the North on the UK.