Rogers Place, a world-class venue hosting Edmonton Oilers games and numerous events, prides itself in offering an expansive lineup of food options for its visitors.
With choices designed to cater to the various tastes and flavors of Edmonton and Alberta, the arena boasts an incredible variety of over 80 food items on its concessions menu, ensuring a delightful gastronomic experience for the crowds.
Fans visiting Rogers Place can enjoy an array of mouth-watering options ranging from local and traditional to upscale food choices. For an authentic Canadian food experience, visitors can relish options like Reuben taco, cheeseburger, Italian, smoked brisket and more, available at sections 107 and 228.
Those seated in Club Seats can indulge in artisan pizzas, sushi, and gourmet burgers at the Mezzanine Lounge, which is located on both the North and South end of the building below the Main Concourse.
Dining Options at Rogers Place
Restaurants and Bars
There are several restaurants and bars available at Rogers Place, including the Studio 99 which offers elevated sports bar dining with both à la carte and buffet-style options. This ensures you don't miss a minute of the game while enjoying a delicious meal.
Another popular restaurant near Rogers Place is Match Eatery & Public House. With a wide variety of dishes, this establishment caters to different tastes and preferences.
Concession Stands
Rogers Place has numerous concession stands throughout the arena, ensuring easy access to various food and beverage options. For instance, the Whyte Ave Bistro located in section 132 offers hot dogs, chicken tenders, ice cream bars, RP Smashburger, water, beer, and more.
Another notable concession stand is the Bobby Nick's Grill which provides a selection of mouth-watering dishes to enjoy while watching the game.
In-Seat Service
For those who prefer not to leave their seats during the game, in-seat service is available, allowing you to enjoy food and beverages without missing any of the action.
Simply place your order with the arena staff and have your items delivered directly to your seat.
Popular Food Items
Rogers Place offers a wide variety of delicious food options to visitors attending events and matches. The arena has everything from traditional stadium foods to more unique culinary items.
One notable option at Rogers Place is the Smashburger, which can be found at the Rogers Place Smashburger stand. This popular burger brings a homestyle taste to the world-class facility.
Chicken lovers can enjoy tasty Chicken Tenders and Fries at various concession stands throughout the arena. These crispy and flavorful tenders are always a hit with fans.
For those who prefer traditional stadium fare, Rogers Place offers classic Hot Dogs as well. These delicious dogs can be found at numerous locations across the venue, making them an accessible and popular choice.
Visitors looking for more unique options can head to Whyte Ave Bistro, where they can find items such as brisket sandwiches and other mouth-watering entrees. Located in section 132, this bistro offers a diverse range of food options for patrons to indulge in.
In addition to these fan favorites, Rogers Place is home to several speciality restaurants and eateries, such as Studio 99, Kindred Food + Drink, and Jasper Ave Eatery. These fine dining establishments provide a more upscale and diverse culinary experience for visitors seeking something different during their time at the arena.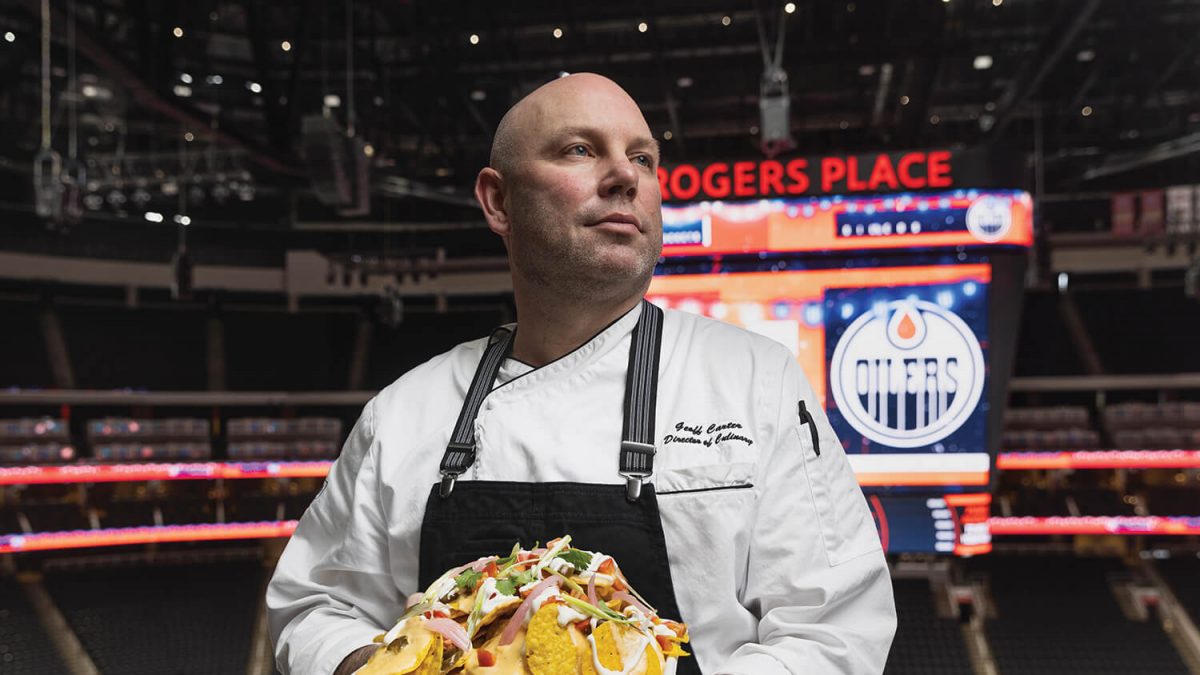 Gluten-Free and Vegetarian Options
Rogers Place offers a number of delicious gluten-free and vegetarian food options to accommodate diverse dietary preferences. Whether you're attending a game or an event, you can enjoy the diverse menu available on-site.
For gluten-free options,
Draught at Section 204,
Jasper Ave Eatery at Section 234, and
Pizza 73 at Section 208
Vegan, vegetarian, and other dietary selections can also be found at Rogers Place.
Alcohol and Beverage Options
At Rogers Place, guests can enjoy a variety of alcoholic and non-alcoholic beverages during events. The venue offers a selection of beer, ciders, and other drinks at various concessions and bars throughout the arena.
One popular spot in the arena is the Breakaway Bar, which serves up Red Bull energy drinks, water, beer, and ciders. This bar is a great place to grab a drink and socialize with other event attendees.
For guests with dietary restrictions or preferences, Rogers Place offers a range of beverage options compatible with dairy-free, gluten-free, vegetarian, and vegan diets. This ensures that everyone can find a suitable drink during their visit.
To locate specific alcoholic and non-alcoholic beverages at Rogers Place, you can use their Food Finder tool. This informative tool will show you which concessions and locations in the arena offer the drinks you are looking for.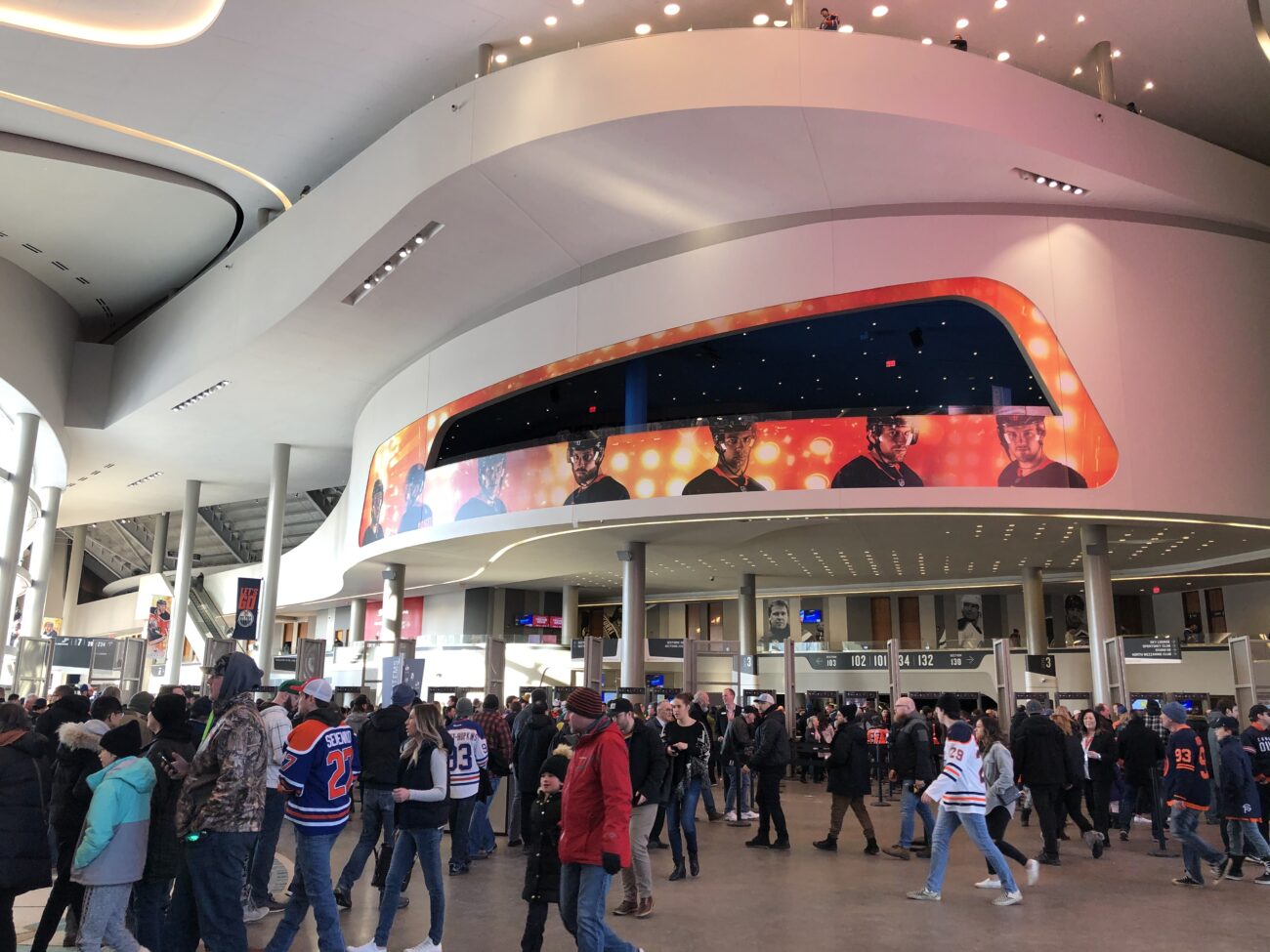 Payment and Pricing
Rogers Place offers a variety of food options for visitors, and while the concession prices can sometimes be a point of concern for Oilers fans, the venue emphasizes transparency in its pricing.
As stated on their FAQ page, the price you see is the price you pay, with no hidden fees. However, it's important to factor in food and beverage service costs if applicable.
In addition to standard concession fare, there are premium food and beverage options available for those looking for a more upscale dining experience. These selections may come at a higher price point, but provide variety to suit different tastes.
When it comes to payment, Rogers Place accepts major credit and debit cards, as well as cash for food and beverage purchases. It's always a good idea to prepare for event attendance by budgeting for your desired food and drinks, ensuring an enjoyable experience without breaking the bank.
Helpful Tips for Dining at Rogers Place
When attending an event at Rogers Place, it is essential to know the best dining options for an enjoyable experience. Here are some helpful tips to keep in mind:
1. Explore a variety of food options available at the arena. The Rogers Place Food & Beverage Team has curated a diverse menu, including fan favorites and signature sandwiches, to elevate your dining experience.
2. For a pre-game drink and light food, consider visiting Studio 99. This sports bar offers a great view of the grand hall and a wide array of Gretzky memorabilia to admire.
3. Plan ahead to ensure you have ample time for dining. This will allow you to avoid long queues and fully enjoy the variety of food options at Rogers Place. The nearby restaurants and bars are also worth considering, with friendly staff and easy access to food and drinks.
James is a big time NBA Golden State follower, who makes sure to catch games when he's in the area. He likes to follow International Soccer, with an interest in small town soccer club, Blackburn Rovers located in the North on the UK.