Allianz Arena, situated in Munich, Bavaria, Germany, is truly a remarkable piece of modern architecture and an important landmark for football enthusiasts worldwide. Opened in 2005, it has a seating capacity of 70,000 for international matches and 75,000 for domestic matches. The unique design and state-of-the-art facilities make it one of Europe's most iconic football stadiums.
The stadium is home to FC Bayern Munich, one of the most successful clubs in the history of German football. After leaving their previous venues, Grünwald Stadium and Olympic Stadium, Bayern established the Allianz Arena as their third and undoubtedly most spectacular home ground. Fulfilling their fans' dreams, the arena offers an unparalleled viewing experience, continuing to contribute to the club's illustrious legacy.
Visiting the Allianz Arena is not only a thrilling experience for avid football fans, but it also attracts architecture and design lovers alike. The stadium's striking exterior and innovative seating plan make it a must-see destination in Munich. Its importance in European football and its stunning design ensures the Allianz Arena remains an essential part of Bayern Munich's identity.
History of Allianz Arena
Construction
The Allianz Arena, home of FC Bayern Munich, is a football stadium in Munich, Germany. Construction on the stadium began in 2002, with the design by renowned architecture firm Herzog & de Meuron. The stadium was completed in 2005 and has since been a popular venue for football matches and other events.
The arena was designed with the fans in mind, as expressed by Franz Beckenbauer: "Watching football should be fun and a great experience for everyone." This led to the creation of a football-specific stadium with a unique design featuring a diamond-shaped exterior.
Key Events
Since its opening in 2005, the Allianz Arena has hosted numerous significant events, including:
FC Bayern Munich's home games in both domestic and international competitions, such as the Bundesliga and the UEFA Champions League.
TSV 1860 Munich's participation in the UEFA Cup.
The 2006 FIFA World Cup matches that took place in Germany, with the Allianz Arena hosting several matches including group stage games and a semifinal.
In 2014, Allianz SE became shareholders of FC Bayern München AG, securing the naming rights for the Arena until 2041, representing a long-term partnership between the club and the insurance company.
Additionally, in November 2014, it was announced that the Allianz Arena was "completely paid off," as stated by Karl-Heinz Rummenigge. Initially, the financial plan was set up for 25 years, however, the stadium's debt was cleared in only nine.
Architecture and Design
The Allianz Arena, located in Munich, Germany, is the home stadium of Bayern Munich and an architectural marvel. Designed by renowned Swiss architects Herzog & de Meuron, the stadium opened its doors in May 2005, replacing Munich's old Olympic Stadium as the new home for both Bayern Munich (1 Bundesliga) and TSV 1860 Munich (2 Bundesliga).
The design of the Allianz Arena focuses on creating a unique and futuristic interpretation of the basic football stadium concept. Boasting a seating capacity of 69,901, the stadium features a magnificent façade made up of a membrane shell. This 66,500sqm shell comprises 2,784 air cushions that emit an ethereal glow during matches and events, setting a new precedent in stadium design.
In addition to its striking exterior, the Allianz Arena has been meticulously designed to enhance the overall experience for both spectators and athletes. It boasts state-of-the-art facilities, such as large video screens and comfortable seating arrangements, which ensure a matchless view for spectators. Additionally, the stadium includes multiple restaurants, bars, and shops, providing an all-inclusive and enjoyable atmosphere for visitors.
Functionality is also central to the design of the Allianz Arena. The stadium was built with the flexibility to accommodate various sporting events and concerts, being able to transform from a football stadium to a unique event space. Moreover, the design intricately considers the needs of disabled visitors, offering enhanced accessibility and provisions for a comfortable experience.
Collaboratively, Herzog & de Meuron, along with contractors Alpine Bau Deutschland GmbH, Arup, and Sailer Stepan and Partners, Munich, have succeeded in creating a groundbreaking and iconic structure that stands as a testament to sports architecture and innovation in stadium design.
Allianz Arena and FC Bayern Munich
Allianz Arena, located in Munich, Germany, is the iconic stadium that serves as the home ground for the prestigious football team, FC Bayern Munich. The arena, with its distinctive exterior of inflated ETFE plastic panels, has turned into a landmark in Munich since its inception in 2005.
Notable Matches
At Allianz Arena, FC Bayern Munich has played numerous memorable matches that went down in football history. Some of these standout encounters include:
2006 FIFA World Cup: Allianz Arena hosted the opening match between Germany and Costa Rica, which resulted in an impressive 4-2 victory for the German national team.
UEFA Champions League Final 2012: The stadium saw a thrilling final between Chelsea and Bayern Munich, ending in a victory for Chelsea after a penalty shootout.
Bayern Munich vs. Borussia Dortmund (2013): In a nail-biting clash between two of Germany's top clubs, Bayern Munich staged an outstanding comeback in the dying minutes to secure a dramatic 1-0 win.
Club Achievements at Allianz Arena
Since moving to their new home, FC Bayern Munich has celebrated numerous club achievements at Allianz Arena. Some of the most significant honors include:
Bundesliga Titles: Since 2005, the team has consistently dominated the German league, winning multiple Bundesliga championships at their fortress-like stadium.
DFB-Pokal: Allianz Arena has also witnessed the team lifting the German Cup, which they achieved by superior performances against their rivals.
UEFA Champions League: FC Bayern Munich regularly hosted home games of their successful 2012/13 UEFA Champions League campaign, which culminated in them being crowned as Europe's best club that season.
The Allianz Arena remains an awe-inspiring symbol of Bayern Munich's success and ambition and will continue to bear witness to countless more historic moments in football.
Facilities at Allianz Arena
Seating
The Allianz Arena has a total capacity of 75,024 seats during national games, with a standing area comprising 13,342 spots (9,336 in the South and 4,006 in the North Stands). For international games, the capacity is set at 70,000 due to the removal of standing areas. However, owing to a UEFA pilot project, 75,024 seats are currently authorized for Champions League match days.
Total Capacity: 75,024 seats (national games)
Standing Area: 13,342 (9,336 South; 4,006 North)
International Games Capacity: 70,000 (no standing areas)
UEFA Champions League Capacity: 75,024 seats (pilot project)
Hospitality Options
The Allianz Arena offers 2,152 business seats for guests seeking an enhanced experience. These seats often include premium services and luxury amenities that provide an exclusive matchday experience.
The hospitality options at the Allianz Arena aim to cater to various preferences and budgets, ensuring that every visitor has an unforgettable time during their stadium visit.
Community and Environmental Initiatives
The Allianz Arena, home of FC Bayern Munich, is not only known for its iconic design and world-class football, but also for its commitment to sustainability and the environment. The arena has launched several initiatives to ensure it has a positive and lasting impact on the community and the planet.
One of the key projects is The Mission – a sustainability initiative in collaboration with FC Bayern Munich and Futury. This project aims to build an ecosystem that combines innovation and sustainability over the next three to four years, contributing positively to the economy, society, and the environment.
As part of their environmental commitment, the Allianz Arena strives for climate neutrality. With the upcoming Euro 2024 tournament being held in Germany, the arena aims to make climate neutrality a core part of its preparations and ambitions.
Moreover, the Allianz Arena offers engaging and educational experiences for the community through its tours and museum. The FC Bayern stadium tour and club museum allows guests to immerse themselves in the history of FC Bayern München and experience Germany's largest club museum. The FCB Erlebniswelt, housed within the Allianz Arena, also attracts thousands of visitors every year, making it a significant cultural landmark in Munich.
Overall, the Allianz Arena serves as an example of a modern sports facility that is dedicated to both community engagement and environmental responsibility, making it a beacon of excellence within the realm of professional sports.
Trivia and Interesting Facts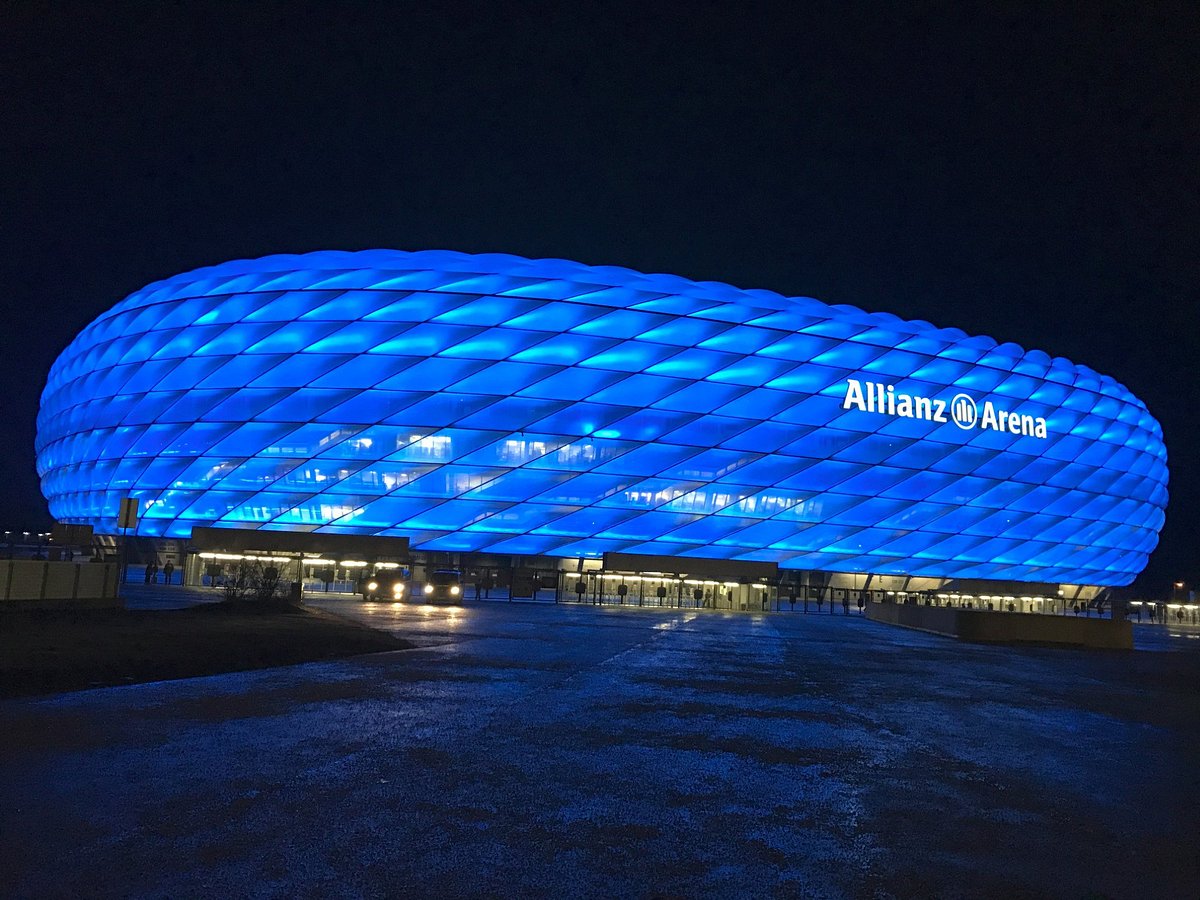 The Allianz Arena, located in northern Munich, is an iconic stadium and home to FC Bayern Munich. Constructed between 2002 and 2005, it has seen numerous historical moments and boasts a number of interesting features.
Designed by the famous Swiss architectural firm Herzog & de Meuron, the stadium stands next to Munich's oldest church. The Allianz Arena replaced the Olympiastadion, which was built for the 1972 Summer Olympics, as the main football venue in the city.
The stadium's striking exterior consists of 2,874 ETFE (Ethylene Tetrafluoroethylene) plastic panels that create an impressive sight, especially at night. These panels can be illuminated in different colors and patterns, making the Allianz Arena a recognizable landmark in Munich.
Originally, the Allianz Arena was shared by both FC Bayern Munich and TSV 1860 Munich. However, due to financial issues in 2006, 1860 Munich sold its 50 percent stake in the stadium to Bayern Munich for €11 million, making it the sole home of FC Bayern Munich.
The Allianz Arena has a seating capacity of 75,000 spectators, which can be further expanded to 80,000 for international matches. It has hosted numerous memorable matches, including the 2012 UEFA Champions League Final between Chelsea and Bayern Munich.
In addition to hosting football matches, the Allianz Arena also houses the FC Bayern Museum, a state-of-the-art facility that showcases the club's rich history and achievements.
The Allianz Arena is known for its excellent amenities and advanced technology. In 2014, it became the first stadium in Germany to offer Wi-Fi coverage to all of its visitors, allowing fans to enjoy a seamless digital experience while watching their favorite team play.
In summary, the Allianz Arena, home to FC Bayern Munich, is a stadium with a rich history and numerous interesting features. From its striking design to its state-of-the-art facilities, it remains a symbol of football in Munich and a must-visit venue for fans of the sport.
Allianz Arena Tours
The Allianz Arena, home of FC Bayern Munich, offers visitors a chance to explore its iconic facilities through guided tours. These Arena Tours provide fans with a unique behind-the-scenes look at the stadium's inner workings, history, and the legacy of FC Bayern Munich.
On non-matchdays, tours are available from around 10:00 to 17:30. You'll find detailed information at the ticket office for individual tickets or on request for group tickets. The FC Bayern Museum is open from 10:00 to 18:00, with the last entry at 17:15. It should be noted that, due to renovation work, the FC Bayern Munich dressing room section will be closed to arena tours from May 22 until probably August 11, 2023.
Visitors can also opt for a specially designed matchday tour combined with a visit to the FC Bayern Museum. However, demand for these tours is very high, so it is advisable to purchase tickets in advance to avoid long queues at the stadium. Tickets can be bought from the online ticket shop.
Tour prices vary depending on the type of tour and age of participants, with discounts available for children, families, and seniors. The Allianz Arena provides a truly immersive experience that celebrates the rich history and achievements of FC Bayern Munich while showcasing the state-of-the-art architecture and facilities of the stadium. Don't miss this opportunity to explore one of the most famous football arenas in the world.
Future Plans for Allianz Arena
Allianz Arena, the home of Bayern Munich, has consistently made efforts to modernize and renovate the stadium. In preparation for the UEFA Euro 2024, which Germany is set to host, Bayern Munich has several plans underway to ensure the stadium is functionally and aesthetically up to par, with at least six games expected to take place in the Allianz Arena during the campaign, including the final match.
One major change planned for the 2023/24 season is the implementation of a barrier-free exit in the car parks. This change is designed to reduce congestion and improve overall traffic flow, enhancing the stadium experience for fans.
Moreover, Bayern Munich is carrying out reconstruction work in their dressing room. The renovations are expected to last from May 22 until likely August 11, 2023. This endeavor aims to provide the team with improved facilities, ensuring they have the best environment to prepare for matches.
In conclusion, Bayern Munich and Allianz Arena are focused on continuously upgrading and optimizing their facilities to provide fans and athletes with a top-notch experience. By maintaining a modern, comfortable, and well-equipped stadium, the Allianz Arena solidifies its position as one of Europe's premier football venues.