The Honda Center, located in Anaheim, California, is a popular venue for a variety of events, including concerts, basketball games, and ice hockey matches. With a seating capacity of around 18,000, it's essential to find the best seats for a comfortable and enjoyable experience.
In this guide, we'll discuss the best and worst seats and offer insights to help you make the most informed decision about where to sit during your next visit to the Honda Center.
The layout of the seating at Honda Center varies depending on the type of event being held. For concerts, the most common setup features an end stage located near sections 212, 213, and 214. It is essential to consider factors like the view, the proximity to the stage, and the overall experience while choosing seats.
In this guide, we will explore specific sections and seat numbers that offer excellent views, those that may be less desirable, and tips on understanding the seating chart at the Honda Center. Armed with this information, you'll be better equipped to select the perfect spot to enjoy your favorite show or sporting event.
Best Seats at Honda Center
Lower Level Center
When looking for the best seats at Honda Center, it's hard to beat the Lower Level Center sections. These sections offer a close and unobstructed view of the action, whether it's a concert or a sporting event. Seats in sections 201-203 and 221-223 provide an excellent vantage point, with sections 202 and 222 being directly in front of the stage for concerts. For sporting events, sitting in the first 10 rows is ideal to feel the intensity of the game.
Club Level Center
The Club Level Center sections offer a fantastic combination of excellent sightlines and premium amenities. These sections are located in the 300 level of the arena, making for a more elevated view. Sections 301-303 and 321-323 are the prime spots to be in, with sections 302 and 322 particularly offering great views for concerts. Fans in these sections can also enjoy in-seat service, private restrooms, and access to luxurious lounges, making for an unforgettable experience.
Upper Level Center
If you're looking for a more affordable option without sacrificing the quality of your view, the Upper Level Center sections are a great choice. Although they are higher up in the arena, sections 401-403 and 421-423 still provide a clear and reliable view of the stage or playing area. For the best experience in the upper level, aim for rows A-E, as the elevation can make it more difficult to see details from higher rows.
Worst Seats at Honda Center
Upper Level Corners
The upper level corners in the Honda Center, primarily sections in the 400s, are often considered to be the least preferable seating options. This is due to their far distance from the action taking place, making it harder to see the fine details of the event. Additionally, the view of the stage or playing field can be limited, which is not ideal for an immersive experience.
These seats still offer a view of the event, but may not provide the same level of satisfaction as closer seating areas. Visitors in these sections may need to rely more on large screens or use binoculars to get a better view of the proceedings.
Obstructed Views
Certain seats in the Honda Center may have obstructed views, which can be particularly frustrating for attendees. Obstructions may include structural beams, overhangs, or even people standing up in front of you. Depending on the specific sections and rows, these obstructions can range from minimal to significant.
To avoid purchasing obstructed view seats, it's essential to refer to the Honda Center seating chart before buying tickets and pay close attention to any disclaimer notes. Moreover, reading reviews and consulting with fellow fans may help to identify which specific seats or sections lack clear sightlines.
In conclusion, upper level corner seats and obstructed view locations are generally considered the worst seating options at the Honda Center. However, every individual's preferences and budget may vary, and, in some cases, these seats may still be enjoyable to some attendees.
Factors to Consider
When selecting seats at Honda Center, there are several factors to consider. This section will guide you through the important aspects such as viewing angles, proximity to amenities, and price.
Viewing Angles
For concerts, the most common seating layout is an end-stage setup, with the stage located near sections 212, 213, and 214 ("Honda Center Seating – RateYourSeats.com")
For hockey games, the Ducks shoot twice towards sections 214-216, so home fans often prefer these seats for the action ("Honda Center Plaza Level – RateYourSeats.com")
Keep in mind that the quality of your viewing angle will depend on your seat location. When choosing seats, take into account the event type and layout to optimize your view.
Proximity to Amenities
The Honda Center offers a variety of amenities for guests to enjoy, such as restrooms, concession stands, and souvenir shops. However, not all seats have equal access to these facilities. It's important to choose seats that provide convenient access, especially for those who may need more frequent trips.
Here are a few tips:
Avoid seats with limited legroom and aisle space, as these might make trips to amenities more challenging ("Best and worst seats at Honda Center? – Sports Where I Am")
If possible, choose seats closer to exits or main walkways to reduce travel time
Price
Ticket prices for events at the Honda Center can vary significantly depending on the event and seat location. As you consider different seating options, try to strike a balance between viewing experience and budget.
For concerts, seats in Plaza sections along the side (e.g., 206-210) often offer a good balance of value and view ("Honda Center Plaza Level – RateYourSeats.com")
For hockey games, visiting fans might prefer seats opposite the end where the Ducks shoot twice, as these seats might be more affordable ("Honda Center Plaza Level – RateYourSeats.com")
Remember to note any additional fees when comparing ticket prices, such as convenience charges or parking costs, to ensure an accurate comparison.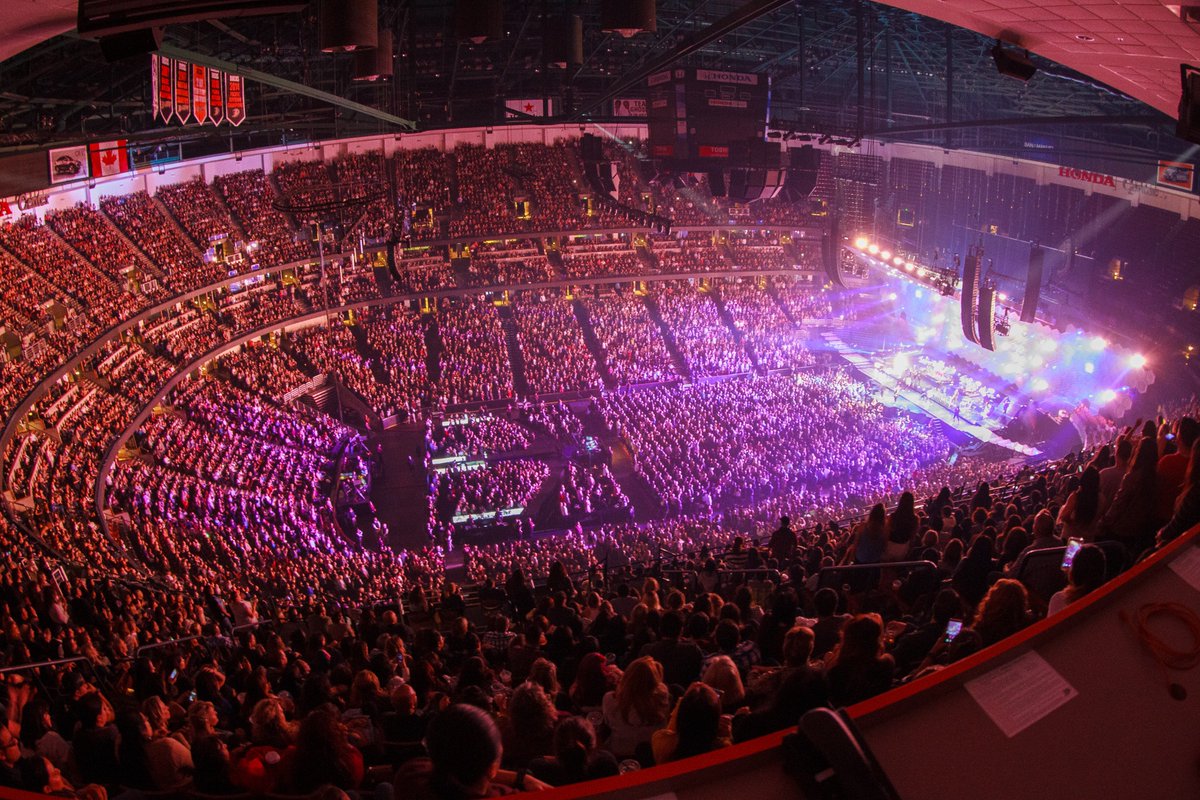 Tips for Choosing the Right Seat
When attending an event at Honda Center, it's essential to choose the right seat for an enjoyable experience. In this section, we'll discuss some helpful tips to ensure you pick the best possible seat.
Buy Tickets in Advance
To secure the best seats, it's recommended to purchase tickets well in advance. Early ticket buying offers a wider selection of available seats, allowing you to find the perfect location for your needs.
Check for pre-sale codes and offers
Join fan clubs or mailing lists for exclusive access to pre-sale tickets
Use reliable ticketing websites and search for promotions or deals
Read Reviews and Previews
Gathering information from other concert-goers or event attendees can be an invaluable resource when selecting your seat at Honda Center. Reading reviews and previews can give you a better idea of the views and overall experience from different sections and seats.
Look for reviews that mention specific sections, row numbers, or seat numbers
Consider experiences from multiple sources to get a balanced perspective
Take note of any recurring comments, such as limited views or uncomfortable seats
Check Seat Maps
Before making your final decision, it's essential to study the seating chart and understand the layout of the venue. You'll want to compare the position of the seat to the stage, as well as consider any unique features like General Admission areas or fan pits.
Consult Honda Center's official seating chart or interactive maps on ticketing websites
Pay attention to the stage setup and if it has any variations, such as B-stages or extended platforms
Identify potential obstructions or limited view areas in certain sections
By following these tips, you'll be well-equipped to choose the perfect seat at Honda Center for your next event.
James is a big time NBA Golden State follower, who makes sure to catch games when he's in the area. He likes to follow International Soccer, with an interest in small town soccer club, Blackburn Rovers located in the North on the UK.