If you're planning on attending a concert or sporting event at SoFi Stadium, you can't miss the amazing dining opportunities. Since you'll be in Inglewood, an area well-known for its culinary diversity, there are many restaurants to choose from. So, which one's the right choice?
No matter what you're craving, from traditional Caribbean and Mexican to West African, there's a place showcasing their best dishes.
We have created this article to bring you a detailed review of the must-visit places around town for an unforgettable experience. Whether you're a sports fan, music lover, or gourmet, continue reading to discover the best restaurants near SoFi Stadium!
About Inglewood
There are many fun things you may partake in, as Inglewood is a part of the Los Angeles metropolitan region. It's also home to the Los Angeles Chargers and Los Angeles Rams, so if you're a football fan, make sure to see them play at the SoFi Stadium.
Those who are into sightseeing and want to experience a cultural landmark nearby should visit the Kia Forum. Constructed in 1967 and intended to evoke the Roman Forum, many famous artists, including Elvis Presley and Led Zeppelin, have stepped on its stage. After its reconstruction in 2014, it's considered the largest indoor performance venue in LA.
Book lovers can enjoy a stroll to the main library known as Inglewood Public Library, located in the Civic Center. However, if you see yourself more as a lover of fine arts, you should attend an Open Studios event. They organize yearly Art Walks and feature different art media and styles from various artists.
If you're still pumped after the show or sporting event, catch a live event at the YouTube Theater, only a few steps away from the stadium. You can also visit The Regent Theater for an ecstatic club night or live comedy.
4 of the Best Restaurants Near SoFi Stadium
No matter what you decide to do in this town, a nice meal should always be part of your adventures. Here's our list of the best restaurants near SoFi Stadium you have to visit to experience Inglewood's fine dining:
Stuff I Eat
Randy's Donuts
Dulan's Soul Food Kitchen
Martin's Cocina y Cantina
Since founded in 2008, the restaurant has focused on eco-friendly and organic food. Co-founder and chef Babette's goal, who's been a vegan for 30 years, wants to provide healthy and plant-based options to her guests.
Since her success hasn't gone unnoticed by popular media, she's had an appearance on multiple TV shows, including The Doctors, The Steve Harvey Show, and The Chew.
Furthermore, Stuff I Eat is located 1.4 miles away from the SoFi Stadium, so it's within a 30-minute walking distance. You'll be passing by The Forum, so you should consider visiting it on your way there.
The restaurant is open Wednesday through Sunday from 12 pm to 6 pm, so it's perfect for a pre-concert snack.
Food and menu
As mentioned above, the restaurant is based on vegan products, so expect a meal without artificial colors and flavors. The same goes for refined sugars, preservatives, and animal products. Since Babette is a world-class vegan chef and fitness enthusiast, you don't have to worry about tasteless food.
The menu has a Tex-Mex twist but also consists of some Southern cuisine, like the Soul bowl and sampler plate. The prices can range from the $7 Sie Taco to the $21 Kilimanjaro Quesadilla. The Breakfast menu is only available on the weekend, so don't miss out on their Breakfast Plate or Burrito.
Stuff I Eat also offers a Kid's menu with fixed prices at $10.50 for all the meals. The little ones can choose between the quesadilla, nachos, or Mac and Cheese, all served with a basic salad.
Pro-tip, visit them on Thursday for their Throwback Thursdays Taco Special, where you can get two tacos for $8.
Additional information
Randy's Donuts is the ideal place to be if you want something sweet. It's seen as an iconic LA landmark built in 1952 and has been featured in countless movies and TV shows. Moreover, the famous donut sculpture on the rooftop has attracted numerous visitors from all around the world.
They pride themselves as the best donut shop in the country for nearly 70 years, with dozens of positive reviews. So, if you want to visit the original shop and enjoy a delicious donut, this is the right place to be.
Randy's Donuts is within a 2.3-mile radius of the SoFi Stadium. If you're feeling up to it, you can take a 50-minute walk to burn some calories before downing some donuts.
Moreover, the shop is open 24/7, so you can refill the energy spent on a night of raving to your favorite artists in the SoFi Stadium.
Food and menu
Being the best donut shop in the country requires expert bakers, top-of-the-shelf ingredients, and a hands-on approach. Therefore, it's only expected that Randy's Donuts has it all, plus some intriguing secret recipes.
There's a wide selection of donuts, including the classic, deluxe, fancy, and premium. You can find the perfect dessert, from $0.50 for glazed rounds to the $42.40 premium dozen. Some of their most popular sweets include the chocolate raised, pink raised with sprinkles, cinnamon roll, and Texas glazed.
A great opportunity is their loyalty program, which offers different reward benefits. You get 1 point for every $1 spent, which you can later use to get some free mouth-watering donuts.
Additional information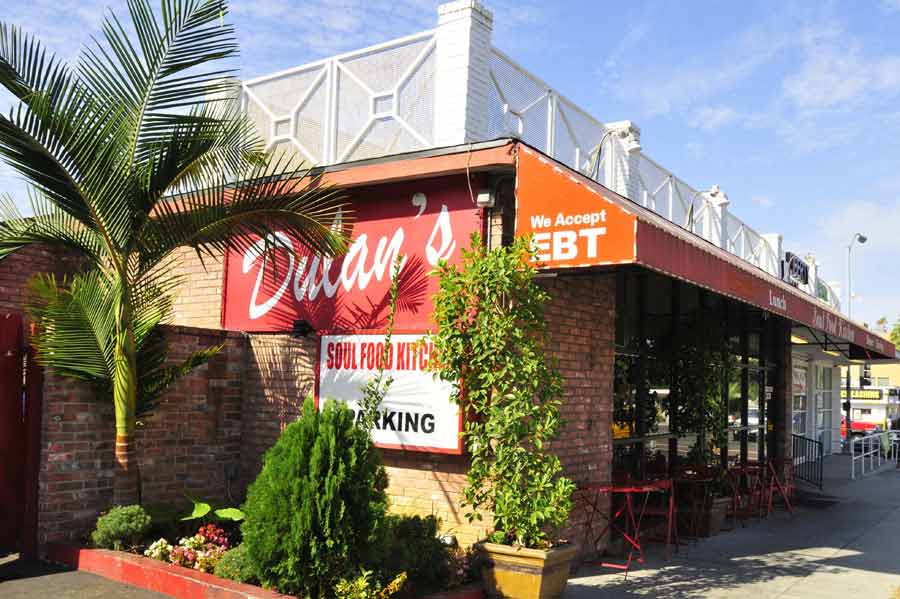 Dulan's Soul Food Kitchen dates back to 1999 and carries its specialty in the name – traditional soul food. The restaurant offers a cafeteria-style dining experience, run by non-other than the self-proclaimed "King of Soul Food" Adolf Dulan.
Being in the restaurant business since the late 70s, Dulan's family legacy continues to provide premium southern hospitality and made-from-scratch dishes.
Furthermore, Dulan's Soul Food Kitchen is located 1.3 miles, or a 26-minute walk, away from the SoFi Stadium. Since it's in the same direction as Randy's Donuts, it's the perfect place to grab lunch before some donut sweetness. You can visit this charming restaurant any day of the week, from 11 am to 8 pm.
Food and menu
If you're in the mood for some Southern comfort food, Dulan's Soul Food Kitchen offers various complementary dishes.
The restaurant has five main menus: Lunch, Dinner, Sunday Dinner Special, Sides, and Desserts. However, we highly recommend you try some of their chicken specialties and renowned oxtails.
The prices can vary anywhere from the $5.95 small candied yams to the $115 large peach cobbler. Other notable mentions from their menu are Macaroni & Cheese, Red Beans, Meatloaf, and Smothered Pork Chops.
Moreover, since it's a family-friendly restaurant, they offer family specials available from Monday to Saturday.
Additional information
If you're looking for a fancy, well-decorated Mexican restaurant, Martin's Cocina y Cantina is the place to be. They are praised for their warm hospitality, professional staff, and relaxing atmosphere, perfect for unwinding before visiting SoFi stadium. The restaurant also has live music events ideal for the occasion.
Furthermore, it is located 1.5 miles from the SoFi Stadium, 30 minutes away on foot. The open hours vary throughout the week, but from Monday to Thursday, they work from 11 am to 10 pm.
On Fridays, they're open from 11 am, while on Saturdays from 10 am and close at midnight. If you're planning to visit on a Sunday, they work from 10 am to 11 pm.
Food and menu
Martin's Cocina y Cantina offers numerous delicious dishes from Modern Mexican cuisine.
The menu has several sections, such as Antojitos y Botanas, Del Jardin Martin, Soup of the Day, Combinations, Cortes de la Casa, Especialidades de la Casa, Burritos, Rolls, and Sushi. If you're on a vegetarian diet, they offer several options, including vegan burritos, quesadillas, nachos, and taquitos.
You can find different priced meals, starting from the $6 Shrimp to the $65 Don Martin's Parrillada. We highly recommend you try some of their Guacamole, Beef Fajitas, and Chicken Enchiladas.
Moreover, the restaurant is well-known for its outstandingly decorated cocktails, leaving its guests in awe. If you're a liquor lover searching for the perfect drink, you have to try their Margaritas and Signature Cocktails.
Additional information
Conclusion
After reviewing these four breathtaking places, we hope you'll treat yourself to some fine cuisine next time you're in Inglewood.
Whether you want Mexican food from Martin's Cocina y Cantina, need comfort food from Dulan's Soul Food Kitchen, or have a sweet tooth for some Randy's Donuts, be ready for a once-in-a-lifetime experience.
So, enjoy your concert or sporting event, and don't miss out on the opportunity to visit some of these restaurants near SoFi Stadium!
James is a big time NBA Golden State follower, who makes sure to catch games when he's in the area. He likes to follow International Soccer, with an interest in small town soccer club, Blackburn Rovers located in the North on the UK.