Picture this: You have an incredible time getting ready for the big night out at the Honda Center, but you start to get hungry and crave a nice sit-down meal. Don't worry, we got you covered. These ten of the best restaurants near the Honda Center in Anaheim, CA are not only convenient but also serve delicious food! 
The Tilted Kilt Pub and Eatery
Location: 1625 W Katella Ave, Orange, CA 92867
Phone: 714-633-5458
If it's a downtown sports bar vibe you're going for, then you need to check out The Tilted Kilt Pub and Eatery. Here, you will find crunchy wings, pub nachos (in both chicken and beef), loaded tots, irresistible shrimp, and plenty of authentic Irish bar food.
Not only will you enjoy the delicious food, but the atmosphere of this vibrant Irish bar is perfect for unwinding after a long day. This pub provides a charming, dimly-lit dining area, while the large granite bar top is equipped with barrels to hold the beer taps.
The Tilted Kilt Pub and Eatery is an Arizona-based chain restaurant with multiple locations across the country, and the Ducks team often eats there no matter where they are playing.
King's Fish House
Location: 1521 W Katella Ave, Orange, CA 92867
Phone: 714-771-6655
If you're a fan of seafood, the King's Fish House is an excellent option if you're looking to dine at only the best restaurants near the Honda Center. Here you will find top-notch seafood options such as lemon nut-crusted wild Mexican sea bass, trout amandine, clams linguini, and panko fried shrimp, to name a few.
The King's Fish House offers beautiful outdoor patio seating, perfect for sipping fine wine and premium cocktails while you soak up the gorgeous Californian rays. Notable wine selections include the local Jordan Chardonnay, Donini pinot grigio, vintage 2020, and an excellent Martin Ray, Pinot Noir from the Sonoma Coast.
Sauced BBQ and Spirits
Location: 1535 W Katella Ave, Orange, CA 92867
Phone: 714-639-9104
Sauced BBQ and Spirits is truly as tasty as it sounds! This is a great choice if you're looking to pair quality BBQ dishes with a refreshing drink. Try one of their varied types of barbecue meats with pulled pork, ribs, and brisket all viable options.
The Sauced BBQ and Spirits also have a variety of side dishes to pair with your BBQ meal, such as creamy mac and cheese, chili cheese fries, and smoky baked beans.
If you're looking to pregame before seeing the Ducks, top off your time here with a daily shot special. The whiskey of the day varies depending on when you visit over the week, but the quality is consistent.
Prime Cut Cafe
Location: 1547 W Katella Ave, Orange, CA 92867
Phone: 714-532-4300
A delightful dining experience is exactly what you'll encounter if you choose to check out the Prime Cut Cafe. An exquisite yet affordable place to dine, the Prime Cut Cafe delivers a rustic, intimate atmosphere alongside flavorful steakhouse food.
At the Prime Cut Cafe, some of the most popular dishes include the Buffalo cauliflower bites appetizer, the marinated roasted beet, and avocado salad as well as the burgundy mushroom burger.
All their steaks are made with USDA-grade beef and can be cooked any way you prefer. You can also top it off with a chimichurri sauce, cognac demi-glace, or creamy horseradish.
When it comes to dessert, don't miss out on their homemade carrot cake, flourless hot chocolate cake, and wildberry or mango sorbet.
JT Schmid's
Location: 2610 E Katella Ave, Anaheim, CA 92806
Phone: 714-634-9200
JT Schmid's is another popular choice among attendees of the Honda Center. A lively atmosphere, combined with good food and drinks is what makes this place thrive.
This restaurant is within walking distance from the Honda Center, making it a convenient restaurant choice, but the delicious food is the real reason you will want to try it out. Indeed, one of the biggest draws is the poke nachos. These are a combination of crunchy, nacho chips, raw ahi, avocado, cilantro, serrano peppers, green onions, sesame seeds, sweet soy, sriracha aioli, and crispy wontons.
For those with an Italian pallet, try the saucy pizzas. You can go with traditional cheese or pepperoni topping, or be bold and try the spicy kung pao chicken pizza. This is topped with grilled chicken, kung pao sauce, cilantro, red onions, bell peppers, and a spicy aioli sauce.
Patio seating and pick-up options are available here as well.
The Ranch Restaurant and Saloon
Location: 1025 E Ball Rd #101A, Anaheim, CA 92805
Phone: 714-817-4200
The Ranch Restaurant and Saloon is a top-notch eatery, made evident by earning Anaheim's 2020 Restaurant of the year award. The excellent service and deliciously crafted entrees are two standout reasons people are raving about this place.
Mouth-watering entrees like Maplewood smoked organic chicken, Australian grass-fed lamb chops, and Faroe Island salmon are all great menu items. Everything you order at The Ranch is made with fresh ingredients.
Besides excellent eating, The Ranch has a saloon for late-night dancing and fun. So, you'll have the chance to listen to live country music while indulging in a beer with friends before the main entertainment at the Honda Center.
Roxy'z Grill and Bar
Location: 1801 E Katella Ave, Anaheim, CA 92805
Phone: 714-280-9687
Another one of the best restaurants near the Honda Center that you have to try is Roxy'z Grill and Bar. Located less than two miles from the stadium, Roxy'z is a great place to stop for a drink and some tasty grub.
They have a menu of freshly-made dishes, including hand-crafted pizza with toppings like mushrooms, BBQ chicken, and even lamb sausage!
If pizza isn't your thing, don't worry, there are beer-battered fish and chips, Roxy'z signature caesar salad, the herb-roasted portobello burger, and many more.
Then, wash it with a cool craft beer or signature cocktail, such as the spicy pineapple margarita or the sweet espresso martini.
Danny K's Billiards and Sports Bar
Location: 1096 N Main St, Orange, CA 92867
Phone: 714-771-9706
Danny K's Billiards and Sports Bar is an excellent choice for anyone interested in sports. The massive sports bar includes more than 45 televisions and broadcasts virtually every event you could imagine.
While enjoying the game, you can munch on crispy chicken wings, which come in a six or 12-piece, or order up some tacos for the group.
If it's a juicy burger you want, try the popular Sonora burger, topped with jalapeno peppers, guacamole, lettuce, tomatoes, onions, and jack cheese on a sesame bun. The bleu cheese burger is simple but a great choice as well.
Finally, finish your meal with one of Danny K's impressive selections of beer on tap, just waiting to be enjoyed.
Iguana's
Location: 2115 E Ball Rd, Anaheim, CA 92806
Phone: 714-603-7602
Located less than a mile from the Honda Center sits Iguana's, which prides itself on consistently delivering authentic Mexican cuisine. Whether it's fish tacos, quesadillas, or tostadas you crave, Iguana's has it all.
However, Iguana's is most well-known for its diverse selection of burritos. The solo carne burrito is perfect for meat lovers, while the wet burrito is topped with refried beans and has a plethora of toppings added to the mix. If you'd rather just enjoy a big plate of nachos, head for the asada nachos, chicken nachos, or carnitas nachos.
As if there weren't enough tasty options, Iguana's also has the best Mexican side dishes you could imagine. Chips and salsa, of course, but also Mexican rice & beans, and even a creamy flan, to finish with something sweet.
Togo's
Location: 2065 E Katella Ave, Anaheim, CA 92806
Phone: 714-385-8113
Last, but certainly not least, Togo's is an excellent choice if you're still looking for the best restaurants near the Honda Center. Togo's is a premium sandwich shop that offers a wide variety of simple yet delicious sandwiches and wraps.
Some of the most popular sandwiches include the traditional cheesesteak, the turkey and avocado melt, the pastrami Reuben, and the Buffalo chicken sub. If you prefer to have your meat and cheese in a wrap, you can try the delicious Mediterranean chicken wrap, or the veggie wrap, for the vegetarian guests.
If you're rushed on time, Togo's will package a sandwich, chips, and a cookie in a convenient boxed lunch ready to go! That way, you don't have to worry about missing the exciting event at the Honda Center!
Choosing the Best Restaurants Near the Honda Center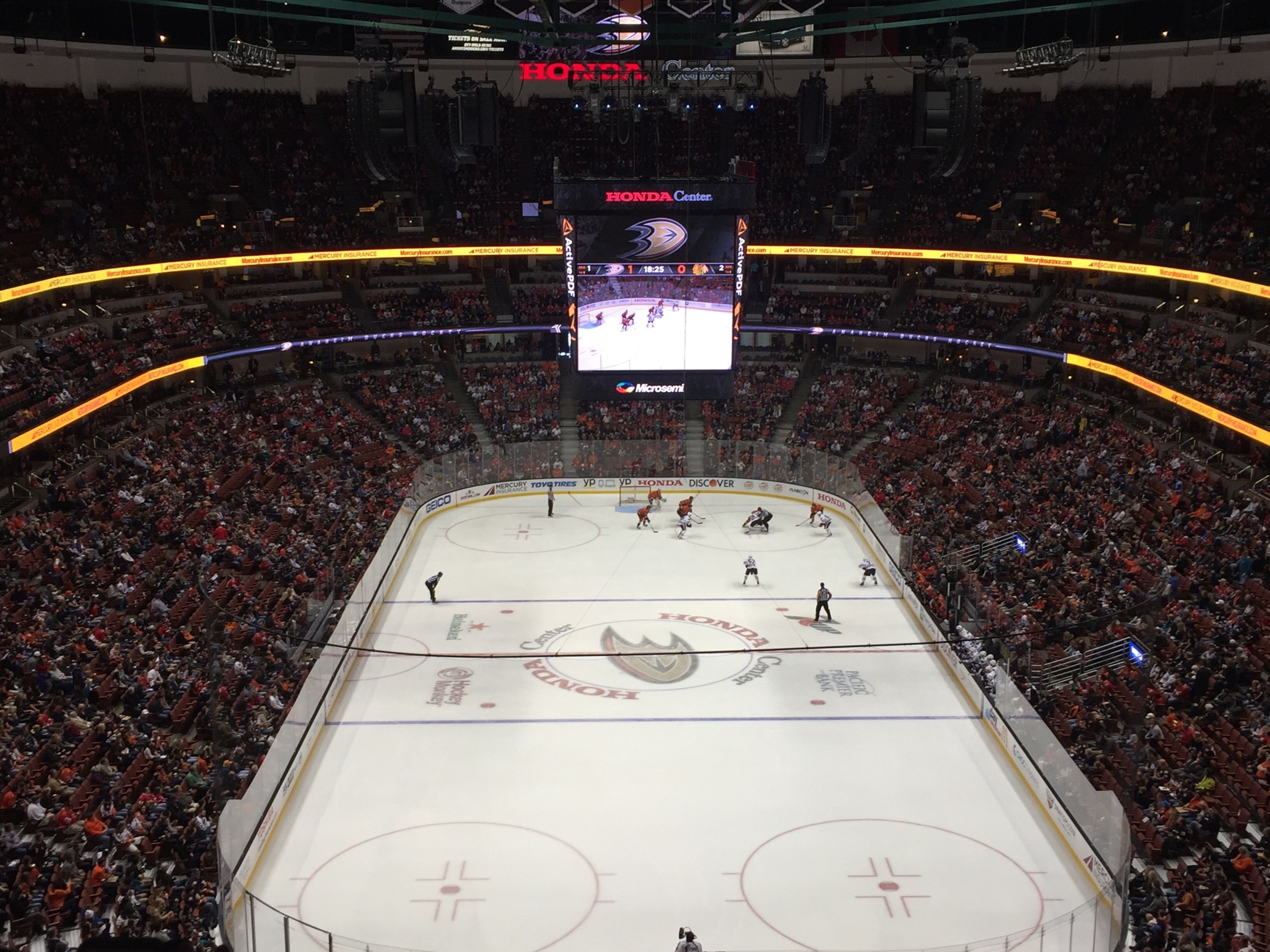 It's always a good idea to plan before attending an event at The Honda Center. With that in mind, knowing where the best restaurants near the Honda Center are and which to choose is a good start.
Of course, there are numerous restaurants to choose from, but these ten places are some of the finest around. Each has excellent menus and a fantastic atmosphere perfect for rounding off a day at the Honda Center.
So get your grub on and go explore all that Anaheim has to offer, one restaurant at a time!