The Honda Center, home to the Anaheim Ducks, offers a diverse assortment of food options to satisfy the cravings of its many visitors.
With the capacity to serve 17,000-19,000 people at 26 food outlets during games, the arena ensures that fans have access to a range of delicious and satisfying meals, whether they're looking for something quick or a more leisurely dining experience.
Inside the Honda Center, guests can enjoy a variety of food options from signature burgers at the Burger Bistro, healthy alternatives like meatless burgers, and mouth-watering fish tacos from Wahoo's Fish Taco.
For those seeking the irresistible taste of BBQ, Outlaws Smokehouse in section 224 offers a delightful selection of smoky treats. In addition to these dining options, the arena also provides mobile ordering, which can be accessed through the Honda Center App, making it even easier for fans to get their hands on their favorite concession fares.
Visitors seeking a bit more luxury in their dining experience can head to the Club Level Lounge, where premium grab and go selections, a quality coffee bar, and specialty desserts are available.
This exclusive lounge also boasts an impressive range of high-end scotch and whiskey spirits, as well as craft cocktails, ensuring a premium experience for those who decide to indulge.
Popular Food Options
Sit-Down Restaurants
For a more relaxed dining experience, the Honda Center offers a variety of sit-down restaurants. One such option is the American Regional cuisine restaurant that takes pride in preparing their food from scratch every day. The menu includes fan favorites like Poke Nachos, Short Rib Pappardelle, Nashville Chicken Sandwich, and Grilled Market Salad.
Grab-and-Go Concessions
The Honda Center has plenty of grab-and-go concessions for those who prefer quick and convenient options. A few popular picks include:
Gourmet Burgers, Chicken Tenders, Cheese Nachos, Hot Dogs, and Waffle Fries
Pepperoni, Cheese, and Meat Lover's Pizza slices at Anaheim Pizza
Salads and Pizza from California Pizza Kitchen
Smoked Pastrami, Pulled Pork, and Jerked Chicken Sandwiches at Outlaws Barbecue
Desserts and Treats
In addition to the savory options, dessert lovers can indulge in various sweet selections at Honda Center:
Premium Grab & Go Selections, Coffee Bar, and Specialty Desserts at Club Level Lounge 325/301
High End Scotch and Whiskey Spirits, as well as Craft Cocktails at the Club Level Lounge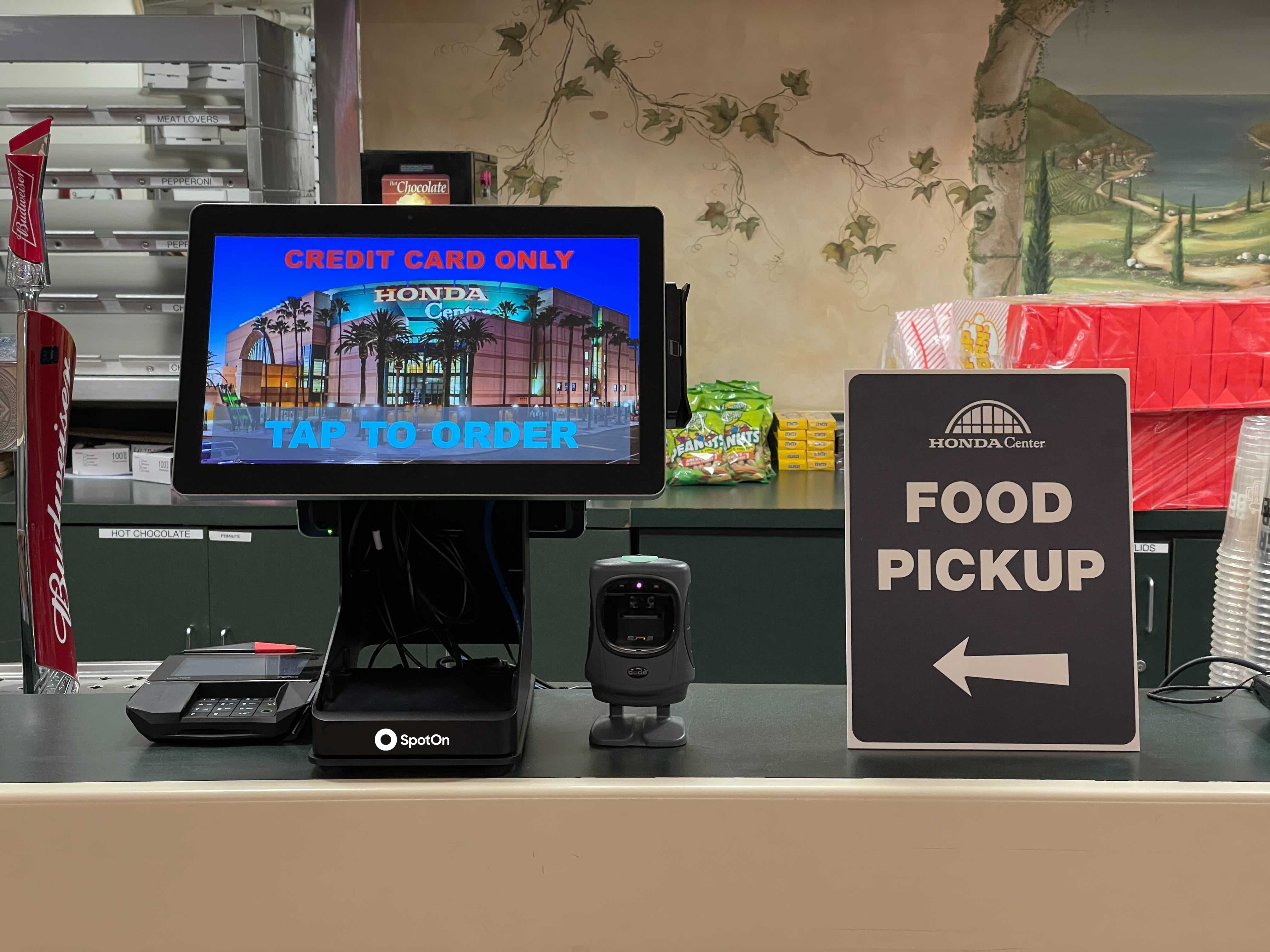 Specialty Food Offerings
Vegan and Vegetarian Choices
The Honda Center accommodates various dietary preferences, including vegan and vegetarian options. For starters, fans can head to the Burger Bistro in section 217 for tasty meatless burgers, along with various side options.
Gluten-Free Options
While specific gluten-free options aren't directly mentioned in the search results, fans can enjoy items that are typically gluten-free, such as the sushi rolls available at the Honda Center. However, it's always best to verify directly at the concession stand or with your server for gluten-free offerings.
Athletic Fan Fare
For those focused on healthier options, Honda Center has the ANAHEIM CHILE FEATURING WHOLLY GUACAMOLE concession stand in section 443. Here, fans can enjoy delicious and nutritious options like carne asada, grilled chicken, carnitas, and veggie bowls made even more delicious with the addition of Wholly Guacamole.
Food Prices
The cost of food at the Honda Center can vary depending on the concession stands and menu items you choose. For example, a chicken sandwich can be found in a price range from $8 to $15, depending on the vendor you select. From gourmet burgers and BBQ treats to mouth-watering fish tacos, there is a food option for everyone at a range of price points.
Here are some examples of the food prices available at various Honda Center concessions:
| Concession Stand | Food Item | Price |
| --- | --- | --- |
| Burger Bistro (Section 217) | Signature Burgers | Varies |
| Wahoo's Fish Taco (Section 228) | Fish Tacos | Varies |
| Country Chicken Fried Fries | Chicken Fried Fries | $18 |
Please note, these prices are subject to change, and it is always a good idea to consult the Honda Center's official concession information during your visit to ensure accurate pricing information.
Tips for Enjoying Food at the Honda Center
When visiting the Honda Center for an Anaheim Ducks game or another event, there are several standout food options to enjoy. To make your dining experience more pleasurable, consider the following tips:
1. Arrive early to avoid long lines at popular concessions. Some fan favorites include Wahoo's Fish Taco at section 228 and California Pizza Kitchen.
2. Don't miss the unique offerings at specific concession stands. For example, visit Outlaws Smokehouse at section 224 for tasty BBQ treats or head to Honda Center Burger Bistro at section 217 for their signature burgers and meatless options.
3. If you're in a suite or looking for a more upscale dining experience, check out the Premium Dining Experiences, including the Jack Daniel's Club, for a wider variety of freshly prepared appetizers, entrees, and desserts.
4. Be mindful of your dietary restrictions and preferences. Many concession stands offer vegetarian, vegan, and gluten-free options to accommodate your needs.
By keeping these tips in mind, you can enjoy a variety of delicious food options at the Honda Center while attending your event.
James is a big time NBA Golden State follower, who makes sure to catch games when he's in the area. He likes to follow International Soccer, with an interest in small town soccer club, Blackburn Rovers located in the North on the UK.