Located in San Jose, California, the SAP Center is a top entertainment venue known for hosting a variety of events, including concerts, sporting events, and family shows. One of its most notable tenants is the San Jose Sharks, a National Hockey League (NHL) team.
An essential part of enjoying any event at the SAP Center is trying out the diverse food options available within the arena, ensuring that attendees have an enjoyable and satisfying experience while watching their favorite events.
The SAP Center provides a wide range of food options, catering to various tastes and preferences. Guests can find popular concession stands like Tenders Love and Chicken, Slice Spot, and Konjoe Burger, as well as innovative food concepts like the Launch Test Kitchen, which offers a constantly evolving menu to cater to different tastes.
With a strong emphasis on quality and variety, the SAP Center ensures that guests can enjoy delicious meals to complement their favorite sports and entertainment events.
Concessions Overview
The SAP Center, home to the San Jose Sharks NHL team, offers a variety of food and beverage options to satisfy the diverse tastes of its attendees. The arena features several concessions, providing fans with an array of choices ranging from classic game day fare to more adventurous cuisine.
Notable concession stands at the SAP Center include Classix, Drink MKT, Tenders Love and Chicken, Slice Spot, and Konjoe Burger. These options deliver a mix of popular food items, such as burgers, pizza, and chicken tenders, as well as a wide selection of beverages.
Furthermore, the SAP Center also features the Launch Test Kitchen, an innovative concept that provides attendees with a constantly evolving menu. This unique food option ensures that fans are treated to fresh and creative dishes during each visit to the arena.
In addition to these concession stands, snack prices at the SAP Center start at around $5, offering a range of options to suit different budgets. Be sure to explore the various food choices available when attending a game or event at the SAP Center.
Local and Specialty Foods
The SAP Center offers a diverse range of local and specialty food options for visitors to enjoy. One of the scrumptious options available on the concourse level is Smoking Pig BBQ, a popular San Jose-based barbecue joint that serves mouth-watering dishes like pulled pork and brisket sandwiches.
For those craving Asian flavors, Sushi Confidential and Hula Truck offer delicious sushi rolls and Hawaiian-inspired poke bowls respectively. If a Mediterranean feast is more your style, Opa! serves up tasty Greek dishes like gyros and souvlaki.
Visitors looking for a taste of Mexican cuisine can try Tac-Oh!, which serves a variety of tacos and burritos. Fans of classic American fare can head to Tenders Love & Chicken for crispy chicken tenders served with a range of dipping sauces, or Konjoe Burger, where they can indulge in juicy, gourmet burgers.
For dessert options or unique treats, the SAP Center does not disappoint. Over-the-top milkshakes are available for those looking for a sweet and extravagant indulgence. Additionally, Slice Spot serves up delicious, freshly-baked pizza slices, while Sharks Boardwalk offers a fun array of carnival-style foods like popcorn and cotton candy.
Bars and Beverage Options
At the SAP Center, various bars and beverage options cater to diverse tastes. The Club Level features Launch Test Kitchen, providing patrons with a constantly evolving drink and cocktail menu.
Within the arena, Craft Beer Central at sections 210 and 223 offers a selection of craft beers to enjoy during events. Another unique spot is the Slush Cantina, located at section 206, serving up refreshing slushy drinks.
Apart from the main arena options, the South Club has the New Amsterdam Vodka Bar where visitors can indulge in a variety of vodka-based cocktails. Equally, the BMW Lounge offers a more exclusive atmosphere with a range of beverage options for guests.
When looking for a drink at SAP Center, fans and visitors can choose from a wide variety of options, ensuring a memorable and enjoyable experience.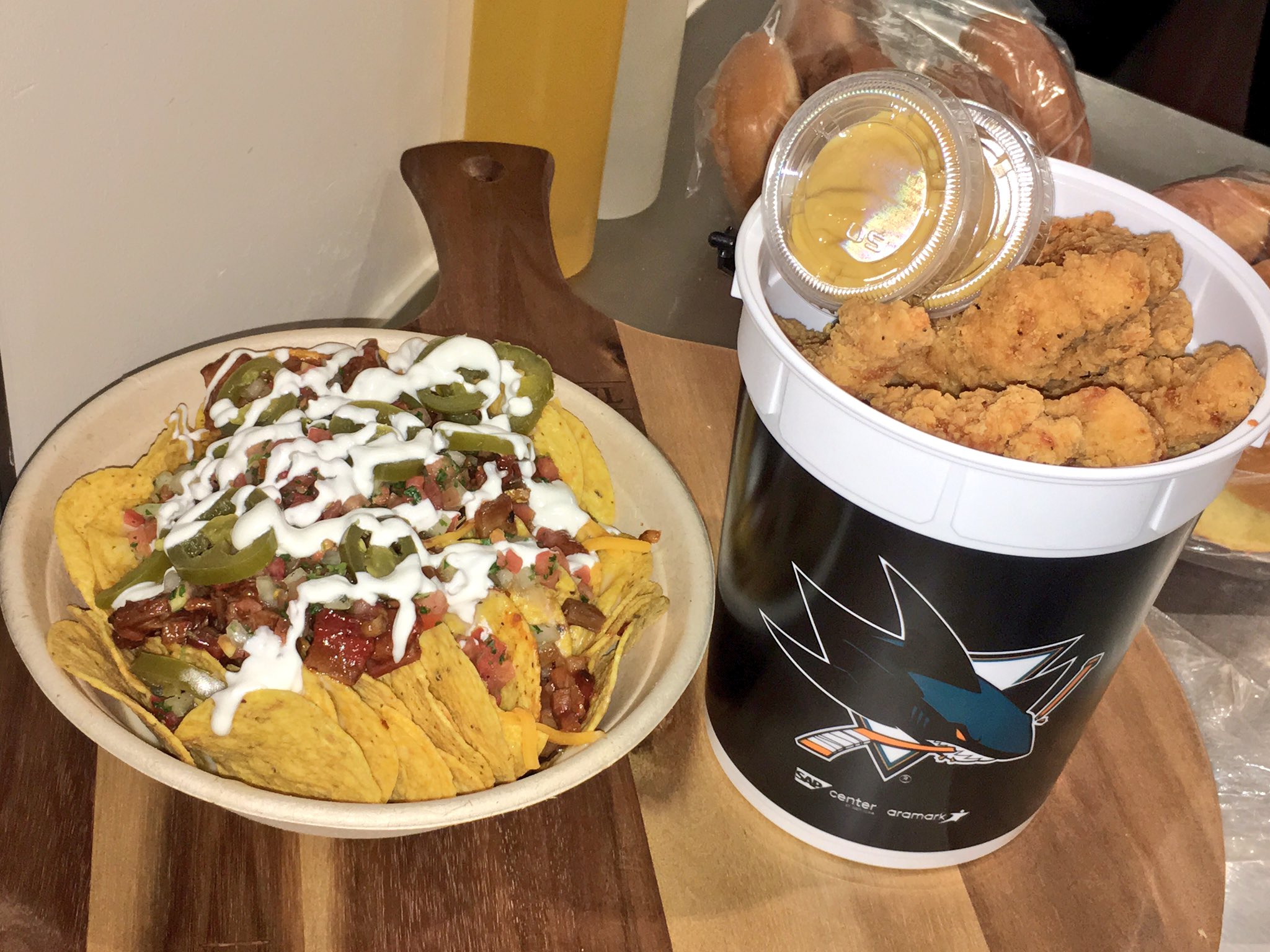 Sustainable and Healthy Choices
At the SAP Center, visitors can find an array of sustainable and healthy food options that cater to various dietary preferences. The venue strives to provide choices that have a positive impact on the environment and promote overall well-being.
One of the sustainable choices at the SAP Center is the Blue Line Pizza at section 121. Blue Line Pizza offers delicious plant-based pizza options, which are not only healthy but also contribute to a lower carbon footprint. The pizza joint employs eco-friendly practices in its operations, such as using recyclable pizza boxes and compostable utensils.
Another option for health-conscious visitors is Tenders Love and Chicken & The Burger District at section 123. They offer lighter options such as salads and grilled chicken, enabling guests to enjoy nutritious and delicious meals while watching their favorite events.
For those looking for plant-based options, the SAP Center features Izzy's Cheesesteaks & CREAM at section 126. Izzy's offers vegan cheesesteaks made with plant-based protein, providing a sustainable and healthy alternative to traditional cheesesteaks.
In addition to these concessions, the SAP Center promotes sustainability through its food sourcing, aiming to collaborate with suppliers that share a commitment to responsible practices. This ensures that the food served at the venue is not only tasty but also aligned with the goals of reducing waste, supporting local communities, and minimizing the environmental impact.
Payment Methods and Pricing
At the SAP Center, there are several food vendors available, each offering different types of food and drinks. Each vendor accepts various payment methods to make it convenient for patrons.
Common payment methods accepted at the SAP Center include:
Credit and Debit Cards
Cash
Mobile Wallets (such as Apple Pay and Google Pay)
Food and beverage pricing at the SAP Center may vary depending on the vendor and the type of food being offered. However, it is important to note that typical arena food prices are generally on the higher side. For example, you may find prices like:
| Food Item | Price |
| --- | --- |
| Pizza Slice | Approximately $6 – $8 |
| Burger | Approximately $10 – $15 |
| Soft Drink | Approximately $4 – $6 |
| Beer | Approximately $8 – $12 |
Keep in mind that pricing may change during special events or for specific food promotions. It is recommended to check with the individual vendor for exact pricing prior to making a purchase.
Additionally, if you are in a suite at the SAP Center, you may experience a different catering menu and pricing structure. To get more information about catering pricing, you can refer to the SUITE MENU provided by SAP Center.
Tips for Authentic Game-Day Dining
When attending a game at the SAP Center, it's essential to indulge in some authentic game-day dining experiences. From well-known favorites to lesser-known gems, here are some tips to make the most of your culinary adventure:
1. Explore the SAP Center food options: The arena offers a variety of eateries, so be sure to check them out. For example, you can find delicious options like Hula Truck, El Halal Amigos, Smoking Pig BBQ, Blue Line Pizza, and Izzy's Cheesesteaks & CREAM within the stadium.
2. Arrive early and visit nearby restaurants: Some popular nearby options include Henry's Hi-Life, Paesano Ristoranto Italiano, and Firehouse No. 1. Make sure to plan accordingly and arrive early to grab a bite at these establishments before the game.
3. Be adventurous with your food choices: Don't shy away from trying something new at the SAP Center. Look for unique offerings like the signature burgers at Konjoe Burger or build-your-own pizzas at John Dough.
4. Keep an eye on special promotions: During game days, some vendors and restaurants may offer discounts or special deals for ticket holders. Be sure to check in advance to take advantage of these opportunities.
By following these tips, you'll be well on your way to enjoying an authentic game-day dining experience at the SAP Center.
James is a big time NBA Golden State follower, who makes sure to catch games when he's in the area. He likes to follow International Soccer, with an interest in small town soccer club, Blackburn Rovers located in the North on the UK.