Orlando is one of the most famous cities in the States and a leading destination for travelers worldwide. This fantastic Florida city is the home to Disney World and Universal Studios, but also the place with more than a dozen theme parks.
The perfect climate, nightlife, events, famous shopping malls, and beaches attract numerous tourists yearly.
This vibrant city has a lot to present, from superb cuisine to sports, art, and culture.
If you are planning to visit Orlando and want to be close to everything, it's best to book your stay downtown, near the Amway Center. Or, if you have an already planned event in the Amway Center, you will surely want to be in the neighborhood when the time comes.
That's why we looked at the most reputable hotels in Orlando Downtown and tried to select the ones that will make your stay the most convenient. Let's reveal four of the best hotels near Amway Center that will delight every traveler with their offers.
These options are excellent for anyone who wants to stay near the Amway Center.
We made a delicate selection, so you can decide what suits you the most because everyone looks for a comfortable stay and wants to feel at home when traveling to any destination, whether for work or pleasure.
Aloft Orlando Downtown
Grand Bohemian Hotel Orlando
Embassy Suites by Hilton
AC Hotel by Marriott Orlando Downtown
Let's discover why these hotels made the list of four of the best hotels near Amway Center and what makes them top-rated among visitors.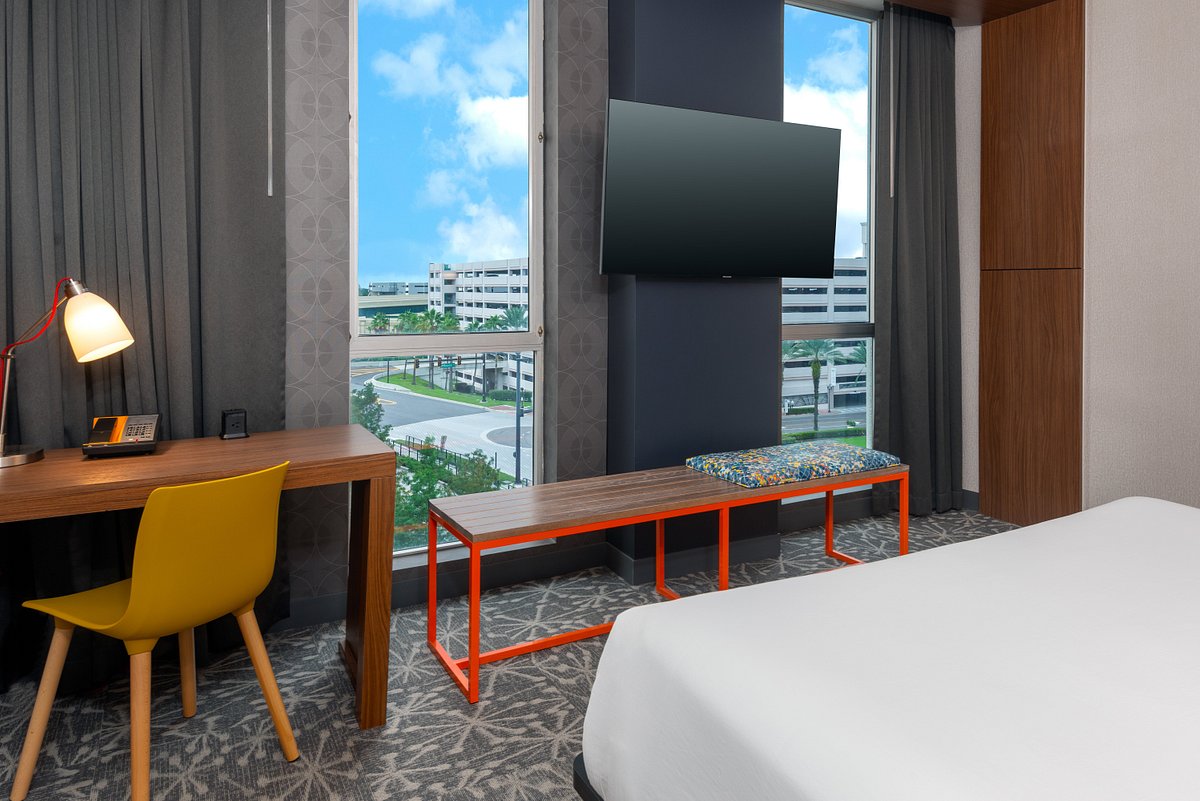 Location
Aloft Orlando Downtown is located at 500 South Orange Avenue.
Once you are on their website, you will be provided a map with the hotel's exact spot.
Aloft Orlando Downtown is one of the best hotels near Amway Center, close to the City Hall, the Dr. Phillips Center, the Camping World Stadium, and the Orlando City Stadium.
Rooms
Aloft Orlando Downtown is a terrific choice for solo travelers, couples, and groups. The hotel's various rooms can accommodate a maximum of four people.
The types of rooms at Aloft Orlando Downtown are designed elegantly and have private bathrooms, mini-fridges, coffee makers, and TVs.
There are traditional guest rooms or suites with one king or two queen beds. Moreover, you can decide on a Savvy Suite or a Suite with a corner room.
Some rooms have a separate living area, while all have a working desk, an ergonomic chair, and electrical outlets.
Amenities
Aloft Orlando Downtown is a sustainable hotel, a good choice for eco-travelers. The hotel is also pet-friendly; you can bring your cat, dog, or fish.
The hotel has a gift shop, convenience store, and meeting space. Plus, if you need a wake-up call, dry cleaning, or laundry service, you will be provided with that.
Let's not forget the adequately equipped fitness center and the outdoor pool, which all guests are welcome to enjoy.
If you want to drink, grab a snack, or play, you can do that too. The bar, the lounge, and the 24/7 pantry are there to complete your stay.
Additionally, it's good to know that the tea and coffee are complimentary, and you can't smoke anywhere in the hotel.
Of course, free Wi-Fi is available in the rooms and on the hotel's property.
Location
Another of the best hotels near Amway Center, located on South Orange Avenue, is the artsy Grand Bohemian Hotel.
The exact location of this hotel is 353 Orange Avenue, a spot that is effortless to reach in Orlando Downtown.
All the ultimate entertainment spots from the Grand Bohemian Hotel are just steps away. The Dr. Phillips Center, Camping World Stadium, Lake Eola Park, Millenia Mall, and Winter Park Village are just some of them.
We mustn't overlook that the famous Walt Disney World, Universal Studios, and SeaWorld are just minutes away from your stay.
Rooms
When you want to relax in a luxurious ambiance, we advise you not to look further than the Grand Bohemian Hotel.
Here, you can pick from standard rooms, concierges, suites, or jacuzzi suites. All of these sorts of accommodations can make your stay elegant and cozy.
The standard rooms have a spacious seating area and an in-room refreshing center.
On the other hand, the suites overlook Orlando downtown and consist of a separate living space with a sofa bed and refreshment center.
The concierges are for those looking for more richness and exquisiteness because you will have access to the 14th and 15th floor, complimentary breakfast in the buffet, a refreshment room center, and a spacious sitting area. Plus, an evening turndown service upon request.
Lastly, the jacuzzi suites have a jacuzzi tub that opens into the bedroom, a separate living room with a sofa, and a view of stunning Orlando.
Amenities
The Grand Bohemian Hotel is known for its flawless design and awesome surroundings. So, you can enjoy spending time there when you want to pause from the urban sounds.
The Starbucks cafe in the hotel will prepare the tastiest coffee, and you can also nibble on some snacks.
You can surf freely because high-speed Wi-Fi is complimentary.
Also, The Grand Bohemian Hotel provides free telephone services, with free local calls, while long-distance and international calls come with a fee.
Laundry, dry cleaning, and room service are available upon request, together with guest-request items.
We have to note, too, that the hotel is pet-friendly, with a pet fee per stay.
The best amenities, such as the rooftop pool and fitness center, are temporarily closed, but we hope they will reopen soon and you can use them. For information, you can always check the official website of the hotel.
Location
Placed on 8978 Orlando Drive, the Embassy Suites by Hilton is just ten minutes from the Universal Orlando Resort and SeaWorld.
Every piece of entertainment is close by, and the Amway Center is just 0.5 miles from the hotel.
The hotel is in the Lake Eola central business district, which makes it close to the Orlando International Airport.
Rooms
When you are about to book at one of the best hotels near Amway Center – the Embassy Suites by Hilton – you have to know that the maximum number of people per room is eight.
There are suites with one bedroom, but different arrangements. For instance, you can choose a suite with two queen beds and a sofa or the same composition, plus a living area. Further, there's the conference suite, which has two queen beds and a conference table.
On the other hand, there are suites with one king bed instead of two queen beds, a living room, and a sofa. Lastly, there's a combination of two double beds, a living area, and a sofa.
The biggest suite at Embassy Suites by Hilton is the two-bedroom/two-bath suite, with one king bed, two double beds, and a sofa. This is the best option for large families because of the spaciousness and the two bathrooms.
Furthermore, we must note that some of the suites are Pure Wellness, which means their air quality has improved. To be precise, these rooms have undergone a seven-step purification process and have an in-room filter that removes 99.99% of pollutants and allergens.
Amenities
Embassy Suites by Hilton has an on-site restaurant where you can enjoy meals during your stay. Besides, there's free made-to-order breakfast and complimentary evening reception.
What we fancy the most about this hotel is that it has two indoor and outdoor pools. Additionally, it has a fitness center where you can do your daily exercise.
Moreover, this hotel offers pet-friendly and non-smoking rooms, so you can choose any of these options if you need to.
Of course, there's room service available, and every room is equipped with a wet bar and refrigerator, a microwave, a dining table, and a TV. In fact, most of the suites have two TVs.
Wi-Fi is available, and you can use it freely anywhere in the hotel.
Location
The fourth hotel on this list is AC Hotel Orlando Downtown, settled on 333 South Garland Avenue.
This hotel is part of the SunTrust Plaza Building, so guests can access places such as Foxtail Coffee Cafe, Bumby Arcade Food Bar, and SunRail Station.
Like the other three hotels above, AC Hotel is close to local attractions such as the Universal Orlando Resort, SeaWorld, ICON park, and the Walt Disney World Resort.
Rooms
Most of the guest rooms at AC Hotel have a city view, a perfect peek at Orlando's downtown.
They are separated according to their size, with one king bed, two queen beds, or one king and a sofa bed. Also, there's one bigger guest corner room with one king bed.
All rooms are air-conditioned and have private bathrooms and hair dryers.
Amenities
Like other hotels from the Marriot group, the AC Hotel Orlando Downtown is a sustainable hotel, which makes it one of the best hotels near Amway Center.
All guests can use the free Wi-Fi on the hotel's property and in the rooms.
The AC Hotel has a fitness center where you can train, and a dry cleaning service is also usable. A convenience store and daily housekeeping are some of the other amenities. If you need a wake-up call, you can get that too.
For dining, there's the AC Lounge, open for lunch and dinner; the AC Sky Bar, open for dinner; and the AC Kitchen, open for breakfast.
Conclusion
If you want to visit downtown Orlando, now you know four of the best hotels near Amway Center, some of the best spots visited by tourists and locals.
We are sure one of these hotels will catch your eye and offer just what you expect from a good hotel. All four are excellent choices; they are eminent and have a minimum of three stars. The central location makes them perfect for family vacations, and the amenities they offer complete their worth.
We hope this article will assist you in booking the most appropriate accommodation for your travels and that you will enjoy your stay in Orlando. Visit their websites and choose one of the best hotels near Amway Center.