Hockey fans are in for a surprise the next time they visit FLA Live Arena. The home of the Florida Panthers is also the home of 15 exciting spots for eating and dining. From small bars to large, high-end restaurants, you will love the entries on this list.
How do you feel about mahi-mahi and Caribbean cocktails? Luckily for you, the Sawgrass Mills Mall hosts most of the restaurants featured here. Sawgrass Mills is an excellent place to check out because it's one of the largest malls in America.
Eat to your heart's content with the list of the best restaurants near FLA Live Arena!
There is no better way to start this list than with one of the most beloved fast-food spots of the decade. Steak N' Shake is on West Sunrise Blvd across from the Arena. This location has a drive-thru, but you should eat inside if you want the authentic Steak N' Shake experience.
Steak N' Shake is unique for its retro American atmosphere. It has the convenience of a modern-day fast food place and the charm and flavor of an old-school 1950s burger joint. The restaurant offers affordable combo meals and has over 550 stores in at least 28 states.
Some of the restaurant's signature milkshakes include the Cookie Dough, Birthday Cake, Oreo, and Chocolate Turtle Caramel Nut flavors. Their hamburger meat is cooked crispy and thin. The thinness of the patty and its well-done smokiness make Steak N' Shake an iconic brand.
You will love the Don Pan International Bakery if you are a fan of Latin food. Don Pan offers a variety of bowls, breakfasts, wraps, and tostadas. Some of their tastiest items are breakfast options, like the Cuban or American Breakfast. These come with eggs, toast, and cortaditos.
If you want to try something new, get the arepas. Arepas are dough wraps similar to pancakes. Don Pan International Bakery serves their arepas wrapped around ham, egg, and lots of cheese. The arepas at Don Pan are simply delightful.
After breakfast, you can get a few pastries while you are there. There is a sizeable variety of baked goods available to you, including:
Empanadas
Pandebonos
Croissants
Tequeños
Chachitos
Croquettes
Empanadas are the restaurant's strong suit, including meat, chicken, spinach, and cheese empanadas. You can also order your empanadas fried if you like a hot breakfast. Check out the Don Pan International Bakery in Sawgrass Mills Mall for a location close to the Arena.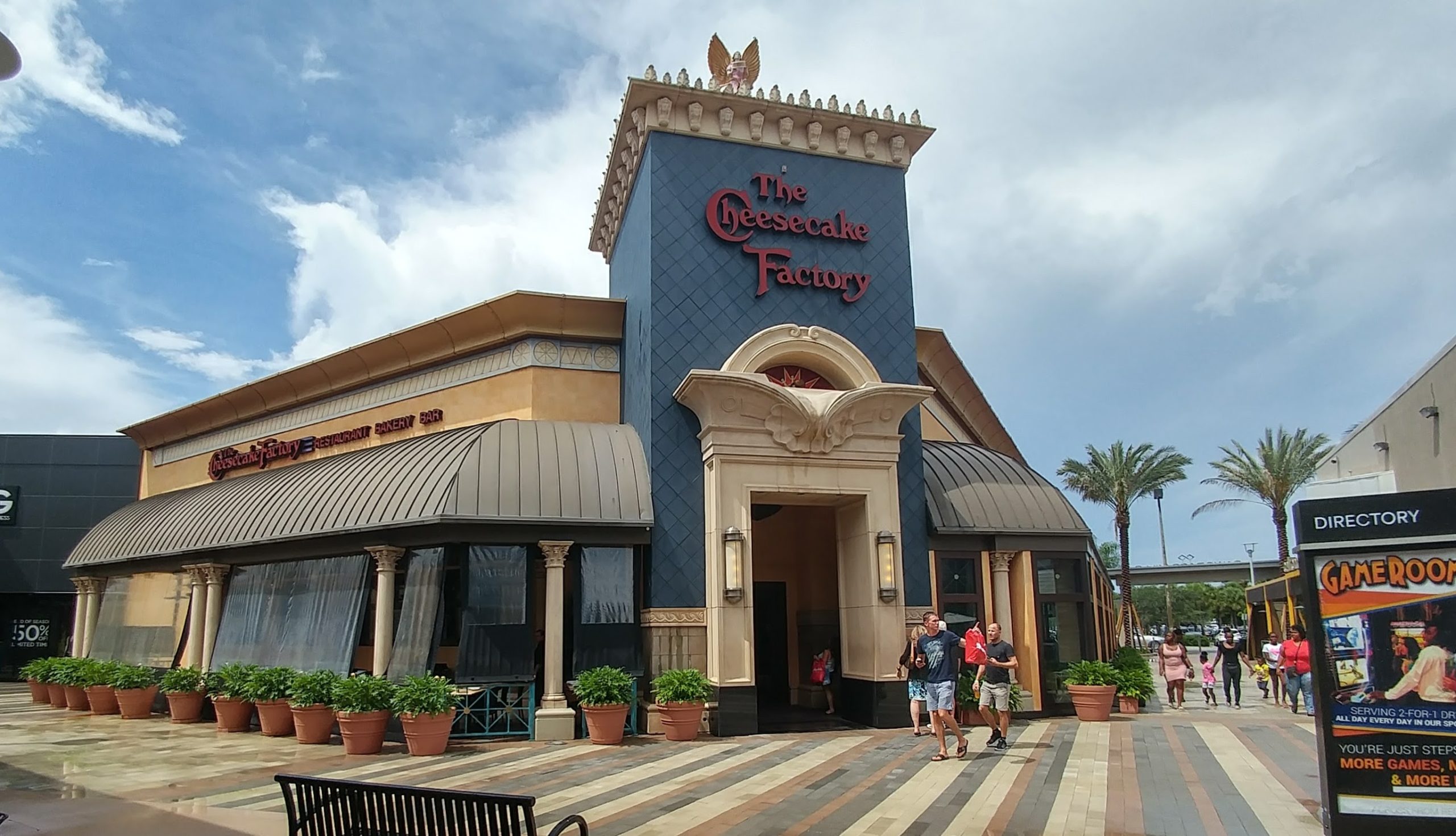 Sawgrass Mills is crawling with bars, eateries, and dives. The Cheesecake Factory here opens at 10 a.m and is one of the mall's busiest stores. It has a near 5-star rating with more than 5000 reviews on Google.
For anyone with a sweet tooth, The Cheesecake Factory is not a spot you can afford to miss. There are over 30 flavors of cheesecake here, ranging from the Original Flavor, fresh strawberry, White Chocolate Raspberry Truffle, and even key lime cheesecake.
The cheesecake here is nationally recognizable and tastes delicious. It's one of the most hyped dessert restaurants in America, so it's nice that it's so close to the Arena. The Fresh Strawberry flavor is particularly excellent and has become one of the company's most popular items.
The bar offers specialty drinks like the Tropical Tiki Punch, which includes spiced rum with ginger and pineapple citrus. Patrons will love the Pineapple Mezcal and the Pineapple Moscow Mule. Why not get a Key Lime Martini to-go with your Key Lime Cheesecake? Everyone knows how crazy Floridians are over their Key Lime Pie.
Keep this spot on your radar. First Watch sells hot meals very close to the FLA Live Arena. You can find this spot on West Sunrise Boulevard near the intersection with North Flamingo Road. This shop is all about nutrition.
First Watch blends taste with health. Many of their menu items revolve around a vegetable-heavy diet, such as the Kale Tonic Fresh Juice and the Inspired Italian Omelet. The location also sells Power Wraps, breakfast ingredients like egg and cheese wrapped in tomato basil tortillas.
If you are not as much of a health nut as the next person, there is no need to worry. The menu has a ton of lunch and dinner selections you can chow down. You can get a chimichanga here with chorizo and a side of potatoes smothered in cheese and sauce.
The Quarterdeck is a mix of classic American atmosphere and modern-chic energy. The restaurant is on West Sunrise Boulevard near the FLA Live Arena. This spot has been open for over 50 years and has gained a reputation as a local dive.
Quarterdeck offers mouthwatering rolls, chowders, and entrees. Most of the fun comes in ordering a few of the appetizers, like the fried calamari or blackened mahi-mahi fingers. As for full meals, the main courses include:
Soft-shell tacos
Buffalo chicken sandwiches
All-American burgers
Rainbow rolls
Phillies
French dips
Crunchy tuna rolls
Believe it or not, the Quarterdeck also has fantastic poke. You can customize poke bowls here with your personal choice of ingredients, like rice, fish eggs, avocado, scallions, and seaweed. The Quarterdeck also offers Vegan Beyond Burgers.
Do you have a hankering for Italian food? Villagio at Sawgrass Mills Mall is here to satisfy. This Italian restaurant leans towards the more expensive side of things, but that is because the food is premium quality. The dinners at Villagio are succulent and filling.
Chicken is one of Villagio's specialties. They can serve it in many ways, including breaded with parmesan and mozzarella, grilled with vegetables, and sauteed in lemon butter sauce, white wine, and peppers.
Villagio is also famous for its Risotto. They serve Risotto Primavera, Risotto Ai Porcini, and Risotto Frutti Di Mare. This location offers take-out as well.
Unlike some of the other entries on this list, Villagio provides a formal and up-scale eating atmosphere. It leans more towards a professional restaurant than a dive bar. It is certainly one of the best restaurants near FLA Live Arena.
Pollo Tropical is one of the city's best restaurants for Latin-Caribbean food. Not only is it good quality, but it's also close to the Live Arena, right off of West Sunrise Boulevard. If there's one thing they do best, it's chicken.
The restaurant has a giant menu. It offers platters, bowls, party packs, desserts, and more. Most of these items include fried, grilled, or shredded chicken as their flagship ingredient, including the Crispy Chicken Sandwich, the Crispy Chicken Platter, and the Grillmaster Trio.
Of course, chicken is incomplete without a good sauce to dip it in. Pollo Tropical provides the following signature sauces:
Spicy Poyo Poyo
Pineapple Rum
Curry Mustard
Pollo Tropical Hotsauce
Fresh Salsa
Cilantro Garlic
BBQ
The chicken here is tender and seasoned. Party Bundles include a variety of extra-large servings for large groups, like the TropiChop and the Classic Pollo, each for 10 people. Both of these items have heaping helpings of rice, beans, and shredded or whole chicken.
Bonefish Grill is a seafood shop you can find on West Sunrise Boulevard near some of the other entries on this list. This place has an excellent atmosphere. The wooden interior accentuates the locale's quiet, casual dining experience.
This place serves huge bundles for families and parties. Some of these bundles are pricey, but you can expect that for such impressive servings. The Grilled Mahi Mahi, for instance, offers a sizable platter of seafood with a tray of cookies, bread, salad, and other sides.
Check out some of the unique specials the company has to offer. The Pineapple Glazed Shrimp is a fan favorite recipe consisting of pineapple, jumbo shrimp, and jasmine. It's a sweet dish that's also savory, thanks to the meat.
If you still have an appetite, try the Fresh Watermelon Martinis or the Key Lime Cake. What could feel better than knowing you have a fresh slice of key lime waiting for you when you get home from the hockey game?
The Inn Field Bar & Grill is a chicken wing and burger joint on West Oakland Park Boulevard. It's less than a 5-minute drive from FLA Live Arena, which makes it the perfect stop for a pre-game snack. The Inn Field is open from 10:00 a.m to 11:00 p.m and hosts Happy Hour from 11:00 a.m to 8:00 p.m. Please note that the restaurant is smoke-free.
The restaurant has everything a sports fan could long for. It has drinks, gaming, tv, pool, and music. It's a relaxed dive-bar atmosphere you can bring your friends to. The menu features many sides and appetizers, including homestyle chili, loaded nachos, steak quesadillas, grilled cheese, and more.
Buffalo wings are a fan favorite at the Inn Field and Bar. You can get your choice of 10 or 16 wings in either Buffalo, Honey BBQ, Dry Rub, Teriyaki, or Sweet Honey Wings for an extra buck or two. These wings are quite filling, and you can order them with bleu cheese for an extra $0.75.
10. Peyton's Place
Peyton's Place is an underappreciated spot that has some of the best lunches nearby. Out of all of the entries on this list, this restaurant can blend affordability with menu variety the best.
Peyton's Place has a delicious breakfast menu. Wet scrambled eggs and bacon with a side of coffee is an excellent way to start your morning. There are a lot more selections than you would expect for such a seemingly discrete restaurant.
Hungry visitors have a lot of freedom when it comes to designing their meals. Fresh fruits and vegetables line the walls with their covered metal trays. You are free to add avocados and berries to your meal as you see fit.
On top of the taste, the restaurant also provides television, takeout, online ordering, ample seating, and wheelchair accessibility. The restaurant opens on West Sunrise Boulevard at 11:00 a.m.
The Grand Lux Cafe has some of the most appetizing and niche foods on this list. Don't believe it? Some of the starters include things like:
Mini Cheeseburgers
Asian Nachos
Buffalo Chicken Rolls
Mini Tacos
Bao Buns
Mini cheeseburgers and nachos sound like a match made in heaven after a day at the Arena. The Grand Lux Cafe has no shortage of lunch and dinner items. Braised Pot Roast, Madeira Chicken, Sunday Night Pasta, and Chicken Fried Chicken leave customers delighted.
After a full meal, you can order a few local desserts. Molten Chocolate Cake is as good as it sounds. Red Velvet Cake and Warm Brownie Sundaes are addictive, warm, and worth the 20-minute wait.
This restaurant is one of the most impressive around. Its mouthwatering menu, excellent reviews, and polite staff give it the unique benefit of having everything you would want in a restaurant. The Grand Lux Cafe is inside Sawgrass Mills Mall.
When it comes to pizza parlors, California Pizza Kitchen is nothing short of perfect. It's a trendy restaurant with a large menu and a cult following of pizza fans. This California Pizza Kitchen is inside the Sawgrass Mills Mall and opens at 11:00 a.m.
There are so many different menu items that it can be hard to choose. You can order the Original BBQ Chicken Pizza, the Spicy Milano with spicy marinara, serrano peppers, and Italian sausage, and even the Margherita pizza with basil and parmesan. You can even get a gluten-free pizza.
The shop offers pasta, cocktails, premium wine, bread, and their signature hand-tossed California-style pizzas. Not a pizza fan? Not a problem. Customers have no shortage of sandwiches, salads, and side items at CPK.
California Pizza Kitchen is the king of fried, greasy foods. Crispy fish tacos, California club sandwiches, fettuccine, cedar plank salmon, dumplings, and fire-grilled ribeyes are all hot and fresh at an affordable price.
Southern Florida is popular for its Caribbean restaurants and oceanside lifestyle. That's what makes it such a perfect place for a Bahama Breeze. You can find one at Sawgrass Mills Mall, which opens after 11:00 a.m.
Bahama Breeze specializes in its array of tropical food and drinks. Empanadas, plantains, and Jamaican jerk wings are only a few items in a broad selection of Caribbean treats. The menu combines savory, meaty meals like the Mahi Tacos with sweeter Caribbean snacks like the Bahama Mama.
Bahama Breeze also offers signature cocktails from Bermuda, the Bahamas, and beyond. The Killer Bee, from Nevis, includes Sailor Jerry Spiced Rum mixed with fruits and nutmeg. This is a fan favorite with a bit of a kick to it.
Nothing can top a trip to Seasons 52. It's a chic bar and grill restaurant with a lot of modern flair. Located in Sawgrass Mills, the FLA Live Arena is lucky to have a venue like this close by!
From flatbreads like the Chipotle BBQ Shrimp to its recipe for wood-grilled shrimp and grits, there is a lot to choose from. Customers can even buy a rotisserie half-chicken served with wild rice pilaf and honey glaze.
The bar at Seasons 52 is one of its best parts. Sparkling Cosmos, Rose Sangrias, Butterfly Bliss, and Cucumber Basil Smash are among some of the most recognizable cocktails at the bar.
What makes Seasons 52 undefeated is the flexibility you have when you decide to visit. You can stop by the spot for a brief lunch or a nice, formal dinner. Seasons 52 opens every day at 11:30 a.m. Happy Hour lasts from 3:00 p.m to 6:00 p.m., Monday through Thursday.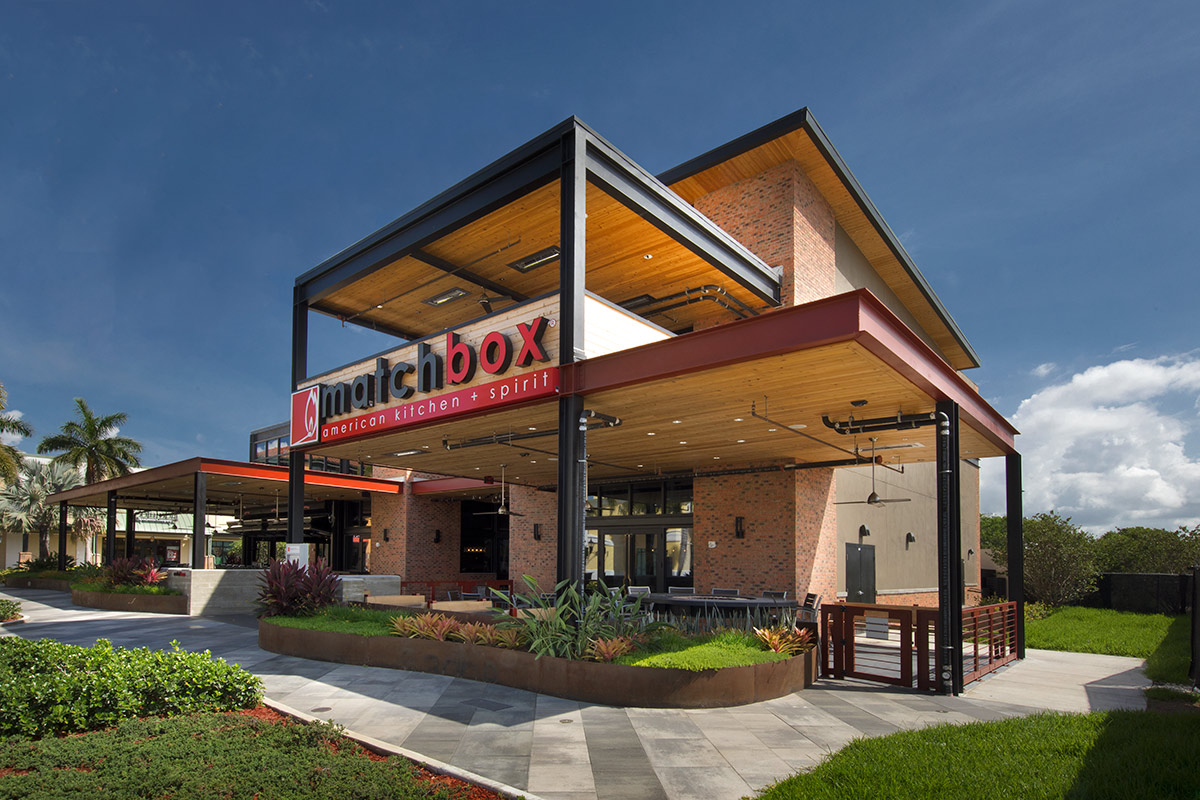 Matchbox is another Sawgrass locale with excellent reviews and lots of customers. Matchbox is beloved in Sunrise for its wood-fire-cooked pizza and rustic warehouse atmosphere. Everything from the decals to the menu is well-thought-out and overall very pleasant.
Some of the pizzas at Matchbox include recipes like:
The Nacho Pizza
The Hangover Burrito Pizza
The Carnitas Taco Pizza
The Matchbox Meat Pizza
Light snacks include dynamite shrimp, jumbo wings, garlic pizza bread, and spicy tuna tartare tacos. These particular items are brunch exclusive. Other starter meals include calamari, chicken soup, and even a giant meatball!
Get a chicken pesto brick-oven pizza or a crab cake sandwich if you truly want to make the most of your visit. Of course, no visit to Matchbox is complete without an order of dessert. The desserts are very creative, from a giant chocolate cake to an espresso brownie budino.
Final Thoughts
If you are hungry before or after watching a hockey game at FLA Live Arena, head out and try one of the 15 restaurants we have listed here. Dining in with friends or family in one of these spots will surely satiate your cravings!