FLA Live Arena, home to the Florida Panthers, offers visitors a diverse and delicious array of dining options to enjoy during hockey games, concerts, and various events. From satisfying stadium classics to an impressive variety of flavorful options, fans can expect a memorable culinary experience at this iconic venue.
Among the favorites found at FLA Live Arena concessions are Feltmans Hot Dogs, Chicken Tenders with Fries, Spicy Chicken Sandwiches, Cheeseburgers, Marsala Mushroom Burgers, Popcorn, and Onion Rings.
For those craving something even more exciting, FLA Live Arena also features a BBQ Shack in section 114 that serves delectable brisket, mac 'n' cheese, ribs, and more. Craft beer enthusiasts can quench their thirst and unwind at the Funky Buddha Brewery Tap Room, showcasing a well-curated selection of beers.
FLA Live Arena Overview
The FLA Live Arena, home to the Florida Panthers, is a popular destination for hockey fans and concert-goers. With a capacity of over 20,000, the venue hosts a variety of events throughout the year, from professional sports games to world-class acts in the entertainment industry. Catering to the diverse tastes of its visitors, FLA Live Arena provides an array of dining options for patrons to enjoy.
At Florida Panthers hockey games, as well as concerts and other events, FLA Live Arena offers a diverse menu of premier concessions items, ensuring that visitors have plenty of choices when it comes to food and beverage options. FLALiveArena.com mentions that these items can be found throughout the arena's various concourse locations. In addition to traditional game-day favorites like pizza, hot dogs, nachos, burgers, and popcorn, FLA Live Arena also features some unique dining experiences.
Among these experiences is the Sin Bin, which is open for all hockey games and select concerts and events. This sit-down dining option opens one hour prior to event start times, providing guests with a comfortable place to enjoy a meal before the main event.
For visitors craving barbecue, section 114 houses the BBQ Shack, which serves up mouth-watering options such as brisket, mac n' cheese, ribs, and more. As guests explore the arena, they can expect to encounter a wide variety of food and drink options, catering to every palate and preference.
Dining Options at FLA Live Arena
Restaurants and Bars
FLA Live Arena offers a variety of restaurants and bars for visitors to enjoy. One popular option is The Sin Bin, a sit-down eatery located on the Suite floor, where fans can grab lunch or dinner before the game or event. Additionally, the Funky Buddha Brewery Tap Room is a must-visit spot for craft beer enthusiasts, with a location right in the arena.
Concession Stands
There are numerous concessions stands throughout FLA Live Arena, offering a diverse menu of food options for guests. Some of the available items include:
FLA Live Arena also features specialty food options such as the BBQ Shack, located in section 114, which serves delicious brisket, mac n' cheese, ribs, and more.
VIP Dining
For guests seeking a more upscale dining experience, VIP options are available at FLA Live Arena. The Suite floor's The Sin Bin restaurant provides a sophisticated atmosphere for enjoying a meal before the event or game. Other premium dining experiences can be found throughout the arena, offering exclusive access and high-quality cuisine for VIP ticket holders.
Must-Try Foods and Drinks
At the FLA Live Arena, visitors can enjoy an assortment of delicious food options and beverages. One of the popular spots is the BBQ Shack, located in section 114. The BBQ Shack offers mouthwatering brisket, mac n' cheese, ribs, and more, perfect for satisfying your hunger during a game or event.
For fans of craft beer, the Funky Buddha Brewery Tap Room is a must-visit. With an exquisite selection of craft beers, this spot is ideal for unwinding and socializing with friends.
Among the more traditional fare, you can find fan favorites like pizza, hot dogs, nachos, burgers, and popcorn. These classic options are always reliable and widely available throughout the arena.
When it comes to beverages, soft drinks can be found at numerous outlets for around $5. For those looking for a fancier beverage option, many restaurants within the arena also offer quality cocktails.
Overall, the FLA Live Arena offers an exciting range of food and drink choices to accommodate various tastes and preferences, ensuring that all visitors have a great dining experience.
Section 5: Special Dietary Needs
For visitors with special dietary needs, FLA Live Arena strives to accommodate various preferences and restrictions. This section will discuss vegetarian and vegan options as well as gluten-free choices available at the arena.
Vegetarian and Vegan Options
While the standard offerings at FLA Live Arena include traditional arena fare like hot dogs, hamburgers, and chicken tenders, there are also vegetarian and vegan options available. To ensure your dietary needs are met, it is recommended to contact FLA Live Arena at 954-835-7000 to arrange approval and share your requirements prior to the event day. Upon arrival, notify the Event Staff of your dietary preferences.
Gluten-Free Choices
For those following a gluten-free diet, the arena also offers a range of accommodating food choices. However, specific details about gluten-free options at concession stands are not readily available online. Therefore, it is best to reach out to the FLA Live Arena prior to attending an event to inquire about gluten-free food and beverages. By contacting them ahead of time and informing Event Staff at the venue, you can ensure a hassle-free and enjoyable experience.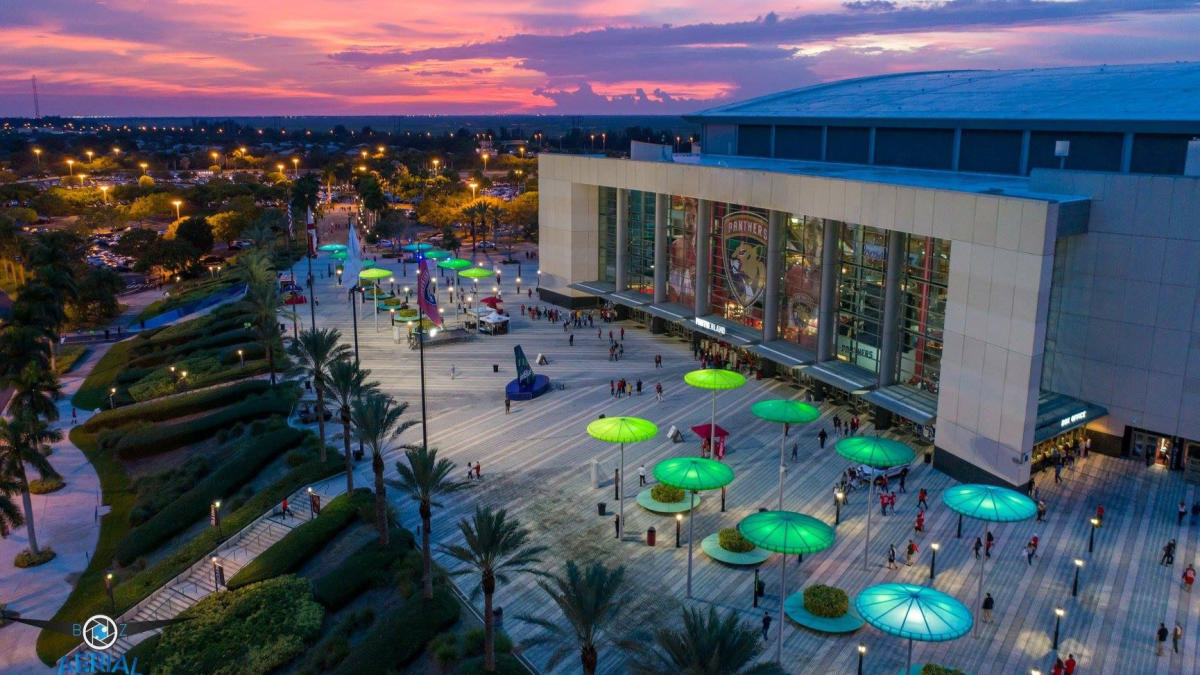 Payment Options and Pricing
When visiting the FLA Live Arena for an event or a Panthers game, there are various payment options available for purchasing food and drinks at concessions. Most concession stands and restaurants at the arena accept major credit cards and debit cards, and mobile payment options such as Apple Pay and Google Pay may also be supported. Cash might be accepted at some locations, but it's always a good idea to have a card with you as well.
The pricing of food and drinks at the FLA Live Arena varies depending on the type of concession, with more affordable options typically found at food courts and stands. Snacks and soft drinks, for example, often start at around $5 (3D Hockey Arena). On the other hand, menu prices at lounges, restaurants, and breweries within the arena, such as the BB&T Club and Patron Tequila Platinum Club, are usually higher as they offer a more premium experience.
Here is a quick overview of the food and drink prices you might encounter at the FLA Live Arena:
Snacks and soft drinks: starting at around $5
Standard meals, such as hot dogs and burgers: $10-$15
Premium food items: $15-$25
Beer and cocktails: $8-$14
Please note that prices are subject to change and may vary depending on the specific event or game you attend at the FLA Live Arena.
Tips for a Great Food Experience
If you're planning to dine at the FLA Live Arena during a game or event, consider these helpful tips to make the most of your food experience:
1. Explore diverse menu options: The arena offers a variety of concessions items during games, concerts, and events. From traditional arena fare to unique and premier items, you'll find something suitable to your taste buds. Visit this Dine with Us page for more details.
2. Try regional favorites: For the authentic local food experience, you can visit the BBQ Shack at section 114 for delicious brisket, mac n' cheese, ribs, and more.
3. Discover craft beer options: If you're a fan of craft beer, you'll want to check out the Funky Buddha Brewery Tap Room, which serves local beers and provides a unique atmosphere to enjoy with friends.
4. Arrive early: Arriving early to the event will give you ample time to browse the different food and beverage options, making it easier to find the perfect meal for your night out.
5. Plan ahead: To have a more streamlined dining experience, familiarize yourself with the available concessions before the game or event by visiting the Florida Panthers concessions page.
James is a big time NBA Golden State follower, who makes sure to catch games when he's in the area. He likes to follow International Soccer, with an interest in small town soccer club, Blackburn Rovers located in the North on the UK.