Miami, a vibrant city well-known for its stunning beaches and nightlife, is also home to a variety of impressive stadiums and arenas.
These venues not only showcase the city's passion for sports but also serve as prominent spots for hosting concerts and special events. With state-of-the-art amenities and remarkable architecture, Miami's stadiums and arenas have become must-visit destinations for both locals and tourists alike.
Among the top stadiums and arenas in Miami, you'll find the Hard Rock Stadium, LoanDepot Park, and the Kaseya Center.
Hard Rock Stadium, a multipurpose venue, is the home field for the Miami Dolphins and also hosts other major events, such as the college football Orange Bowl and international soccer matches.
Meanwhile, LoanDepot Park serves as the perfect location for baseball enthusiasts, providing shelter from the rain, thanks to its retractable roof.
The Kaseya Center, formerly known as the American Airlines Arena, is a versatile venue that houses the Waterfront Theater and can be configured for concerts, family events, and other stage shows.
With such diverse and exceptional sports venues, Miami not only excels in providing a fantastic atmosphere for any event but also continually captures the spirit and energy of this dynamic city.
History of Stadiums and Arenas in Miami
Early Developments
The history of stadiums and arenas in Miami begins in the mid-20th century, with the construction of classic venues like the Orange Bowl. Originally built in 1937 and having undergone several renovations, it served as the home for the Miami Dolphins from 1966 to 1986 in the AFL and later NFL. The Orange Bowl was also the home of the Miami Hurricanes football team from 1937 to 2007.
Another early development in Miami's sports venue history is the Miami Beach Convention Center. It hosted the ABA team, the Floridians, from 1969 to 1972.
Modern Expansions
In recent years, Miami has seen a surge in modern stadiums and arenas to cater to various professional sports, including:
Kaseya Center: Previously known as the American Airlines Arena from 1999 to 2021, FTX Arena from 2021 to 2023, and then Miami-Dade Arena in 2023, the Kaseya Center is a multi-purpose arena located in Miami. It was constructed in 1998 as a replacement for the Miami Arena and is the home of the Miami Heat NBA team. With a seating capacity of 19,600, including 2,105 club seats, 80 luxury suites, and 76 private boxes, it features a cascading color scheme of red and orange that reflects the Miami Heat theme.
Hard Rock Stadium: This stadium has also been through multiple name changes over the years, and its many iterations include Joe Robbie Stadium, Pro Player Park, Pro Player Stadium, Dolphins Stadium, Dolphin Stadium, Land Shark Stadium, and Sun Life Stadium. The facility opened in 1987 and currently serves as the home of the Miami Dolphins NFL team and the Miami Open tennis tournament. In 2016, the naming rights were sold to Hard Rock Cafe Inc. for $250 million over 18 years.
These modern expansions have transformed Miami into an epicenter for professional sports, complementing the city's vibrant culture and drawing numerous fans to attend events at these state-of-the-art venues.
Top Stadiums and Arenas
Miami is home to a variety of top-notch sports venues, hosting games and events for teams like the Miami Dolphins, Miami Heat, and Miami Marlins. In this section, we will discuss three of the most popular stadiums and arenas in the city: Hard Rock Stadium, American Airlines Arena, and LoanDepot Park.
Hard Rock Stadium
Hard Rock Stadium, located in Miami Gardens, is a multi-purpose stadium that hosts the NFL's Miami Dolphins and the NCAA's Miami Hurricanes. With a seating capacity of over 64,000, the stadium is known for its modern design and comfortable amenities. Some of its features include:
Various seating options, including club seats and luxury suites
Numerous food and beverage choices
A state-of-the-art video board and sound system
A canopy that provides shade and rain protection for most seats
The stadium also hosts other events such as concerts and the Miami Open tennis tournament, making it a versatile and attractive venue for fans and visitors.
American Airlines Arena (FTX Arena / Kaseya Center)
Located in downtown Miami, the FTX Arena is home to the NBA's Miami Heat. With a seating capacity of around 20,000, the arena offers an electric atmosphere for basketball games and concerts. Some of its highlights include:
Excellent views from all seating areas
Modern amenities and comfortable seating
A diverse range of food and beverage options
The Xfinity East Plaza, an outdoor area for pregame festivities and events
The arena's prime location near Biscayne Bay also provides visitors with stunning views of the surrounding area, making it a popular destination for both sports and entertainment events.
LoanDepot Park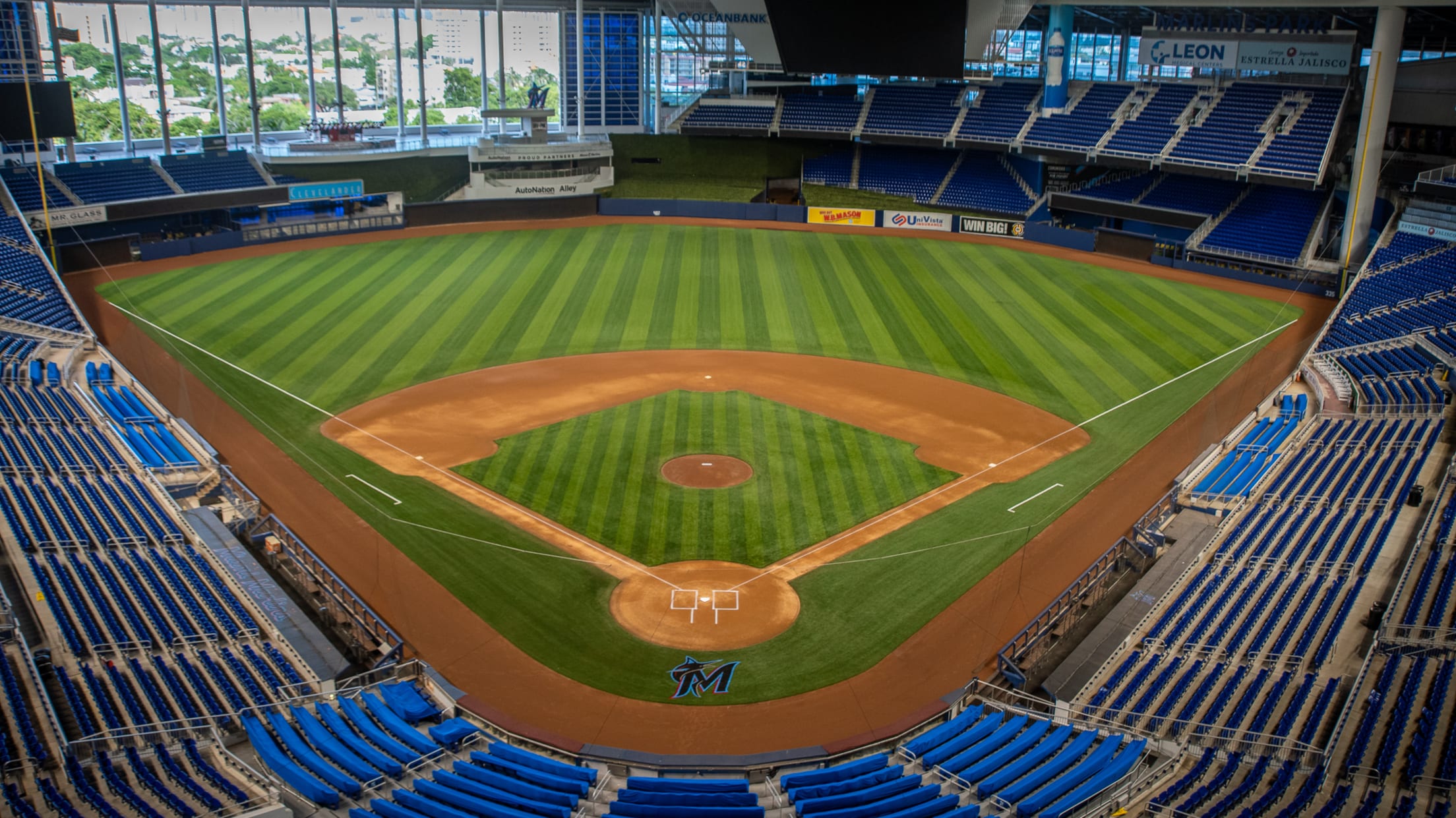 LoanDepot Park, formerly known as Marlins Park, is a retractable roof ballpark located in the Little Havana neighborhood of Miami. It is the home of MLB's Miami Marlins and features a unique, contemporary design. The stadium has a seating capacity of around 37,000 and offers a comfortable environment for baseball games, thanks to its climate-controlled atmosphere. Notable features of LoanDepot Park include:
A state-of-the-art retractable roof to protect from rain and provide shade
The vibrant "home run sculpture" in the outfield
A wide selection of food and beverage options
The Bobblehead Museum, showcasing more than 600 bobbleheads
With its modern design and unique atmosphere, LoanDepot Park is a must-visit destination for baseball fans and visitors to Miami.
Functionalities and Events
Major Sports Leagues
Miami is home to several notable stadiums and arenas that host major sports leagues. Some of the key venues include:
American Airlines Arena: This waterfront venue is located along Biscayne Boulevard and serves as the home court for the NBA's Miami Heat.
LoanDepot Park: Found in the Little Havana neighborhood, this stadium is home to MLB's Miami Marlins.
These venues host various league games, playoffs, and championships, attracting fans from all over the world.
Concerts and Shows
Aside from sporting events, Miami's stadiums and arenas are also known for hosting concerts and shows. The American Airlines Arena, in particular, caters to diverse spectacles and has featured performances by top artists and bands. Similarly, the Miami Marine Stadium, a historic venue located in Key Biscayne, was known for hosting numerous events before being shuttered in 1992. Efforts are underway to restore and reopen this iconic structure for future performances and events.
In addition to these venues, Miami has a thriving live music and entertainment scene, with numerous locations throughout the city providing options for fans of various genres.
Future Developments
Proposed Stadiums and Arenas
One notable future development in Miami is the Miami Freedom Park, which recently received its final zoning approval. This 25,000-seat MLS stadium, proposed by soccer star David Beckham and team co-owners Jorge and Jose Mas, is set to replace a city golf course and other parkland. The project aims to be a new home for the Inter Miami CF soccer team.
Another project in the works is a new stadium for the Miami Hurricanes. Although only at the design phase, this proposed stadium has generated a lot of excitement, and its eventual completion will greatly benefit the team and its fan base.
Infrastructure and Transportation Upgrades
In addition to new stadiums and arenas, Miami is also expected to undergo significant infrastructure and transportation improvements to accommodate the growing number of visitors and events. For instance, the massive five-phase project known as Miami River, led by The Chetrit Group, includes the development of residential units, hotel keys, retail space, and office space in Brickell, a key neighborhood in Miami. Such projects will provide better access and convenience for those attending games or events at Miami's stadiums and arenas.
James is a big time NBA Golden State follower, who makes sure to catch games when he's in the area. He likes to follow International Soccer, with an interest in small town soccer club, Blackburn Rovers located in the North on the UK.