Orlando, Florida, boasts a variety of stadiums and arenas catering to sports enthusiasts and event attendees alike.
With a rich history of hosting both professional and amateur tournaments, these venues have become iconic landmarks within the city.
This article aims to provide a glimpse into some of the best stadiums and arenas in Orlando, highlighting their features, events, and significance to the community.
Among these notable sports venues is Exploria Stadium, home to the Orlando City Soccer Club and the Orlando Pride. With a seating capacity of 25,500, it is nestled in the heart of downtown Orlando.
Another prominent venue is Camping World Stadium, located in the West Lakes neighborhood, which has been offering visitors memorable experiences since its inception. The area also features other entertainment facilities like the Amway Center and the Dr. Phillips Center for the Performing Arts.
Additionally, the ESPN Wide World of Sports Complex provides a magical blend of innovation, entertainment, and athletic prowess. Since its establishment in 1997, the complex has witnessed countless sports dreams come true for athletes and fans.
These stadiums make up only a portion of Orlando's diverse venues roster, offering visitors and residents alike unforgettable experiences while fostering a spirited sports culture.
Popular Stadiums and Arenas in Orlando
Amway Center
The Amway Center, located in downtown Orlando, is home to the NBA team, the Orlando Magic, and the ECHL's Orlando Solar Bears.
This indoor arena boasts state-of-the-art facilities and hosts various sporting events, concerts, and other entertainment shows. The Amway Center offers a great atmosphere for fans, with superb seating options and plenty of amenities.
Camping World Stadium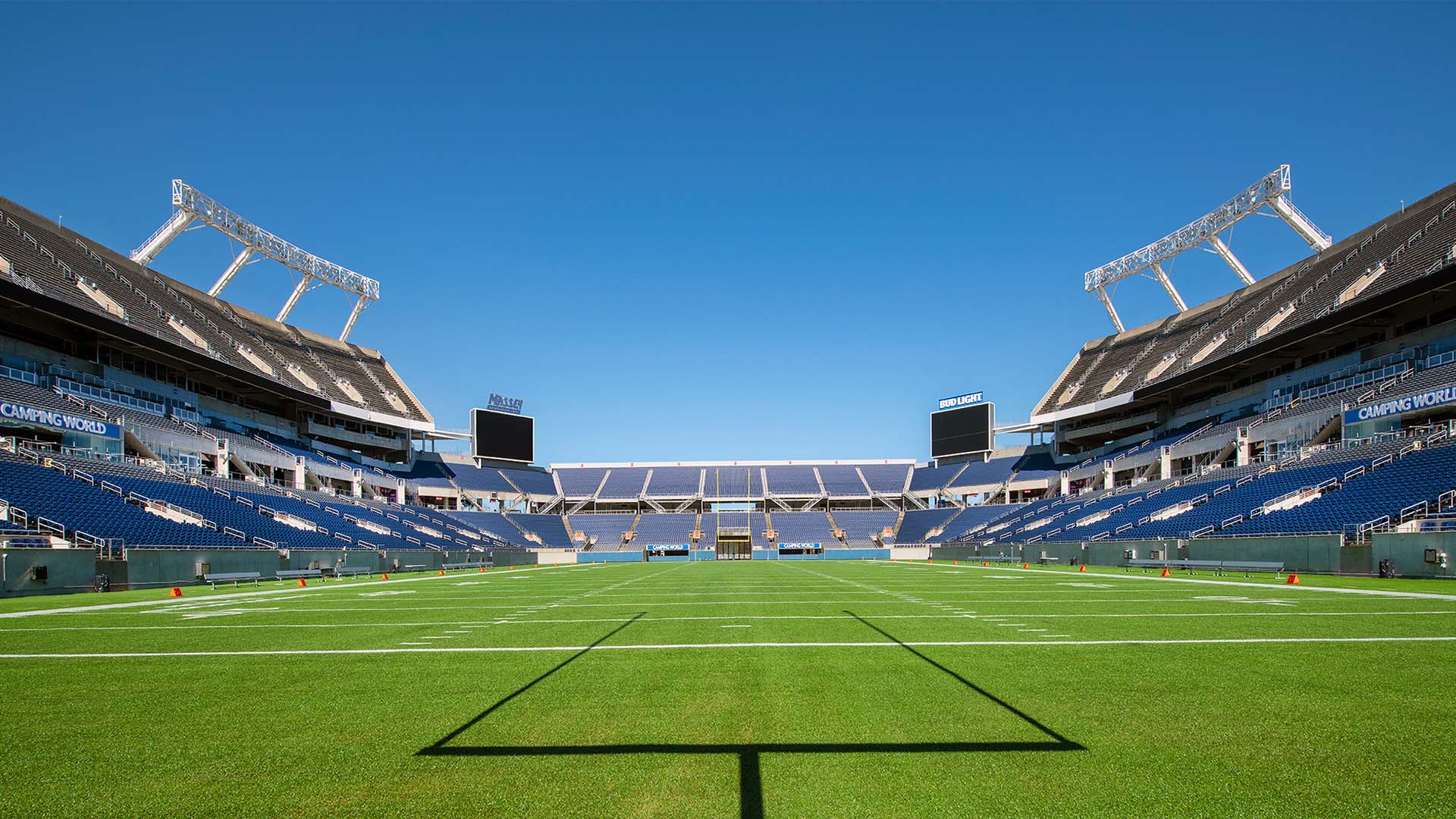 Camping World Stadium is an outdoor stadium situated in the West Lakes neighborhood of downtown Orlando.
This iconic venue hosts a variety of events, including college football bowl games, soccer matches, and concerts.
It has undergone multiple renovations over the years, and today, Camping World Stadium delivers a thrilling experience for both athletes and spectators.
Addition Financial Arena
The Addition Financial Arena, formerly known as CFE Arena, is located on the University of Central Florida campus.
As the home of the UCF Knights men's and women's basketball teams, it offers an exciting environment for college sports enthusiasts. The arena also serves as a venue for concerts, comedy shows, and various other events, providing guests with an engaging experience.
Exploria Stadium
Exploria Stadium is a soccer-specific venue in downtown Orlando. It is the home of Orlando City SC, a Major League Soccer team, and the Orlando Pride in the National Women's Soccer League.
The stadium has a seating capacity of approximately 25,500 and offers a dedicated fan zone and a unique canopy to protect fans from the elements. With its electrifying atmosphere, Exploria Stadium is a premier destination for soccer fans in Orlando.
Silver Spurs Arena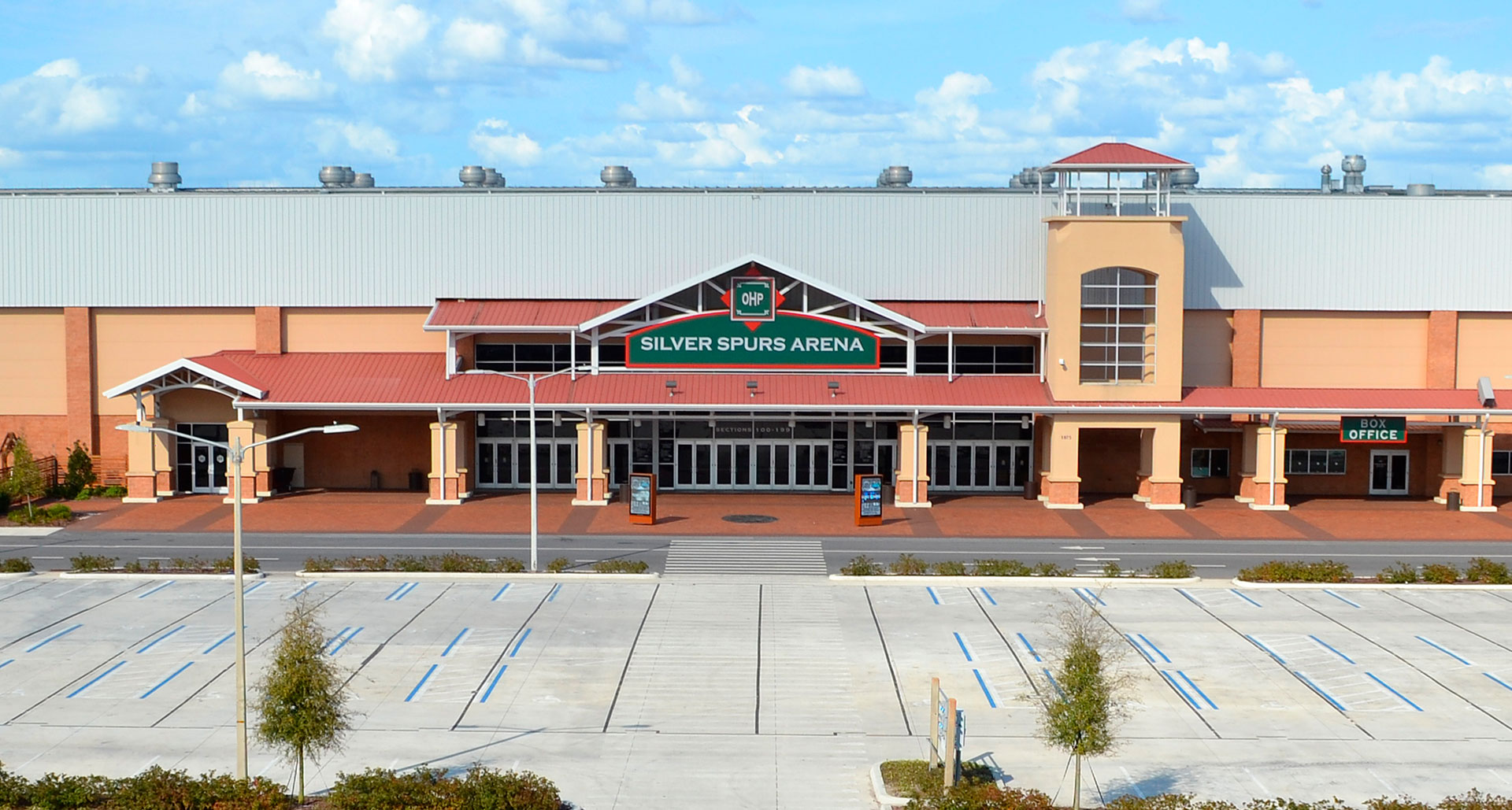 Located in Kissimmee, Silver Spurs Arena is a multi-purpose venue that hosts a variety of events such as rodeos, concerts, sports competitions, and more.
Having a capacity of more than 8,000 seats, the arena is part of the larger Osceola Heritage Park complex.
Known for its flexibility and modern amenities, Silver Spurs Arena provides an enjoyable experience for both event-goers and participants.
The History of Stadiums and Arenas in Orlando
Evolution over Time
In the early days of sports venues in Orlando, Tinker Field opened in 1914 as a baseball park. Later, Orlando Stadium was built in 1936 with a capacity of 8,900. This stadium later became Camping World Stadium. Over time, the venues evolved to accommodate various sports and entertainment events. In 1983, the site for Orlando Arena, later known as the Amway Center, was approved.
Some notable stadiums and arenas in Orlando include:
Camping World Stadium: Originally built in 1936 as Orlando Stadium. Used for various sports and events.
FBC Mortgage Stadium: A multi-purpose stadium.
John Euliano Park: A baseball park on the UCF campus.
Tinker Field: A historic baseball park opened in 1914.
UCF Soccer and Track Stadium: A multi-purpose athletic facility.
Traditions and Records
Orlando has been home to many memorable sports events and has seen the rise of traditions throughout the years. On January 1, 1947, the first college football bowl game was played at what would later become Camping World Stadium. The game was the inaugural Tangerine Bowl, where Catawba defeated Maryville 31-6. Camping World Stadium continues to host major college football games annually, including bowl games and kickoff games.
The city has also hosted various concerts and entertainment events at the Orlando Sports Stadium before it was closed in 1995. Some notable events include The Who, Steve Miller Band, and Frank Zappa. The traditions that have developed around Orlando's sports and entertainment venues help define the city's cultural atmosphere.
Records
Many records have been set in Orlando sports venues throughout the years. However, one of the most notable records was set at the Camping World Stadium.
In 2019, the stadium hosted the NFL Pro Bowl, in which a new attendance record was set with 60,834 fans in attendance. This surpassed the previous highest attendance record for the Pro Bowl game from 2009.
Orlando's sports and entertainment venues have played host to various events and milestones. These venues have evolved over time to accommodate new sports and provide memorable experiences for residents and visitors alike.
Facilities and Amenities
Accessibility
Orlando boasts several stadiums and arenas, which prioritize accessibility to ensure a comfortable experience for all visitors.
Most venues, such as the Amway Center and the Camping World Stadium, feature wide entrances, accessible seating areas, and elevators catering to guests with mobility challenges. Additionally, some venues offer assisted listening devices, sign language interpretation, and captioning services upon request for those with hearing impairments.
Dining Options
When attending events at Orlando's stadiums and arenas, there is no shortage of dining options. From snack stands offering classic game-time treats like hot dogs and popcorn, to restaurants and bars serving a variety of cuisines, there is something for everyone.
The Amway Center is home to the popular Jernigan's Restaurant, while Exploria Stadium features a range of concession stands serving up fan favorites.
Amway Center: Jernigan's Restaurant
Exploria Stadium: Concession stands with diverse options
Parking
Parking is an essential factor to consider when visiting stadiums and arenas in Orlando. Many venues feature dedicated on-site parking areas, some may require advance booking or ticket purchase.
Nearby parking garages and lots are also available, often within walking distance from the venue. Below is a list of popular Orlando stadiums and arenas with their corresponding parking options:
| Venue | Parking Options |
| --- | --- |
| Amway Center | Geico Garage, Garland Ave Lot, Church St Garage |
| Camping World Stadium | Stadium On-Site Parking, Downtown Orlando Parking Areas |
| Addition Financial Arena at UCF | On-campus parking garages |
| Spectrum Stadium | Parking garages & lots around UCF campus |
Public transportation is another alternative to reach Orlando's stadiums and arenas, making events more accessible to everyone.
James is a big time NBA Golden State follower, who makes sure to catch games when he's in the area. He likes to follow International Soccer, with an interest in small town soccer club, Blackburn Rovers located in the North on the UK.