Even though Soldier Field is the smallest stadium in the NFL, it's still one of the most visited destinations in Chicago. 
Being a multi-purpose arena and the official home of the Bears, this stadium makes a top spot in Chicago. Many people relish its lakeside location and the modern upgrade it received in 2003.
When you have tickets to an event in the Soldier Field and plan on arriving at the venue with a car, it's crucial to know where to park it. Fortunately, there are excellent spots for parking near Soldier Field, where your car will be safe.
We all know parking for drivers is one of the most annoying tasks, especially when traveling to a foreign city. That's why having a reserved parking spot is very important.
This article focuses on drivers and minimizing their stress from roaming around the city and looking for a convenient parking spot.
Therefore, all of you heading onto the Soldier Field, spare a few minutes and discover the best options for parking near the arena!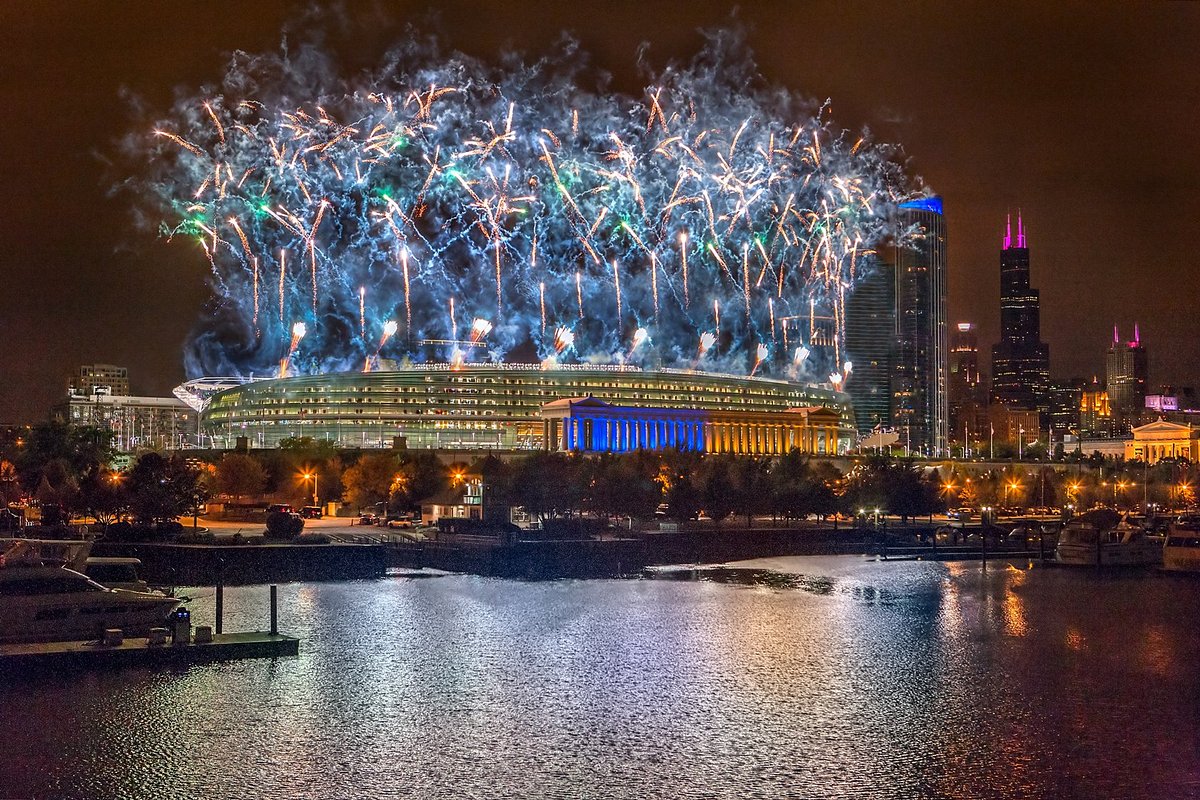 All of the parking lots in the radius of the Soldier Field arena are managed by SP+ parking. Thus, the parking near Soldier Field Arena is very organized, and event and non-event parking are available.
When it comes to event days, all of the garages open around four hours before the beginning of the event. In contrast, on non-event days, you can park in the Adler, North, and the East garage.
When you have a season coupon parking for Bears Event Days, you can park in the North or South garage and on Waldron Deck. Consequently, these spots are usually reserved for coupon parking holders.
Parking prices
The prices at the Soldier Field's parking lots vary depending on the events. High-demand events can even charge you a premium if you want to reserve a spot online.
Regarding event parking, you can reserve your parking ticket here. As you will see for yourself, the parking rates are subject to change, and most often, prices start at $30-$40 and go up.
Moreover, parking for buses and RVs is even more expensive on event days and usually costs more than $100.
In opposition, parking on non-event days is expectedly cheaper. For such days there's also a pre-paid parking option, and early bird prices begin at $12.
Otherwise, the non-event day parking rates depend on the lot in question. For example, in the Adler lot, the daily rate is $25, while the night rate is $15. The North and East Garages are more expensive, and the daily rates are $30.
Additional information
Number of Lots
4 / Map
Working Hours
The garages open around 4 hours before an event
Parking Availability
For events, museum guests, and visitors
Parking Spaces
/
Event-Parking Rates
Depending on the event
Non-Event Weekday & Weekend Parking Rates
Available in the North Parking Garage
East Museum Lot
Adler Planetarium Lot
Height Restrictions
/
Reservations for Pre-paid Parking
Click Here
The Millenium Parking Garage is the closest lot for parking near Soldier Field, from all of the four garages that Millenium Parking operates.
The garage is also the newest, with 2,126 spaces available for vehicles scattered over 1.0 million square feet.
This parking garage offers event and non-event parking and overnight, daily, extended stay, and monthly parking.
It's also helpful to know that the Millenium Parking Garages offer parking for selected events in the Soldier Field Arena. That's why you should browse the event parking on their website and ensure you can buy a pre-paid ticket for the event you are going to.
Parking prices
The best thing about the Millenium Parking Garage is that you can buy a pre-paid parking ticket online and secure your place in the lot.
As we mentioned, the event rates for parking vary, and they can get pretty expensive when the Bears play in the arena. However, you may pay a cheaper rate if you reserve your spot earlier.
On the other hand, the drive-up rates for the Millenium Parking Garage are fixed and start at $23 per hour. As time passes, the rates increase.
Therefore, for non-event days, it's recommended to purchase an early bird ticket for $16, enter the garage from 5:00 AM to 10:00 AM, and leave by 7:00 PM.
Additional information
The Park Michigan Garage is operated by Laz Parking and is one of the most often chosen garages for parking near Soldier Field. Located around 1 mile from the venue, you can reach the event on foot in minutes.
This parking garage offers 250 spaces, which is excellent because it works 24/7. There are also ADA spaces available.
Parking prices
What we like the most about the Park Michigan Garage is that the rates often don't increase during events in the Soldier Field Arena.
The parking rates are fixed, so you can expect to pay $8 for 4 hours, $13 for 12 hours, and $21 for 24 hours. An early-bird ticket costs $12.
The garage accepts Amex, Debit Card, and Credit Card payments. Also, remember that the parking prices we listed are without taxes, so a tax will be included when you buy a parking ticket.
Another good thing is that mobile passes are accepted too.
Additional information
Location
1212 S. Michigan Chicago, IL 60605
Working Hours
24/7
Parking Availability
For event and non-event days
Number of Spaces
250 Spaces
Parking Rates
4 hours – $8
12 hours – $13
24 Hours – $21
Early Bird – $12
Height Restrictions
Maximum Height – 6'8
Reservations for Pre-paid Parking
Click Here
Conclusion
As you can discover from this article, there are great opportunities for parking lots near Soldier Field. However, arriving last minute and looking for parking is never advisable, even if you don't decide to park in one of the Soldier Field parking lots.
Chicago is a busy city, so having a strategy beforehand can be very helpful. Just follow the steps, book and pay your ticket online, and don't worry once you arrive at the premises.
If you don't like our choices, you can always look for another parking option, just not by driving around Chicago with your vehicle.
In the end, we are confident that these three lots are the best parking near Soldier Field, and you will hardly find something better, especially on event days.