The Indianapolis Pacers of the NBA and the Indiana Fever of the WNBA play their home games at Gainbridge Fieldhouse, formerly known as Conseco Fieldhouse. Gainbridge Fieldhouse is located at 125 S Pennsylvania St, Indianapolis, IN 46204.
This stadium caters to the fans' and visitors' demand for food like no other stadium. It always has a variety of food options to offer to everyone who comes to enjoy a match. If you are curious to know what you can eat at this stadium, keep reading the article.
Explore Food at Gainbridge Fieldhouse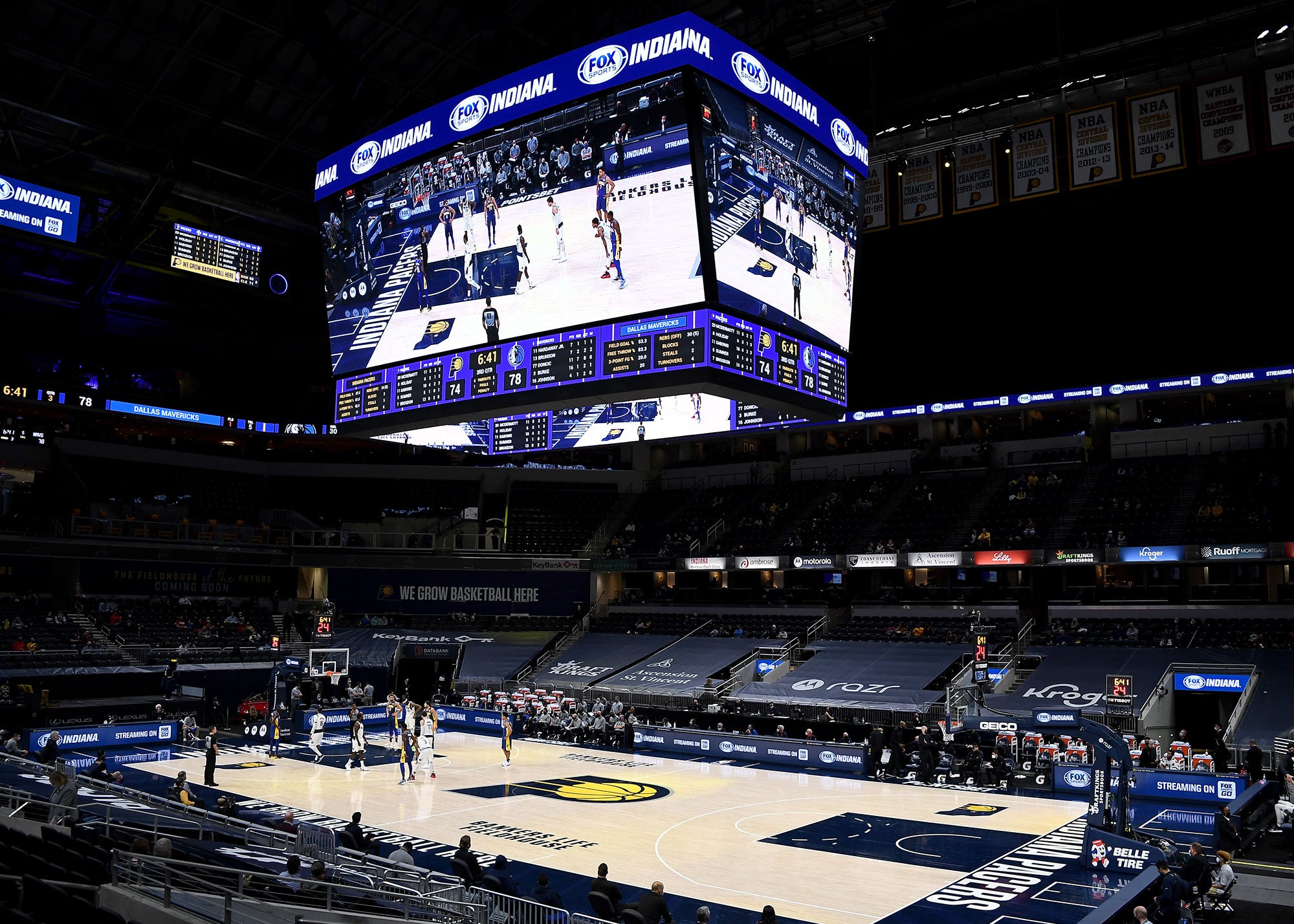 You won't have a hard time finding something to eat when you're at Gainbridge Fieldhouse. It has everything you need, whether you want a hot dog, burger, fries, or sandwich, a local favorite like pepperoni pizza, or something sweet. Beverages are also available in case you get hungry while enjoying your favorite team's game.
Types of Food
Gainbridge Fieldhouse features a variety of food options for visitors. The types of food can be:
Modern Options
Classic Options
Beverage Options
Vegan Options
Desert Options
Let's check out each type one by one.
Modern Food Options at Gainbridge Fieldhouse
Some exciting new dining options, serving high-quality fare, are now open in the Gainbridge Fieldhouse complex. Some are:
Boom Baby Burgers
Craving some classic burgers? In Gainbridge Fieldhouse, sections 11 and 117, you can find Boom Baby Burgers, which serves a variety of foods like burgers, chicken sandwiches, fries, onion rings, and beer.
Three Point Taqueria
Tacos, vegan sausage, nachos, crispy cinnamon wheels, potato nachos, and more may be purchased from Three Point Taqueria, which has locations in sections 17 and 115 of Gainbridge Fieldhouse.
Warehouse District BBQ
If you are a barbecue fan, then move no more because you have found the right spot. In addition to brisket, mac and cheese meals, pulled pork, and other options, the Warehouse District BBQ in section 15 serves the most amazing smokey bbq burger.
Delaware St. Pizzeria
Is pizza, not the ideal stadium concession item? Out in section 105 of the Gainbridge Fieldhouse, Delaware Street Pizzeria serves its best meatball sandwiches, signature pizza, salad, beer, and more.
Circle City Chicken
Section 104 is home to Circle City Chicken, serving up fried chicken, pulled pork, and more.
Classic Food Options at Gainbridge Fieldhouse
Gainbridge Fieldhouse has some of the most delicious classic stadium food collections. Let's check some out,
Fieldhouse Favorites
Find Gainbridge Fieldhouse's most recommended items in the Fieldhouse Favorites. Among other things, you can purchase Papa John's Pizza, burgers, chicken tenders, fries, and hot dogs.
Fast Break Market
Fast Break Market is the place to go if you're searching for something light to snack on. Section 4 has concession stands where you can get quick snacks and alcohol.
Ben's Pretzels
Ben's Pretzels is an American favorite. Out in section 2, you will find them serving up freshly baked pretzels and other items.
Snack Shoppe
It is very natural to crave snacks while visiting Gainbridge Fieldhouse and watching games. Out in section 202, the Snack Shoppe sells a variety of snacks, including ice creams, candies, and pretzels. Get some munchies of your choice from Snack Shoppe.
Crossroads Eats
Crossroads Eats, located in section 13, serves gourmet hot dogs, chips, water, beer, and more.
Nacho Cart
If you are in desire Mexican food, then you should visit the Nacho Cart located in Gainbridge Fieldhouse. At several of the food stands located in the main concourses, customers may get loaded nachos topped with a wide variety of toppings.
Chick-Fil-A
Feel like sticking with the tried and true? What about chicken? Or both? Chick-Fil-A, section 11 of Gainbridge Fieldhouse, is the place to be if you're craving a traditional chicken sandwich.
Vegan Food Options at Gainbridge Fieldhouse
You must have been in a situation where a member of your group was vegan and the restaurant you visited didn't serve vegan food. When the person is you, the situation becomes even worse. Vegans have the most difficult time when visiting new places because so few of them offer vegan-friendly options. Unfortunately, the Gainbridge Fieldhouse does not have many vegan options. However, there is one exception.
Green Leaf Cart
Section 207 is the location of the Green Leaf Cart, which serves vegan burgers and sausages. The place also serves items that are vegetarian.
Beverage Options at Gainbridge Fieldhouse
It's only natural to grow thirsty while enjoying a game at Gainbridge Fieldhouse, and luckily there are beverage options available to help.
Corona Bar
The Corona Bar is located in section 14 and serves a variety of alcoholic and non-alcoholic beverages. It also serves wine of your choice.
Bud Light Seltzer Cart
There are a few bars in the Bud Light Seltzer Cart, located in section 213 of Gainbridge Fieldhouse. If you're a thirsty fan, go to the bar and relax with a cold beer by yourself or with close friends.
New Amsterdam Bar
There is a bar called New Amsterdam Bar in Gainbridge Fieldhouse, where you can get beer, wine, and cocktails.
Dessert Options at Gainbridge Fieldhouse
Those with a sweet tooth who find themselves at Gainbridge Fieldhouse should definitely have dessert. Find a sweet treat at:
Kona Ice
The ice cream in Gainbridge Fieldhouse is of the highest quality and tastes great. Shop section 225 for a variety of delicious varieties of authentic Hawaiian shave ice creams.
FAQs:
Is Outside Food Allowed at the Gainbridge Fieldhouse?
Answer: The Gainbridge Fieldhouse does not allow any outside food or beverages under any circumstances. But there's no need to stress about food because the venue has catering of surprisingly good quality.
Is Smoking Allowed Inside the Gainbridge Fieldhouse?
Answer: Smoking is strictly prohibited inside Gainbridge Fieldhouse.
Conclusion
When most people think of a basketball arena, they immediately think of the food, drinks, and sweets that we can munch on there. Particularly in a venue like Gainbridge Fieldhouse, gourmands hit the jackpot. Your cravings can be satisfied with the wide selection of food and beverage options available there.
If you're planning a trip to the Gainbridge Fieldhouse, this article can work as a guide so you can avoid food mistakes and get exactly what you want.