TD Garden is one of Boston's most iconic arenas, often hosting events every other day.
If you're planning to visit the area for an event at the arena, here are some of the best hotels near TD Garden.
1. Courtyard Boston Downtown/North Station
Marriott's Courtyard Boston near North Station has the distinction of being TD Garden's official preferred hotel for visitors. It's extraordinarily close to the arena, literally a few steps away, and within comfortable walking distance of the financial and government areas of the city. It also features an impressive view of Zakim Bridge.
The Courtyard Boston Downtown has 220 rooms across 14 floors. It frequently offers special event packages for TD Garden, including reserved rooms with views of the arena, valet parking, and breakfast for up to two people. Some packages also include late check-out, which can be handy if you want to attend an event at TD Garden earlier in the day.
Most rooms in the hotel fit up to four people, either on two queen-size beds or one king and a hidden sofa bed. The decor is urban chic, with a range of wood tones and grays with brighter ceilings and walls.
The only on-site restaurant is The Bistro, a casual-dress restaurant offering American-style fare. It focuses on dinner but also includes breakfast options for guests on the go. As a hotel in the heart of downtown Boston, the Courtyard is close to many other restaurants, though most lean casual instead of formal.
The Courtyard Boston is a disability-friendly hotel with accessible routes for the main entrance, meeting spaces, fitness areas, and restaurant. Accessible guest rooms include various features, from flashing door knockers to roll-in showers, grab rails, and more.
2. The Whitney Hotel Boston
Just 0.6 miles away from TD Garden, the Whitney Hotel is perhaps the best in the city, not just among the hotels near TD Garden. Although formally a 4-star hotel, its luxury boutique-style offers comfort and quiet in a busy area.
The Whitney Hotel has 65 guestrooms, divided across rooms with one king, two queen, or suite-style accommodations. Hotel services include wireless internet, laundry service, a concierge, and a pet-friendly design.
Dining is available at the Whitney Hotel's on-site restaurant, Peregrine, which emphasizes coastal Mediterranean food. It takes heavy influence from Sardinia, Sicily, Corsica, and Catalonia. Like most fine restaurants, the menu can change based on what's available, but it typically includes items like tomato bread, shrimp, pasta, and salads.
ADA rooms include options for guests with mobility or hearing needs, and a few rooms support both. Together, these make the Whitney Hotel one of the most visitor-friendly locations in the city, and its stellar reviews support its claims of quality. If you're looking for comfort beyond a major hotel, look here first.
Note that the Whitney Hotel's status as one of the top hotels in the entire city means it's likely to fill up before major events at TD Garden, so reserve a room early if you want to guarantee a spot.
3. The Verb Hotel
Built about 2.3 miles away from TD Garden, the Verb Hotel is a three-star, music-themed hotel. Although it's more directly associated with Fenway Park, which is just beyond, it's still close enough to TD Garden that it can service both arenas.
Rooms at the Verb mostly offer one king or two queen beds, with options for private balconies, stadium views, or pool views. Each room features a generous amount of music memorabilia, including posters and artwork. All rooms are dog-friendly, too, which is a nice touch if you're traveling with a canine companion.
Amenities include all the usual features for a hotel, but also Audio-Technica record players and some albums so you can enjoy music within your room. It's rare for hotels to have a genuine standout feature, but if you love music, the Verb Hotel is the place to go.
Dining is available mainly at Hojoko, a Japanese izakaya restaurant. For those who aren't familiar with the style, izakaya are generally informal restaurants that serve alcohol and lighter food, including burgers. The Verb is also close to other restaurants in downtown Boston.
ADA rooms are available mainly on the ground floor, as there's no elevator access to the higher areas in the building.
Although not a true luxury location, Verb's emphasis on creating a thematic experience makes it a comfortable and interesting place to stay. The only thing that might improve it is being a little closer to TD Garden, but it's still within reasonable walking distance for most people.
4. Homewood Suites
Hilton's Homewood Suites in the Boston Seaport District is about two miles from TD Garden, putting it slightly closer than the Verb Hotel. This building is an apartment-style complex suitable for longer stays in the city, with rooms featuring full-size kitchens, dining tables, and more.
The rooms are well-decorated, having colorful furniture and art on the walls. Most of the suites have either one king bed or two queen beds, which you may notice is common throughout Boston. However, they also have connecting rooms available for larger groups.
On-site dining is highly limited, with the main option being small plates and snacks in the lounge. Homewood Suites does offer self-serve beer, which is paid per ounce. Restaurants near this hotel focus on American and seafood dishes, but there are enough options within half a mile to satisfy most guests.
Amenities include hot breakfasts, EV charging stations, and an indoor pool for relaxing. Although not uniquely special within the city, it's a solid list of options and entirely suitable for a three-star location.
Homewood Suites is ADA-friendly, with accessible routes to most areas of the building and options for mobility and hearing impairments.
5. The Eliot Hotel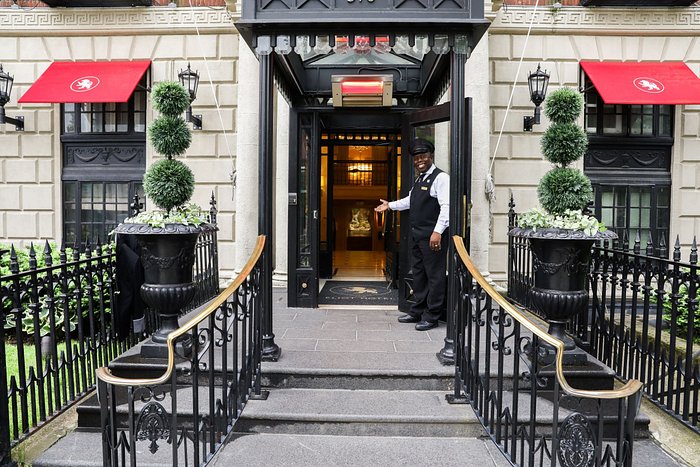 Built on Commonwealth Avenue about 1.8 miles from TD Garden, The Eliot Hotel is a four-star boutique with 95 comfortably decorated rooms. The design plan emphasizes class, with Italian marble and generous French influences throughout.
Rooms come with one or two bedrooms, with the suites including an extra sleeper sofa. Room amenities include wireless internet, work desks, overnight shoeshine, soundproof windows, and even walk-in showers in most rooms.
Dining is available at UNI, an award-winning, contemporary izakaya with a menu emphasizing sushi, seafood, vegetables, and steak. The alcohol menu is relatively large, featuring options from around the world at several price points.
The Eliot Hotel has a program for some kids to stay free, and it's generally pet-friendly. Breakfast and meals are available in-room, while paid private parking ensures you have a place to keep any vehicle. It also has 24-hour security, making it one of the safer places to stay within the city.
The Eliot Hotel isn't as ADA-friendly as some other hotels in Boston and has limited ability to accommodate disabilities. They may still be able to help, but call ahead and talk to the staff if this concern is relevant to your trip. Other than that, it's still one of the best hotels near TD Garden.
6. The Godfrey Hotel Boston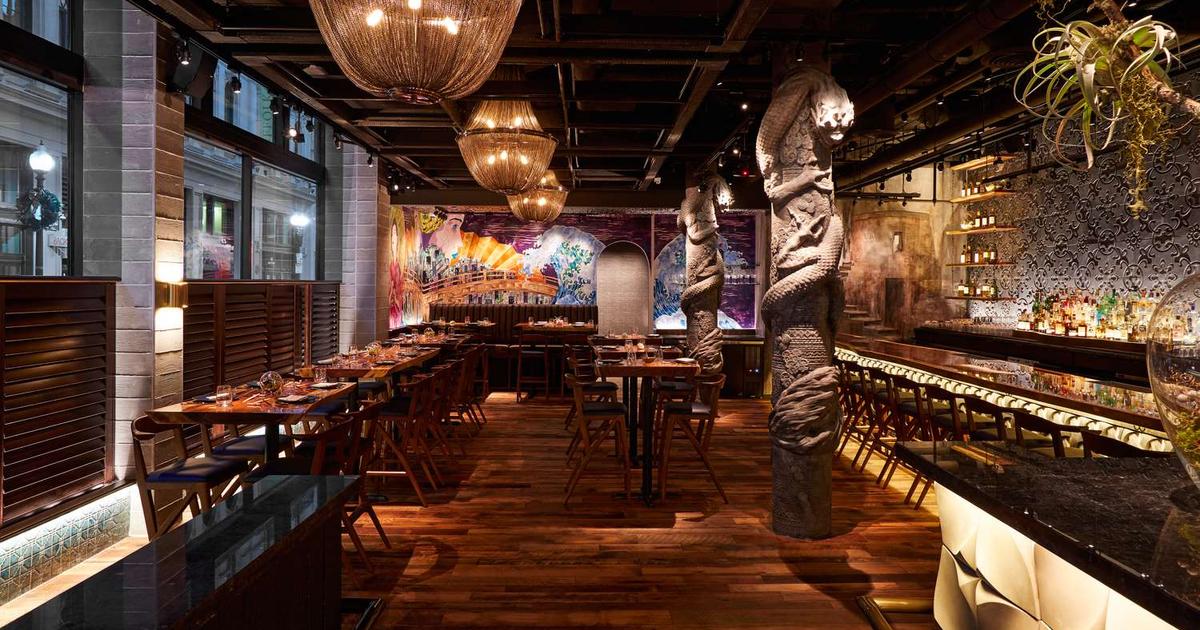 Godfrey's Hotel Boston is another boutique choice in the downtown area, making an impact when you first see the building with its bold Gothic Revival outside. Built just 0.8 miles from TD Garden, this 242-room hotel primarily leases king and double queen rooms with an apartment-style design.
Somewhat unusually, Godfrey also runs a Stay Well program, which adds features to standard accommodations. These include shower diffusers, extra air purifiers, aromatherapy systems, a dawn simulator, and a light magnifying mirror.
Hotel amenities include valet parking, complimentary tea, express check-in options, and taxi service if you want to get to the arena faster.
Dining is available at several restaurants. The primary location is RUKA, a dinner restaurant open Tuesday through Saturday that focuses on a mix of Peruvian and Japanese dishes. Godfrey also offers drinks at George Howell Coffee and a lobby bar.
ADA-accessible rooms are available, but the amenities are mostly limited to the roll-in shower with grab bars and a portable shower chair. Godfrey could make their rooms more accessible, and it's hard to recommend them to guests with additional needs.
7. Seaport Hotel
The Seaport Hotel is set right on the waterfront, operating as a four-star location with residential-style decor and easy access to Logan International Airport. It's about 1.6 miles from TD Garden, making it conveniently close, and it also has four diamonds from the AAA to emphasize its refined style.
The Seaport Hotel is relatively large for this level of luxury, offering 428 rooms and suites. Most of the rooms sleep two to four people comfortably, with features like flatscreen televisions that include Netflix, USB ports next to the beds for charging devices, and minifridges.
Guests looking for more space have the option of renting the hospitality suite, which adds a spacious living room complete with a dining bar and couches. This suite is ADA accessible, with a large set of features to help guests with additional needs. Several of the normal rooms are also accessible.
Dining is available at many on-site restaurants. The TAMO Bistro + Bar is the main restaurant, offering a selection of seafood, American fare, and pizzas for guests. Aura is the hotel's breakfast option, with choices like berries, yogurt, bagels, and pancakes, while the Seaport Cafe offers a slightly more upscale breakfast and lunch.
The Seaport Hotel is part of a highly walkable area, though it's close enough to an airport that you should bring earplugs just in case. Dozens of restaurants are available close by, and it's easy to catch a ride to TD Garden if you don't want to walk. The prices are decent, too, making this hotel a solid choice for most travelers.
8. Marriott Vacation Club Pulse at Custom House, Boston
Marriott's Custom House location is much closer to a resort than a regular hotel. As a vacation ownership property, it has limited room rental options and only provides one-bedroom suites with a maximum of four occupants. That said, it's 0.7 miles from TD Garden, which makes it one of the closest rentals available.
Here, a privacy wall separates the bedroom from the living and dining areas. It also has an in-room safe, two phones, and a kitchen area where you can prepare some meals or eat. The decor has a comfortable and clean styling, emphasizing Boston's architecture and historical feel.
On-site dining is limited because this building is a special rental property, so expect to go out into the city for your meals. There are some great restaurants within walking distance. You can also expect limited ADA support, too, again because Custom House is such a specialty location.
The vacation club site at Custom House only has a few rooms, so it often sells out quickly. Try to reserve a room well in advance of your event if you want to be sure you have a good spot. Despite the limits of this property, it's still a comfortable place to stay and closer than other hotels.
9. Kendall Hotel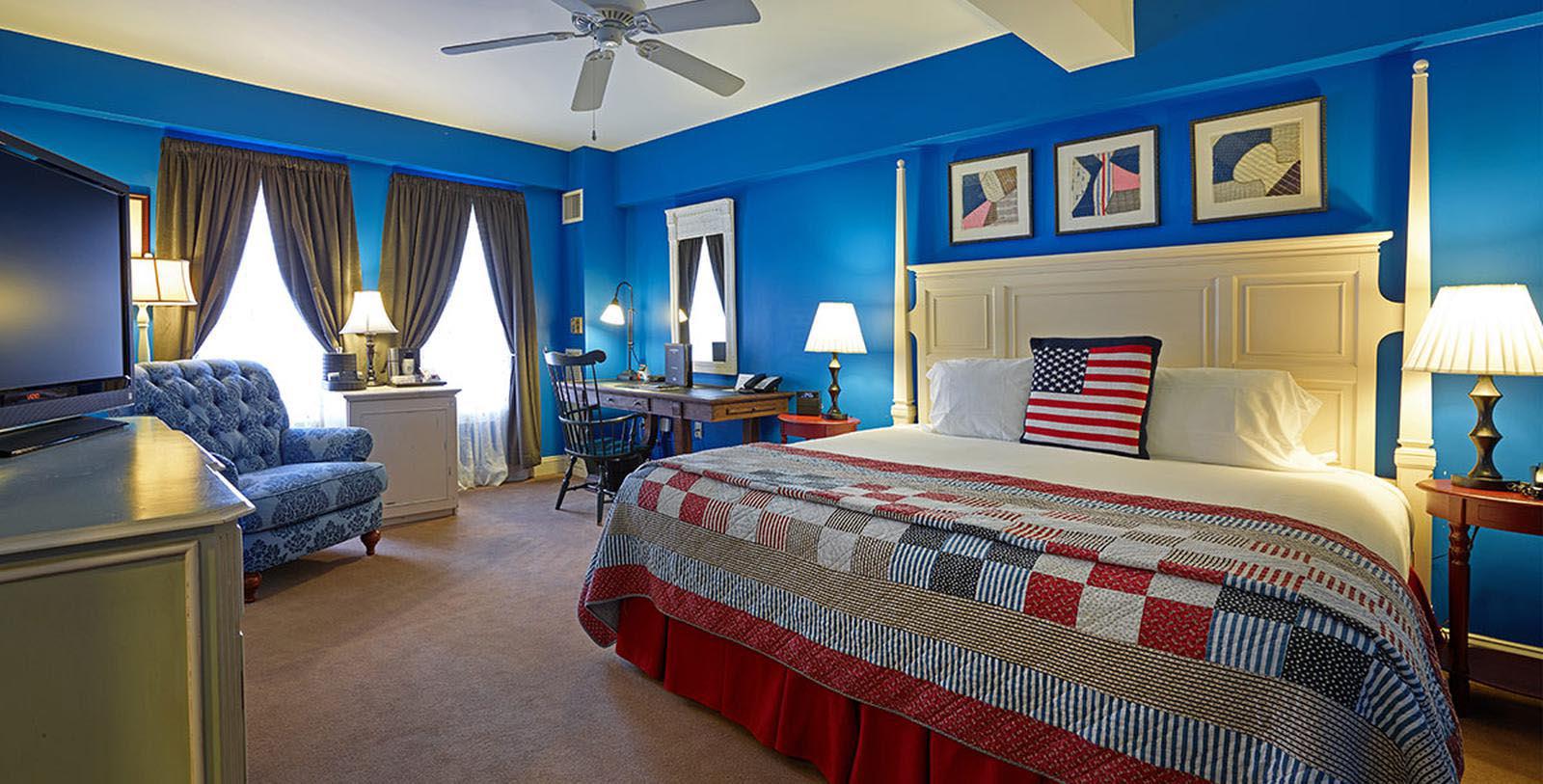 Kendall Hotel is a historic hotel on the MIT campus. Although technically in Cambridge instead of Boston, it's only about 1.3 miles from TD Garden, so it remains close. Expect to cross a bridge to get to the arena, though, so getting a taxi is probably better than walking despite the short distance.
This three-star hotel has 77 guest rooms, each individually designed and decorated. Rooms include soundproof windows, coffee and tea, charging ports for devices, and hypoallergenic pillows. Some rooms also have sofa beds, minifridges, microwaves, and windows guests can open.
Although comfortable, most rooms here are relatively small. They get the job done, but they're mainly a place to sleep and relax in the evenings. The exception is the one-bedroom suite, which has a full kitchen and dining area.
Dining is available through The Black Sheep Restaurant, which is themed after a firefighting team that once occupied the building. The restaurant offers Victorian themes and mainly offers American-style fare. Pizza and drinks are available for hotel guests.
The Kendall Hotel is one of the only 19th-century buildings in the area, though it's renovated to ensure it meets modern safety standards. However, as it was built long before the ADA, it isn't accessible to guests with disabilities.
10. The Lenox Hotel
The Lenox Hotel is a four-star property in Back Bay, about 1.5 miles from TD Garden. Offering 214 rooms and suites, it offers a solid range of styles and accommodations for guests. Notably, some rooms have fireplaces if you happen to be visiting during a cold part of the year.
Room amenities include bottled water, newspapers, minifridges, and hypo-allergenic rooms for anyone with a sensitive nose. On-request services can provide items like toothbrushes, snacks, or even board games for children. Most room products and services are from artisan partners, ensuring a slightly different feel for everything.
Dining is available at three on-site restaurants. Sólás is open daily for lunch and dinner, with its hours going until 2 a.m. in case you happen to be attending a late-night event. The City Bar is likewise open until 2 a.m. but starts mid-afternoon instead. The City Table is a regular restaurant, offering meals throughout the day with an eclectic menu.
The Lenox Hotel occasionally offers partnerships and tickets to special events in Boston. Although not as uniquely associated with TD Garden as the Courtyard Boston is, it's still worth checking to see if Lenox has any deals relevant to your trip.
This hotel has several ADA-compliant rooms, including a suite, for guests with special needs. It's not quite as friendly this way as some other hotels, but they can accommodate guests who need additional services.
11. The Inn At Longwood Medical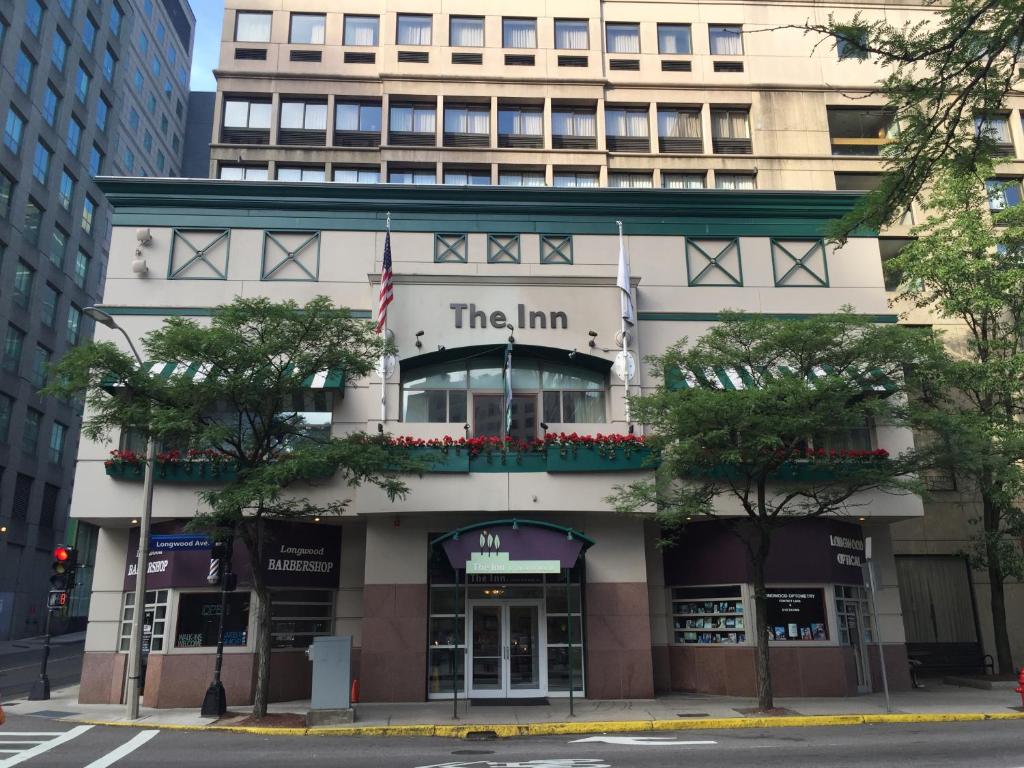 The Inn at Longwood Medical is different from most hotels near TD Garden. While it's about three miles away, which is the upper limit of the casual range for most visitors, its placement in the heart of a medical and academic area makes it uniquely ideal for guests with special needs.
This hotel has extensive experience handling the needs of both medical experts, patients, and families. If someone in your travel group is sick or likely to need medical care on the journey, this option is easily one of the best hotels in the city.
Rooms are relatively simple and most don't have too much in the way of luxuries or decor, but they do have comfortable beds, flatscreen televisions, and flat hallways. Surprising nobody, they have plenty of ADA-compliant rooms, plus the expertise to help provide individualized services on request.
On-site dining includes two options. The Longwood Grille and Bar is a full-service restaurant with regional and American fare, including chowder, salads, chicken tenders, and similar options. It's mainly a dinner location but offers a bit of breakfast too. The Longwood Food Court offers a mix of 10 national and local restaurants, ensuring a wide selection of meals.
The Inn at Longwood Medical is more affordable than some other hotels in the city. Expect to take a ride to and from TD Garden, which will reduce your savings, but it's a solid choice if you're looking for a more affordable place to stay for a few days.
James is a big time NBA Golden State follower, who makes sure to catch games when he's in the area. He likes to follow International Soccer, with an interest in small town soccer club, Blackburn Rovers located in the North on the UK.