Dining around TD Garden was once a not so popular activity. People would come to the TD Gardens to watch a good game or two and make their way back home.
Things have progressed quite a lot since then. The TD Garden neighborhood, especially the North End and the West End, has come alive with popular eateries. From fusion snacks to authentic cuisines, there is something for everyone to indulge in and enjoy.
If you're looking for some great snacks, meals, and bear options pre-and post-game, here are some of the best restaurants near TD Garden.
1. West End Johnny 
Sitting at the corner of West End at the TD Garden, this restaurant is trendy amongst Boston fans and locals alike, especially throughout the night when it is at its busiest.
It serves a wide range of menus, from the classic American dinner of juicy beef burgers, crispy wings, and rib-eye steaks to clam chowder, French toasts, and steak tips with eggs for breakfast.
Trust us; this is the best bar food you can find around the TD Garden, making West End Johnny the perfect choice to combat the post-game hunger pangs.
2. Bodega Canal
Bringing the perfect blend of Mexican flare – sweet, sour, and spicy – Bodega Canal is a minute's walk from TD Garden, sitting in the heart of the food neighborhood.
Tacos, burritos, open taco bowls, nachos, margaritas, upbeat music, dancing, and lots of fun – you name it, and the restaurant delivers in the best way possible.
The restaurant is a vibe on its own, making it an excellent spot to end the game night, especially if you're with a large crowd of family and friends. Don't forget to order the HUGE Mexican plates enough to serve a whole party.
3. Scrampto at the Boston Liberty Hotel 
Relatively unheard of by those taken away by the TD Garden games, Scrampto is an upscale escape located inside the Boston Liberty Hotel. Not only is the restaurant beautifully set, but it is also a hot spot for the famous crowd, so you're guaranteed to dine beside a celebrity or two.
The restaurant serves redefined flavors by blending in the Italian and Mediterranean cuisines. If you're going for a quick snack, try out their Mozzarella Bar Selections, but if you're in the mood for a more filling pre-game meal, order Chef Shire's mouthwatering pasta.
4. Ward 8
In the heart of a casual yet highly energetic neighborhood, Ward 8 is a restaurant-turned bar located in the West End, a few steps away from the TD Gardens.
It is considered one of the best restaurants near TD Gardens precisely due to its new American cuisine and fusion flavors. Ward 8's Burrata Toast with roasted Shishito peppers, Aleppo, and herbs is their best pick-up.
If you're in the mood to indulge in post-game talks over a variety of drinks, make your way here to try their craft cocktails, local micro-brews, and a vast wine selection.
5. Finch
Looking for a cozy yet classy environment to enjoy your pre-game meals in? Finch, housed inside the Boxer Hotel, is the perfect place to be.
Since it is inside a hotel and serves Boxer Hotel's guests as well as outsiders, the restaurant has a comprehensive menu serving breakfast, snacks, and dinner.
Most of their cuisine is inspired by New England favorites – such as a hefty English breakfast platter, tuna sandwiches, and all types of chowders – giving you a chance to excite your tastebuds with new flavors.
6. The Harp
Widely known for its laid-back atmosphere, lots of dancing, and a substantial late-night following, The Harp is one of the best restaurants near TD Gardens. In fact, it is right outside!
From great food to unique blends of cocktails and lots of dancing, The Harp is everything you need to kick off the Boston games the right way. Or to come back from the games hungry and aching for food.
If you want to go to the games full, order their oversized beef and fish burgers. But if you're looking for a quick snack, there is nothing like indulging in their wings and nachos plates.
7. Banners Kitchen & Tap 
Adjacent to the TD Garden and North Station at The Hub on Causeway is the trendy Banners Kitchen & Top. The sports bar turned restaurant serves some of the best classic American cuisines in a contemporary space.
Banners Kitchen & Top is known for its game-day menu staples; however, this doesn't mean that the restaurant caters to a specific group of foodies as they serve healthier meal alternatives for everything on their menu.
8. Ducali
Offering a variety of lip-smacking gourmet toppings and specialty combinations, Ducali serves the best pizza near TD Garden. It is housed at the edge of the North End and is almost always busy.
At Ducali, there is something for everyone as they offer quite an expansive menu for pizzas. Some of their best flavors include the Patate Pizza, Bistecca e Gorgonzola, and The Porcellini.
That's not all! Grab a beer from their winning selection to complete your meal. After all, pizza and beer are the perfect American pre-game indulgence.
9. The Tip Tap Room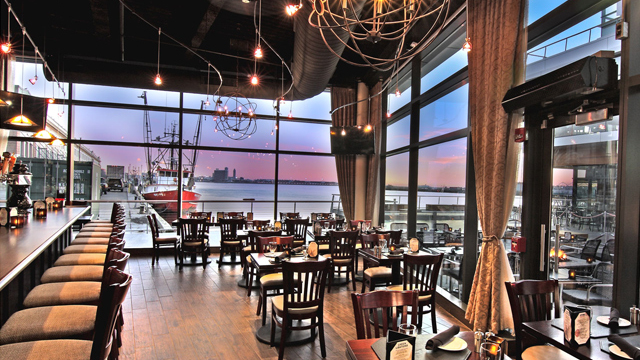 Skirting the edge of West End at the TD Garden, The Tip Tap Room is an ideal hangout spot post-game. Indeed, they know what they're famous for as the restaurant stays open all night long.
You're going to see many people ordering hefty food offerings, such as their famous bison short ribs, steak tips with fried eggs, and antelope meatloaf.
If you're looking for a lighter meal to complete your day, don't miss out on the potato appetizers that are only made better with their house-special beer cheese sauce.
10. Alcove
Alcove is every seafood lover's food haven. From oysters and clams to lobsters, you're going to have to pick through a vast selection of delicious seafood options like never before.
Not only this, but the restaurant offers roasted half chickens, which means that there is something for everyone in the new addition to the West End.
Plus, Alcove is located on the water, so it has some of the most spectacular views of the Zakim Bridge. If this doesn't call for a quick reservation before the particular game, what does?
11. Porter's Bar & Grill 
Located in the West End's food neighborhood, Porter's Bar & Grill is an excellent choice for those seeking the best grub in town on game day in the garden. Whether you're looking for pre-game food or post-game drinks, this place has it all.
You're going to find neighborhood pub fares like crispy wings, crunchy nachos, chowders, melt-in-the-mouth beef burgers, sausage cacciatore, and some great tuna sandwiches.
The best part? All the food, whether it's small snacks and appetizers or hefty lunches and dinners, is very reasonably priced so that everyone can enjoy a good meal before game day.
12. Night Shift at the Lovejoy Wharf
For people who want to make their game day extra special with a view like no other, head over to Night Shift at the Lovejoy Wharf. Their delectable food is served along the water, making dining a wonderful experience.
In fact, if you're out with a special someone to enjoy the games, visiting the Night Shift at the Lovejoy Wharf before or after the fun is a must.
You can order quite a lot from their experimental scratch kitchen and brewery, most of which are highly affordable, making for a good pre-game meal. Don't forget to place an order for their pizza, as it is a must-have.
13. Filippo Ristorante
Located right outside the TD Garden, Filippo Ristorante is a restaurant hard to miss, and for a good reason – it serves some of the most authentic Italian food to local diners and game enthusiasts in all of Boston.
Picture this: You're pulled to the streets of Italy by ordering their specialty red-sauce penne pasta and eating it in front of their Renaissance-style wall art. The food and the ambiance are unbeatable.
If you're not quite sure what to order, start with their famous Cappello del Contadino, a linguine pasta dish served in garden-fresh pesto and tomato sauce with garlic butter baked bread and tortellini.
14. Regina Pizzeria
Serving customers since 1928, Regina Pizzeria offers a hot slice of cheesy pizza and a cold beer right before the start of an intense game at the TD Gardens.
Renowned among the locals for its crisp thin pizzas with perfectly browned crusts and never-ending choices for toppings, it's a prime spot for any pizza-lovers. And if you want to grab something else, go for their house salad.
Be wary; this is a regular Friday night spot for many, so you might have to call in and make a reservation before you make your way to the restaurant. Yes! It is THAT famous.
15. Mare
It didn't take long for Mare to become one of Boston's top seafood restaurants. In fact, being right next to the TD Gardens made it better for the food business to bloom. Whenever names for the best restaurants near TD Gardens come up, Mare is always one of them.
Serving oysters, shellfish, lobsters, and shrimp, Mare focuses on cooking with fine and natural ingredients – which makes all the difference. Try their tagliatelle with lobster or their house-special shellfish, and thank us later!
Bonus point: this is a family-friendly restaurant, so you will find a pretty good menu for kids to indulge in just as well.
16. Four's Boston Restaurant
Four's Boston Restaurant is a typical sports bar; however, the food is far from anything but disappointing. Whether you're looking to indulge in the essential pre-game snacks and appetizers or want to pop in to enjoy a hefty burger meal, there is something for everyone to enjoy at the restaurant.
The best part is that it is located relatively close to the TD Garden and airs the game live throughout. So, if you feel uncomfortable with the crowd at the game at any point, you can easily make your way to Four's Boston Restaurant and watch the rest of your game with great food.
Many people tend to stop by the Four's Boston Restaurant after the games have ended to chat away the game's highlights and watch them being discussed by professionals on the TV over delicious appetizers.
17. Quattro Ristorante
The TD Garden neighborhood is full of authentic and fusion Italian restaurants, and Quattro Ristorante is one of the finest names around. The restaurant gets its name from its location as it is located on the four prominent corners of the North End.
The restaurant offers full service, from breakfast, lunch, and dinner to unique cocktails and aged wines. While at the restaurant, you need to order the Neapolitan pizza as it is made inside an authentic brick oven, helping you get a taste of Italy right from the heart of Boston.
If pizza isn't your thing, opt for their fresh meats, pork, and poultry freshly made in an open kitchen right in front of your eyes!
So the next time you're at TD for an event, you know where to head to satisfy your taste buds with some of the most flavorful food around!
Final Thoughts
Whether you're in the mood for pasta, seafood, or just about any culinary delights, you're bound to find a restaurant in TD Garden to your liking. Many of the above restaurants are an integral part of Boston and have a long history, but there are also new stars on the scene that quickly rose to prominence due to their stellar quality of food and service.