Boston, a city renowned for its rich sports history, boasts an impressive collection of stadiums and arenas that cater to a variety of sports enthusiasts.
These venues do not only host games for the city's beloved teams like the Bruins and Celtics, but also provide a prime location for concerts and other entertainment events. As visitors and residents alike flock to Boston's arenas, they can expect an unforgettable experience that captures the energetic atmosphere and passionate sports culture of the city.
Among the notable arenas in Boston is TD Garden, the largest sports and entertainment facility in New England.
As the home of the NHL's Boston Bruins and NBA's Boston Celtics, it sees an annual footfall of over 3.5 million people attending various events ranging from sports matches to musical performances.
Other popular venues include Matthews Arena, Hormel Stadium, and Bright Hockey Center, all known for their unique features and ability to offer fans comfortable and enjoyable experiences.
Exploring these stadiums and arenas in Boston is a must for any sports aficionado or history buff interested in the intersection of sports, entertainment, and local culture. Each one carries its own storied past and provides a gateway into the world of Boston's sports scene. So the next time you find yourself in Beantown, make sure to visit one of these iconic venues to experience the city's sports DNA in its truest form.
The History of Stadiums and Arenas in Boston
Early Venues
One of the earliest sports venues in Boston was the South End Grounds, which was home to various baseball teams from the 1870s through the early 20th century. Another early sports arena in Boston was the Boston Arena, which broke ground on October 11, 1909, and was used for ice skating, curling, horse shows, and various sporting events. Its capacity was initially set at 5,000 spectators. Eventually, the Boston Arena became known as Matthews Arena.
The iconic Boston Garden was another significant early venue in the city. It was home to the NBA's Boston Celtics and the NHL's Boston Bruins from 1929 until it closed in 1995. It also hosted a variety of other events, including concerts and ice shows.
Modern Developments
In more recent years, there have been several modern developments in the Boston sports arena landscape. One notable example is TD Garden, which opened in 1995 and replaced the original Boston Garden. As New England's largest sports and entertainment arena, it houses both the Celtics and the Bruins. TD Garden also hosts over 3.5 million people each year at concerts, sporting events, family shows, wrestling, and ice shows.
Other modern sports venues in Boston include:
Agganis Arena: A multi-purpose arena at Boston University used for ice hockey and other sporting events.
Alumni Stadium: Located at Boston College, this stadium hosts football games and track field events.
Conte Forum: Also located at Boston College, this venue houses basketball and ice hockey games.
Bright-Landry Hockey Center: Located at Harvard University, this facility is used for ice hockey games.
Gillette Stadium: Located in Foxborough, MA, this stadium is home to the NFL's New England Patriots and MLS's New England Revolution.
These modern venues contribute to the rich history of sports in Boston, offering state-of-the-art facilities for the city's professional and college teams, as well as local and international events.
Major Stadiums and Arenas
Boston is a city passionate about sports, and several iconic venues host the city's professional sports teams and events. This section will cover some of the major stadiums and arenas in Boston, such as Fenway Park, TD Garden, Gillette Stadium, and Agganis Arena.
Fenway Park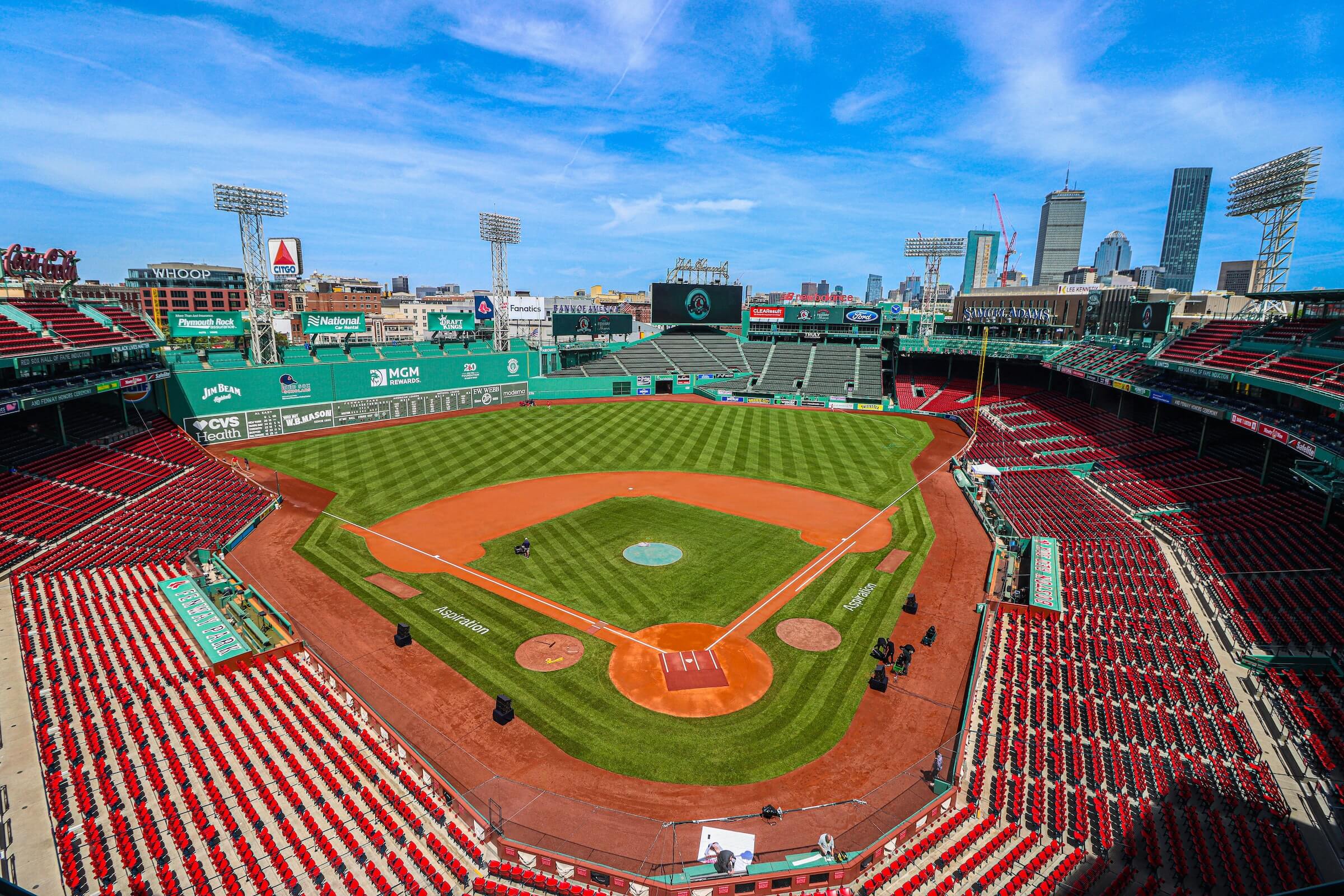 Fenway Park is a must-visit destination for any sports enthusiast visiting Boston. As the oldest major-league ballpark in the United States, Fenway Park has been the home of the Boston Red Sox since 1912. Located in the Fenway-Kenmore neighborhood, this historic stadium features the well-known "Green Monster," the 37-foot-tall wall in left field.
The park hosts a variety of events, including concerts, soccer matches, and ice hockey games. Tours of Fenway Park are available, providing visitors with an inside look at the ballpark's rich history and unique features.
TD Garden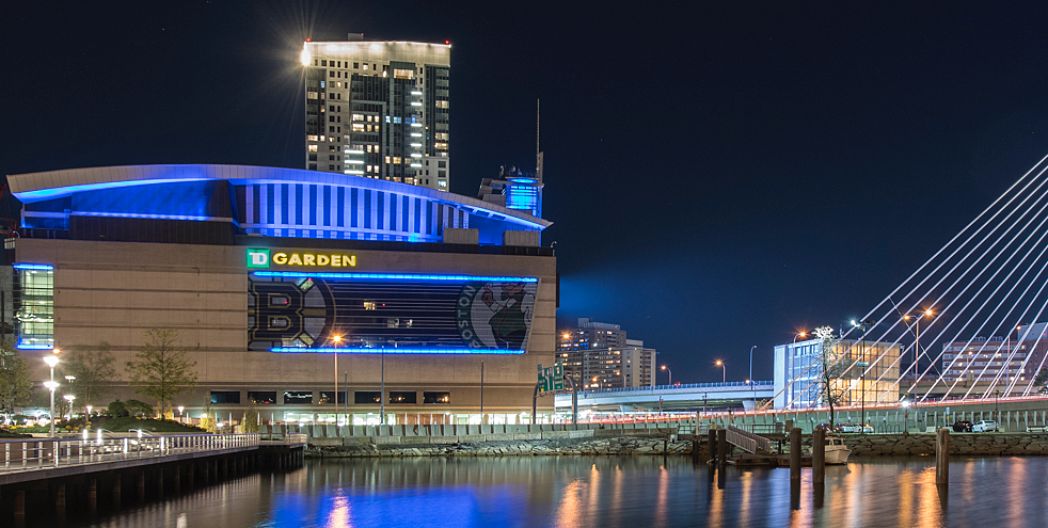 TD Garden is an indoor arena located in the North End neighborhood of Boston. This versatile and modern venue is the home to both the Boston Celtics (NBA) and the Boston Bruins (NHL). Opened in 1995, TD Garden sits atop the North Station transportation hub, making it easily accessible from various parts of the city.
In addition to hosting basketball and hockey games, TD Garden is a popular venue for concerts, ice shows, and other special events. The arena features a wide variety of food and drink options, as well as amenities such as a pro shop, and offers tours for visitors interested in learning about the site's history.
Gillette Stadium
Gillette Stadium, located approximately 22 miles southwest of downtown Boston in Foxborough, Massachusetts, is the home of the New England Patriots (NFL) and the New England Revolution (MLS). This state-of-the-art stadium has a seating capacity of 65,878 and features a lighthouse and bridge at its north entrance, giving it a unique appearance.
The stadium also houses the Patriots Hall of Fame, an interactive museum dedicated to the team's storied history. While the majority of events held at Gillette Stadium are football and soccer matches, the venue also hosts concerts and other special events throughout the year.
Agganis Arena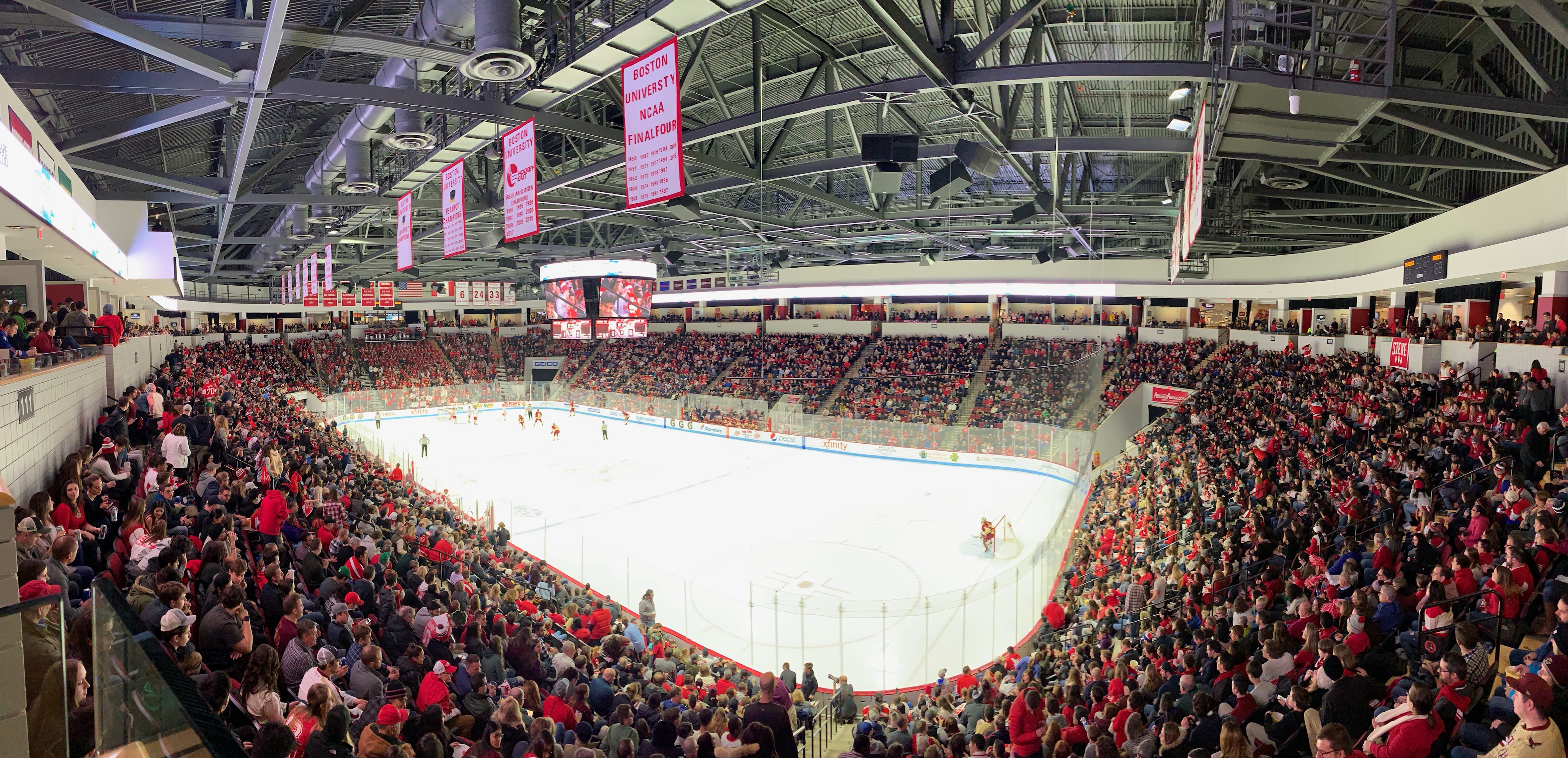 Agganis Arena, part of the Boston University campus, is an indoor arena with a seating capacity of 7,200. Opened in 2005, Agganis Arena serves as the home ice for the Boston University Terriers Men's and Women's ice hockey teams. Locals and visitors alike can find the arena in the Allston/Brighton area.
Not limited to ice hockey, Agganis Arena also hosts concerts, family shows, and various other events. The arena offers a convenient and modern facility for event-goers, with comfortable seating, multiple concession options, and ample parking.
Sports Teams and Events
Boston Red Sox
The Boston Red Sox, a Major League Baseball (MLB) team, play at the iconic Fenway Park. Fenway is the oldest major-league ballpark in the U.S., dating back to 1912. The park has a seating capacity of about 37,000 and is located in the Fenway neighborhood of Boston.
Boston Celtics
The Boston Celtics, an NBA team, play their home games at TD Garden. Located in the North End neighborhood of Boston, the Garden is a multi-purpose arena that also hosts concerts and other events. The Celtics have a rich history and are one of the most successful franchises in NBA history.
Boston Bruins
The Boston Bruins, an NHL team, also play their home games at TD Garden. The team is one of the "Original Six" NHL teams and has a storied history within the league. The arena has a seating capacity of around 17,500 for hockey games.
New England Patriots
The New England Patriots, an NFL team, play their home games at Gillette Stadium, which is located in Foxborough, Massachusetts, about 28 miles south of Boston. The stadium has a seating capacity of around 65,000 and hosts various other events, including concerts.
New England Revolution
The New England Revolution, an MLS soccer team, also play their home games at Gillette Stadium. The soccer configuration of the stadium accommodates around 20,000 fans. The Revolution are one of the founding members of MLS and have enjoyed success in the league since its inception.
College Sports
Harvard Stadium and Agganis Arena are noteworthy college sports venues in the Boston area. Harvard Stadium, located in Allston, is a historic football stadium mainly used by the Harvard Crimson football team. Agganis Arena, situated on Boston University's campus, hosts the Terriers' hockey and basketball teams (source).
Boston is home to numerous other college sports teams including Northeastern University, Boston College, and MIT, competing across various sports and playing in different venues across the city.
Stadiums and Arenas: Accessibility and Transportation
When visiting stadiums and arenas in Boston, ease of accessibility and transportation are essential. Here are various options to reach these venues without hassle.
Public Transit Options
Boston's public transportation system, known as the "T", offers multiple options to reach stadiums and arenas:
Fenway Park: Take the Green Line B, C, or D trains to the Kenmore Station. Fenway park is just a short walk away.
TD Garden: The TD Garden, home to the Boston Celtics and Boston Bruins, is easily accessible via the Orange Line or Green Line, disembarking at the North Station.
Harvard Stadium: Located in Allston, you can get to the stadium by taking the Red Line to the Harvard Square Station followed by a short walk or by boarding the number 86 bus.
Remember to check the MBTA website for schedules and updates.
Parking and Traffic
For those who prefer to drive to the stadiums and arenas, here are some parking tips:
Fenway Park: Limited parking is available around the ballpark. It's advisable to reserve a spot in advance using parking reservation services.
TD Garden: Numerous parking garages are located near the venue, including the North Station Garage and the Government Center Garage. Pre-booking is recommended.
Harvard Stadium: Parking is typically available in the nearby Harvard Business School parking lot or Soldiers Field Park Garage.
Heavy traffic is expected around stadiums and arenas during events. Arrive early to secure your parking spot and avoid delays. Consider using apps such as Waze or Google Maps for real-time traffic updates and alternative routes.
Future Developments and Expansions
Boston has several sports venues undergoing renovations or expansions while others are in the development pipeline. One notable future development is the renovation of White Stadium in Franklin Park. The 10,000-seat stadium is poised to serve as the home of a new NWSL team once renovations are complete, according to the Boston Globe. The City of Boston has announced a request for proposals that aims to revitalize the stadium and support growing interest in sports such as soccer.
In addition to White Stadium, the city's sports landscape is further enhanced by ambitious projects related to existing venues. For instance, TD Garden, home to the NHL's Bruins and the NBA's Celtics, has undergone major renovations to improve its facilities. There is also a museum inside dedicated to celebrating the history of these teams and showcasing various memorabilia.
Moreover, some facilities in the United States and Canada are expected to open or reopen in 2022 with a tally of $5.8 billion in construction costs. The list includes the most expensive arenas ever built at both the college and minor league levels. While the specific projects within Boston are not detailed, it highlights the growth trend in sports facility development and construction across North America.
As Boston continues to be a hub for sports enthusiasts, these future developments and expansions are bound to make the city an even more attractive destination for athletes and fans alike. Whether it's embracing the latest stadium technologies, accommodating new sports teams, or revitalizing older venues, these changes are set to enhance the stadium and arena landscape in Boston and contribute to the city's sporting culture.
James is a big time NBA Golden State follower, who makes sure to catch games when he's in the area. He likes to follow International Soccer, with an interest in small town soccer club, Blackburn Rovers located in the North on the UK.