TD Garden, home to the Boston Bruins and Boston Celtics, offers a wide variety of food options for fans to enjoy during games and events.
Delaware North Sportservice, the food, beverage, and retail provider for TD Garden, continually updates their menu to provide innovative and fan-focused concession offerings each season.
From classic stadium fare to unique culinary creations, visitors can find something to satisfy their taste buds while experiencing the excitement of the games.
Some of the must-try options at TD Garden include North End Butcher, offering delicious sausages with peppers and onions, and Lucky's Chicken, serving up crispy chicken and French fries in a bucket.
Fans can also find classic hot dogs at Hub Hot Dog, and satisfy their pizza cravings with a slice from Sal's Pizza. With a focus on quality and variety, TD Garden's food offerings make game-day experiences all the more enjoyable for fans.
Level 1 Concessions
Boston Common Grill
Located at TD Garden, the Boston Common Grill offers a selection of fan-favorite stadium eats, including burgers, fries, and chicken tenders. Enjoy a quick and satisfying meal before or during the game, ensuring you never miss a moment of the action.
Beantown Pretzel Company
The Beantown Pretzel Company provides a twist on the classic concession snack by offering a variety of mouthwatering pretzel-based treats. From warm, soft pretzels to delectable pretzel bites, indulge in a delicious snack while cheering on your favorite team at TD Garden.

Tame the Beast
With a focus on hearty, protein-packed dishes, Tame the Beast is the perfect place for those looking to satisfy their hunger during a game or event at TD Garden. Choose from options like grilled sausages, hot dogs, and more, ensuring you stay energized throughout the action-filled sports and entertainment events at TD Garden.
Level 2 Concessions
At Level 2 of TD Garden, visitors have diverse food options to choose from to satisfy their cravings while enjoying events. Let's explore the popular culinary hotspots: Back Bay Carving Station, Bourbon Barn and Garden Grill.
Back Bay Carving Station
Back Bay Carving Station offers a delicious selection of carved meats, perfect for fans who want a hearty meal. Menu items usually include:
Roasted turkey breast
Prime rib of beef
Grilled chicken
Served with a variety of sides, these dishes are sure to satisfy your hunger.
Bourbon Barn
For those who fancy premium spirits and cocktails, Bourbon Barn is an excellent choice. They offer an impressive range of bourbons and whiskeys, along with popular cocktails. Visitors can enjoy:
| Bourbon | Cocktails |
| --- | --- |
| Old Forester | Whiskey Sour |
| Blanton's Single Barrel | Mint Julep |
Bourbon Barn is an ideal place to socialize and unwind after a long day, sipping on a smooth, expertly mixed drink.

Garden Grill
Garden Grill offers a mix of classic American dishes and comfort food. This is a great option for individuals who want to enjoy familiar, tasty meals.
Some menu items include:
Burgers
Chicken tenders
Salads
Fries
These options cater to a wide audience, making Garden Grill a popular and convenient food stop at TD Garden.
Level 3 Concessions
Charlestown Dogs
Located on the third level of TD Garden, Charlestown Dogs offers a variety of hot dog options for visitors. They serve classic hot dogs as well as some unique combinations to delight your taste buds. Additionally, gluten-free buns are available upon request, providing options for guests with dietary restrictions. Savor these delicious offerings when you visit Charlestown Dogs at TD Garden.
City Sweets
For those with a sweet tooth, City Sweets is a must-stop destination at level 3 of TD Garden. This concession stand provides an array of delectable treats, ranging from cookies and brownies to ice cream and sundaes. When your sugar cravings hit during a Celtics or Bruins game, head over to City Sweets for a tasty pick-me-up.

Red Brick Sandwich Shop
Red Brick Sandwich Shop offers a selection of hearty sandwiches for those looking to fuel up during their visit to TD Garden. Choose from classic favorites like turkey, ham, and roast beef, or try one of their signature sandwiches for a unique spin on traditional deli fare. With options to suit any taste, the Red Brick Sandwich Shop is an excellent choice for a satisfying meal while enjoying a game or concert at TD Garden.
Section 5: Premium Dining Options
Legends Restaurant
Legends Restaurant is an exclusive, members-only dining venue within TD Garden. Located on level 3 and offering spectacular views of the arena, the restaurant provides a luxurious experience for members who want to enjoy a top-notch meal before or during an event. The menu features a variety of delicious options, ranging from appetizers and entrees to delectable desserts.Source
Banners Harbor View
Banners Harbor View is another premium dining option at TD Garden. Situated on level 6, this fine dining seafood restaurant provides a more relaxed atmosphere for guests. With an inviting ambiance and an array of seafood dishes, Banners Harbor View is the perfect choice for fans who want to indulge in high-quality cuisine before taking in an event. The restaurant also features a Speakeasy bar, where fans can enjoy a wide selection of craft cocktails, wine, and beer.Source
Premium Concessions
Beyond the full-service restaurants, TD Garden also offers an array of premium concession options for fans. These concessions can be found throughout the arena and feature a variety of tasty snacks and meals, including:
Seasonal specials: These specials change periodically and may include unique dishes that cater to a specific event or time of year.Source
Gluten-free options: To cater to those with dietary restrictions, TD Garden offers a selection of gluten-free items that can be enjoyed by all.Source
Signature dishes from local chefs: For a taste of Boston's diverse food scene, the arena includes special dishes created by some of the city's top culinary talents.
In summary, from members-only dining at Legends Restaurant to the scrumptious seafood at Banners Harbor View to the wide-ranging premium concession options, TD Garden has plenty of culinary delights on offer for fans who want to indulge in premium dining experiences during their visit to this iconic venue.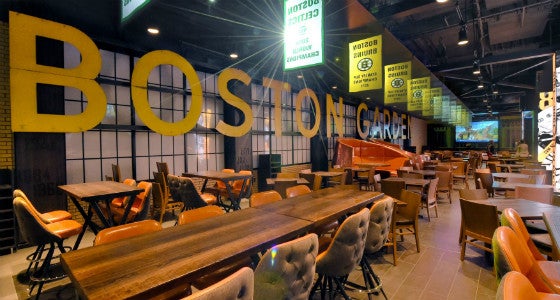 Special Dietary Options
Gluten-Free Options
TD Garden has several gluten-free offerings for guests with dietary restrictions. While specific concession stands may vary, it's possible to find gluten-free options in different sections of the arena. For more information, guests can contact TD Garden directly by phone at 617-624-1331 or via email at [email protected].
Vegetarian and Vegan Options
Vegetarian and vegan guests will also find a variety of suitable food options at TD Garden. While there may not be a dedicated concession stand for plant-based diets, many existing vendors offer vegetarian and vegan options on their menus. Additionally, during special events, the arena provides a wider range of concessions, such as soups, salads, and sandwiches, as mentioned on Tripadvisor.
Be sure to explore various concession stands, like Lucky's Chicken, Hub Hot Dog, and Sal's Pizza, to locate vegetarian and vegan options. However, it is always recommended to contact TD Garden in advance or ask the vendors for more information regarding dietary offerings.
Payment Methods and Policies
At TD Garden, multiple payment methods are accepted to make it convenient for guests to purchase food and drinks. The venue supports cashless transactions, ensuring a faster and more efficient payment process.
Visitors can use major credit and debit cards such as Visa, Mastercard, American Express, and Discover for their purchases. Additionally, mobile payment options like Apple Pay and Google Pay are also accepted at TD Garden food concessions.
To enhance the guest experience, some food stands at the arena may offer self-ordering kiosks, which streamline the ordering process and reduce waiting times. These kiosks facilitate easy payments using credit cards or mobile wallets.
While enjoying the food options at TD Garden, guests must adhere to the venue's policies and guest code of conduct, which prohibit bringing outside food and beverages into the arena. This ensures that all attendees enjoy a safe and memorable experience during their visit.
James is a big time NBA Golden State follower, who makes sure to catch games when he's in the area. He likes to follow International Soccer, with an interest in small town soccer club, Blackburn Rovers located in the North on the UK.