Enterprise Center, home to the St. Louis Blues NHL team, boasts an impressive array of food and beverage options that cater to a diverse range of tastes and preferences. Located in downtown St. Louis, the venue ensures that attending a game or event is a complete, enjoyable experience, thanks to its culinary offerings.
Fans can indulge in delectable meals and snacks from various concession stands and portable carts situated throughout the plaza and mezzanine levels of the center. A noteworthy aspect of the Enterprise Center's food scene is its emphasis on featuring local concessions such as Hi-Pointe, Sugarfire, Chicken Out, and Mission Taco.
In addition to these specialty vendors, visitors can also enjoy a wide range of food options ranging from classic stadium fare to more unique dishes. From mouth-watering burgers and hotdogs to creative ice cream sandwich concoctions, there is something for everyone at Enterprise Center!
Popular Food Outlets
Sit-down Restaurants
Enterprise Center is home to several sit-down restaurants where visitors can enjoy a relaxed dining experience.
These establishments offer a variety of cuisines, ranging from American classics to international dishes.
Notable restaurants include establishments serving dishes like pile up hamburgers, bratwursts, tacos, and salads, among others.
Fast Food Chains
For those who prefer a quicker dining option, numerous fast-food chains are available inside the Enterprise Center. Fans of fried chicken can head to Byrd & Barrel, while burger enthusiasts can find delicious offerings at Hi-Pointe Drive-In.
In addition, Sugarfire Smoke House is a popular choice for fans of smoked meat sandwiches.
Independent Food Stalls
Enterprise Center also features numerous independent food stalls that offer a more unique and local dining experience.
One standout option is Farmtruk, which specializes in farm-to-table comfort food like locally sourced, grass-fed beef burgers with various toppings.
Other options include a diverse range of dishes from nachos and hand-cut French fries to brisket mac & cheese.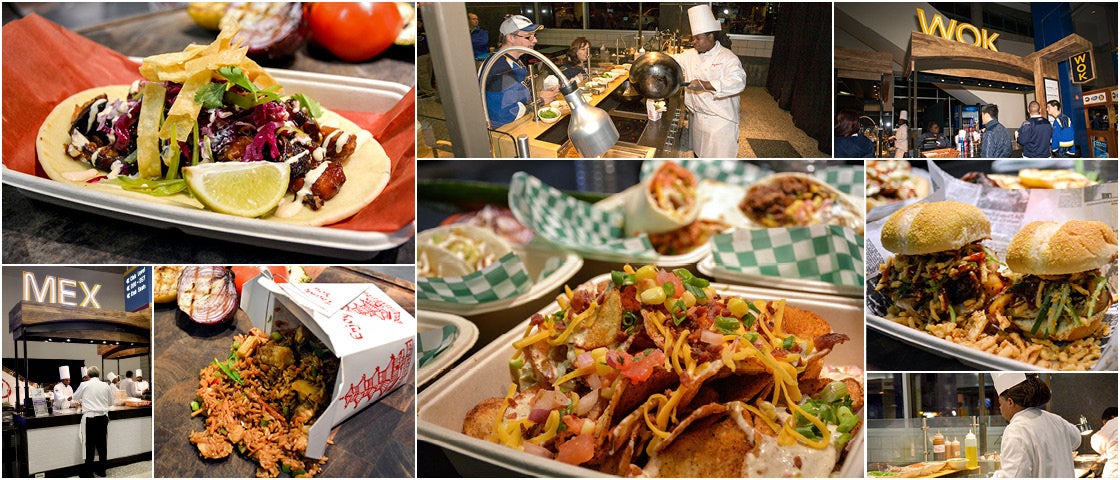 Offered Cuisine Types
Local Delicacies
Enterprise Center, home to the St. Louis Blues, boasts a wide variety of local delicacies to enjoy while attending events.
Farmtruk, a popular food truck in the area, has a stand within the venue that focuses on farm-to-table comfort food, such as locally sourced grass-fed beef burgers with a range of toppings like fried onion rings or bacon.
Other concession stands offer traditional St. Louis favorites like hot dogs, bratwursts, and pizza.
International Dishes
Apart from local cuisine, the Enterprise Center also features a range of international dishes for spectators to enjoy. For example, fans can find options like tacos and nachos, catering to those craving Mexican flavors.
Additionally, a variety of Asian dishes are available at the Wok Cart, giving attendees a taste of eastern flavors without leaving the venue.
In summary, the Enterprise Center offers diverse food options, including both local delicacies and international dishes, that cater to various tastes while attending sports events, concerts, and other gatherings held at the venue.
Unique Dining Experiences
The Enterprise Center offers several dining experiences that cater to diverse tastes and preferences.
One of these establishments is Farmtruk, a food truck turned stand that focuses on farm-to-table comfort food.
Farmtruk is especially known for its locally sourced, grass-fed beef burgers, which feature various toppings such as fried onion rings and bacon.
Apart from the typical fare like hot dogs, chicken tenders, pizza, nachos, and pretzels, the concession stands at Enterprise Center also provide specialty foods to satisfy diverse cravings. For example, visitors can enjoy pile-up hamburgers, bratwursts, tacos, and salads at these food destinations.
For a touch of local pride, the STL Dining Destinations offer favorites such as brisket mac & cheese, hand-cut French fries, and nachos along with the previously mentioned Farmtruk's grass-fed beef burgers. These options are available at the Mezzanine Level in the Enterprise Center.
With these unique dining experiences, visitors to the Enterprise Center can truly appreciate a range of flavors, from comfort food classics to innovative specialty dishes. These diverse options cater to various taste buds and ensure that everyone can find their desired meal while enjoying events at the venue.
Healthy Eating Options
Enterprise Center provides various food choices to cater to different dietary preferences and requirements. Some healthier eating options can be found at the many concession stands and portable carts throughout the plaza and mezzanine levels. These stands offer a wide variety of dishes, including salads, tacos, and lighter meal choices.
One notable option for healthier meals is Farmtruk; they offer farm-to-table comfort food with an emphasis on locally sourced, grass-fed beef burgers. Diners have the option to customize their burger with nutritious toppings like onions, tomatoes, lettuce, and avocado.
When choosing meals at the Enterprise Center, it is essential to consider the CDC's advice on creating a healthy food environment. By ensuring the meal contains a variety of nutrient-dense foods, such as fruits, vegetables, whole grains, lean proteins, and healthy fats, individuals can maintain a balanced diet.
Another way to stay health-conscious while dining out is by following the American Heart Association's recommendations on limiting added sugars. Stay aware of hidden sugars in beverages and condiments, opting for unsweetened drinks, and using natural sweeteners like fresh fruit or herbs.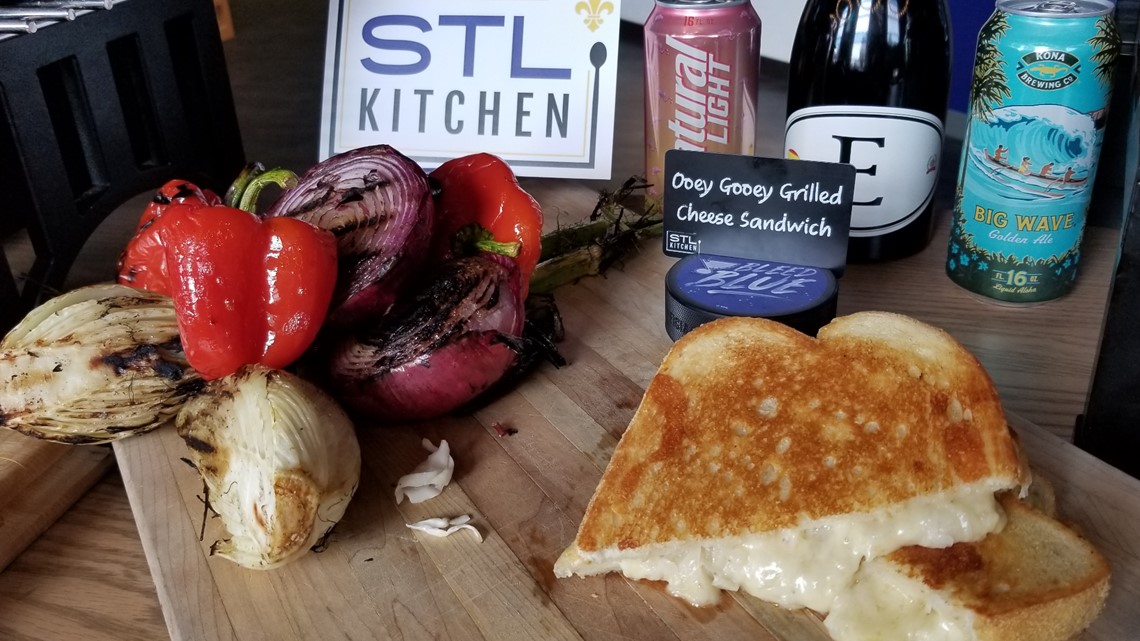 Allergen and Dietary Restrictions
At the Enterprise Center Food, we understand the importance of accommodating allergen and dietary restrictions for our guests. We strive to provide a variety of options to ensure a safe and enjoyable dining experience for everyone.
For guests with food allergies, our food service staff is trained to handle allergen requests and can guide you towards suitable menu options. We also follow proper food handling procedures to minimize the risk of cross-contamination. The FDA Food Allergies guidelines help inform our practices and procedures.
Our menu includes options for those with common dietary restrictions, such as:
Gluten-free
Dairy-free
Vegan and vegetarian
Low-carb and ketogenic diets
Additionally, our catering team can accommodate specific dietary requests for events hosted at the Enterprise Center. Please inform our event planning team of your requirements in advance so we can ensure a seamless and enjoyable experience for all attendees.
To help guests navigate our menu, items with allergen or dietary restriction information will be clearly labeled. If you have any questions or concerns, please do not hesitate to ask our friendly staff for assistance.
Payment Methods and Discount Features
Enterprise Center offers a variety of payment methods for its food and beverage options, ensuring convenience and flexibility for visitors. Customers can choose from several popular payment methods, such as credit cards, debit cards, and digital payment platforms. These options make it easy for guests to enjoy the diverse range of food and beverages available at the venue.
Not only does Enterprise Center cater to different payment preferences, but they also provide discount features, which benefit both regular patrons and those attending special events. By offering promotions and discounts, Enterprise Center ensures a more satisfying experience for its visitors.
It is important to note that the specific payment methods and discount features may vary depending on the concession stands and portable carts found throughout the plaza and mezzanine levels. Therefore, guests are encouraged to inquire about the available options at each food outlet before making a purchase. This will help them take full advantage of the amenities offered by Enterprise Center.
Visitor Tips and Recommendations
When attending an event at the Enterprise Center, it's essential to take note of some tips and recommendations to make your experience more enjoyable. Keep in mind that the center offers a variety of food and drink options to choose from, suitable for different tastes and preferences.
First, arrive early to explore the venue's different concession areas on both the Plaza Level (100 Level) and Mezzanine Level (300 Level). By arriving early, you will have enough time to browse the available options and choose your preferred food and beverages.
Furthermore, consider trying some of the Classic Enterprise Center Food options, such as fried chicken and ice cream sandwiches. These are fan favorites and can be found at various locations throughout the venue.
As a visitor, take advantage of the various food and drink stands and portable carts scattered throughout the arena for easy access. Keep an eye out for seasonal offerings and special promotions, as new and exciting options might be available during your visit.
Lastly, be respectful of the Guest Experience and the fan code of conduct when enjoying food and drinks at Enterprise Center. This ensures a pleasant and safe environment for everyone attending the event.
James is a big time NBA Golden State follower, who makes sure to catch games when he's in the area. He likes to follow International Soccer, with an interest in small town soccer club, Blackburn Rovers located in the North on the UK.