Las Vegas, known for its world-class entertainment, has become a premier destination not only for casino enthusiasts but also for sports fans. In recent years, the city has witnessed the construction of state-of-the-art arenas and stadiums to host national and international events, catering to the ever-growing demand for diverse sports experiences. These venues provide fans with exceptional facilities, maximizing their enjoyment of games, concerts, and events.
Among the notable sports venues in the city is Allegiant Stadium, home to the NFL's Las Vegas Raiders, and the backdrop for numerous significant events such as the Concacaf Nations League Finals and the Concacaf Gold Cup Semifinals. Another popular option is the Thomas & Mack Center, known for hosting the National Finals Rodeo and offering great sightlines and easy seat access. While Mandalay Bay Resort & Casino boasts a 130,000-square-foot Fan District, an attraction dedicated to the ultimate sports tailgate party experience.
As more and more people flock to Las Vegas for its thriving sports scene, these stadiums and arenas continue to draw attention from around the world. With unparalleled amenities, exciting events, and world-renowned franchises calling them home, Las Vegas is truly elevating the game when it comes to sports and entertainment.
Famous Stadiums and Arenas in Las Vegas
Allegiant Stadium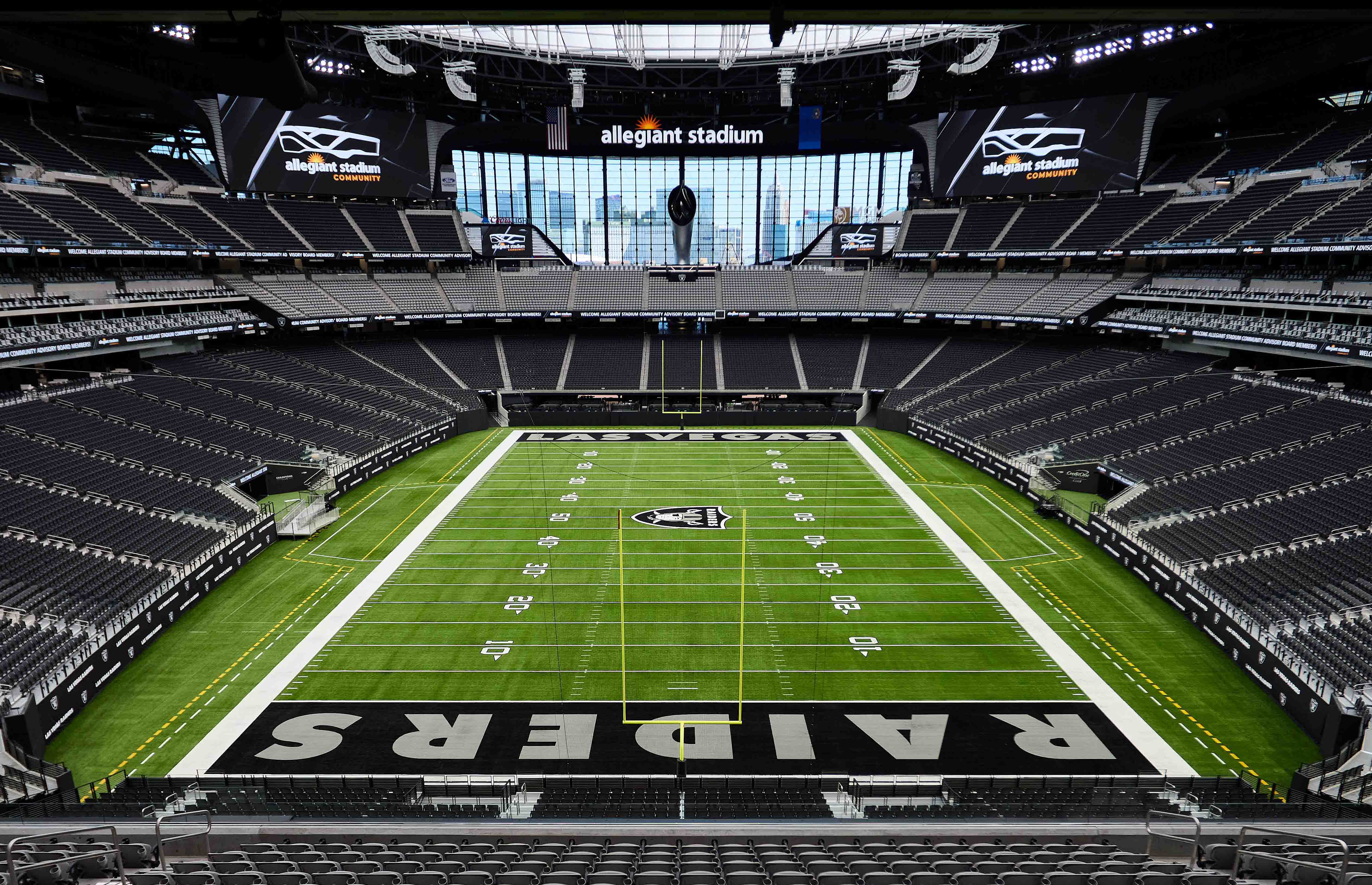 Allegiant Stadium, completed in 2020, is a stunning and state-of-the-art facility costing around $1.9 billion. It is the proud home of the NFL's Las Vegas Raiders. This 10-level domed stadium features a silver and black exterior, light-up strips, an ETFE roof, and large retractable curtain-like side windows facing the Las Vegas Strip. A key highlight is the massive 275-foot media mesh video screen on the Interstate 15 side.
T-Mobile Arena
T-Mobile Arena, which opened in 2016, is a multi-purpose indoor arena in Paradise, Nevada. Located on the Las Vegas Strip behind the New York-New York and Park MGM casino hotels, this venue is the home of the Vegas Golden Knights of the NHL. The arena is known for its great atmosphere and a family-friendly environment.
Thomas & Mack Center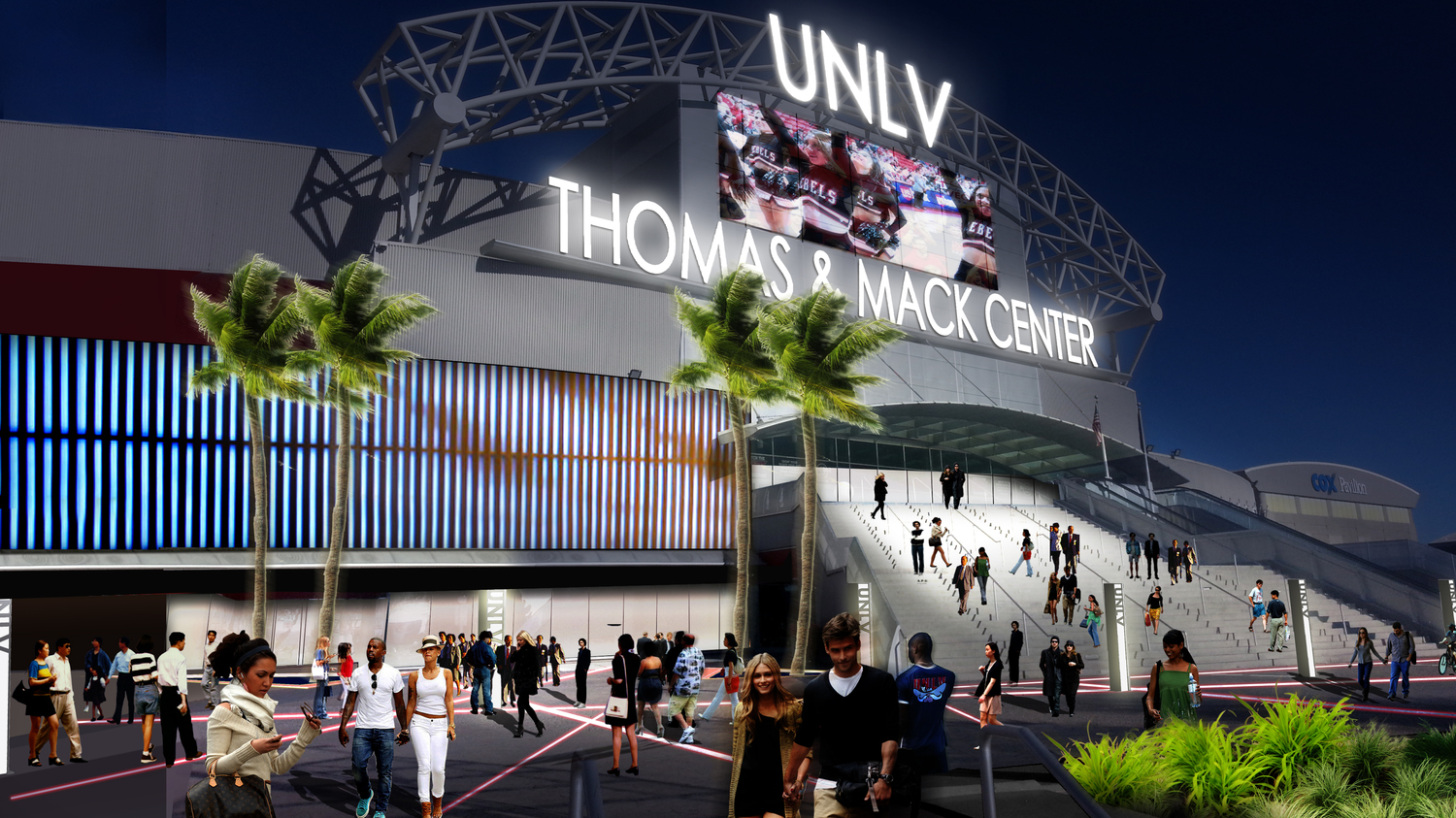 The Thomas & Mack Center, located on the University of Nevada, Las Vegas campus, is a 19,000-seat multi-purpose arena that hosts various events, including concerts, rodeos, and basketball games. The venue is an important part of Las Vegas' sporting scene, having been home to the UNLV Runnin' Rebels and serving as a frequent site for major boxing events.
Sam Boyd Stadium
Sam Boyd Stadium, named after a Las Vegas hotelier, is an outdoor football stadium with a seating capacity of 36,800. Located in Whitney, Nevada, the stadium has hosted events like the USA Sevens rugby tournament and the Las Vegas Bowl, an annual college football bowl game. This stadium has a history of hosting exciting events for sports enthusiasts.
Orleans Arena
Orleans Arena, situated near the Orleans Hotel and Casino, is a multi-purpose arena with a seating capacity of around 9,500. The arena has hosted various sporting events like basketball, arena football, and hockey games. Local teams and events have made Orleans Arena a favorite destination for sports fans in Las Vegas.
Events and Sports Hosted in Vegas
Las Vegas is a top destination for a wide range of sporting events and entertainment options. This section will provide a brief overview of the types of events and sports hosted at the various stadiums and arenas in this vibrant city.
NFL Games
In recent years, Las Vegas has become home to the NFL's Las Vegas Raiders, who play at the impressive Allegiant Stadium. When visiting during football season, you may have the opportunity to catch a thrilling game featuring these talented athletes, who are unyielding in their pursuit of victory.
NHL Matches
For those looking for high-energy ice hockey action, Las Vegas is proud to host the NHL's Vegas Golden Knights at T-Mobile Arena. This team has made a significant impact on the league since joining, and attending their games is an unforgettable experience for residents and visitors alike.
NCAA Basketball Tournaments
Las Vegas has also become a hub for NCAA basketball tournaments, hosting key championships, and qualifying games. Various venues across the city regularly welcome college athletes as they compete for a chance to partake in the prestigious national finals.
Concerts and Shows
Las Vegas stadiums and arenas cater to more than just sports enthusiasts, providing a platform for world-class concerts and shows. Allegiant Stadium, for example, is set to host the distinguished Ed Sheeran during his "+ – = ÷ x Tour" on Saturday, September 9, 2023. Other notable artists consistently grace stages across the city, offering a diverse mix of entertainment options.
Rodeos and Equestrian Events
Las Vegas has strong roots in Western culture and, as such, Rodeo and equestrian events are a significant attraction in the area. From bull riding to expert horsemanship competitions, these events showcase the exceptional skill and dedication of both riders and their horses. These events are typically held at specialized venues, such as the Thomas & Mack Center or the South Point Arena.
By visiting Las Vegas, you'll find yourself in the heart of an exhilarating sports and entertainment landscape, with something to suit every taste, whether you're a die-hard sports fan or merely passing through in search of captivating performances.
History and the Impact on the City
Economic Influence
Las Vegas has experienced significant economic benefits from the construction of stadiums and arenas. One such example is the $3 billion arena, hotel, and casino project being developed by Tim Leiweke's Oak View Group. The project is set to bring in considerable revenue to the city and create numerous job opportunities.
The addition of stadiums has also helped draw various sports teams to the city, like the Las Vegas Raiders and Las Vegas Golden Knights. This has, in turn, bolstered other industries such as hotels, restaurants, and retail establishments.
Tourism and Entertainment
Stadiums and arenas have only added to the city's already well-established reputation for entertainment. The Electric Daisy Carnival being held at the Las Vegas Motor Speedway since 2011 has grown to draw over 400,000 people each year. The event features a mix of carnival rides, art installations, light shows, and pyrotechnics, making it an exciting spectacle for tourists.
Las Vegas has also seen a rise in sports tourism, with locals and visitors alike flocking to games and events held at the various stadiums, further enhancing the city's revenue.
Community Engagement
The presence of stadiums and arenas can also serve as a rallying point for communities and has led to increased local engagement. With home teams like the Las Vegas Raiders and the Golden Knights, locals have a shared source of pride and identity.
Moreover, community engagement initiatives by teams and stadiums, such as charitable events and educational programs, further contribute to the city's social well-being and help build strong relationships between the venues, sports teams, and the community.
Sustainability and Modern Technologies
Green Initiatives
Las Vegas is known for its dazzling lights and entertainment, but it's also becoming a leader in sustainability within the sports industry. Allegiant Stadium, for example, is designed with environmentally friendly features in mind. The stadium is committed to developing sustainable policies and constantly improving its efforts through various strategies, including:
Waste Diversion: Allegiant Stadium aims to reduce waste by implementing recycling, composting, and reuse initiatives.
Green Purchasing: The venue focuses on sourcing environmentally friendly products and services, ensuring a lower carbon footprint.
Water Reduction: The stadium also incorporates water-saving measures, such as low-flow fixtures, to conserve this precious resource.
Energy Optimization: By adopting energy-efficient lighting and HVAC systems, Allegiant Stadium reduces its overall energy consumption.
Staff Education & Community Involvement: The stadium emphasizes staff training on sustainable practices and supports local eco-efforts.
Cutting-Edge Amenities
Stadiums and arenas in Las Vegas are not just focusing on sustainability – they also provide state-of-the-art technology and entertainment options for their visitors. Cutting-edge amenities at these venues include:
Advanced Connectivity: Modern stadiums offer high-speed internet and Wi-Fi, making it easy for fans to stay connected and share their experiences on social media.
Immersive Audio-Visual Experiences: Large high-definition screens, along with advanced sound systems, provide an immersive experience for fans and ensure they don't miss a moment of the action.
Mobile Apps & Digital Tickets: Fans can conveniently access venue information, buy tickets, and navigate their way around the stadium using mobile applications.
Cashless Transactions: For a seamless payment experience, many stadiums and arenas support digital payments and even offer mobile concessions ordering.
These sustainable and innovative features contribute to making Las Vegas stadiums and arenas a model for other cities in terms of environmental responsibility and visitor experience.
James is a big time NBA Golden State follower, who makes sure to catch games when he's in the area. He likes to follow International Soccer, with an interest in small town soccer club, Blackburn Rovers located in the North on the UK.