Choosing the best place to stay when you're traveling can be tricky. With so many different options, it may become a little overwhelming!
Below are the 7 best hotels close to MetLife Stadium, with everything you need to know about why they're the perfect fit for you.
From great locations to free WiFi and breakfast, you're sure to find the right place to stay that's close to MetLife Stadium.
The Best Hotels Near MetLife Stadium
Springhill Suites by Marriott East Rutherford Meadowlands Carlstadt (1.2 miles/1.9km)
If you're looking for a modern, clean hotel within close range of the MetLife Stadium, the Springhill Suites should be on your list.
There are many features that make the Springhill Suites a great choice for those wanting to stay close to MetLife Stadium.
These include:
Great Location
Not only is this hotel close to the MetLife Stadium, but it's in close proximity to both the Meadowlands Racetrack and the American Dream Entertainment Complex.
You won't be spending your whole trip in transit to various places if you choose to stay here!
Complimentary Breakfast Buffet
If you stay at Springhill Suites, you'll be offered both hot and cold breakfast options in a complimentary buffet every morning of your stay.
You'll have the choice of yogurt, fruit, cereal, bagels, waffles and so much more!
Recreational Spaces
There are a few spaces for guests to hang out in during their stay, including the indoor pool, fitness center, and outdoor fire pit. Another relaxing option is the poolside patio!
With this accommodation option, you aren't limited to just the space in your room, making you feel less confined. You also never know who you may meet in these communal spaces.
Hampton Inn Carlstadt at The Meadowlands (0.8 miles/1.3km)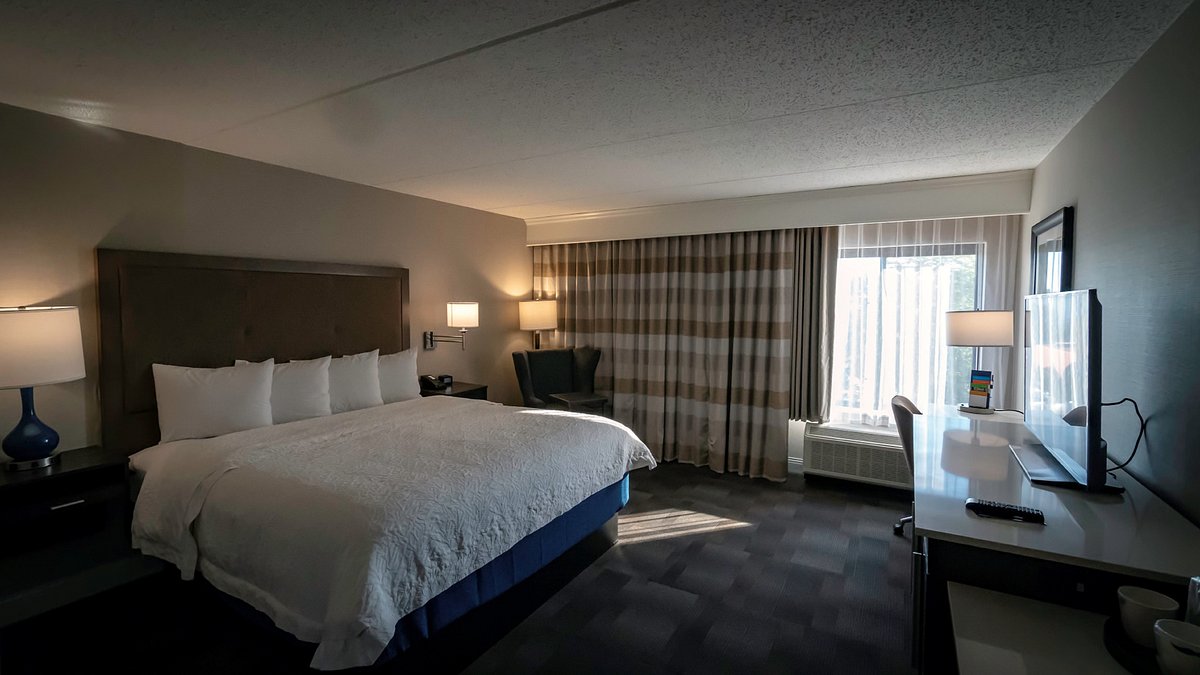 Hampton Inn Carlstadt is located opposite the MetLife Stadium, the Meadowlands Racetrack, and within 4 miles of the Teterboro Airport – talk about a premium location!
You'll also get to enjoy the air conditioning, offered in every room, ensuring you'll have an incredibly comfortable stay.
Other features of this inn include:
Spacious Rooms with Flat Screen TVs
There's nothing like a nice, spacious room to make you feel at ease while you're staying away from home.
Being able to fully relax and unwind in one of these rooms with the air conditioning going will leave you feeling well-rested and glad you booked a trip away!
Free Hotel Gym and Business Center
If you can't help but work while you're on your trip, or you love to work out even while on holiday, this may be the best place for you.
Hampton Inn offers a free gym and business center for you to use during your stay, so you can stick to your daily routine.
Buffet Breakfast and Snacks
If you're a foodie, you'll appreciate the daily breakfast buffet that is available to guests every morning.
Snacking is made incredibly easy at this inn, due to the 24/7 snack shop on offer. No matter what time of day or night you are feeling peckish, this hotel has you covered.
Airport Shuttle
If there's one thing you don't want to be worrying about during your stay, it's airport transport.
We all know the stress of trying to arrange a ride in time for our flight, and all the things that can go wrong during the process.
Take advantage of the free airport shuttle and do yourself a favor!
Hilton Meadowlands (2.1 miles/3.4km)
Hilton Meadowlands is a classy option for those wishing to stay close to the MetLife Stadium, the American Dream shopping and entertainment, and the Frank R. Lautenberg train station.
The train, which is connected to Newark Airport and Manhattan, is only 14 minutes away from the hotel. This is such a convenient bonus when staying at this hotel, and could make your trip a whole lot simpler!
Other features of the hotel include:
Recreational Spaces
The Hilton Meadowlands offers so many great spaces for guests to use during their stay.
These include the fitness center, meeting rooms, and on-site restaurant with all-day dining. You'll rarely get hungry, bored, or behind on work during your stay at the Hilton.
Fantastic Dining
As mentioned, there is an all-day dining restaurant within the Hilton itself. The restaurant is called the Bergen Social, and offers a wonderful mix of contemporary and authentic Italian cuisine!
Not only will you enjoy tasty Italian food, but you can also catch the game on the TV and enjoy smaller bites throughout the day.
Digital Hotel Key
If you're someone known for losing keys and other important items throughout your day, you may be excited to gain access to the Hilton's digital room key on your phone.
Downloading into the hotel app, this digital key uses Bluetooth to connect to the lock on your door. Bye-bye swipe cards and clunky room keys!
Fairfield Inn by Marriott East Rutherford Meadowlands (1.1 miles/1.8km)
This is a hotel designed for the traveling businessperson.
Equipped with all the small comforts and amenities to make working on the go possible and simple, any businessperson will find staying at the Fairfield Inn a breeze.
With a new travel loyalty program, frequent travelers will have the privilege of earning points towards fluffy hotel pillows, quilts, and other rewards of their own.
Features include:
Rooms Designed for Rest and Productivity
Functional working spaces are prioritized along with amazing quality mattresses, bedding, and pillows.
The rooms at the Fairfield Inn are sure to wow you with how much thought and care went into their design.
Great Food
Do free breakfast and coffee sound good to you? Healthy options and hot options are all available with the free breakfast.
A fully stocked 24/7 snack market is also available to guests, so you won't ever get hungry or thirsty during your stay.
Work Spaces and Free WiFi
This is a hotel that values and respects the daily grind.
With free WiFi and streamlined work areas within the rooms and lobby, there really aren't any obstacles standing in between yourself and your work.
Recreational Areas
To top everything off, there's a fitness center, pool, and comfortable outdoor spaces to be utilized and enjoyed in your downtime.
Relax and unwind after a long day in one of these spaces and feel your worries melt away.
Residence Inn East Rutherford Meadowlands (1.2 miles/1.9km)
If prime location is the goal of your stay near the MetLife Stadium, the Residence Inn is another great option for your trip away.
Close to the American Dream Mall, New York City, the Teterboro Airport, and Newark Liberty International Airport, there's going to be nothing easier than getting around to these places during your stay!
Features include:
Accommodating Stay Options
This hotel not only has short-stay options but also boasts rooms for weeks and even months depending on your needs.
The suites are sized so that you will have plenty of space, no matter how long you are staying.
Free Buffet Breakfast
Wake up from an excellent sleep to a complimentary buffet breakfast! What more could you ask for in the morning?
It'll give you the go-power you'll need to go about the rest of your day.
Laundry Services
The Residence Inn provides a dry-cleaning service that may be of use to anyone traveling with business attire or for special events.
There are also regular laundry services on-site so that the clean clothes that you packed in your suitcase don't ever run out.
Meadowlands Plaza Hotel (2.3 miles/3.7km)
The Meadowlands Plaza Hotel is a fantastic option for guests who are tourists in the area, as there is a free shuttle available to American Dream mall and other nearby attractions.
If that isn't enough to tempt you, perhaps the free WiFi and free parking will! Everybody loves a great deal, and this hotel certainly isn't short of those.
Other amenities:
Communal Spaces
No one likes to be confined to a single room for a long period of time.
At this hotel, you will have 24/7 access to the fitness center, use of banquet rooms for special events, and an Italian restaurant and lounge to explore!
Complimentary Breakfast
Roll out of your comfortable bed, stroll across your large room, and make your way to the complimentary American buffet breakfast.
If you're staying at the hotel on a Friday or Saturday, be sure to check out the live entertainment.
Same-Day Dry Cleaning
Sometimes, you need your clothes cleaned urgently- and this hotel can give you that!
Same-day dry cleaning is offered to guests from Monday to Friday, so you don't have to panic about spilling anything on important clothes while you're at the hotel.
Extended Stay America Suites Meadowlands, East Rutherford (1.7 miles/2.7km)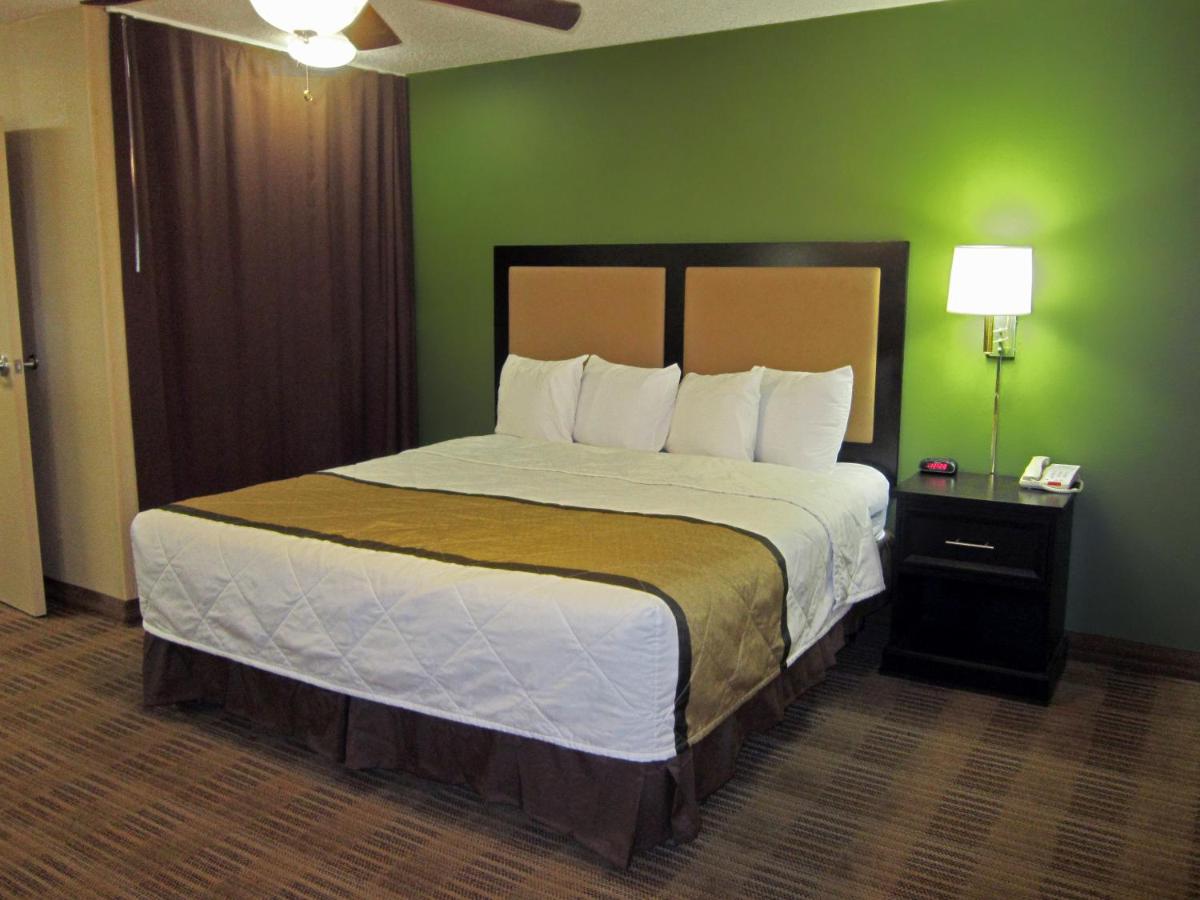 Staying in hotels can be tedious due to the limited kitchens, cramped rooms, and pricey nightly rates.
Fortunately, Extended Stay America has full-sized kitchens in each large, apartment-style room, and offers discounts that make staying here affordable on a budget!
Other features of Extended Stay America include:
Pet-Friendly
If you get separation anxiety from your furry friend, you aren't alone. You'll be pleased to know that this hotel is pet-friendly, meaning that you don't have to face that sorrowful goodbye before you leave for your trip.
They will be living it up with you right there in the hotel!
24/7 Laundry
Staying fresh in a hotel can be challenging, but luckily this hotel offers laundry services and amenities for you to use while you're there.
Stay Longer, for Cheaper
The amount of money you save will increase the longer you choose to stay. This means that you don't have to cut your holiday short– keep the fun going for longer!
The Bottom Line
These 7 hotels are all within 4 miles/5.8km from the MetLife Stadium, as well as various airports, public transport, and local attractions.
Many of these hotels offer complimentary buffet breakfasts, coffee, and WiFi. There's little room for disappointment with whatever option you choose!
They're all conveniently located, and a lot of them offer pools, fitness centers, and business rooms for use.
You'll be sure to enjoy your stay, whichever option you choose!