The MetLife Stadium is home to two world-renowned NFL teams: the New York Giants and the New York Jets.
The stadium itself is enormous; it can house up to 82,500 people! Unsurprisingly, there are traffic jams every time an event is on in this dense urban area, so you'll need to plan your visit well.
In this article, we'll discuss which mode of transport is best, how to get to the MetLife Stadium, and also offer some advice to make your journey easier!
Where is the MetLife Stadium?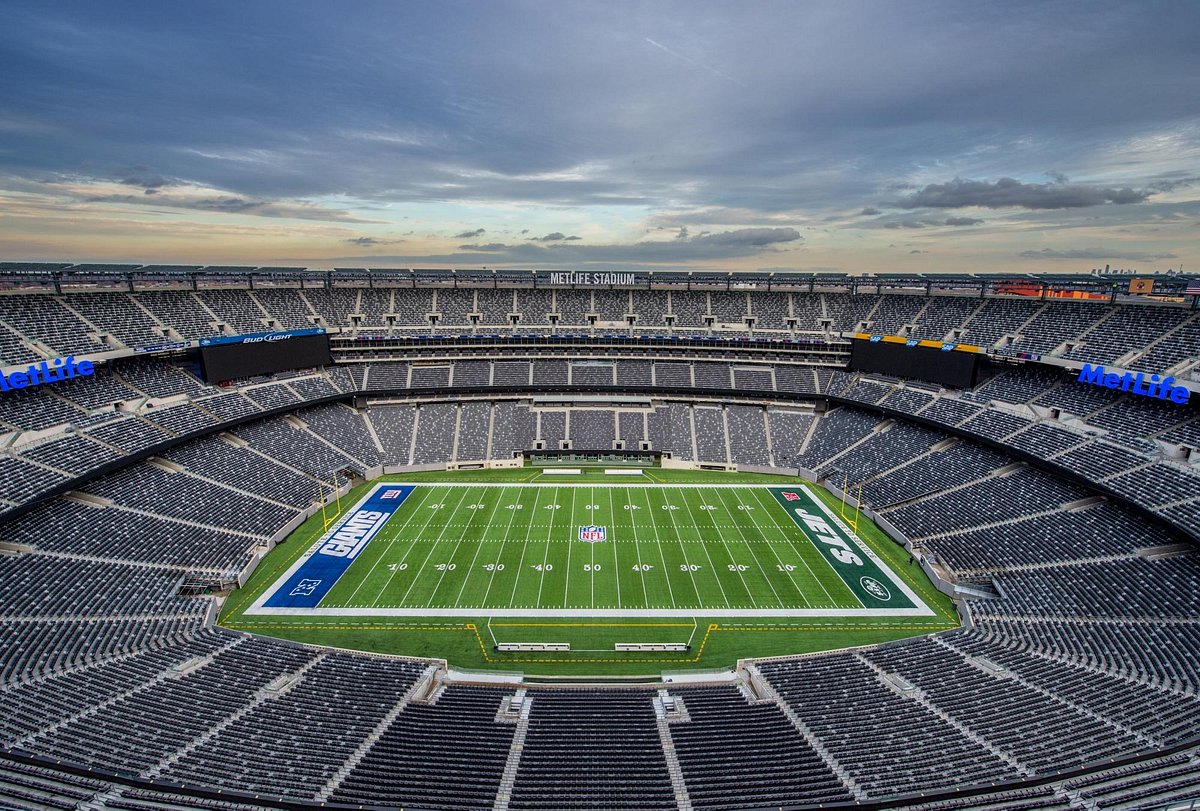 The MetLife Stadium is in the Meadowlands Sports Complex in East Rutherford, Bergen County, New Jersey. It is about 15 miles from New York City and 9 miles from midtown Manhattan.
The two closest airports are Teterboro Airport (4 miles) and Newark Liberty International Airport (13 miles).
How to get to MetLife Stadium from NYC
NYC to MetLife Stadium Option #1: Driving
Onsite parking in one of the 28,500 available parking spaces is convenient, but it is also expensive and stressful due to crowded streets on event days.
Parking Facts
The parking lots at the MetLife Stadium open 5 hours before events
The parking rules and availability change depending on the event, but for non-NFL events, (soccer, concerts, etc.), you can expect to pay $40 for a car park, and $60 to park a bus or RV!
You need to display pre-printed parking passes, but there are some off-site parking lots for people without prepaid permits (for Giants home games only).
Possible Routes
From NYC, there are three routes. Which one you take will depend on your starting location.
1: NJ-495W (11.3 mi)
Take NY-495 W from West St and 12th Ave
Take NJ-495 W and NJ 3 to NJ-120 N in East Rutherford
Take the NJ-120 N exit from NJ-3 W
Continue on NJ-120 N. Drive to Rd. D.
2: US-1 N/US 9N Tonnelle Ave
Take Church St and Hudson St to I-78 W/Holland Tunnel
Continue on I-78 W. Take US-1 N/US-9/Tonnelle Ave to NJ-3 in North Bergen
Get on NJ-3 W
Continue on NJ-3 W to East Rutherford. Take the NJ-120 N exit from NJ-3
Merge onto NJ-3 W
Use the right 2 lanes to take the NJ-120 N exit
Continue on NJ-120 N. Drive to RdD
3: Via FDR Dr and I-95
Get on FDR Dr from Spruce St and Frankfort St
Continue on FDR Dr. Take Harlem River Dr, Interstate 95 Lower-Level S/U.S. 1 Lower-Level S and I-95 to N Connection Rd in Bergen County. Take the exit toward Sports Complex from I-95 S
Continue on N Connection Rd. Drive to RdD
Redd's Restaurant and Bar Parking
If you do not want to drive right into the stadium parking lots, there are some off-site Park and Ride Services, such as Redd's Restaurant and Bar Parking where you can park and go by shuttle to your event.
Edison Park Fast Park and Ride
This is another park-and-ride service where you book a parking space and then continue by transit rail to the event.
NYC to MetLife Stadium Option Option #2: Bus
The buses to the stadium are operated by NJ Transit. The journey time from New York City to MetLife Stadium is around 25-40 mins to cover the 15 or so miles.
The first two buses leave from the Port Authority Bus Terminal and arrive at the stadium. Below, you will find the details of each bus line:
Line 160: 25 mins. Cost: $1-$6
Line 164: 42 mins. Cost: $1-$6
Line 85: Take this bus from Summit Ave on 8th St.
Coach USA Bus Service Route 351: This is a special express service that goes from the Port Authority to MetLife Sports Complex for large events. Round Trip cost: $14.
NYC to MetLife Stadium Option #3: Train
Taking the train is likely the best option! Most of the NJ Transit trains go to Secaucus Junction, and it is easy to reach MetLife Stadium from there.
Train Facts
Trains start 3 ½ hours before the event, and they leave every 10 mins from Secaucus Junction to the Meadowlands Sports Complex
A round trip from Secaucus Junction to the Meadowlands Sports Centre is $11
Tickets are available online or in person from NY Penn Station.
Coming from New York Or Connecticut, the Metro-North trains go from the New Haven line to Grand Central Station. Take the subway to New York Penn Station to board an NJ Transit train to Secaucus Junction and connect to the Meadowlands Rail Line
Penn Station – Secaucus Junction – Hoboken (connect). You can take any of the trains from New York Penn Station to Secaucus Junction. Most trains stop at Secaucus Junction, and any that don't will clearly say so
NYC to MetLife Stadium Option Option #4: Taxi
This is one of the more expensive options. Taxis from NYC to MetLife Stadium take around 49 minutes to get there, on a good day.
New York taxis charge extra at night on top of the minimum fare and price per mile. Expect to pay between $34-$75.
NYC to MetLife Stadium Option Option #5: Private Car Service Rental
There are two options here: You can either rent a car to drive yourself and then return to the nearest drop-off point, or you can book a car service with a driver.
We only look at the second option in this section because it lets you leave the driver in charge of battling the traffic.
For large groups, agencies such as Better Car and Limo Service will take you straight there in a Ford Transit van (up to 14 passengers), a stretch limo (15 people), or a charter bus (up to 54 people). Expect to tip the driver 10-20% of the fare.
Prices vary considerably, but the cheapest option we could find is the charter bus priced at $17 per person. National Charter Bus offers minibus and charter bus services specifically for MetLife Stadium.
MetLife Stadium from NYC: Traveling Tips
As with any major event that is packed with people, it is easy to forget things. Make sure that you check out the following tips to avoid last-minute panic on the day!
Check Schedules and Plan Ahead
We cannot emphasize this enough; there are so many variables that are subject to change on the day! This is especially important if you are using several modes of transport to get to your event.
Take Your Ticket When Changing Trains
You can change trains and break the journey, but remember to keep your ticket as proof of purchase. This is important; otherwise, you'll be overcharged!
Book A Hotel Nearby
This will save you from having to brave the congested streets and crowds as you try to make your way home. After the event, you'll want to unwind in style!
Check MetLife Guest Policies
It would be awful to be turned away on the day or told off for doing something wrong. It is a good idea to become familiar with the rules that you're agreeing to upon attending an event at the Stadium.
Purchase Train Tickets Beforehand
When there are so many people going to an event, the best public transport systems can be quickly booked out even online! Therefore, try not to leave it until the day of your event to try your luck!
The Bottom Line
Attending an event at MetLife has the potential to be one of the biggest highlights of your year!
There is excellent support in terms of transport to help you get there, though it does require careful planning.
Make sure to weigh up which mode of transport is best for you- and of course, don't forget to allow plenty of time to get there!
Planning for an hour or two above what you might initially expect is the safest way to go.
Now that you know all the different methods of how to get to MetLife Stadium from NYC: Choose wisely, and enjoy the event!