Finding the best seats at UBS Arena can significantly enhance your experience during an event.
UBS Arena, home to the New York Islanders, offers various seating options to cater to different preferences and budgets. With a seating capacity of around 17,000, it's essential to know which seats will provide the most exceptional views and which ones might leave you wanting more.
One of the most popular clubs at UBS Arena is the DIME Club. The seats associated with a DIME Club ticket are located behind the Spotlight Suites in sections 113, 114, 115, and 116. These seats provide a great vantage point for both sporting events and concerts. For concerts with an end-stage setup, the best seats can be found near sections 101, 118, and 201A, where the stage is usually located. However, be sure to check for variations in seating layouts depending on the specific event.
While there are many appealing seats to choose from, it's worth noting that some views may be obstructed, particularly in the upper sections. Be cautious of seats where large screens or structural elements might limit visibility. Ultimately, the best and worst seats at UBS Arena will depend on your personal preferences and the event you attend, but arming yourself with this knowledge will help you make informed decisions for an unforgettable experience!
Best Seats at UBS Arena
Lower Level Center
The Lower Level Center sections offer some of the best seats at UBS Arena for concerts, providing a close and direct view of the stage. These sections include:
Choose seats near the lower rows for the closest experience, but even the higher rows within these sections offer great sightlines for enjoying the performance.
Club Level Center
For fans who prefer an elevated view with added amenities, the Club Level Center sections are an excellent choice. These sections grant access to premium concession areas and luxurious club spaces. Keep in mind that Club Level Center seats may come at a higher cost. The Club Level Center sections at UBS Arena include:
When selecting seats in this area, opt for rows closer to the front for the best possible viewing experience.
Upper Level Center
If you are looking for a more budget-friendly option without compromising the view, the Upper Level Center sections at UBS Arena provide a great vantage point. These higher elevation seats give a clear view of the entire stage and the arena. The following sections are part of the Upper Level Center:
While selecting seats in the Upper Level Center, keep in mind that the lower rows typically offer a better sightline than the higher rows.
Overall, the choice depends on personal preferences, budget, and the individual's priority of proximity, elevated viewpoint, or additional club amenities.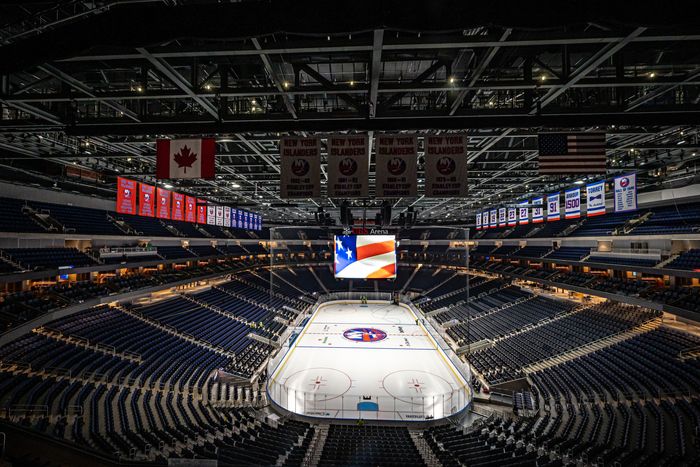 Worst Seats at UBS Arena
Upper Level Corners
The upper level corner sections at UBS Arena can be the least desirable seating option for many events. In these sections, you may find:
Distance from the action: Being far away from the stage or playing area can make it difficult to feel fully engaged in the event.
Obstructed views: Sometimes, structural support beams or other barriers can hinder your view of the stage or playing area.
Limited access to amenities: Sitting in the upper level corners often means a longer trek to restrooms, concessions, and other amenities available at the arena.
To improve your seating experience, consider looking for seats in the lower levels or at least closer to the center of the upper level.
Behind the Goal Lines
For hockey games, sitting behind the goal lines (sections typically found behind the nets) might offer less than optimal viewing angles. Some potential downsides in these seats include:
Limited sightlines for plays developing in the far end of the ice: You'll be able to see the action close to the goal you're sitting behind, but plays at the opposite end might be harder to follow.
Difficulty tracking the puck: This fast-moving sport can be challenging to watch from behind the goal, as the puck tends to blend into the ice surface and the boards.
For an improved game-day experience, you might want to opt for seats along the side boards, closer to the center line. These seats will provide balanced views of both ends of the ice and give you a better overall perspective of the game.
Factors to Consider When Choosing Seats
When choosing seats at UBS Arena, there are several factors to keep in mind in order to have the best possible experience. In this section, we'll discuss three key elements to consider when selecting a seat: ticket price, view of the game, and amenities.
Ticket Price
One crucial aspect to take into account is the cost of the tickets. Depending on the type of event and the desired location within the arena, ticket prices can vary significantly. To get an idea about the price range for different sections:
Section 101: from $85
Section 102: [no pricing info available]
Keep in mind that prices are subject to change, and may be influenced by factors like demand, the event type, and the available inventory.
View of the Game
Naturally, you'll want to have a clear view of the game or event you're attending. UBS Arena is designed in a way that there are no bad seats, with every seat offering a good sightline. However, some sections provide better views than others. For example, the DIME Club (located behind the Spotlight Suites in sections 113, 114, 115, and 116) offers some of the best seats in the arena.
It's important to consider your personal preferences while choosing a seat. Do you prefer sitting close to the action or would you rather have a more panoramic view? Keep these factors in mind when making your final decision.
Amenities
Lastly, consider the various amenities provided by different seating sections. Premium clubs and suites offer a more luxurious experience, with perks like:
Access to exclusive clubs, such as the Verizon Club and the DIME Club
In-seat service, which allows you to order food and beverages directly to your seat
Lounge areas, providing a comfortable space to relax during breaks or intermissions
While these amenities come at an additional cost, they can enhance the overall experience of attending an event at UBS Arena. Make sure to balance your preferences for amenities and comfort with the ticket price and view of the game when choosing your ideal seat.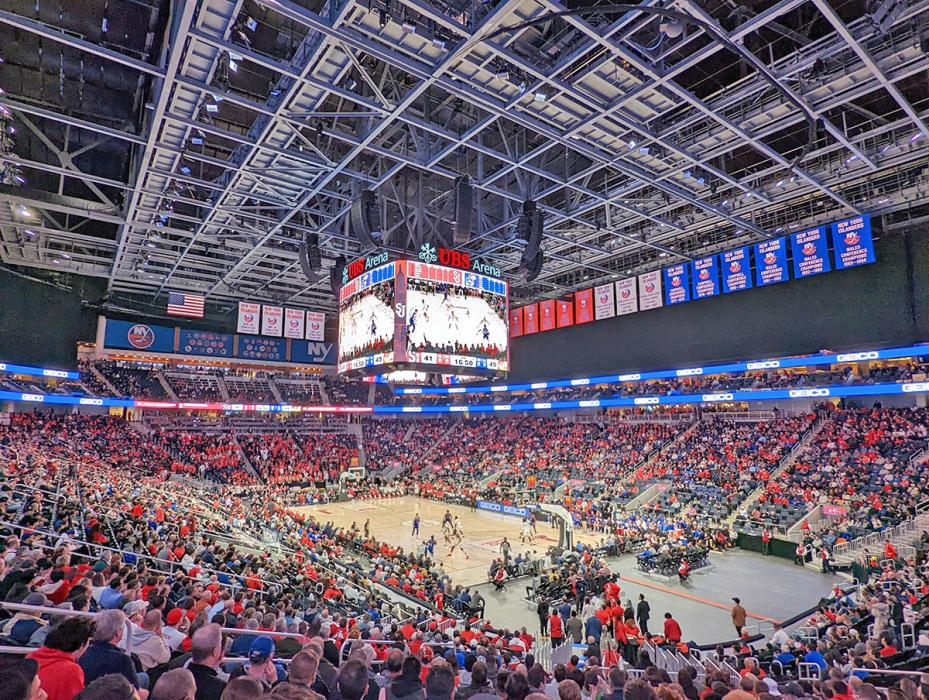 Events Hosted at UBS Arena
UBS Arena is a versatile venue that hosts a wide range of events, including sports and concerts. This section will provide brief information about these events.
Sports
As the home of the New York Islanders, UBS Arena regularly hosts NHL games providing an exciting atmosphere for hockey fans. The arena also caters to other sports events, such as basketball games and other ice-based sports. The seating layout for sports events ensures spectators have great views of the action, with multiple levels and sections to choose from.
Concerts
UBS Arena is also a popular destination for concerts, featuring top artists from various genres. The most common seating layout for concerts is an end-stage setup, with the stage located near sections 101, 118, and 201A. Some concerts have variations in layout, which may include:
General Admission seats
Fan pits
B-stages
On the floor, you may find sections like Floor 1, Floor 2, and Floor 3, which offer an immersive experience for concertgoers. The arena's schedule boasts a diverse lineup of musical acts, ensuring a memorable experience for attendees. Some upcoming concerts at UBS Arena include:
Mamamoo on May 16
Blink-182 on May 20
HOT 97 Summer Jam on Jun 04
UBS Arena offers a fantastic atmosphere for both sports and concerts, with a variety of seating options to suit different preferences and budgets.
Tips for Attending an Event at UBS Arena
Arriving Early
It's always a good idea to arrive early at UBS Arena to ensure you have enough time to park, find your seats, and enjoy any pre-show entertainment. Arriving early also allows you to get familiar with the arena's amenities and avoid the long lines at restrooms and concession stands during showtime. Most events will have a set start time, so plan accordingly to make the most of your experience.
Parking Options
Parking at UBS Arena can be a mixed bag. While there are various parking options available, it's essential to plan ahead to save time and avoid getting stuck in traffic. Consider the following options when planning your visit:
On-site parking: UBS Arena offers on-site parking for a fee. It can fill up quickly for popular events, so it's recommended to arrive early if you prefer this option.
Off-site parking: Nearby parking lots and garages may be available as an alternative. Some of these options may be more cost-effective, but it's essential to confirm their availability during events.
Public transportation: Utilizing public transportation can save you the hassle of parking altogether. Research nearby bus or train routes to determine the most convenient option for your visit.
Remember to plan your visit with these tips in mind, and enjoy your time at UBS Arena!
James is a big time NBA Golden State follower, who makes sure to catch games when he's in the area. He likes to follow International Soccer, with an interest in small town soccer club, Blackburn Rovers located in the North on the UK.