If you are looking for a hotel near the KeyBank Center in Buffalo, NY, look no further. Thanks to the Center's convenient location, visitors can decide between several options when looking for the right accommodation. Many nearby hotels offer terrific services, three to four-star ratings, and competitive pricing.
This article lists 13 of the best hotels near KeyBank Center in Buffalo, NY, to help you plan your next trip.
The Best Hotels near the KeyBank Center
Below, we review 13 hotels near the KeyBank Center. We have included hotels based on their quality ratings, location, and services. They appear in no particular order.
1. Buffalo Marriott at LECOM Harborcenter
The Buffalo Marriott at LECOM Harborcenter offers guests convenient access to the area's major attractions along with some terrific accommodations.
The KeyBank Center stands just a few minutes away, about 0.1 miles, to be precise. Guests can also visit downtown Buffalo, Niagara Falls, the Theodore Roosevelt Inaugural National Historic Site, the Buffalo Zoo, and Canalside. Its location can appeal to both vacationers and traveling professionals.
The Buffalo Marriott provides the usual accommodations such as in-room dining, a fitness studio, and 24-hour concierge service. Fine dining options include Panorama on Seven, located in the hotel's lobby overlooking Lake Erie. The hotel also boasts waterfront and city views. You can find more information on the hotel's official site.
Typical Price Range: $365 – $444
Address: 95 Main Street, Buffalo, NY 14203
2. The Hilton Garden Inn Buffalo-Downtown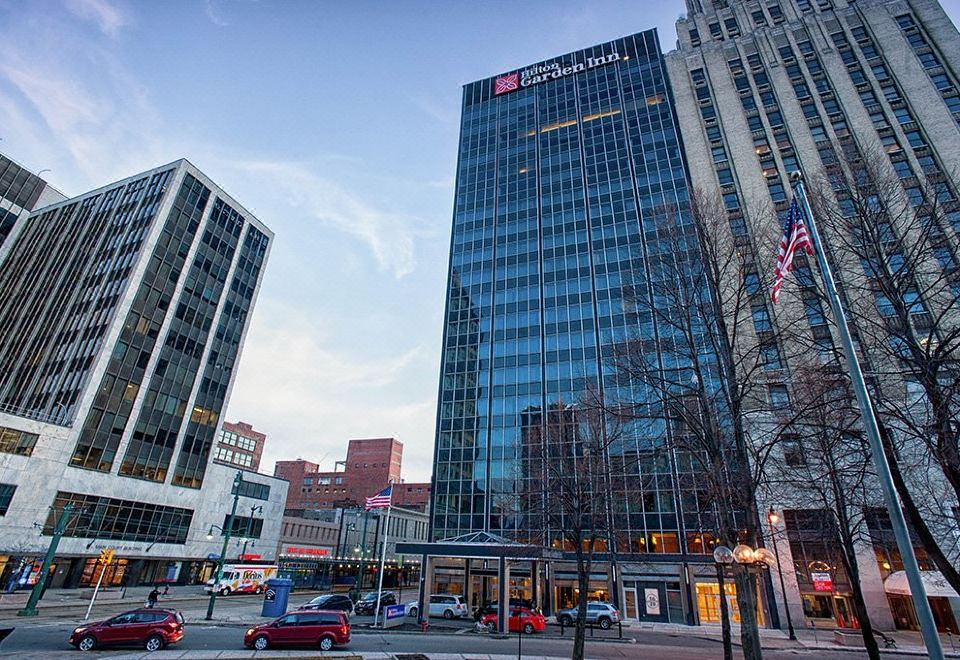 Situated less than a mile from KeyBank Center and easily accessible from I-90, 290, 33, and 5, this modern hotel in downtown Buffalo is an excellent option for weekend travelers.
From its downtown location, guests can also visit Shea's Performing Arts Center, Buffalo's best restaurants, shopping, museums, casinos, and The First Niagara Center. Each room comes with a TV, air conditioning, and satellite channels.
The hotel can host special functions and professional gatherings with three event spaces and a 24-hour business center.
Typical Price Range: $203 – $235
Address: 10 Lafayette Square, Buffalo, NY 14203
3. The Mansion on Delaware Avenue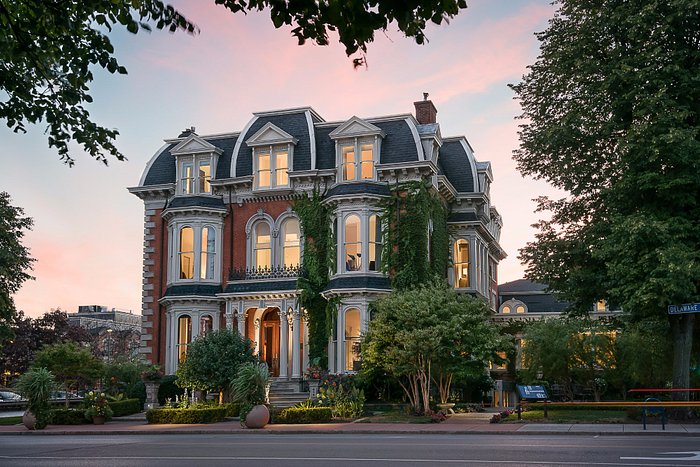 One of Buffalo's most distinct luxury hotels, The Mansion on Delaware, features exquisite 19th-century architecture and around-the-clock service.
Once the home of a Gilded Age industrialist, the renovated mansion now serves guests with five-star accommodations: butler service, Land Rover chauffeur, European-style continental breakfast, and overnight pressing.
The hotel is less than two miles from the KeyBank Center and Canalside. Prospective guests may find discounts and booking options through The Mansion's official website or other popular hotel sites like Tripadvisor.
Typical Price Range: $239 – $529
Address: 414 Delaware Ave Delaware & Edward Street, Buffalo, NY 14202-1604
4. Hotel at the Lafayette, Trademark Collection by Wyndham
With historic architecture and uniquely designed rooms, Hotel at Lafayette offers guests a luxury experience in Buffalo's downtown.
Originally built in 1904 by America's first professional female architect, Louise Blanchard Bethune, this one-of-kind destination offers visitors some of the best accommodations.
A 12-minute walk to the KeyBank Center arena, visitors can conveniently attend events and return to their rooms while traveling through Buffalo's lively downtown. Hotel at the Lafayette treats guests to its own on-site coffeehouse, restaurant, and bar. The Hotel also offers terrific opportunities for nightlife and tours.
Typical Price range: $149 – $221
Address: 391 Washington St, Buffalo, NY 14203-2108
5. Hyatt Place Buffalo / Amherst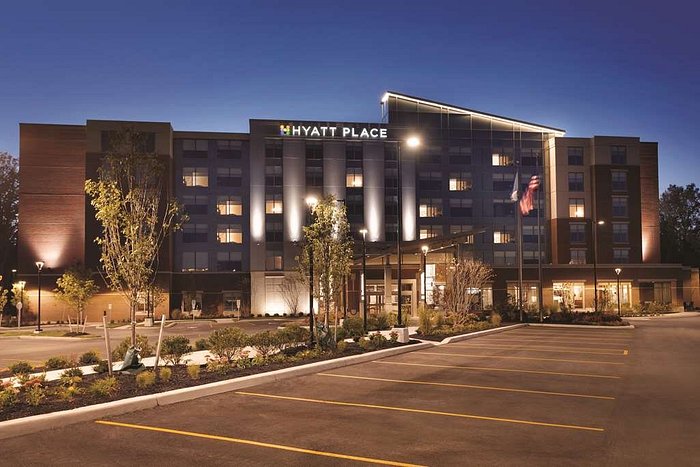 The Hyatt Place Buffalo/Amherst offers convenience and affordability. Located just under 5 miles from the Buffalo Niagara International Airport, Hyatt Place serves out-of-state guests especially well with additional shuttle services, complimentary self-parking, and electric vehicle stations.
A 19-minute drive to Canalside and Keybank Center, Hyatt Place aims for convenience and ease without the hustle of downtown, perfect for business travelers and families. To accommodate guests, the Hyatt Place provides complimentary breakfast and a lobby bar/restaurant.
Typical Price Range: $147 – $231
Address: 5020 Main St, Amherst, NY 14226-4955
6. Reikart House, Buffalo, A Tribute Portfolio Hotel
Reikart House prides itself on stylized luxury, one-of-a-kind furnishings, and classic vaudeville design. Marriott International named Reikart House "Hotel of the Year."
Reikart offers fine dining at its Parlor Room, complimentary bicycles, and special event spaces/ballrooms. Deluxe and Suite rates include full butler service. From Reikart House, guests can visit KeyBank Center (12 miles), Buffalo Zoo (4.3 miles), Our Lady of Victory Basilica (9.3 miles), and the Botanical Gardens (9.5 miles).
Typical Price Range: $228 – $399
Address: 5000 Main Street, Amherst, NY 14226
7. InnBuffalo off Elmwood
In an effort to revitalize Victorian charm, InnBuffalo off Elmwood combines traditional elegance with modern hospitality. Located near KeyBank Center (8 miles) and other tourist destinations, InnBuffalo offers guests the chance to stay at the historic 1898 Hewitt Mansion in one of Buffalo's best neighborhoods, Elmwood Village.
InnBuffalo also offers guests easy access to notable landmarks like the Peace Bridge, Niagara Falls, and Shea's Performing Arts Center. For amenities, visitors may treat themselves to the hotel's library, 24/7 concierge, and a first-hand view of on-site preservation efforts.
InnBuffalo is perfect for vacationers looking for a quiet, boutique experience in one of the country's best urban neighborhoods.
Typical Price Range: $169 – $239
Address: 619 Lafayette Ave, Buffalo, NY 14222-1435
8. Hampton Inn & Suites Buffalo Downtown
Situated one mile from the KeyBank Center and close to other major downtown attractions, Hampton Inn & Suites Buffalo describes itself as being in the heart of the action.
Visit Canalside, watch a sports event, or attend a concert while staying at Hampton Inn's comfortable, spacious rooms. For dining options, guests can enjoy the hotel's complimentary breakfast or sample the cuisine and cocktails of five onsite restaurants.
Hampton Inn Buffalo provides 1,505 total square feet of event space for special occasions, including three meeting rooms. This hotel might serve families, professionals, or weekenders.
Typical Price Range: $210 – $342
Address: 220 Delaware Avenue, Buffalo, NY 14202
9. Wyndham Garden Buffalo Downtown
Wyndham Garden Buffalo Downtown prioritizes accessibility and comfort. Nestled by the Niagara Buffalo Medical Campus and less than 10 miles from the airport, this hotel often serves patients and patient families. KeyBank Center lies just 2.2 miles south of Wyndham Garden Buffalo, making the accommodation ideal for other travelers as well.
The concierge offers a free shuttle service to Buffalo's downtown for added convenience and peace of mind. Niagara Falls is just a 25-minute drive. Wyndham Garden Buffalo includes breakfast, business services, fitness rooms, and conference facilities.
Typical Price Range: $143 – $239
Address: 125 High St, Buffalo, NY 14203-1153
10. Aloft Buffalo Airport
Modern, chic, and tech-forward, Aloft Buffalo Airport has built its reputation as an urban retreat. The hotel stands less than one mile from the Buffalo Niagara International Airport. It offers easy access to the KeyBank Center and entertainment venues in Buffalo's downtown, less than 15 minutes away.
Noteworthy amenities include the re:charge(SM) gym, bath luxuries provided by Bliss Spa, and Aloft's own re:fuel fine dining experience. Guests can also check out Aloft's WXYZ bar for live music and cocktails. This hotel earned Tripadvisor's Traveler's 2022 Choice Award.
Typical Price Range: $264 – $309
Address: 4219 Genesee St, Cheektowaga, NY 14225-1943
11. The Westin Buffalo
For visitors thinking of walking between their hotel and the KeyBank Center, the Westin Buffalo offers an ideal location. Westin Buffalo sits just 1.2 miles from KeyBank. The hotel prides itself on its elegant, beautiful design and spectacular downtown views.
For dining, guests can sample the wares at Westin's two onsite restaurants, Patina 250 and Jack's Cafe, or visit the venues right outside the lobby's door.
If you're looking for entertainment besides the KeyBank Arena, you can check out the Shea's Performing Arts Center, approximately 1,300 feet from Westin Buffalo, or attend the convention center 1,650 feet away.
Typical Price Range: $325 – $414
Address: 250 Delaware Avenue, Buffalo, NY 14202
12. Curtiss Hotel, Ascend Hotel Collection
The Curtiss Hotel hosts visitors inside a renovated historic landmark, the Harlow C. Curtiss building. With 68 luxury rooms installed with the best modern technology and conveniences, the Curtiss hotel offers guests a unique, all-around experience to relax and escape. Patrons of the KeyBank Arena will also appreciate the hotel's superb location: a one-mile walk, to be exact.
For fine dining, you can stop by the Curtiss Hotel's Chez Ami Restaurant with year-round piano performances and a rotating bar, or the premier Vue Rooftop Lounge featuring stunning views of Lake Erie and the Buffalo downtown. This five-star boutique hotel promises a once-in-a-lifetime experience.
Typical Price Range: $289 – $639
Address: 210 Franklin St, Buffalo, NY 14202-2114
13. Hyatt Regency Buffalo Hotel & Conference Center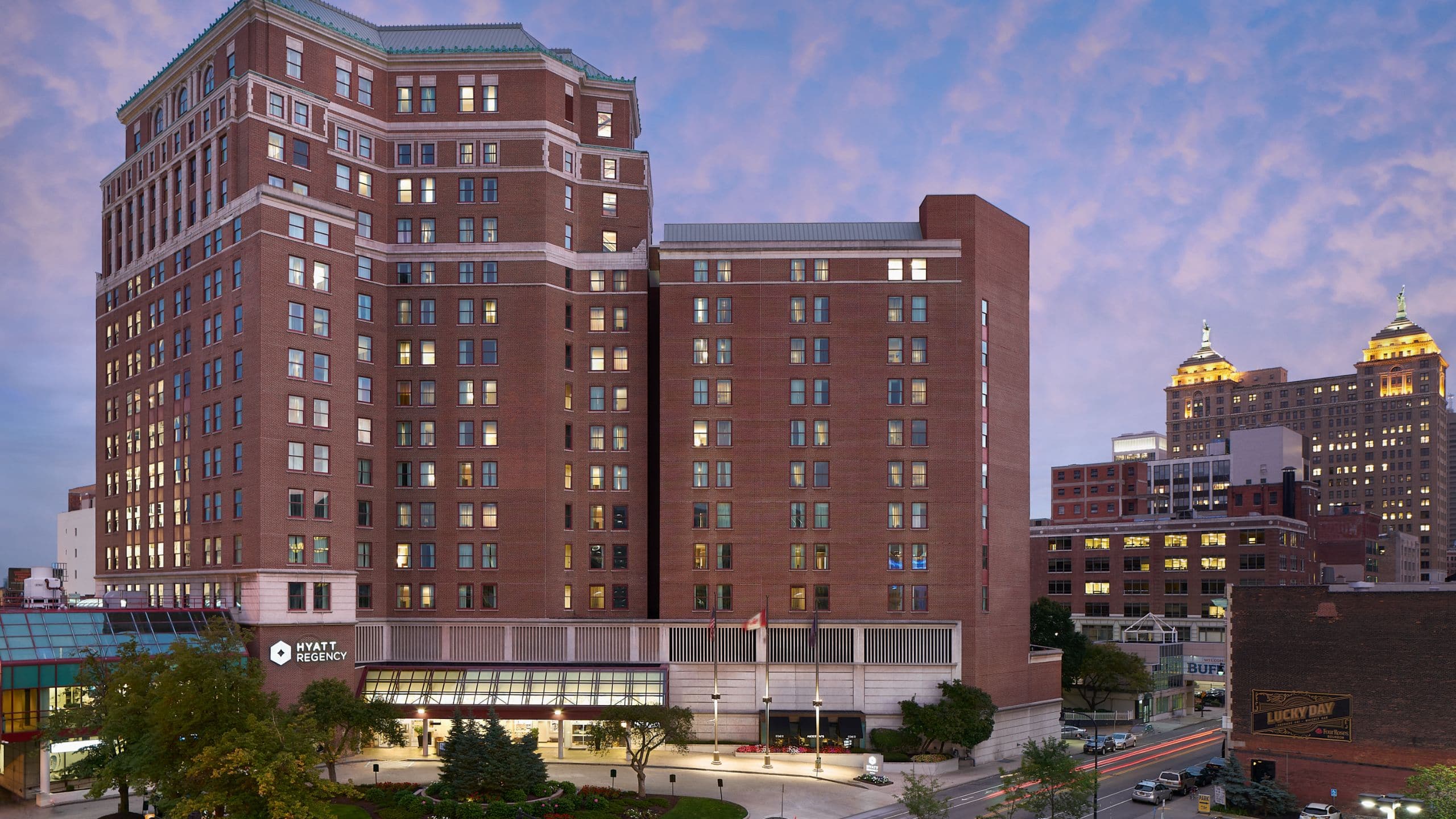 Styled as a destination for work and leisure, the Hyatt Regency Buffalo Hotel & Conference Center. Approximately 0.9 miles from the KeyBank Center's sports and music events, guests do not have to worry about taxi services or rental. In addition, Hyatt caters to a variety of guests.
Business travelers can take advantage of the hotel's high-speed wi-fi, business center, ballrooms, and convention room. For weddings, Hyatt Regency Buffalo provides in-house wedding planners along with ballrooms equipped with beautiful ambient lighting, photography features, and a custom dance floor from its event staging team.
Typical Price Range: $144 – $194
Address: 2 Fountain Plaza, Buffalo, NY 14202
Other Points of Attraction Near KeyBank Center
If you are planning on visiting KeyBank Center, you may want to stop by other nearby points of attraction.
Canalside is the heart of Buffalo's waterfront revitalization with 21 acres of historic waterfront and year-round entertainment that includes concerts, festivals, ice skating, and tours.
The Buffalo Zoo stands as the third oldest zoo in the United States, welcoming over 400,000 guests annually and caring for a diverse array of exotic animals and plant life.
If you have the time, be sure to explore Buffalo's vibrant downtown and spend the afternoon exploring activities and sights, from shopping at the Main Place Mall to touring historical landmarks.
James is a big time NBA Golden State follower, who makes sure to catch games when he's in the area. He likes to follow International Soccer, with an interest in small town soccer club, Blackburn Rovers located in the North on the UK.