Located in the heart of Buffalo, New York, KeyBank Center is the premier destination for hockey fans and event-goers alike.
As the home of the Buffalo Sabres, this state-of-the-art venue boasts an impressive capacity and a vibrant atmosphere that leaves visitors with unforgettable memories.
In this comprehensive guide, we'll cover everything you need to know about KeyBank Center, including its key facts, location, transportation, parking, nearby dining and accommodations, history, and more.
KeyBank Center: Key Facts
KeyBank Center, formerly known as First Niagara Center and HSBC Arena, opened its doors in 1996.
With a seating capacity of 19,070 for hockey games and up to 20,000 for concerts and special events, the arena is the largest indoor venue in Western New York.
In addition to hosting Buffalo Sabres games, KeyBank Center also serves as a venue for concerts, family shows, and other sporting events throughout the year.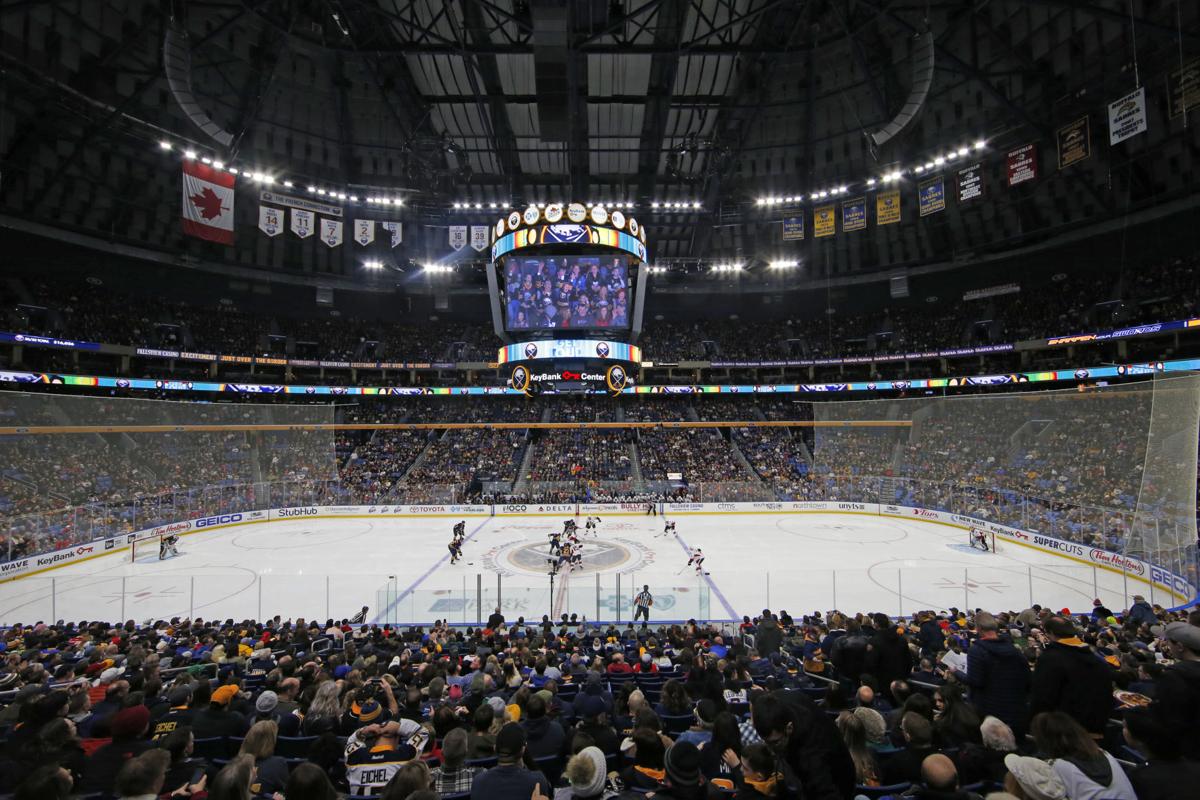 Where is KeyBank Center Located?
KeyBank Center is situated at 1 Seymour H. Knox III Plaza in downtown Buffalo, New York.
The arena is conveniently located near various attractions such as Canalside, the Buffalo and Erie County Naval and Military Park, and the Erie Basin Marina.
Its downtown location offers easy access to public transportation, parking facilities, and numerous dining and entertainment options.
The Best Way to Get to KeyBank Center
There are several transportation options available for getting to KeyBank Center. Depending on your preference and starting point, you can choose from the following:
Public Transportation: The Buffalo Metro Rail is a cost-effective and convenient way to reach the arena. The closest Metro Rail station to KeyBank Center is the Special Events Station, just a short walk away. On game days, the Metro Rail offers extended service hours to accommodate fans.

Driving: If you prefer to drive, KeyBank Center is easily accessible from major highways such as I-190, NY-5, and NY-33. Be prepared for traffic congestion during peak hours and events, and make sure to plan your route in advance.

Ridesharing: Ridesharing services like Uber and Lyft are widely available in Buffalo, providing a convenient alternative to public transportation or driving.

Biking: Buffalo boasts a comprehensive network of bike lanes and paths, making it easy to reach KeyBank Center on two wheels. Bike racks are available near the arena for secure storage during events.
Parking near KeyBank Center
There are several parking options available near KeyBank Center, including both on-site and off-site lots and garages.
On-site parking is available at the KeyBank Center Parking Ramp, located on Illinois Street, as well as the surface lot on Perry Street. Off-site parking can be found at various lots and garages throughout downtown Buffalo.
Prices and availability may vary depending on the event, so it's a good idea to research your options and reserve a spot in advance if possible.
The Best Restaurants near KeyBank Center
Buffalo offers a diverse dining scene, with plenty of options to satisfy your taste buds before or after a game or event at KeyBank Center.
Some popular nearby restaurants include:
(716) Food and Sport: This sports-themed restaurant is located just a stone's throw away from KeyBank Center, making it the perfect spot for a pre-game meal or post-event celebration. With an extensive menu featuring classic pub fare and a wide selection of local craft beers, (716) Food and Sport is a favorite among Sabres fans.

Pearl Street Grill & Brewery: A staple of Buffalo's dining scene, Pearl Street Grill & Brewery offers a variety of delicious dishes, including their famous stuffed hot peppers and signature sandwiches. Pair your meal with one of their award-winning house-brewed beers for the ultimate dining experience.

Swannie House: Established in 1886, Swannie House is one of Buffalo's oldest taverns. This historic venue serves up tasty comfort food and a variety of beverages in a warm, welcoming atmosphere. If you're looking for a taste of Buffalo's history, Swannie House is a must-visit.

The Mahony: Located in the historic Fairmont Creamery Building, The Mahony offers an upscale dining experience with a diverse menu inspired by global cuisine. Whether you're craving a juicy steak, fresh seafood, or a flavorful pasta dish, The Mahony has something for everyone.
The Best Bars near KeyBank Center
Buffalo boasts a thriving nightlife scene with numerous bars and pubs within walking distance of KeyBank Center. Some popular options include:
Labatt Brew House: Just a short walk from the arena, Labatt Brew House features a taproom with 20+ unique beers on tap, including exclusive brews you won't find anywhere else. The laid-back atmosphere and outdoor seating make it a popular spot for fans before and after events at KeyBank Center.

Buffalo RiverWorks: This unique waterfront entertainment complex offers a variety of bars, restaurants, and recreational activities. With multiple bars on-site, you can choose from a wide range of drinks, including craft beers, cocktails, and wine. Enjoy your beverage alongside stunning views of the Buffalo River.

Big Ditch Brewing Company: Known for its delicious craft beers and inviting atmosphere, Big Ditch Brewing Company is a favorite among locals and visitors alike. Sample their signature brews or enjoy a refreshing cocktail in their spacious taproom.

Cobblestone Live: A premier live music venue in Buffalo's historic Cobblestone District, Cobblestone Live offers a full-service bar, an extensive food menu, and an impressive lineup of live performances. It's the perfect spot to unwind with a drink and enjoy some live entertainment after an event at KeyBank Center.
The Best Hotels near KeyBank Center
For out-of-town visitors or those looking for a convenient place to stay near KeyBank Center, there are several hotels within a short distance of the arena.
Some top choices include:
Marriott Buffalo Harborcenter: Connected to KeyBank Center via a pedestrian bridge, this modern hotel offers comfortable accommodations and stunning views of the Buffalo waterfront. Guests can enjoy on-site dining, a fitness center, and easy access to nearby attractions.

Hyatt Regency Buffalo: Located in the heart of downtown Buffalo, the Hyatt Regency offers stylish rooms and a range of amenities, including an indoor pool, fitness center, and on-site dining options. The hotel is just a short walk or Metro Rail ride away from KeyBank Center.

Courtyard by Marriott Buffalo Downtown/Canalside: This contemporary hotel is situated near the popular Canalside district and within walking distance of KeyBank Center. Guests can enjoy spacious rooms, an indoor pool, fitness center, and an on-site restaurant and bar.

Hampton Inn & Suites Buffalo/Downtown: Offering comfortable accommodations and a range of amenities, including complimentary breakfast, an indoor pool, and a fitness center, this hotel is conveniently located near KeyBank Center and other downtown attractions. A free shuttle service is also available for guests to explore the surrounding area.

Embassy Suites by Hilton Buffalo: This all-suite hotel features spacious accommodations with separate living and sleeping areas, making it an excellent option for families or longer stays. The hotel is located in downtown Buffalo and offers an on-site restaurant, fitness center, and complimentary breakfast.
The History of KeyBank Center
KeyBank Center, originally known as Marine Midland Arena, opened its doors on September 21, 1996.
The construction of the arena was part of a broader effort to revitalize downtown Buffalo and replace the aging Buffalo Memorial Auditorium, which had been the home of the Buffalo Sabres since their inception in 1970.
Over the years, the venue has undergone several name changes, including HSBC Arena and First Niagara Center, before adopting its current name in 2016.
Throughout its history, KeyBank Center has hosted numerous high-profile events, including the 1998 NHL Entry Draft, the 2001 NCAA Men's Basketball Tournament, and the 2011 IIHF World Junior Championship.
The arena has also welcomed a wide array of world-renowned performers, such as Bruce Springsteen, Madonna, and U2, further solidifying its reputation as a premier entertainment destination in Western New York.
Where to Get Tickets for KeyBank Center
Tickets for Buffalo Sabres games and other events at KeyBank Center can be purchased through the following channels:
Official KeyBank Center Box Office: Located at the arena, the box office is open during regular business hours and sells tickets for all upcoming events. On event days, the box office typically remains open until the event's start time.

Online Ticket Providers: Websites like Ticketmaster and StubHub are popular options for purchasing tickets online. Be sure to use reputable websites and check for any additional fees before finalizing your purchase.

Secondary Market: For sold-out events or hard-to-find tickets, you may be able to find tickets through secondary market sellers or ticket broker websites. Be cautious when purchasing tickets from unofficial sources, as the risk of counterfeit or invalid tickets is higher.
Does KeyBank Center Offer Tours?
Yes, KeyBank Center offers guided tours that provide an exclusive behind-the-scenes look at the arena. Tours typically last about an hour and include access to areas not typically open to the public, such as the press box, locker rooms, and VIP areas.
Availability and tour schedules may vary, so it's best to contact KeyBank Center directly or visit their website for the most up-to-date information on tour offerings and reservations.
In conclusion, KeyBank Center is an essential destination for hockey fans, concert-goers, and event attendees in the Buffalo area. With its convenient location, modern amenities, and rich history, the arena is a source of pride for the city and its residents.
Whether you're attending a Buffalo Sabres game or catching your favorite band in concert, KeyBank Center provides an unforgettable experience that will keep you coming back for more.
Be sure to explore the surrounding downtown area, taking advantage of the numerous dining, entertainment, and accommodation options available.
From public transportation to nearby attractions, you'll find that KeyBank Center is the perfect centerpiece for a memorable visit to the vibrant city of Buffalo.