Home to The New York Islander's Hockey Team, the UBS Arena is responsible for hosting more than just Hockey games. The arena plans to host big names like Kendrick Lamar and Twenty-One Pilots. Also on the roster is a UFC fight later this year. 
The 2022-23 season is going to be a big one for the Islanders as they reign in their 50th anniversary. So for those devoted fans who want to be at the UBS Arena for a few games this monumental season, or those who have to see New Kids on the Block at the end of the month, it's important to get your accommodations figured out early.
It'll be best to make the most of your trip to the arena, so whether you're coming a long way to catch an event or want to turn a single event into a fun weekend at home, here are the 20 best places to stay near the UBS arena.
Courtyard by Marriott New York Queens/Fresh Meadows
Fresh Meadows provides all the amenities you might expect when staying in a hotel; free wifi, continental breakfast, and beautiful common spaces. The Courtyard is about three miles from the UBS arena. If you plan on flying in, it's a thirteen-minute drive to the airport.
With their modern furnishings, a promise of cleanliness, and great reviews, Fresh Meadows will not disappoint.
Casa Azul Hotel Blu JFK
Giving off modernist and slightly futuristic vibes, the Casa Azul is attractive in its overall architecture and location. This hotel is a little over a mile from the UBS Arena and less than a twenty-minute drive from JFK Airport.
It provides quick access to public transportation, 24-hour access to the front desk, and self-parking. The Casa Azul would be an adventurous way to elevate your experience as you look forward to your live event.
LaGuardia Plaza Hotel
Only minutes away from LaGuardia airport. The rooms at LaGuardia Plaza have a retro spin, hygienic feel, and elaborate comfort. The lobby and bar create a luxe atmosphere! While your drive to UBS will be about twenty minutes, it would be well worth it for some pre-gaming in the bar.
Your options for rooms for you and your travel partner(s) are excellent and sure to meet your needs. Enjoy access to both restaurants, a bar, and a cafe on the property.
Adria Hotel and Conference Center Bayside Queens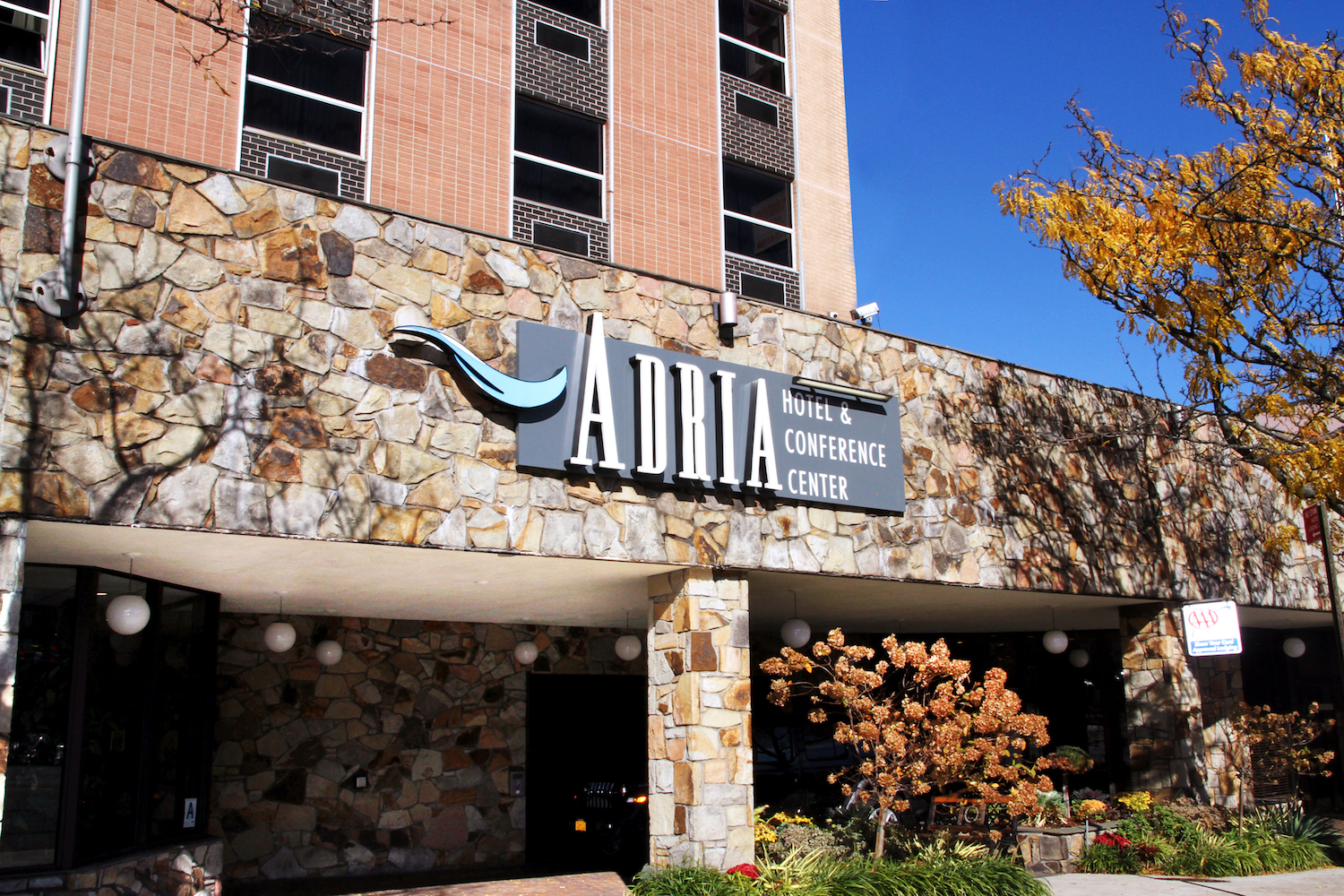 The Adria hotel is a short distance from UBS. Here, you can expect complimentary breakfast and free parking. The best aspect of staying at the Adria is the art you will find in your room. It stands out from most hotels in that it is unique and much more aesthetically pleasing.
While you may not need a conference center, the atmosphere and quaintness are perfect for getting ready for your event and resting afterward. Get ready to expand your palate with several restaurant options in the area.
Garden City Hotel
If you plan to take your UBS visit the next level and want to have that authentic New York experience. Garden City is your place. The rooms, lobby, and dining areas all have a uniquely European flair.
A view of the city and the indoor pool will only add to the lavish room. The hotel also features David Burke's restaurant and bar, which you can enjoy indoors or in their outdoor dining area. All of this and only a sixteen-minute drive to UBS.
The Inn at Great Neck
At the Inn at Great Neck, a wonderful hotel experience meets convenience. Since it's about seven miles from LaGuardia and a seventeen-minute drive to the arena, you'll get to enjoy an in-house restaurant and continental breakfast.
The real benefit to Great Neck is the gorgeous and spacious bathrooms. Book the Deluxe King room and enjoy some complimentary slippers, to enhance relaxation after you visit UBS.
Radisson Hotel JFK Airport
About 8 miles from USB Arena, the Radisson offers first-class amenities; an outdoor terrace, laundry services, a 24-hour fitness center, a sauna, and multilingual staff. If you're taking little ones, the Radisson will provide cribs or infant beds. You can enjoy the restaurant and bar at the hotel as well as a "to-go" breakfast for a charge.
Luxury Studio Suite
If you enjoy a more private experience that comes with all of the comforts of home, you can book this studio on Expedia and be within walking distance of the arena. This deluxe suite will provide you with a washer and dryer, a comfortable living room, and a kitchen. It sleeps four people. While this option may be more reminiscent of an Airbnb than a hotel, it still provides the excitement of travel with the comforts of home.
Bellerose Inn
Bellerose Inn offers a quintessential hotel experience, including free parking, car services, and all bathroom amenities. The reviews for this hotel boast of cleanliness. Bellerose is only an eight-minute drive to the arena and a ten-minute drive to JFK Airport. You can expect coffee and tea in the lobby, and express check-in.
Anchor Inn
Staying at the Anchor Inn will have you staying twenty minutes from LaGuardia Airport and the UBS arena. It provides free continental breakfast, a fitness center, free parking, and room service. The rooms remain quaint, yet will meet all expectations for travel. 24/7 access to the inn's staff guarantees a cheerful and soothing experience.
Five Towns Inn – JFK Airport
Five Towns resides only five miles from the New York Islanders, is a short distance from JFK airport and you can use the free shuttle from the airport to the Inn. While there, you can enjoy the Victorian-Esque lobby and comfortable rooms. Plan on free parking, breakfast, a promise of consistent disinfecting of common spaces, and contactless check-in.
Best Western Queens Gold Coast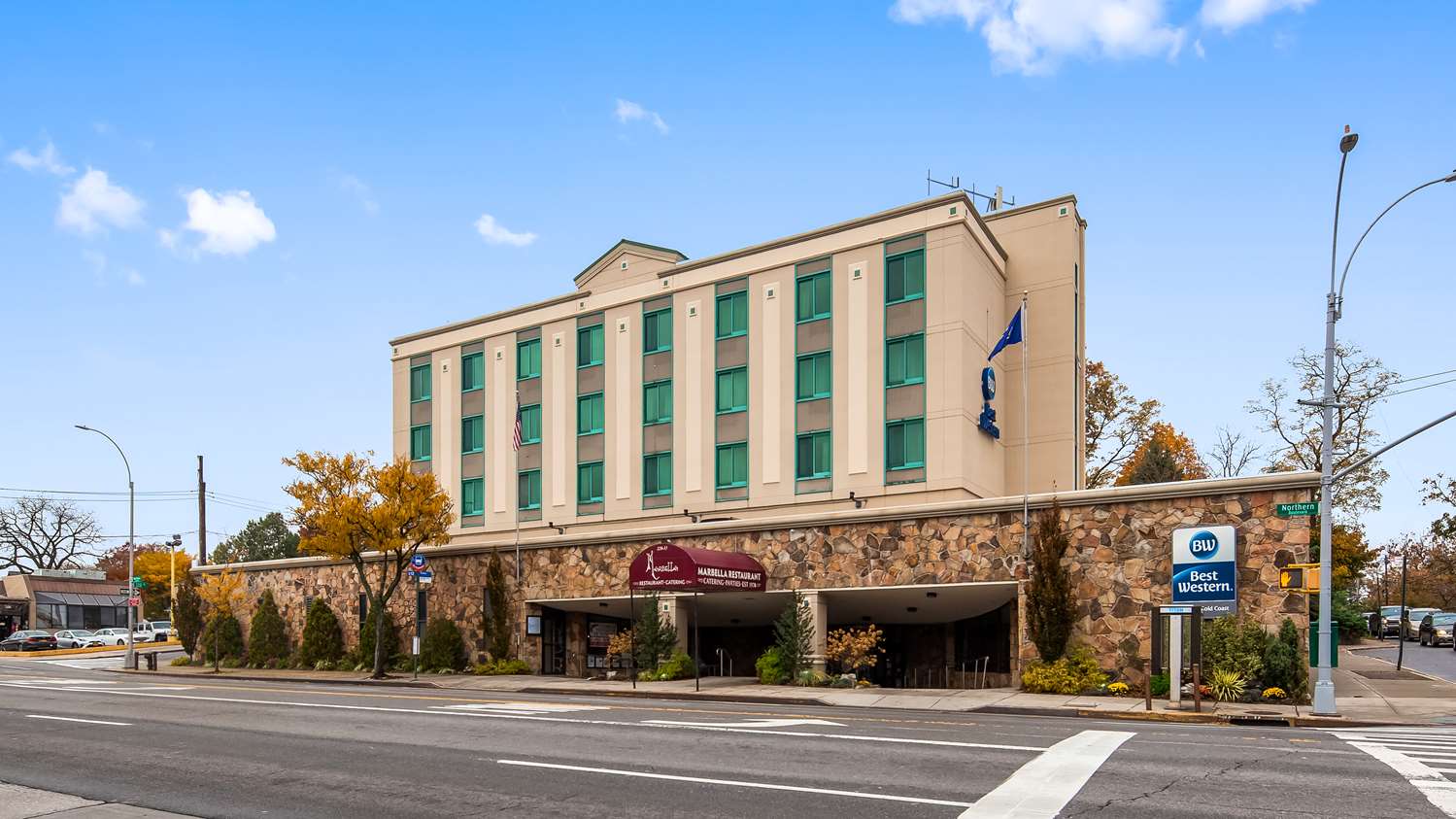 Expect a 15-minute commute to your live event and a spacious room. Best Western offers several options for dining, including an in-house restaurant, free breakfast, room service, and a bar. There are extensive accessibility services on the property.
If you require laundry access, dry cleaning, luggage services, or concierge services, you can find it all here.
John Hotel
Opt in for the Family Suite room and expect a kitchenette and a large, spacious room with two queen-size beds. John Hotel will meet your basic needs while putting you only seven miles from UBS. Reviews of this property indicate cleanliness and excellent customer service. A few short minutes from LaGuardia Airport makes John Hotel all the more advantageous.
Asiatic Hotel
Right near LaGuardia, the Asiatic offers minimalist rooms with comfort and cleanliness. Expect their front desk staff to greet you upon arrival, elevating the hospitality of the property. Basic amenities include; breakfast, housekeeping, and a coffee maker in the room. If you find yourself in need of a refrigerator, just let the front desk know. Customer reviews rave about services, cleanliness, and overall experiences. A little less than seven miles from the arena.
Cresthaven Inn JFK
With virtually the best price for lodging near the arena, Cresthaven offers smaller rooms but with fresh decoration and enhanced safety measures. Cresthaven provides basic amenities and free uncovered parking. You can depend on an economical and cozy stay.
Holiday Inn Express Jamaica
Eleven minutes from JFK, Holiday Inn has attractive rooms with what appears to be luxurious bedding. Ring lights around the bathroom mirror will make sprucing up for your event all the better.
Putting you only five miles from the UBS arena, you can count on a fitness center and the benefit of being a smoke-free property. A contemporary property and room amenities can be found here.
Springhill Suites by Marriott
Springhill Suites' aesthetic is minimal, modern, and attractive found throughout the property. Once again, expect a free shuttle from JFK airport to the suites. Plan to enjoy a free breakfast buffet every day. When it is time to relax, their TVs include Netflix so you can still binge your favorite shows! Enjoy a microwave, mini-fridge, and coffee pot in your room.
Crowne Plaza at JFK Airport
Have an extravagant stay only five miles from the UBS arena at the Crowne Plaza, with a gorgeous city-scape theme throughout the property. On-site amenities include; a restaurant, bar, snack bar, free airport shuttle, free parking, convenience store, and sound-proof rooms.
Crowne goes beyond basic amenities and service and can provide anything you may need on your trip.
Van Wyck Hotels & Suites
Located in Queens and provides quick access to the arena and JFK. The building itself is beautiful, and the interior is modern and updated. Rooms come with a good view, and they offer a variety of rooms ranging from basic to deluxe suites. Van Wyck is about 30 minutes away from the arena.
The Vanderbilt Hotel Suites
For the plushest option, only seven miles from the USB arena, book a room at The Vanderbilt Hotel, with large elegant rooms and private bathrooms, enjoy free valet or self-parking, and an outdoor pool with a bar.
Explore the atmosphere by enjoying the garden, terrace, restaurant, and fitness center. Staying at The Vanderbilt will be sure to make your visit top-notch and ensure a fabulous experience. However, plan on paying for the privilege.
Final Thoughts
No matter where you choose to stay, there are plenty of places that will get you close to the UBS arena. There's truly something for everyone's taste, style, and budget.