From Cirque du Soleil to monster trucks, there's almost nothing you can't experience at the Wells Fargo Center in Philadelphia. But what draws most people to this famous indoor arena is the incredible sports scene and famous food. During your planning, you will probably want to consider restaurants near Wells Fargo Center.
If you intend to take a trip to this historic city, the flavor is something you won't want to miss, so your visitors won't be complete without a taste of Philadelphia's iconic fare. Whether you're on the hunt for cheesesteaks or a salted soft pretzel, Philadelphia won't let you down.
If you need some help planning out the details of where to grab dinner or evening drinks following the game, here are 11 of the best restaurants near Wells Fargo Center.
1. Pat's King of Steaks
From its humble beginning as a hotdog stand, Pat's King of Steaks was founded by none other than the inventor of cheesesteaks, Pat Olivieri. One day, this working man decided to put some chopped meat on his Italian roll, add some onions, and the cheesesteak was born.
Since the 1930s, Philadelphians have been eating cheesesteaks, and it does not look like it'll be going out of fashion anytime soon. If you are in Philadelphia, you must visit this restaurant to have the full PA experience.
Get a classic cheesesteak loaded with onions, cheese, and of course, steak. Or, get creative and choose a custom set of toppings. If you want a throwback to this location's early days, order the hotdog. It's sure to be as good now as it was then.
2. Taproom on 19th
After an exciting game, what better way to celebrate than to fill up on a hearty meal with friends at Taproom on 19th?
Situated just 11 minutes from the Wells Fargo Center, you can head up N. 15th St. for attractions such as Philadelphia's Magic Gardens and the Philadelphia Museum of Art. This quaint pub is always within arms reach of entertainment.
This tavern-style eatery offers a friendly atmosphere and pub-style fare perfect for satisfying that classic Philly craving. Cozy up to the bar and order everything from cheesesteaks to chicken wings. Wash it down with one of many rotating craft beers on draught, and take a moment to appreciate life's simple pleasures.
3. Chickie's & Pete's
This popular local chain has been serving sports fans and Philadelphians since 1977. Now, there are several locations across the northeastern area. There is even one location bringing the excellent taste of Philadelphia all the way to Las Vegas.
Fortunately, a trip to the Wells Fargo Center will make it very easy to try out this popular food chain since there is one in the center. Situated next to the arcade and bar, you can sample the famous crab fries or try out one of the sandwiches.
If you want more options, however, there are plenty of other stores in the area to check out. At 1526 Packer Ave. is the South Philadelphia location. Here, you can enjoy the whole menu and atmosphere of Chickie & Pete's.
4. La Rosa Pizza
What goes better with a party than deep-dish pizza? If you are in Philadelphia, you have no doubt heard of its fame for some of the best pizza you will ever have. If you're visiting the Wells Fargo Center, one of the best locations serving hot, fresh pies is La Rosa Pizza.
This simple pizzeria has been serving the community of South Philadelphia for decades. With unique options like gravy pizza, spinach pizza, and potato pizza, these food artisans have mastered classic tastes served with modern style.
Customers rave about this location's quality ingredients and excellent customer service. If you want to eat like a local during your stay, be sure to stop by for a slice.
5. Philly Pretzel Factory
Philly Pretzel Factory is one of the most popular pretzel chains in the east and is rapidly becoming known nationwide. Founded in the Mayfair area of Philadelphia, the original Philly Pretzel Factory made its debut on Frankford Avenue.
Pretzels have become synonymous with halftime and bar side bites. They are the perfect way to get your salt fix and pair excellently with draft beers and ales.
The location at 3rd and Oregon will put you just a few minutes from the Wells Fargo Center. Be sure to stop by between plays or pick up a platter of mini hotdogs for your home game. Wherever you enjoy these pretzels, it's always the right choice.
6. Flannel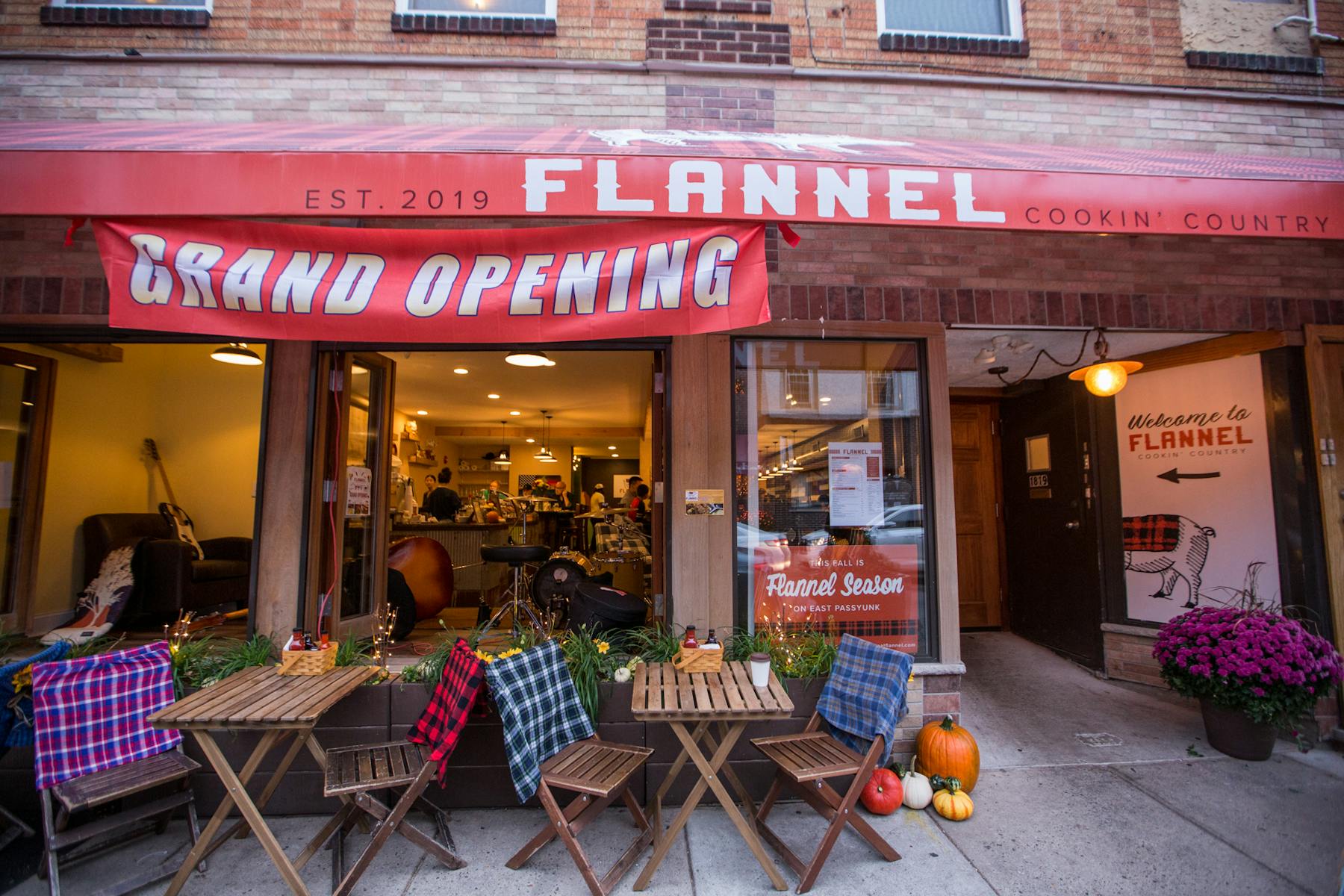 For a home-style meal during your trip, you won't want to pass up the opportunity to visit Flannel, a homey eatery with southern-inspired fare.
This cozy restaurant serves brunch through dinner and even cocktails. Artwork created by local artists and a touch of hospitality will make it difficult to leave the table at this inviting location. It's no wonder it's rated one of the best restaurants near Wells Fargo Center.
Join the family, and the kitchen will be happy to cook up all your favorites, from grits and eggs to catfish sandwiches. This diner is one that you'll be talking about for years to come, and you'll likely be back again and again.
7. Popi's Italian Restaurant
For a quieter evening after a show at the Wells Fargo Center, visit Popi's Italian Restaurant in the south Philadelphia area. Award-winning small plates are sure to please the palate and leave you feeling satisfied.
This family-owned location serves up authentic Italian cuisine created by a clever brother and sister. Their ambition was to share their excellent recipes with the neighborhood. Luckily for the rest of us, their commitment to quality and excellent service soon gained them a high reputation.
Now, this comfortable but elegant eatery is well known for select choices such as the chicken parmesan and Veal Cecilia across the Philadelphia area. Stop by for Happy Hour and enjoy a classic Italian experience.
8. La Llorona Cantina Mexicana
What goes better with a game than chips and salsa? Or better yet, a cheesy quesadilla and sour cream. If you're a fan of authentic Mexican cuisine, you'll love La Llorona Cantina Mexicana.
Stop by this popular eatery for some classic flavors. If you come during happy hour, you can pair it with drinks like margaritas and martinis at a discount. Lasting from 3 to 6 PM, you'll have plenty of time to enjoy your cocktails while you recap the game.
Plus, this popular location serves brunch on Saturdays and Sundays from 11 AM to 3 PM. Order breakfast or lunch and two hours of bottomless mimosas.
9. 1100 Social at Xfinity Live!
If you struggle to choose between different flavors, 1100 Social at Xfinity Live! has you covered. Classic tastes with a modern twist, this restaurant is a crowd-pleaser.
Xfinity Live is an exciting location to find entertainment, shopping, and dining. Among them is an excellent indoor/outdoor sports bar, serving everything from pierogies to sausage and pepper sandwiches. There's something for everyone on this menu.
Enjoy your meal at this lively location and relax at one of several bars, outdoor seating arrangements, or fire pits. You can even catch live entertainment and karaoke nights. Just check the schedule online. This truly is a place to socialize.
10. Fitz on 4th
Philadelphians come in all shapes, sizes, tastes, and flavors, and vegans are no exception. Fitz on 4th is a vegan eatery that caters primarily to those who prefer meals without animal products.
Located just 2.9 miles from the Wells Fargo Center, anyone enjoying an event won't have to travel far for a fresh meal at this eatery. Order a hearty empanada or the Green Goddess Toast. Whatever you choose, make sure to try out a vegan cocktail to go with it.
Dining in Philly can be both delicious and conscientious with excellent choices such as these. Great for the gut and rich in flavor, your pallet won't be disappointed by this incredible restaurant.
11. Jet Wine Bar
For a top-of-the-line experience in Philadelphia, visit Jet Wine Bar. Try the beefsteak wine barbecue and other small plates in a sleek, classy setting.
You can order wine by glass or bottle, light meals, and even brunch. This upscale restaurant features seasonal choices conscientiously selected from vineyards worldwide.
If wine isn't your thing, don't worry. You can also order beers and cocktails. Pair it with mezcal or a spicy fried chicken sandwich. This intriguing eatery is a bar lover's dream with an artistic touch.
Which One Will You Choose?
Whether you're in Southern Philadelphia to visit the Wells Fargo Center or enjoy any of the excellent accommodations or entertainment it has to offer, there is sure to be excellent dining nearby. Wherever you choose to stop, the best restaurants near Wells Fargo Center won't be challenging to find.
Add one of these iconic locations to your list of potential restaurants to get an authentic taste of Philly.