Pennsylvania, a state rich in sports history, is home to numerous stadiums and arenas where fans gather to cheer on their favorite teams and enjoy exciting games and events.
Spanning from colossal football stadiums to intimate baseball parks, Pennsylvania offers an array of sports venues that cater to various sporting events and concerts, promising an unforgettable experience for all who visit.
Some of the standout venues in Pennsylvania include the renowned Beaver Stadium in University Park, Lincoln Financial Field in Philadelphia, and Heinz Field in Pittsburgh.
These monumental stadiums not only host thrilling matches but are also lauded for their innovative architecture and world-class amenities that accommodate attendees' needs. As a result, these venues have become essential landmarks that encapsulate the lively sports culture in Pennsylvania.
In addition to the major sporting arenas, Pennsylvania boasts an assortment of smaller stadiums and indoor venues, such as PNC Park in Pittsburgh, Wells Fargo Center in Philadelphia, and the Clipper Magazine Stadium in Lancaster.
These intimate settings foster a more personal experience for spectators, making them an integral part of the state's sports landscape. Altogether, Pennsylvania's eclectic selection of stadiums and arenas reflects its diverse and passionate sports community.
Stadiums and Arenas in Pennsylvania
Pennsylvania has a rich history of stadiums and arenas that have played host to countless sports games, concerts, and events. This section will highlight some notable historic stadiums and arenas, as well as some prominent modern ones.
Historic Stadiums and Arenas
Connie Mack Stadium: Originally known as Shibe Park, this was home to the Philadelphia Athletics from its opening in 1909 to 1954. It was renamed Connie Mack Stadium in 1953 and continued to serve as the home for the Philadelphia Phillies until 1970, when they moved to Veterans Stadium. Connie Mack Stadium was ultimately demolished in 1976.
Hersheypark Arena: Built in 1936, Hersheypark Arena is an indoor arena located in Hershey, Pennsylvania. It has hosted various sports events, including ice hockey and basketball, and is still used for smaller events to this day. Throughout its history, the arena has featured notable events such as performances by the Harlem Globetrotters and shows by the Ice Capades.
Modern Stadiums and Arenas
PPG Paints Arena: With a seating capacity of over 18,000 people, this multi-purpose arena located in Pittsburgh, Pennsylvania is home to the NHL's Pittsburgh Penguins. PPG Paints Arena has hosted numerous events, including hockey games, basketball games, concerts, and various shows.
Wells Fargo Center: This impressive indoor arena is located in Philadelphia and serves as the home for the NBA's Philadelphia 76ers and the NHL's Philadelphia Flyers. With a seating capacity of over 19,000 people, the Wells Fargo Center has been the venue for numerous events including sports games, concerts, and family shows.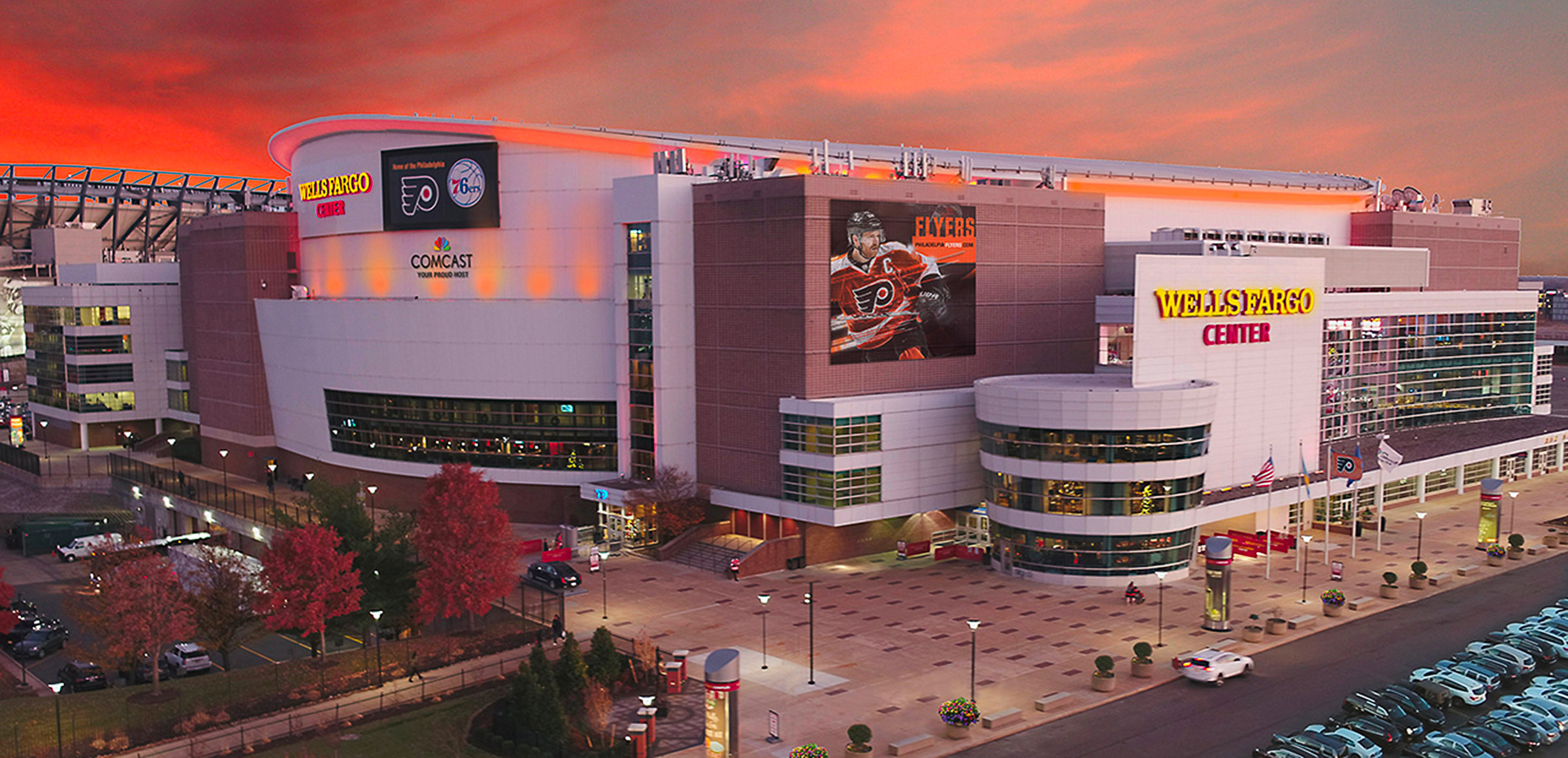 FirstEnergy Stadium: Located in Reading, Pennsylvania, this ballpark serves as the home for the Reading Fightin Phils, the Double-A affiliate of the Philadelphia Phillies. The stadium opened in 1951 and has a seating capacity of over 9,000 people.
These highlights are just a fraction of the many stadiums and arenas in Pennsylvania, each with their own unique history and importance to the state's sporting and entertainment landscape. From historic venues that have witnessed the evolution of sport and entertainment, to modern arenas that continue to host exciting events, Pennsylvania boasts an impressive lineup of stadiums and arenas for fans and visitors to enjoy.
Popular Sports Played in Stadiums and Arenas
Football
Pennsylvania is home to two major NFL teams, the Philadelphia Eagles and Pittsburgh Steelers. The Eagles play at the Lincoln Financial Field, while the Steelers call the Heinz Field their home. Fans gather in these stadiums to enjoy the thrill of American football, with each team having a rich history of winning championships. Both teams have strong fan bases and have contributed significantly to the state's sports culture.
Baseball
Baseball is a popular sport in Pennsylvania, with two major league teams, the Philadelphia Phillies and the Pittsburgh Pirates. The Phillies play at the Citizens Bank Park, while the Pirates play at PNC Park. These stadiums provide an enjoyable experience for baseball fans, offering comfortable seating, great food options, and stunning views. Additionally, minor league games and college baseball are played in various ballparks across Pennsylvania, such as Coca-Cola Park in Allentown.
Basketball
In Pennsylvania, basketball games are commonly held in arenas like the Wells Fargo Center, which hosts the NBA's Philadelphia 76ers. This team has a rich history and passionate fans, making for an exciting atmosphere in their home stadium. For college basketball, the University of Pennsylvania's Palestra serves as an iconic venue. Throughout the state, various basketball events for high schools and universities are held, showcasing local talent and nurturing future stars.
Hockey
Hockey is another popular sport played in Pennsylvania's arenas, with two NHL teams, the Philadelphia Flyers and the Pittsburgh Penguins. The Flyers play at the Wells Fargo Center, sharing the arena with the 76ers, while the Penguins play at PPG Paints Arena. These venues witness intense hockey action throughout the season, as both teams have strong fan bases and histories of success.
Soccer
Soccer is gaining popularity in Pennsylvania, as the state is home to the Philadelphia Union, a professional team that competes in Major League Soccer (MLS). Their matches are held at Subaru Park stadium, providing a modern and engaging atmosphere for soccer fans. Soccer enthusiasts can also enjoy college and local league games in various stadiums throughout Pennsylvania, showcasing the sport's growing presence in the state.
Stadiums and Arenas Management
Facility Management Practices
Efficient facility management is essential for stadiums and arenas in Pennsylvania to enhance the experience of visitors and athletes while ensuring cost-effectiveness. Some common practices include:
Multiple use of space: Many stadiums and arenas are designed for multi-purpose use, potentially hosting concerts, sports events, and other activities, providing a diverse range of revenue options.
Ticketing and access: Implementing modern access control systems with high-tech ticketing enables smooth crowd management and prevents fraudulent entry at events.
Security: Stadium and arena managers prioritize visitor safety, organizing regular inspections to address potential risks. Moreover, they work in collaboration with local law enforcement agencies to provide ample security during events.
Improved amenities: Enhancing visitor experience is crucial for stadiums and arenas. This involves offering better food options, comfortable seating arrangements, and accessible restrooms.
Sustainability Efforts
Stadiums and arenas in Pennsylvania are increasingly adopting sustainable practices to minimize their environmental impact. Some of these efforts include:
Energy efficiency: Installing LED lighting systems, energy-efficient HVAC equipment, and optimizing electricity consumption reduce energy costs and contribute to a venue's overall sustainability.
Waste management: Implementing recycling and composting programs helps manage waste produced during events effectively. Training staff on waste segregation and engaging with waste management companies further advances these initiatives.
Water conservation: Modern stadium and arena managers explore water-saving measures such as rainwater harvesting systems, low-flow plumbing fixtures, and efficient irrigation systems for the grounds.
By implementing efficient facility management practices and prioritizing sustainability, stadiums and arenas in Pennsylvania can remain profitable and environmentally friendly while providing a top-notch experience for visitors and athletes alike.
Noteworthy Events at Pennsylvania Stadiums and Arenas
Sporting Events
Pennsylvania is home to a wide range of sports venues that have hosted many memorable sporting events. Some of these events include:
PNC Park: This classic-style ballpark in Pittsburgh, which opened in 2001, is the home to the major league baseball team, the Pittsburgh Pirates. The park embraces the spirit of early ballpark originals such as Forbes Field, Wrigley Field, and Fenway Park.
Little League World Series: The annual Little League World Series takes place each August at the historic stadium in Williamsport, Pennsylvania. The event brings together young baseball players from around the world to compete for the title of world champions.
FirstEnergy Stadium: Located in Reading, Pennsylvania, FirstEnergy Stadium has been the site of numerous baseball games and other sporting events throughout its history.
Concerts
In addition to hosting sports events, many of the stadiums and arenas in Pennsylvania have been the stage for some fantastic concerts:
Hersheypark Stadium: This iconic venue in Hershey, Pennsylvania, regularly hosts big-name concerts during the summer months from artists across various genres.
PNC Park: Apart from baseball games, this venue has featured concerts by renowned artists and bands, providing entertainment to thousands of fans.
Festivals
Pennsylvania stadiums and arenas have also been the location for various festivals, including:
Firefly Music Festival: Held annually at the Dover International Speedway in Dover, Pennsylvania, Firefly Music Festival brings together an eclectic mix of artists and bands from various musical genres for a multi-day live music experience.
Pennsylvania College of Technology: The college's baseball stadium has been the home field for the Wildcats for over a decade, hosting sports events as well as community festivals and gatherings during the baseball season.
By showcasing such a diverse range of events, Pennsylvania's stadiums and arenas have brought excitement and entertainment to the lives of countless residents and visitors alike.
James is a big time NBA Golden State follower, who makes sure to catch games when he's in the area. He likes to follow International Soccer, with an interest in small town soccer club, Blackburn Rovers located in the North on the UK.