Nashville is home to some of the top attractions in America, especially if you're into music.
Few of these attractions are better than Bridgestone Arena, home to many of the city's best performances.
If you're stopping in for a show and need a place to stay, here are some of the best hotels near Bridgestone Arena.
1. The Germantown Inn
The Germantown Inn is a boutique destination about 1.3 miles from Bridgestone Arena. Although ostensibly a three-star location, its ten individually-designed suites offer modern luxuries and original, distinctive decor. It also has service drastically exceeding its rating, with most visitors considering it one of the best hotels in the entire city.
Each suite here typically sleeps up to two people, in part because the original home wasn't designed to have too many people in one area. Services include free parking, newspaper access, an outdoor fireplace, and a shared lounge for mingling.
Dining options are limited but can include personal charcuterie boards, wine or beer, and some accommodation for special diets. It's also well away from many of the busier streets in the city, so the overall atmosphere is considerably more relaxing than standard hotels.
As an older renovated home, this property is not specially ADA-compliant and may not be suitable for guests with mobility or hearing disabilities. Staff may be able to accommodate some special needs, but contact them ahead of time to be sure.
2. Cambria Hotel Nashville Downtown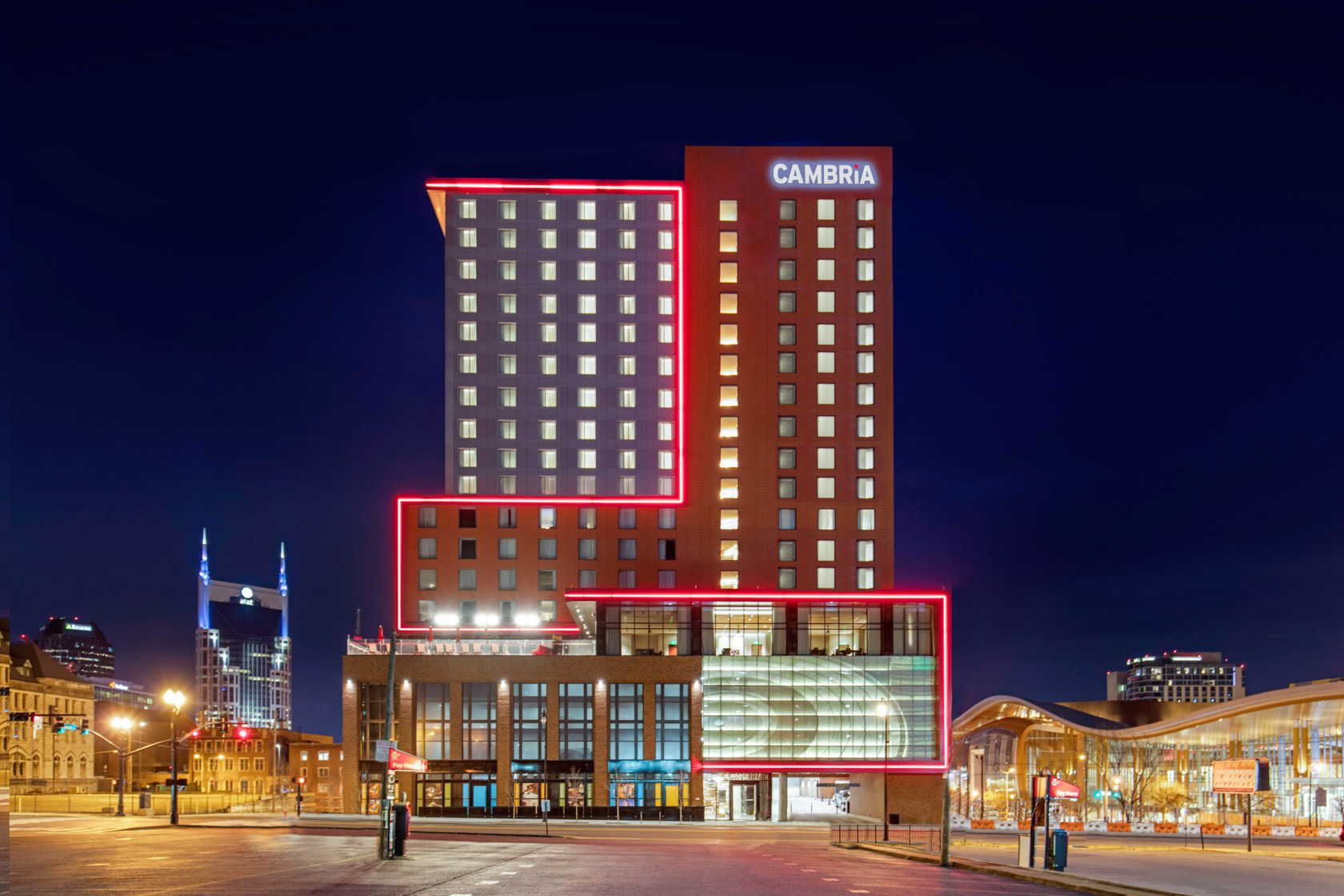 If you're looking for somewhere close to the action, Cambria Hotel's Nashville Downtown location is a good place to start. A comfortable 0.2 miles from Bridgestone Arena, this facility has 255 rooms and a wide selection of room styles to meet different needs.
Most rooms sleep two to four people comfortably, with the single King bed rooms often allowing an extra bed on request. The decor is relatively standard for hotels but includes dark wallpaper behind the bed and across from the TV. Notably, this helps reduce glare if you're using the television, and it's a nice touch.
The hotel's fifth floor includes a bar and full-service restaurant for on-site dining, while numerous other restaurants and attractions are available within just half a mile. The downtown location means dining isn't a worry here, and that's always a nice touch.
Other amenities here include a grab-and-go area, an outdoor pool, valet cleaning service, optional late check-out, staff trained in first-aid services, and free wireless internet. ADA-friendly rooms are available, too.
Cambria's downtown Nashville location is a good choice if you're looking for 4-star accommodations in the heart of the city. Although it's not cheap, the prices here are reasonable and acceptable to most travel budgets, making it even friendlier than it already was.
3. JW Marriott Nashville
The JW Marriott Nashville is a four-star luxury hotel about 0.2 miles from Bridgestone Arena, making it one of the most conveniently accessible locations in the city. With 33 hotel floors and 533 rooms and suites, it's also one of the most spacious hotels and rarely sells out unless they're a particularly in-demand event going on.
Rooms are available with the standard assortment of one king or two queen beds, roughly divided into low, middle, and high floors. These rooms typically feature floor-to-ceiling windows for views of the area, marble bathrooms, lighted mirrors, 24-hour room service, and air conditioning.
Some room types are ADA-accessible with roll-in showers and visual notifications. However, wireless internet is only available for an extra fee, which is a little worse than most other hotels in the area.
Dining is excellent, however, starting with the Bourbon Steak on the 34th floor. Run by award-winning chef Michael Mina, this restaurant offers outstanding views of the area and excellent drinks. You can also step into the panoramic Bourbon Sky Lounge and enjoy some alcoholic drinks with an even better view.
As a downtown hotel, the JW Marriott Nashville is close to many other local restaurants and sightseeing opportunities. It's steps away from some of the city's best entertainment, and the Stompin' Grounds market in the lobby offers an easy way to pick up lighter pastries and treats when you're heading out.
4. Drury Plaza Hotel Nashville Downtown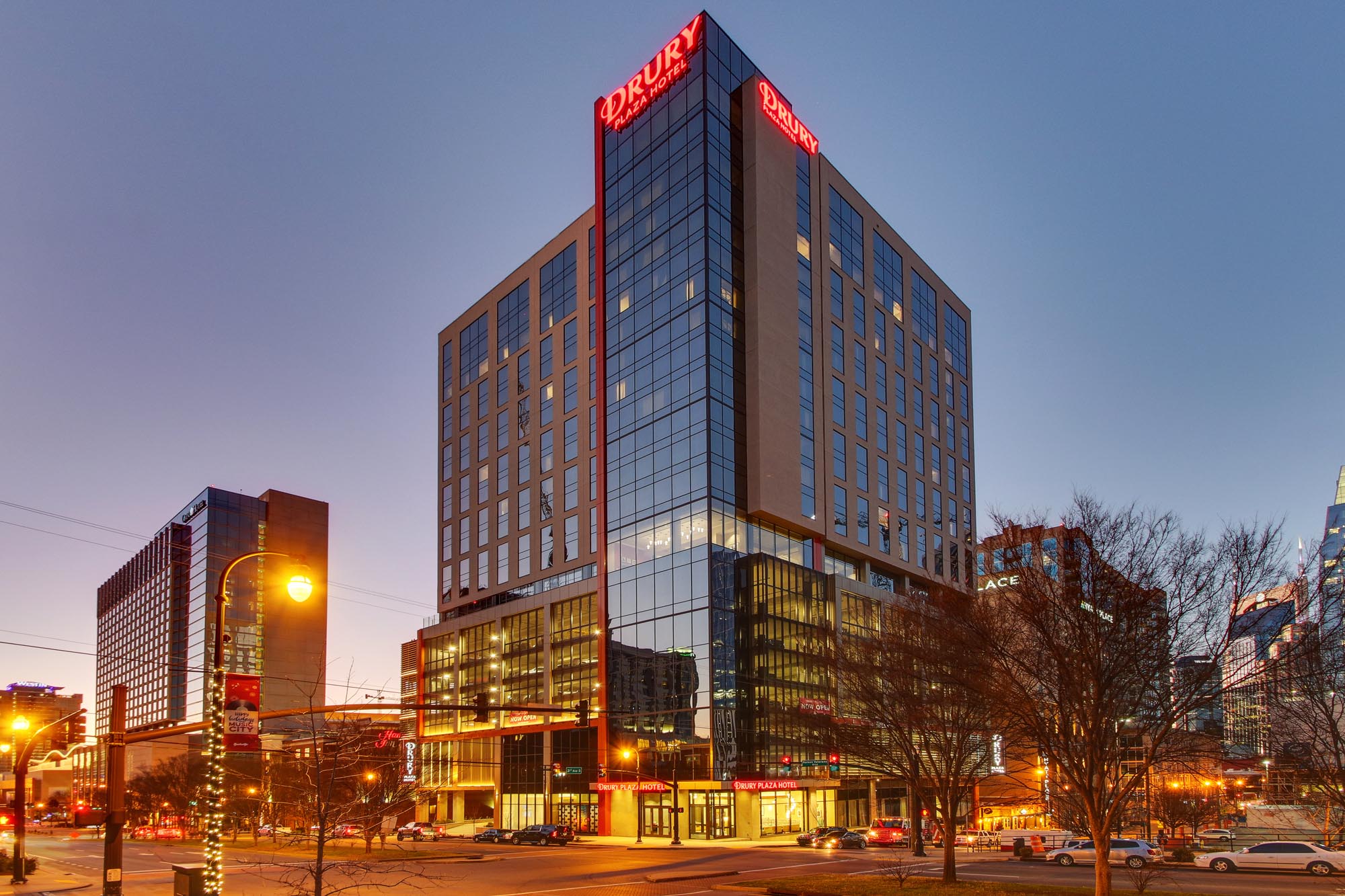 Drury's downtown Nashville location is 0.3 miles from Bridgestone Arena, making it only slightly further away than some of the other options on this list. This centrally-located three-star hotel has 389 rooms with a standard array of bed combinations. The decor is a bit dimmer than in some other hotels, leaning towards beige and patterned floors instead of white walls.
Hotel amenities include wireless internet and breakfast, a heated indoor pool, a hot tub, 24-hour security, and a pet-friendly design. Some rooms are ADA-friendly, though as always, it's best to confirm specific details with the hotel staff if this matters for your trip.
More unusually, Drury lets kids stay free here and includes children's television networks and a kid-friendly buffet as part of their services. This is more than many other hotels in the area, so they're unquestionably a top choice if you're traveling with younger family members.
On-site dining options include hot breakfasts, and both hot food and cold beverages for dinner, both of which are free for guests. The dinner option here includes a regularly-rotating menu. For a more regular meal, the Kitchen + Bar @ SOBRO on the eighth floor of the building offers lunch and dinner.
Drury's Nashville location is an exceptionally walkable destination. There are literally dozens of restaurants within a third of a mile, plenty of entertainment options, and a street design that doesn't require a car to enjoy the area. Although not quite as luxurious as some other areas, Drury Plaza is a little more affordable and a great choice for most families.
5. Noelle
Marriott's Noelle is part of their Tribute Portfolio Hotel series and offers historic-style luxury accommodations about 0.3 miles from Bridgestone Arena. The rooms here mostly feature either one or two king-size beds, and the overall accommodations make it a four-star property. The AAA agrees, giving this destination their four-diamond award for excellent service.
The 224 rooms here come in both guest room and suite styles, plus a penthouse option with multiple bedrooms for guests who prefer that. Amenities include marble bathrooms, movable desks, free wireless internet, and living and sitting areas. Some rooms are ADA-accessible, but not all room styles have all accessibility options.
On-site dining is good here, with four restaurants. The Rare Bird rooftop restaurant offers casual American fare with an excellent view of the city, while Makeready Libations & Liberation serves brunch, dinner, and plenty of beer. The Trade Room is more of a smart casual place for lighter American fare, while Drug Store Coffee provides pastries and caffeine.
Like Drury's location, Marriott's Noelle is an impressively walkable hotel. However, its position on a different side of the arena means there are more than two hundred restaurants within 0.3 miles and over a hundred other attractions to enjoy in the same range. This is one of the densest entertainment options in the city, and it shows.
Noelle is a little more expensive than some other destinations, but the truly impressive location, comfortable rooms, and quality service help justify its price tag as one of the best hotels near Bridgestone Arena.
6. Hotel Indigo Nashville Downtown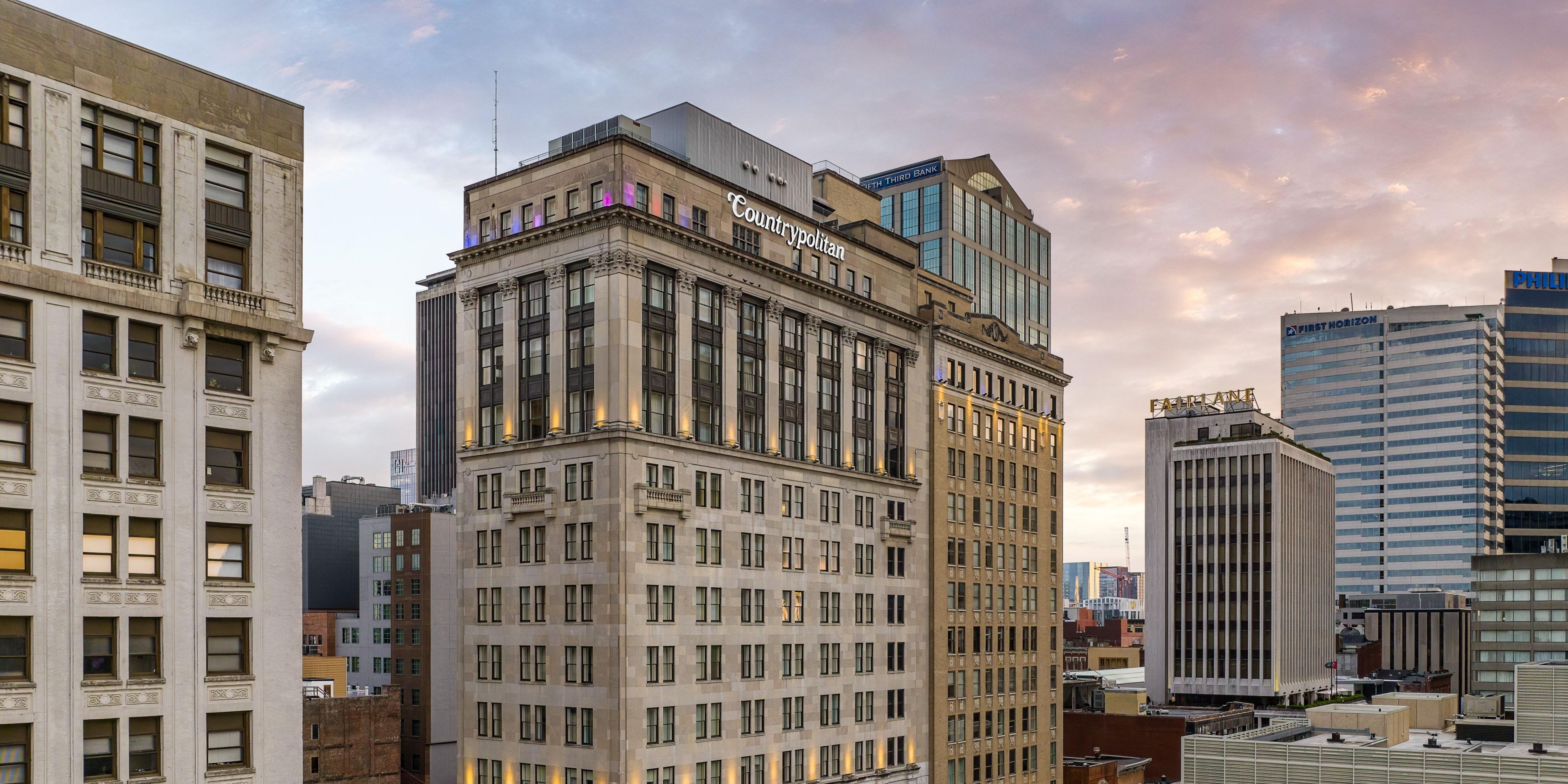 Hotel Indigo is part of the IHG group – this affordable three-star hotel is 0.4 miles from Bridgestone Arena. That technically puts it further away than most of the options on this list, but the difference is barely noticeable for most travelers.
Built inside a structure that used to serve as a bank, Hotel Indigo's downtown Nashville location still has many pieces of its past, including some travertine floors and U.S. postal service drops in its hallways. A printer-themed lobby and a lounge inspired by classic speakeasies add to the historical feel and design.
Room options include regular and bridal suites and family rooms for bigger groups. Amenities include morning newspapers, work desks, free internet access, optional connecting rooms in some areas, and closets for hanging clothes. It has ten wheelchair-accessible rooms and seven other ADA-friendly rooms, which is an appropriate amount for a hotel this size.
On-site dining is available at The District Bar and Kitchen, which provides breakfast, lunch, and dinner. Notably, this restaurant has live music every night, often featuring local artists vetted for quality.
Although not quite as luxurious as some other locations, the unusual bank-style interior and comfortable rooms ensure this hotel remains visitor-friendly. It's also impressively walkable, making this a solid choice for most visitors to Nashville.
7. Margaritaville Hotel Nashville
As the name implies, Margaritaville Hotel Nashville is a little more playful and relaxed than some other hotels. Built 0.3 miles from Bridgestone Arena, the 165 rooms and suites have a tropical island theme with bright walls and linens, fruit-like cushions, and extra-tall windows. Some suites have dividers, but try to avoid breaking up the space too much.
General amenities include flatscreen TVs, a mini bar, air conditioning, pet-friendly areas, a safe, and wireless internet access. Rooms also have seating areas, although these are limited in scope unless you're in a proper suite. Some rooms and suites at the Margaritaville are ADA-accessible.
On-site dining is available in three areas. The main restaurant is the JWB Grill, which emphasizes brunch and dinner with a mix of seafood and regular American fare. Fins Bar overlooks the pool and offers lighter food along with plenty of drinks, while a Starbucks lower down offers coffee and snacks.
Margaritaville's Hotel Nashville location has an impressive selection of amenities, from evening entertainment and support for special diet menus to children's TV networks, an ATM, several laundry options, and a pool with a shallow end.
This hotel is more resort-like than most, and also a bit more expensive. Expect a higher price tag for all of the extra services, but if you're looking for a fun and upbeat place to stay in Nashville, this is easily a top choice among hotels near Bridgestone Arena.
8. Thompson Nashville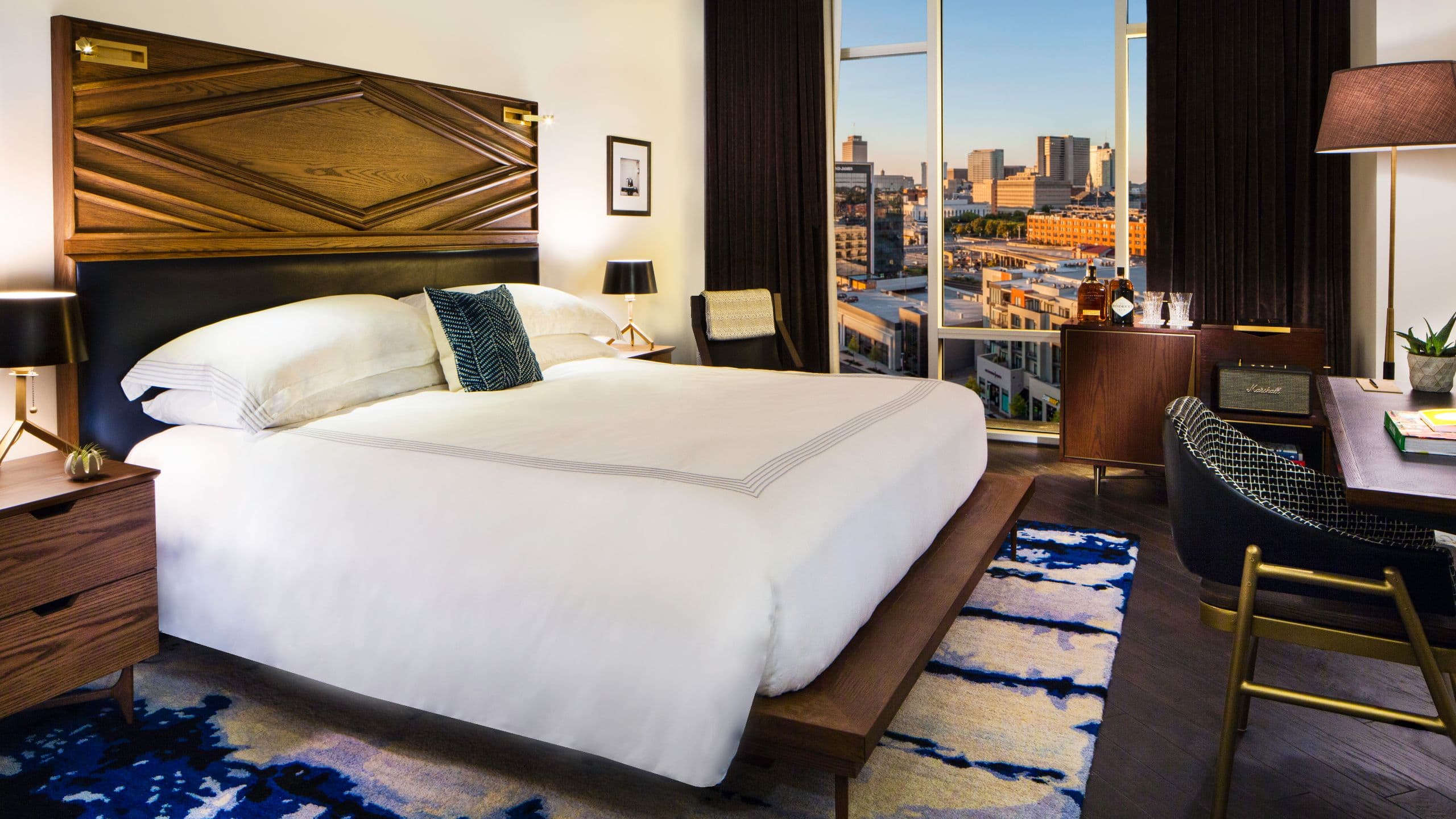 Hyatt's Thompson Nashville is a four-star luxury business hotel with 224 rooms and suites, 0.6 miles from Bridgestone Arena. Most of the rooms here feature hardwood floors with rugs under the bed, genuine wood paneling, and individually-controlled heating and air conditioning systems. Rollaway beds and cribs are available on request for many rooms.
The rooms themselves are attractive but don't have any unique features or amenities. The hotel as a whole does, though, starting with the inclusion of a babysitting service. That's something many other hotels in the area don't offer, and it can make all the difference if you're traveling with particularly young family members.
The Thompson Nashville also has allergy-free rooms for sensitive guests, soundproofing to help minimize city sounds and the option for interconnected rooms to meet the needs of larger families.
On-site dining starts at the Marsh House on the ground floor, which mixes seafood and Southern-style cuisine. Although primarily a dinner restaurant, it also offers brunch, plus a curated wine list and a weekday Happy Hour plan.
Visitors who are 21 or older can also go to the top floor for the L.A. Jackson bar, which mainly offers drinks alongside some popular American fare. The menu isn't particularly long, but everything on it is good. Meanwhile, Killebrew coffee offers caffeine down on the ground floor, making it an ideal place to start before your trip to the arena.
Other features at this hotel include pet-friendly accommodations, 24-hour security, a private check-in service, and an ATM if you need to withdraw some cash. A shoeshine and dry cleaning service can help you keep your outfit looking great.
Despite its many positive qualities, the Thompson Nashville isn't quite as walkable as some of the other hotels on this list. It's still excellent overall, with a few dozen restaurants close by, but the difference here is between impressive and amazing. Most of the better attractions in the area are a little further away, so be prepared to walk a few more minutes if you want to enjoy them.
Final Thoughts
These are the 8 best hotels near Bridgestone Arena that you should consider when planning a trip to the area. They will ensure that you have a nice stay while attending events. From the down-to-Earth Germantown Inn to the historic Noelle, there is a great variety of suites to choose from for our visit.
James is a big time NBA Golden State follower, who makes sure to catch games when he's in the area. He likes to follow International Soccer, with an interest in small town soccer club, Blackburn Rovers located in the North on the UK.