Finding a hotel in a different city is an exhausting process. You have to look at many details and spend hours researching what a good deal is and what isn't.
So, if your schedule is tight or you just need to book a room immediately, then this article is for you.
Here you'll find the best five hotels near Toyota Center. You can compare them immediately, based on the price, comfort, and rating, and shut down your computer with a solved problem.
If this sounds good to you, then keep reading!
Why Should You Book a Hotel Near Toyota Center?
The Toyota Center can welcome 18,300 people located in magnificent Houston, Texas. Also, many know this arena as the home of the NBA's Houston Rockets.
People usually book hotels near Toyota Center when they have tickets for an NBA game or a concert. However, this is also popular for charity galas and private events.
Apart from this, the area around the Toyota Center is very well-developed and reachable. On walking distance from the arena, there is a hospital, park, graffiti building, and some good restaurants.
If you are traveling by car, this district is approximately a 10-minute drive from the theater, the Downtown Aquarium, some museums, and other tourist attractions. More importantly, this location has marvelous sightseeing.
Considering the economic perspective, the average price per night is lower in the hotels near the arena compared to those in other parts.
5 of the Best Hotels Near Toyota Center
Because we understand the difficulty of finding the right accommodation when traveling abroad, we've researched what is best for you.
We like to clarify that as key factors for making conclusions in the analysis, we used the average monthly American salary and the average price per night to stay in a hotel in the USA.
Based on this information, we searched for hotels with a maximum price of $205 per night. As a next step, we set the hotel's comfort, rating, and amenities as key standards that we are looking for.
According to this selection, we were able to find the absolute best hotels where you can have a relaxing few days. The best five hotels near Toyota Center are
Athens Hotel & Suites
Cambria Hotel Houston Downtown Convention Center
Holiday Inn Houston Downtown, an IHG Hotel
SpringHill Suites by Marriott Houston Downtown/Convention Center
Hampton Inn Houston Downtown
Overview
This is a boutique European-style hotel. It is located in Downtown Houston, a 5-minute walk from the Toyota Center. Most of the tourist attractions are nearby, approximately 1 km.
The rooms in this hotel are beautiful and comfortable. More importantly, they are always clean. Because all the suites and rooms are fully equipped, you'll have a kitchen, private bathroom, smart TV, and air conditioning, whatever option you choose.
Note that this hotel doesn't have a pool, room service, or an elevator. Also, it doesn't offer free parking, so you'll have to pay a daily price for a parking spot.
Another important detail before booking your room is that you may be charged a fee if you have a pet with you. So, make sure to discuss this with the hotel staff.
Price
On average, staying for one night in Athens Hotel & Suites will cost you $120. It is important to understand that the prices charged per night in 90% of the hotels are not fixed. This means that they are sensitive to demand; this strategy is also applied to this hotel.
Simply put, you'll not pay the same amount if you book a room during peak season and the off-season. Usually, the off-season is considered as the months in the winter or periods with lower demand.
According to this, it is important not to rely just on the average price. Make sure to check the charge per night during your travel period.
We advise you to book early, weeks or even months before your trip-especially if you are traveling in the peak season. This method will help you save money and book probably the best deal.
Currently, the hotel's highest price for one night is $664, which is charged at the end of March.
Amenities
Pets are allowed
Private bathroom
Air conditioning
Free Wi-Fi
Family rooms
Non-smoking rooms
Breakfast included
Additional information
This is a new, stylish, modern hotel located in Downtown Houston. The hotel's historic Art Deco architecture presents the full Texas spirit. It is also one of the most iconic skyscrapers in the town.
The rooms are comfortable and luxurious. You can choose between a king-sized bed, two queen-sized beds, or a suite. Also, when booking the room, you can choose a room with a city view.
Moreover, tourist attractions such as Minute Maid Park, Discovery Green, and some museums are within a walkable distance of 10 minutes.
However, this hotel might not be for you if you travel with a cat or dog. This hotel has no Pet Policy.
Another important detail is that there is no free parking, so you'll be charged daily. Lastly, note that you must be at least 21 years old to check into a room.
Price
If you decide to book your room here and enjoy all of this hotel's benefits, expect to pay, on average, $165 per night.
Depending on the type of room you choose, the view, and the period of your travel, this price might be higher or lower.
Currently, the highest amount you may pay per night is $523 if you book your room for the 15th of July.
However, you may pay only $130 per night if you have flexible travel dates. So, make sure to check the prices before booking.
Amenities
Breakfast and dinner
Lounge/bar and restaurant
Fitness center and meeting room
Free Wi-Fi
Air conditioning
Private bathroom
Facilities for disabled guests
Smart TV in the rooms
Multilingual staff
Late check-out available
Elevator
Additional information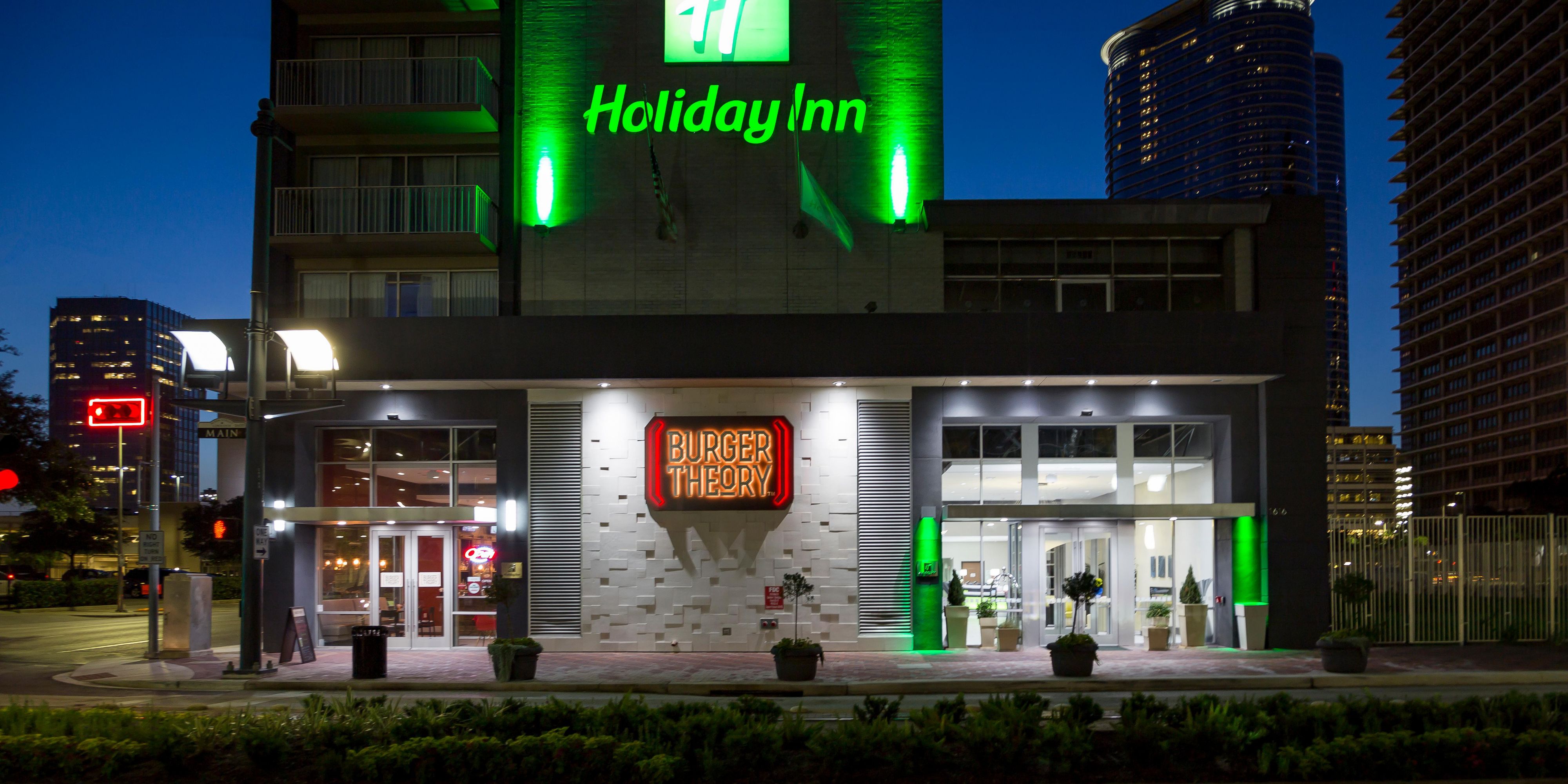 A very well-organized, scenic, comfortable hotel in the heart of Downtown Houston. It has a simple, homey interior style, making guests feel at home.
It is within walking distance of the most popular tourist attractions in the district. Considering its well-placed location, its guests can access even the city's nightlife just by taking a 10-minute walk.
Before booking, you can decide if you like a room or a suite. All available rooms have a king-size bed, smart TV, and a desk. If you book a suite, you'll have a private living room.
What may be a drawback of this place is the fact that they do not allow pets in the building. Another setback is the check-in-age policy. So, make sure to be at least 21 years old when you reserve the room.
Price
Based on the available prices until January 2024, for booking a room in this hotel, the average price you'll be charged per night is $180.
Considering this, the maximum price for one night stay at Holiday Inn Houston Hotel is $280. However, the minimum amount you may pay for a room per night is $160.
Note that you should always check the present fees per night. These statements are made based on the current prices, which might result in changes.
Amenities
Daily housekeeping
Fitness center and business center
Baggage hold, wake-up calls, and safety deposit box available
Wheelchair accessibility
Elevator
Non-smoking rooms and room service
Free Wi-Fi
Service animals accepted
Additional information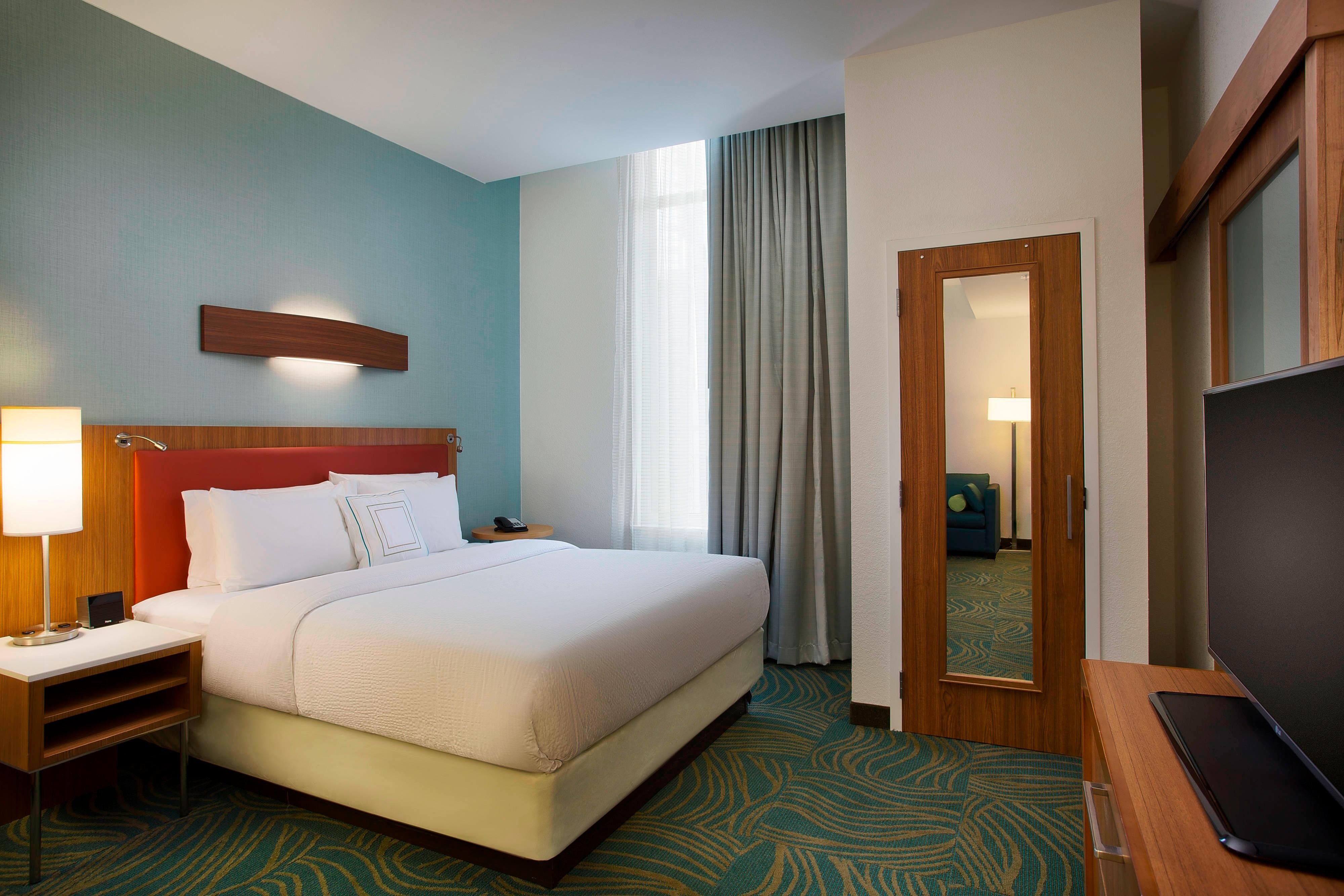 This place offers endless luxury and a pleasant, relaxing space as an all-suite hotel. It is located near the Convention Center and is close to many local bars as well as other highlights of the city.
The rooms have bright colors combined with an elegant yet simple design. They are wide and cozy, which makes your stay even better. Each suite has a king-size bed, desk, sofa, and smart TV. The room temperature can be easily adjusted as there is air conditioning.
However, there are two setbacks for this hotel. If you are traveling with a pet, this hotel is not the right fit for you, as it doesn't allow pets inside the building. Also, the price might fluctuate, so there is a possibility that they might become too expensive.
Price
Since this place offers a luxurious stay in suits, the average price is higher per room for one night. According to the current fees per night, the mean price charged is $190.
This hotel's highest price is $394, for one night, from August to October. Regarding the current prices per night, the most expensive months are from June 2023 to January 2024.
The minimum price per night is $163 and is only available for a few nights in the spring months.
Amenities
Free Wi-Fi
All suite
Outdoor pool
Activities for kids
Free breakfast
Meeting space
Service Request
Fitness center
Restaurant
Wake-up calls
Free coffee/tea
Service animals allowed
Additional information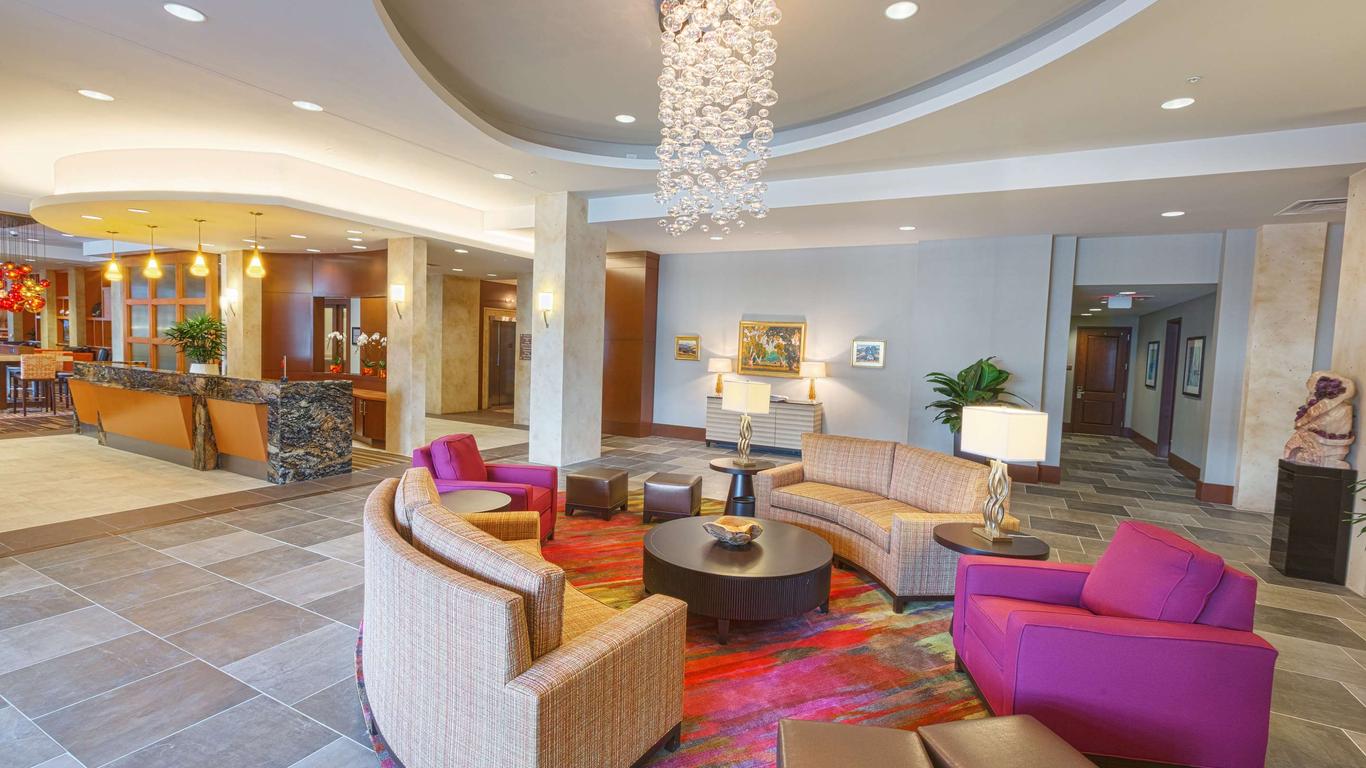 This hotel is for you if you prefer to see everything in Houston without a car. The most iconic highlights of the city are within walking distance. This means you can explore amazing restaurants, have great nightlife, and experience the city to the fullest.
It has very stylish, equipped and bright rooms with city views. You can choose the room you prefer: a king-sized bed or two queen beds. Additionally, you can even request a room with a bathtub.
Remember that you must be at least 21 years old to check into a room. Also, if you have to check in or out late, there are additional fees.
Prices
The average price per night is $200. This results from the high standards of the hotel and the comfort you'll receive as a guest.
Depending on the time of your stay, you may pay the maximum price of $402 per night. We advise you to book the desired dates one month before the trip to avoid such high fees.
We recommend booking a room in May if you want a more economical option to stay in this hotel. According to the current charges per night, by booking a room in May, you'll pay the lowest fees per night. Note as well that the current minimum price per night is $150.
Amenities
Hilton Honors discounts
Free breakfast
Free Wi-Fi
Digital key
Outdoor pool
Restaurant
Non-smoking rooms
Fitness center
Meeting rooms
Pet-friendly rooms
Additional information
Final Thoughts
We hope this article has helped you find hotels near Toyota Center. You can reserve a room or find any additional information on booking.com.
Have a wonderful trip!