If you're headed toward Vivint Arena to watch a sports game or enjoy a nice concert, you might be wondering if there's a place nearby where you can grab a bite before or after the show.
We found some of the best restaurants near Vivint Arena that serve the most delicious food; plus, they're all within a very short walking distance from the arena. That's why read on to ensure you visit some of the restaurants and leave with a full belly to enjoy your event at the arena!
R&R BBQ serves the most amazing BBQ cuisine. It's the closest BBQ storefront to Vivint Arena, and fans can enjoy a quick and delicious bite before their show starts.
You can take a seat at the restaurant or order a ready-to-go meal. They specialize in quality catering and make sure to pack your meal in high-end decor.
Their team is friendly and energetic, and the staff always makes sure that each guest gets delivered exactly what they need – slowly smoked BBQ food ready to be devoured. The service is really fast, and you'll be able to enjoy your meal without being late for your game at the arena.
Therefore, take a seat and order some of their delicious meat plate combos, chicken wings, sandwiches, and burgers. Take home some of their BBQ packs, or order one of the house's favorites and daily specials.
Additional Information
| | |
| --- | --- |
| Location | R&R BBQ |
| Distance from Vivint Arena | The restaurant is inside the Vivint Arena |
| Price range | $$ |
Fleming's Prime Steakhouse & Wine Bar is an exceptional choice to enjoy a marvelous Prime steak, a glass of wine, or an elite cocktail.
Whether you're celebrating your team's win on your way back from the arena or you want to have a good bite before your show, this restaurant is the place to go. If you want to simply enjoy an amazing culinary experience, Fleming's Steakhouse will prepare a memorable dish for you.
It is one of the restaurants near Vivint Arena, a 10-minute walking distance. If you prefer to enjoy your fine dining from the comfort of your home, then you can place an order and take your ready-to-go meal with you after the event is over.
If you want to enjoy some of their delicious drinks and meals, such as the Chilled Seafood Tower, Beef Carpaccio, the Sweet Chili Calamari, and many more, you should definitely pay this place a visit.
Additional Information
You can savor some tasty American meals made with local ingredients in a classy setting upon your visit to Copper Canyon Grillhouse & Tavern. Wake up your taste buds by trying out some of the amazing dishes, and order a nice and refreshing drink to keep yourself hydrated.
Copper Canyon is one of the best restaurants near Vivint Arena, and you can make a stop here to order their farm-to-table salad, indulge in one of their burgers, or get yourself one of the specialties. From the many things you can order, you will surely leave happy and with a full stomach!
The tavern also offers a calm and relaxing setting to enjoy a nice drink for celebration after your team wins the match. That's why you shouldn't forget to stop by this restaurant after you're done cheering at Vivint Arena.
Additional Information
Tucanos Brazilian Grill is near the Vivint Arena, meaning you can stop by and grab a quick bite. This restaurant captures the Brazilian tradition of grilling, also called "Churrasco."
It is the fusion of European and South American cuisines. From its roots in the Pampas of Brazil to the sunny beaches of Rio de Janeiro, Tucanos Brazilian Grill extends the festive tradition all the way to you.
The types of meat and veggies are carefully selected to ensure you get the finest and freshest cuisine served at your table. The meat is tastefully seasoned and prepared on skewers over an open-flame grill. The skewers are brought to your table afterward, and you get to slice open the sizzling meat and enjoy the delicious, rich flavor.
Additional Information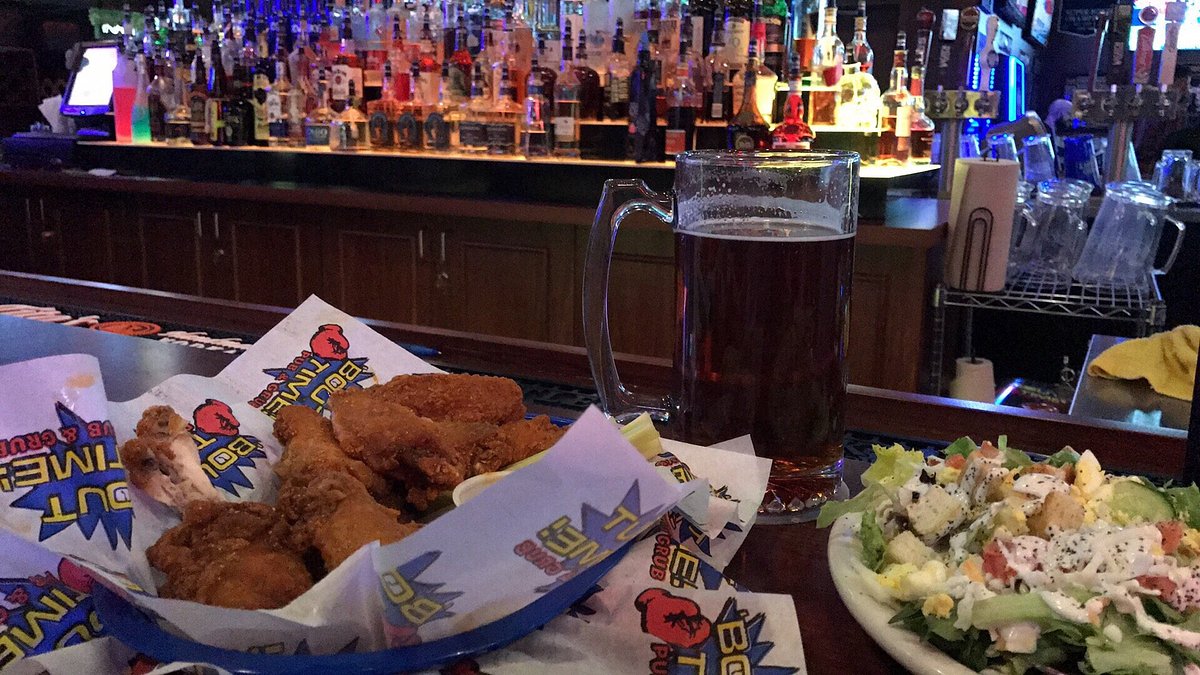 If you're looking for a good meal at a great price, then Bout Time Pub & Grub is one of the best restaurants near Vivint Arena. It is a nice sports bar located a short distance from the arena.
Their food is reasonably priced, and their dishes are plentiful and well-flavored, considering the place is a bar. They also prepare their own potato chips, which adds homemade deliciousness to each meal.
You can order some of their tasty dishes, such as the Monte Cristo Egg Rolls, the Grand Slam, their Italian Chopped Salad, Grilled Chicken Caesar Salad, their flavorful chicken wings, and many more.
Additional Information
Mr. Shabu is one of the restaurants near Vivint Arena that serve the most delicious food and the best hot pot. Its owner carries 18 years of experience in the meat supply business, and with his extensive knowledge of meat types, he has managed to create the most palatable dishes.
The restaurant provides hand-selected premium dishes for the ultimate shabu-shabu experience. If you're near the area, you should definitely stop by the Mr. Shabu restaurant, especially if you enjoy Asian food.
The restaurant offers an all-you-can-eat menu, and each dish is presented around a table-side cooked dish. If you're ever in the area and need a good meal, you should definitely stop by Mr. Shabu for a great dining experience. You can order one of the famous broths like Tonkotsu, Sukiyaki, Miso, some appetizers, and many more!
Additional Information
| | |
| --- | --- |
| Location | Mr. Shabu |
| Distance from Vivint Arena | 3 minutes walk |
| Price range | $$ |
Costa Vida is the place to go if you want to be served the ultimate Fresh Mex, made exactly your way, as you love it – fresh, tasty, and "cravey" good! You can stop by before or after the game at their restaurant and order a nice meal or get takeout right after the match to enjoy it comfortably at home.
Costa Vida brings you a taste of the coast right on your plate. All you have to do is choose from a salad, taco, or burrito bar, and they'll do the rest.
Their top-shelf taco bar has made people spread the word about the deliciousness of each dish all around the area! It consists of two fresh-made tortillas, your choice of meat, beans, cilantro-lime rice, shredded cheese, fresh greens, and salsa for the ultimate nutrition and flavor. You can also order some of their exquisite salads that are served in a fresh-made flour tortilla with the perfect toppings.
Additional Information
| | |
| --- | --- |
| Location | Costa Vida |
| Distance from Vivint Arena | 18 minutes walk |
| Price range | $$ |
HallPass is Utah's first and only food hall. It is located at the Gateway in Downtown, SLC, which is very near Vivint Arena. It is a big restaurant for stylish communal dining.
The restaurant allows guests to experience new flavors in a stylish environment filled with an eclectic mix of art, food, drinks, music, and fun.
For a great experience, you can sit in their casual, open setting that is designed with wooden tables and chairs made from golden acacia from Thailand. The place is also decorated with many colorful murals and art pieces and has ornate Balinese doors.
Diners are tempted by the restaurant's wide range of delicious options, all of which come at reasonable prices. Most of the menu meals offered are $15 and under.
They have multiple dish options – everything from burgers to seafood and hot chicken wings, meaning there's something for everybody; no matter what you crave, you'll be able to find it at HallPass.
Guests can order their food from each counter, and the food is served very quickly. You'll be able to satisfy your appetite to the fullest with HallPass's signature menu dishes.
Additional Information
| | |
| --- | --- |
| Location | HallPass |
| Distance from Vivint Arena | 4 minutes walk |
| Price range | $$ |
At Dave & Buster's, you can eat, drink, play games, and watch some of your favorite sports. It is a full-service bar, restaurant, and arcade. People love to visit Dave & Buster's for the plethora of good games and amazing fun.
The restaurant has lots of ways for people of all ages to enjoy some classic video games, as well as the new exclusive ones. It is a very interesting restaurant to visit, especially if you want to hang out with your family and friends after visiting a sports match or concert at Vivint Arena.
You can try their mouth-watering food that's been chef-crafted right at their restaurant. From chicken wings to flavorful steaks, they've got whatever suits your taste buds at the moment.
The restaurant's bar also features an impressive wine and beer selection and some unique, innovative cocktails ready to be tried.
Additional Information
Conclusion
Whether you're watching a game or enjoying some nice concert music, it will definitely leave you hungry. Therefore, check out some of the best restaurants near Vivint Arena mentioned above for the best dining experience.
It doesn't matter if you're looking for a simple and quick burger fix or want to sit down and enjoy a rich meal with a nice beverage; there's everything for everyone at the restaurants surrounding this area. Your appetite will be completely satisfied with affordable prices, richness in flavor, and quick service!