Canadian Tire Centre, home to the Ottawa Senators and a popular venue for concerts and events, offers a variety of seating options to cater to diverse preferences among fans. The arena's arrangement ensures that most seats provide a decent view of the action, but undoubtedly, there are areas that stand out as the best and those that might not be a top choice. In this article, we'll explore the prime locations for different events and which sections might be better left for last-minute purchases.
Concertgoers at the Canadian Tire Centre generally encounter an end-stage setup where the stage is located near sections 109, 110, and 111. Depending on the concert, variations to the layout may include general admission seats, fan pits, or B-stages. Meanwhile, for hockey matches, center ice seating may provide the most optimal view. Sections 105-107 and 115-117 are located toward center ice, with a recommendation for sitting at least 10 rows off the ice for a better overview of the rink.
Taking the seat's location into consideration, alongside aspects such as row and seat numbers, can enhance or detract from a fan's experience at the Canadian Tire Centre. By examining seating charts and considering feedback from fellow attendees, one can make an informed decision when choosing their seats, ensuring a memorable time at any event or game.
Best Seats at Canadian Tire Centre
Club Seats
Club seating at the Canadian Tire Centre offers an unmatched viewing experience, with extra-wide cushioned seats and a private concourse offering premium concessions. Fans in club sections also enjoy in-seat service and access to the Club Bell Lounge, which has upscale food and beverage options and plenty of seating.
Lower Level Center Ice
For an up-close view of the action, consider Lower Level Center Ice seats. These sections, such as Section 109, Section 110, and Section 111, are close to the stage during concerts and provide fantastic views of hockey games. Rows A through F are closest to the ice, offering an immersive experience. As you move further back in these sections, you can still enjoy excellent vantage points.
Upper Level Center Ice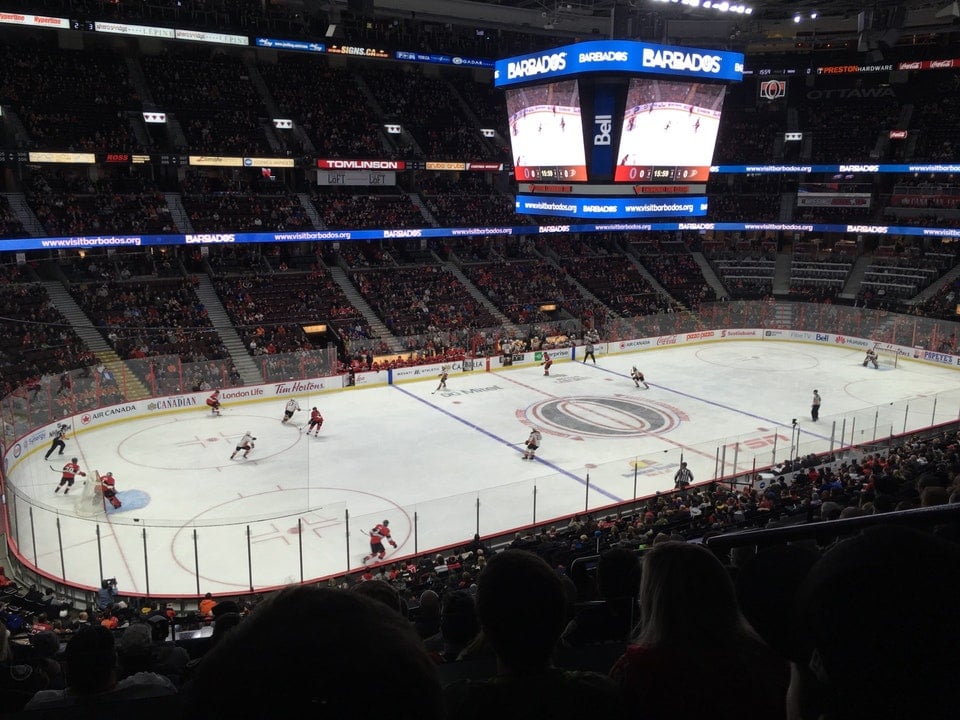 The Upper Level Center Ice sections, such as Sections 213-217, also provide great sightlines, especially for spectators who prefer a bird's-eye view of the game. Sitting in the first few rows of the 200 level offers a balance between a great vantage point and affordability compared to the lower level. Even though these seats are further back, they remain highly desirable, as the arena is designed for optimum sightlines with minimal obstructions.
Worst Seats at Canadian Tire Centre
Upper Level Corners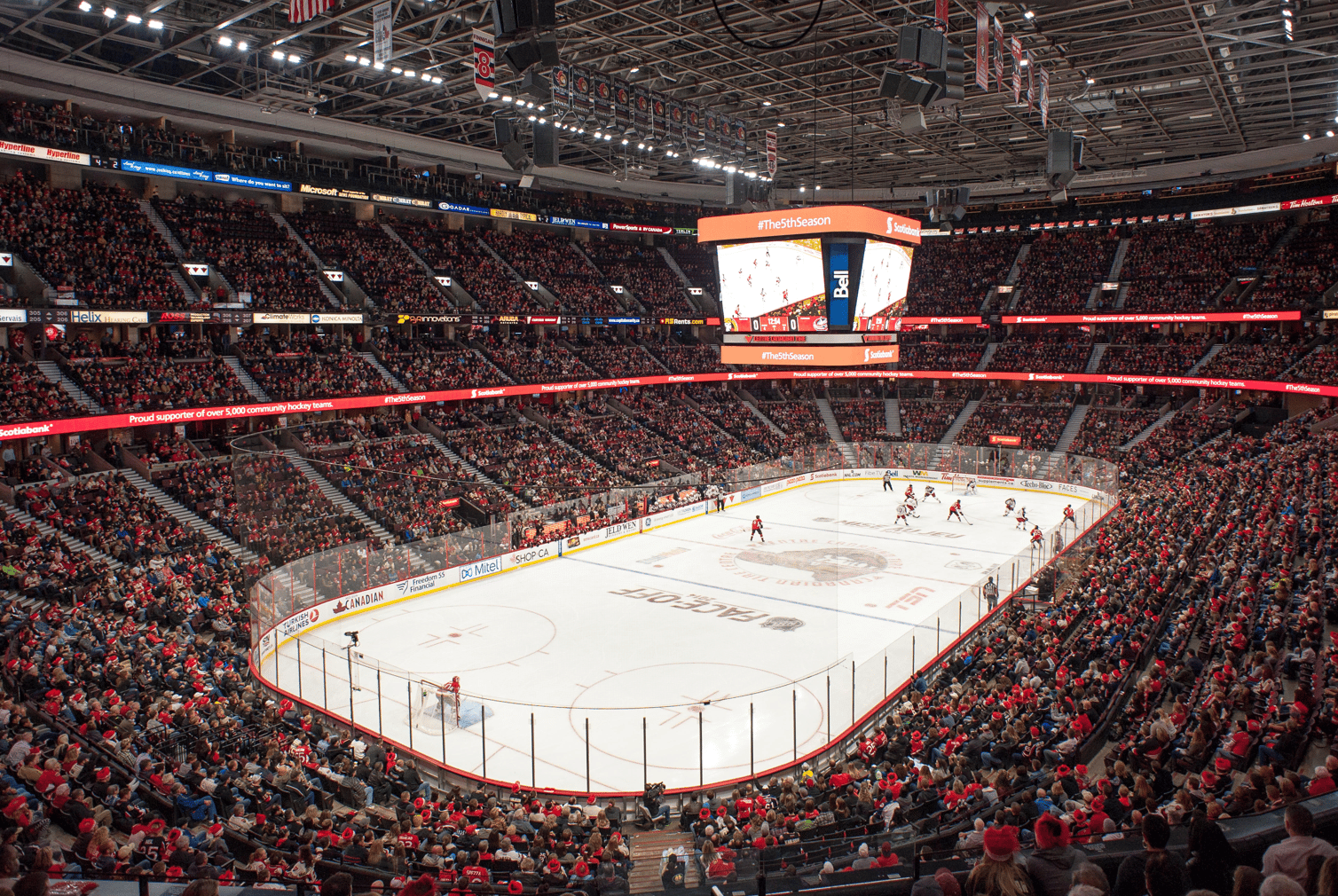 The Canadian Tire Centre is a well-designed arena that offers great views from most sections. However, for hockey games, the least desirable seats are usually located in the upper level corners at sections 313-317. These sections are farther from the action and have tighter viewing angles, which can make it harder to follow the play. This includes:
Sections 301-303 and 315-317 (Senators shoot once)
Sections 308-310 and 322-323 (Senators shoot twice)
To slightly improve your experience, aim for a lower row (A-F) within these sections since it offers better views and fewer stairs to climb.
Obstructed Views
The Canadian Tire Centre has minimal obstructions, but there are a few seats with limited visibility. These may include seats with:
Safety railings or support columns in the line of sight
Seats directly behind the goal netting
Keep in mind, these instances are rare and generally affect only a small number of seats within any given section. To avoid obstructed views, consider using seating charts and seat reviews from websites like TicketIQ and RateYourSeats.com. They provide detailed information, real seat views, and community feedback that can help you make an informed decision on your seating choice.
Tips for Choosing Seats
Consider Audience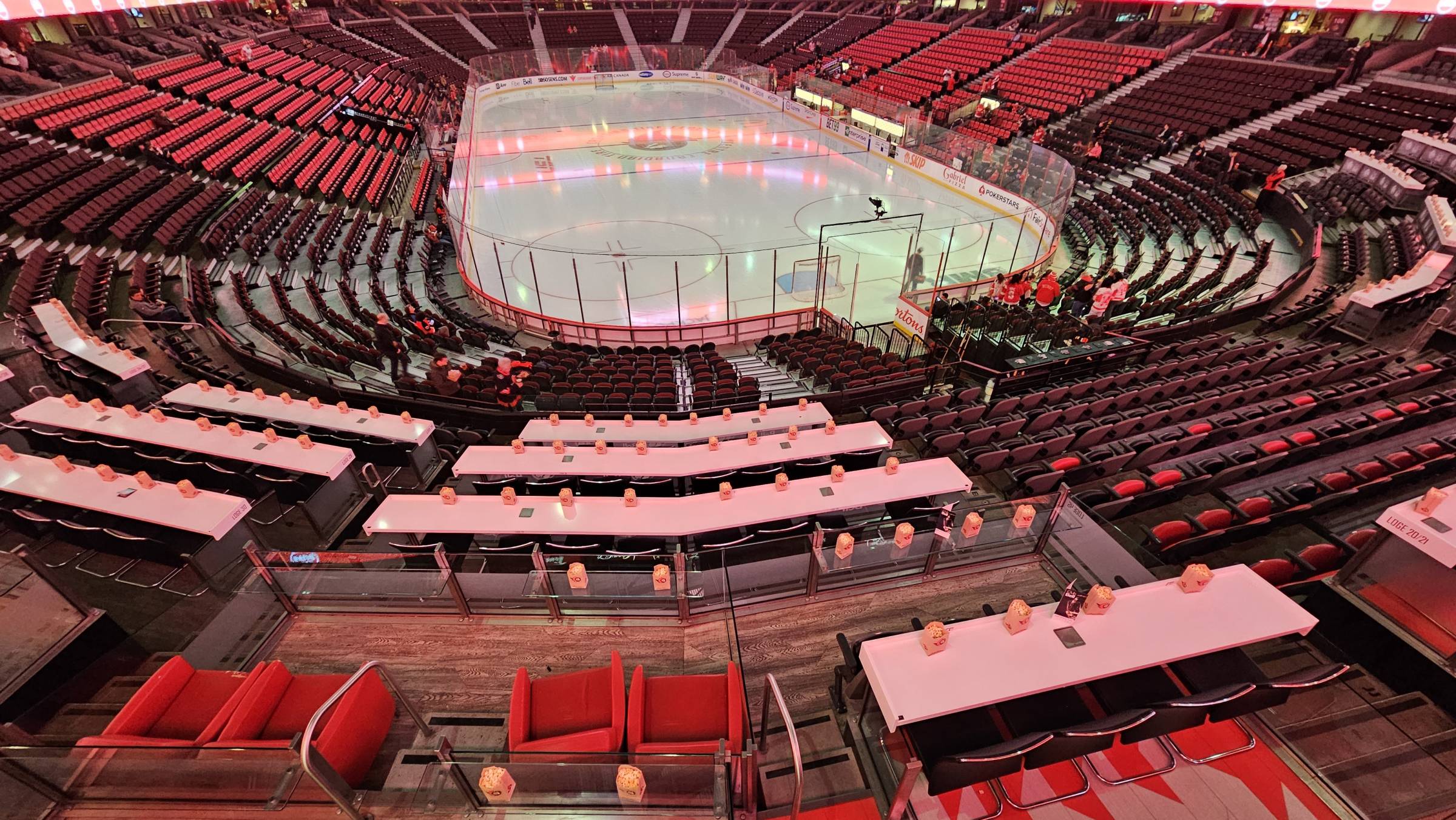 When choosing seats at the Canadian Tire Centre, it's important to consider the type of event and audience. Different seating sections may be more suitable for specific events, such as concerts or hockey games. For example, for a more intimate concert experience, you might prefer seats closer to the stage, while for a hockey game, you may prioritize having a clear view of the entire ice rink.
For the best concert experience, the end-stage setup is common and typically located near sections 109, 110, and 111. Your seating choice may vary depending on additional event-specific features, such as general admission areas, fan pits, and B-stages.
Now, when attending a hockey game at the Canadian Tire Centre, there are a few different seating areas to consider:
100 Level: Seats in the lower bowl offer a close and exciting view of the action. Sections 101 and 117 are highly recommended as they provide a centered perspective of the ice.
200 Level: This level offers a balance of proximity and an elevated view of the game. Fans have mentioned that sections in the 200 level, at the center of the ice, are enjoyable.
300 Level: Although the seats are the farthest from the ice, the 300 level provides a bird's-eye view of the game, allowing you to see all the plays unfold.
Accessibility and Amenities
When choosing seats, don't forget to take into account accessibility and amenities. Ensure that your chosen seats are easily accessible, especially if you require accommodations for any mobility devices or special needs. Additionally, consider the proximity of restrooms, concession stands, and other amenities to make your event experience as seamless as possible.
Accessibility Options
Wheelchair Accessible Seating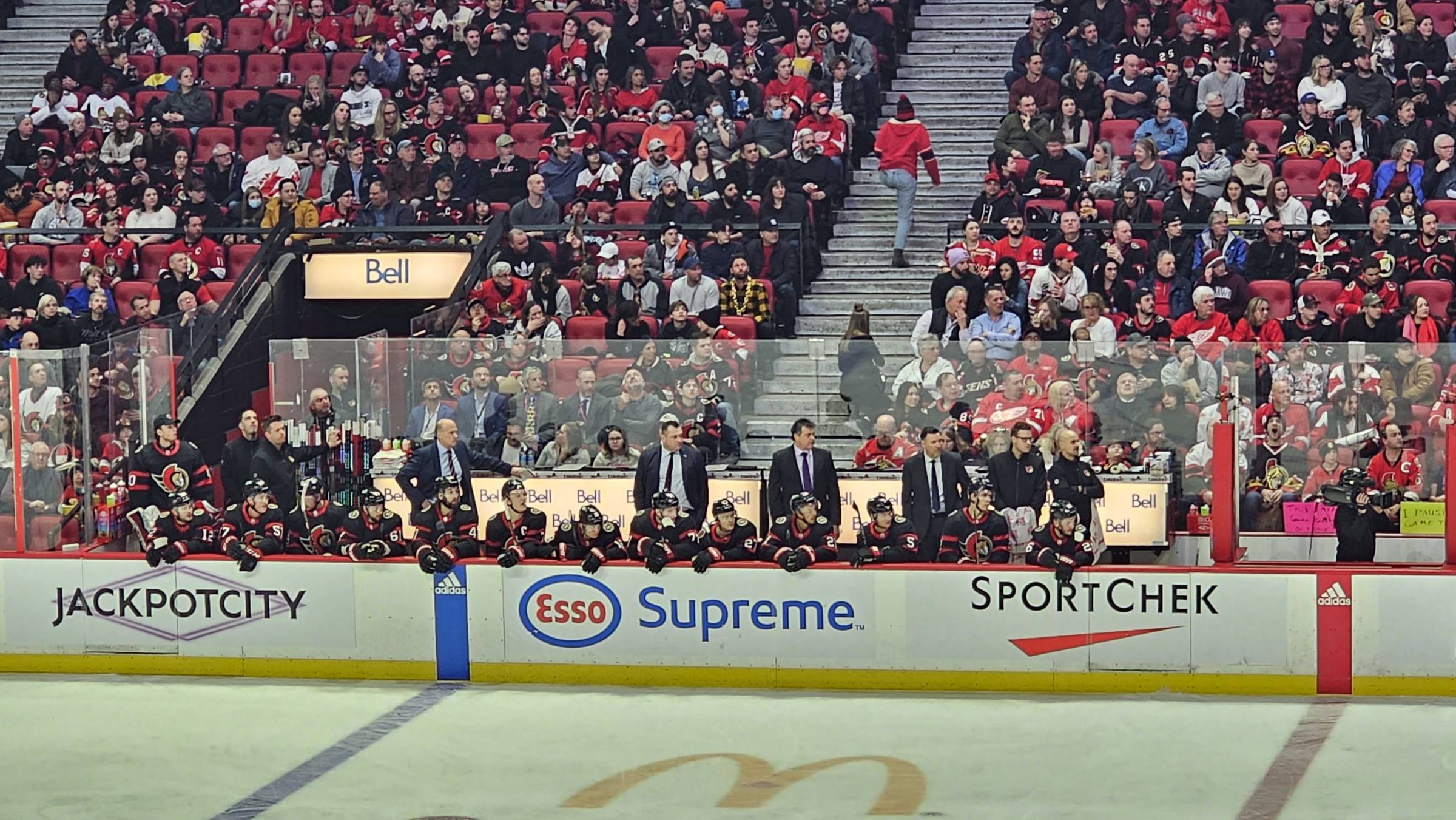 Canadian Tire Centre offers wheelchair accessible seating options to provide a comfortable experience for all guests. These seating areas are spread across different levels of the arena, ensuring that guests with mobility devices can find a suitable spot to enjoy the event. Specific details and availability of wheelchair accessible seating may vary depending on the event type, so it's recommended to contact the venue or check their website prior to purchasing tickets.
When considering wheelchair accessible seating, keep in mind:
Accessible seating is available at various points in the arena, providing varied views and experiences.
Be sure to contact the venue or consult their website for detailed information on locating and purchasing tickets for accessible seating.
Service Animals
Canadian Tire Centre is committed to accommodating the needs of guests with disabilities, and that includes welcoming service animals at the venue. Guests with service animals should be aware of the following guidelines:
Service animals must be on a leash, harness, or tether at all times unless it interferes with the service animal's work or the individual's disability.
Guests with service animals may be asked to provide documentation regarding the service animal's training and certification.
Proper identification, such as a service animal vest, may be required.
Guests should be prepared to answer questions about the tasks the service animal performs in relation to the individual's disability.
By understanding the accessibility options available at the Canadian Tire Centre, guests with disabilities can make informed choices about seating and additional accommodations for their visit.