Comerica Park, the home of the Detroit Tigers, is a unique and exciting entertainment destination situated in Downtown Detroit.
Just minutes from Detroit Metro Airport and surrounded by Detroit suburbs, Comerica Park has become one of the Midwest's most popular venues.
This quick guide is designed to help you navigate your way to Comerica Park, ensuring a stress-free and enjoyable experience at any event hosted at this iconic stadium.
Whether you're a local or visiting from out of town, getting to Comerica Park can be a breeze with several transportation options available.
From driving and parking, to utilizing public transit or ride-sharing services like Uber and Lyft, there's a method fit for everyone's needs.
Once you've arrived, your journey through the park's gates begins as you choose your entrance and begin exploring all the ballpark has to offer.
Key Takeaways
Multiple transportation options lead to convenient access to Comerica Park
Consider various entrances and navigating strategies when entering the park
Familiarize yourself with park policies and attractions to maximize your experience
Choosing Your Transportation
Public Transit Options
Comerica Park is accessible by various public transportation options. A new bus service called FAST picks up passengers at both airport terminals and runs along Michigan Avenue, taking you close to the park.
Additionally, you might want to consider using the Detroit People Mover – an automated train system that makes stops near the stadium. You can also explore other bus lines to get to the ballpark.
Driving and Parking Tips
If you prefer driving, expect around a 30-minute ride on I-94, depending on traffic.
Make sure to check for updates on construction and traffic to ensure smooth arrival.
It's a good idea to book parking in advance, so you will have your parking spot secured when you arrive.
Ridesharing and Taxis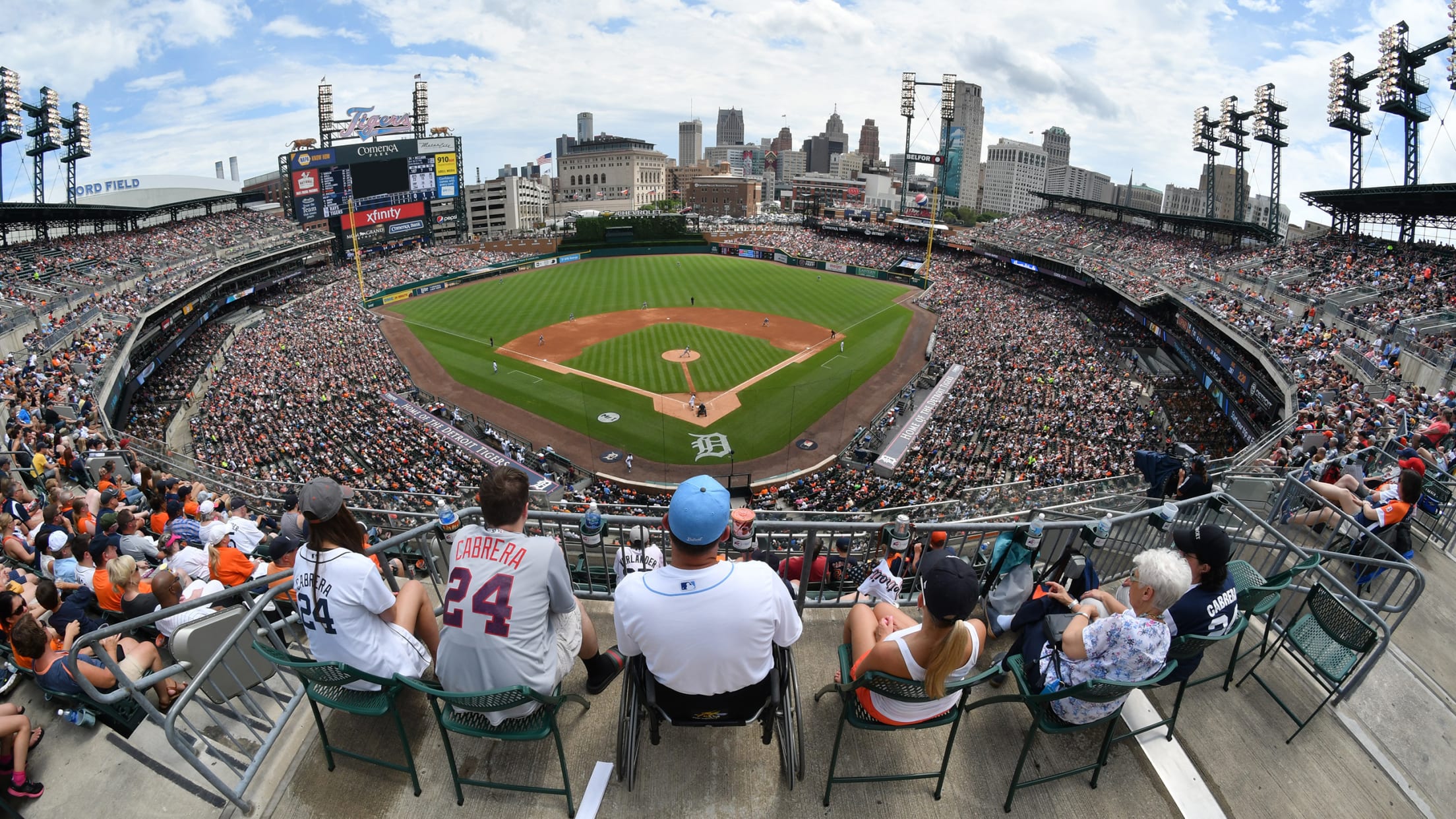 For those who want to avoid driving themselves and are not keen on using public transport, ridesharing services like Uber and Lyft operate in Detroit. You can request a ride from your location to Comerica Park using their respective apps.
Taxis are another option to consider when planning your trip to the ballpark. Just make sure to account for traffic when estimating your arrival time.
Remember to choose the transportation that best suits your preferences, budget, and schedule to ensure a comfortable and enjoyable trip to Comerica Park.
Navigating Inside Comerica Park
Entrance Gates and Security Procedures
Upon arriving at Comerica Park, you'll find four main entrances to simplify entry and speed up the process. These entrances are:
Comerica Entry on Witherell Street
Rocket Mortgage Entry at the corner of Adams and Brush street
The Big Cat Court Entry
The Pepsi Porch Entry
Security measures are in place for the safety of all guests. Before entering the stadium, guests will pass through metal detectors and may have their bags searched. Keep in mind the following guidelines for a smoother entry process:
Bags must not exceed 16″x16″x8″ in size
Items such as bottles, cans, coolers, and outside food or drink are prohibited
Umbrellas, selfie sticks, and noisemakers are not allowed
Locating Your Seats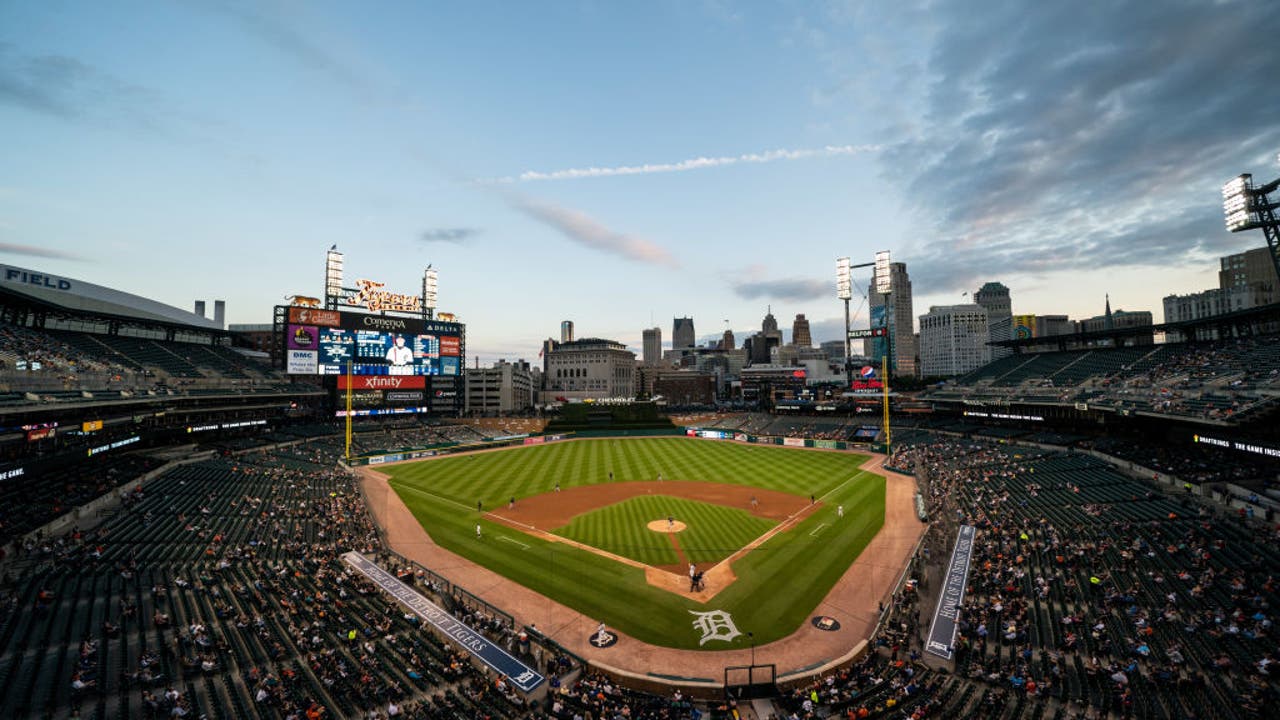 Once you've made it past security and entered the stadium, you'll want to locate your seats. To help you find them easily, Comerica Park seating sections are organized by number and letter codes.
100 Level: Located on the lower level, sections 101 – 146 are closest to the field.
200 Level: Mezzanine Level seating includes sections 201 – 216, which offer an elevated view.
300 Level: The upper deck features sections 301 – 344, and provides a bird's-eye view of the game.
Finding your seats is simple, as they are clearly marked by section, row, and seat numbers. Concierge staff and ushers are stationed throughout the stadium to assist you with any questions or concerns, so don't hesitate to ask for help if needed.
Accessibility at the Park
Wheelchair Accessibility
Comerica Park offers several accommodations for guests with disabilities to ensure a comfortable and enjoyable experience. The stadium features accessible seating areas throughout various sections. To purchase accessible seating tickets, you can refer to the official website.
The closest accessible parking spaces to Comerica Park are the 61 E. Elizabeth lot, Tiger Garage, and McLaren Garage. For drop-off and pick-up, the preferred accessible locations are at the intersections of either Fisher Service Drive and John R Street, or Adams Ave and Witherell Street.
Assisted Listening Devices
In addition to wheelchair accessibility, Comerica Park also offers assisted listening devices to help enhance the experience for guests with hearing impairments. These devices can be obtained at Guest Services, located behind Section 130. Make sure to bring a valid photo ID to ensure the return of the listening equipment.
Remember to plan your visit in advance by reviewing Comerica Park's policies and procedures to ensure a smooth and enjoyable experience.
Park Attractions and Special Features
Comerica Park, home of the Detroit Tigers, offers not only exciting baseball games but also a variety of attractions and features that cater to fans of all ages.
Food and Beverage Options

At Comerica Park, you'll find plenty of options for dining and drinking. The stadium offers traditional ballpark fare like hot dogs, burgers, and pretzels, as well as unique local options like the Detroit Coney Dog and poutine. There are also numerous concession stands throughout the park, serving up a diverse range of food. For those looking to enjoy an adult beverage, the stadium provides a variety of beer, wine, and mixed drink options.
Family-Friendly Activities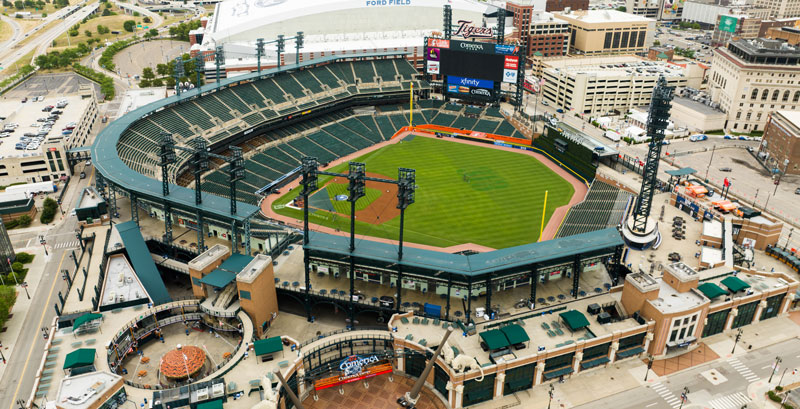 In addition to the excitement of watching a live baseball game, Comerica Park offers several family-friendly activities. One of the most prominent features is the carousel, located in the Big Cat Court, offering a fun ride for children and parents alike. Another popular attraction is the Ferris wheel, with baseball-shaped cabins that provide a unique and thrilling experience for the whole family.
Fans can also enjoy the art and history on display throughout Comerica Park. Along the left-centerfield wall, there are stainless steel statues of six all-time great Detroit Tigers players: Ty Cobb, Charlie Gehringer, Hank Greenberg, Willie Horton, Al Kaline, and Hal Newhouser. These sculptures celebrate the team's rich history and pay tribute to some of its greatest players.
In summary, Comerica Park offers a unique and enjoyable experience for baseball fans and families alike. With a variety of food and drink options, as well as attractions tailored to all age groups, there is truly something for everyone at the home of the Detroit Tigers.
How to Purchase Tickets
Buying Online
Purchasing tickets online for events at Comerica Park is a convenient and simple way to secure your spot at the game or concert. You can buy tickets through the official Detroit Tigers website or through other ticket retailers like StubHub, Ticketmaster, and Vivid Seats. It's important to compare ticket prices, fees, and seating options across these platforms to find the best deal for your desired event. Additionally, make sure to double-check the event date and time when purchasing tickets online to ensure a smooth experience on the day of the event.
At the Box Office
For those who prefer a more traditional approach or are looking to purchase last-minute tickets, Comerica Park's Box Office is also an option. The Box Office is located at the main entrance of the park near the corner of Woodward Avenue and Montcalm Street. It is open on non-event days from Monday to Friday, 10 am – 6 pm, and Saturdays from 10 am – 4 pm. On event days, the Box Office opens at 10 am and remains open until the event begins. Keep in mind that purchasing tickets in person allows you to avoid certain fees associated with buying tickets online, but availability may be limited for popular events. Arrive early if you plan to purchase tickets on the day of the event.
Important Comerica Park Policies
Bag Policy: Comerica Park allows guests to bring single compartment bags, wallets, and clutches smaller than 4″ x 6″ x 1.5″ with or without a handle or strap. However, bags, purses, and clutches larger than these dimensions are not permitted. Exceptions to this policy include bags, wallets, and clutches needed due to medical necessity.
Street Parking: If you're looking for street parking near Comerica Park, it's worth noting that street parking in Detroit is free on Sundays. Arrive early and explore the streets in the vicinity of the stadium to increase your chances of finding an open space.
Reserved Parking: To ensure a smooth parking experience on game days, consider reserving a spot ahead of time. Online parking reservation services allow you to compare pricing for lots and garages near Comerica Park. SpotHero is a recommended resource for game day deals and easy parking solutions.
Please keep in mind that adhering to Comerica Park's policies and procedures will contribute to a positive experience for all guests while visiting the stadium.