Canada is home to an impressive collection of stadiums and arenas that play host to various sports and cultural events.
These venues range from large, state-of-the-art facilities to smaller, more intimate locations.
Known for its passion and dedication to various sports and entertainment, Canada's stadiums and arenas contribute greatly to the country's atmosphere and sports culture.
Some of the notable stadiums in Canada include Thunderbird Stadium in British Columbia, Commonwealth Stadium in Alberta, and Swangard Stadium in Burnaby.
On the other hand, prominent indoor arenas, such as Mount Royal Arena in Montreal, Northlands Coliseum in Edmonton, and Ottawa Auditorium in Ottawa, offer a year-round venue for ice hockey, basketball, and other indoor events.
These facilities not only cater to professional sports teams and international competitions, but also serve as essential hubs for local communities and cultural events.
Evolving with the demand for modern amenities and advanced technology, Canada's stadiums and arenas have become iconic landmarks within their respective cities.
From architectural marvels to historical sites, these venues showcase the diverse interests and passions of Canadians across the country.
History of Stadiums and Arenas in Canada
Early Developments
In the early days of Canadian sports, stadiums and arenas were primarily built to host local sports events and generally featured basic amenities, such as seating for spectators and space for athletes to compete.
Notable early venues include Maple Leaf Stadium and Maple Leaf Gardens in Toronto, built in 1926 and 1931 respectively.
These early sports venues laid the foundation for the growth and development of sports infrastructure in Canada.
Modernization and Growth
As professional sports teams gained prominence and popularity throughout the twentieth century, the need for larger and more advanced sports facilities became apparent.
This time period saw the construction of modern sports complexes, such as the Rogers Centre in Toronto (previously known as the SkyDome), which opened in 1989 as a multi-purpose stadium with a retractable roof.
Another example is Montreal's Olympic Stadium, built for the 1976 Summer Olympics, which showcased Canada's commitment to providing innovative sports facilities.
Current Arenas
Today, some of the largest stadiums and arenas in Canada include the Rogers Centre in Toronto (home to the Toronto Blue Jays), the Scotiabank Arena in Toronto (home to the Toronto Maple Leafs and Toronto Raptors), and BC Place in Vancouver (home to the BC Lions and Vancouver Whitecaps FC).
Modern arenas have also been constructed to accommodate increased spectator capacity and enhanced amenities, such as the:
Air Canada Centre in Toronto, which opened in 1999
Rogers Place in Edmonton, which opened in 2016
Videotron Centre in Quebec City, which opened in 2015
Canadian sports facilities have evolved over time to accommodate the growth of professional sports and the increasing demand for high-quality venues that cater to the needs of both athletes and spectators.
Canada's Top Stadiums and Arenas
Rogers Centre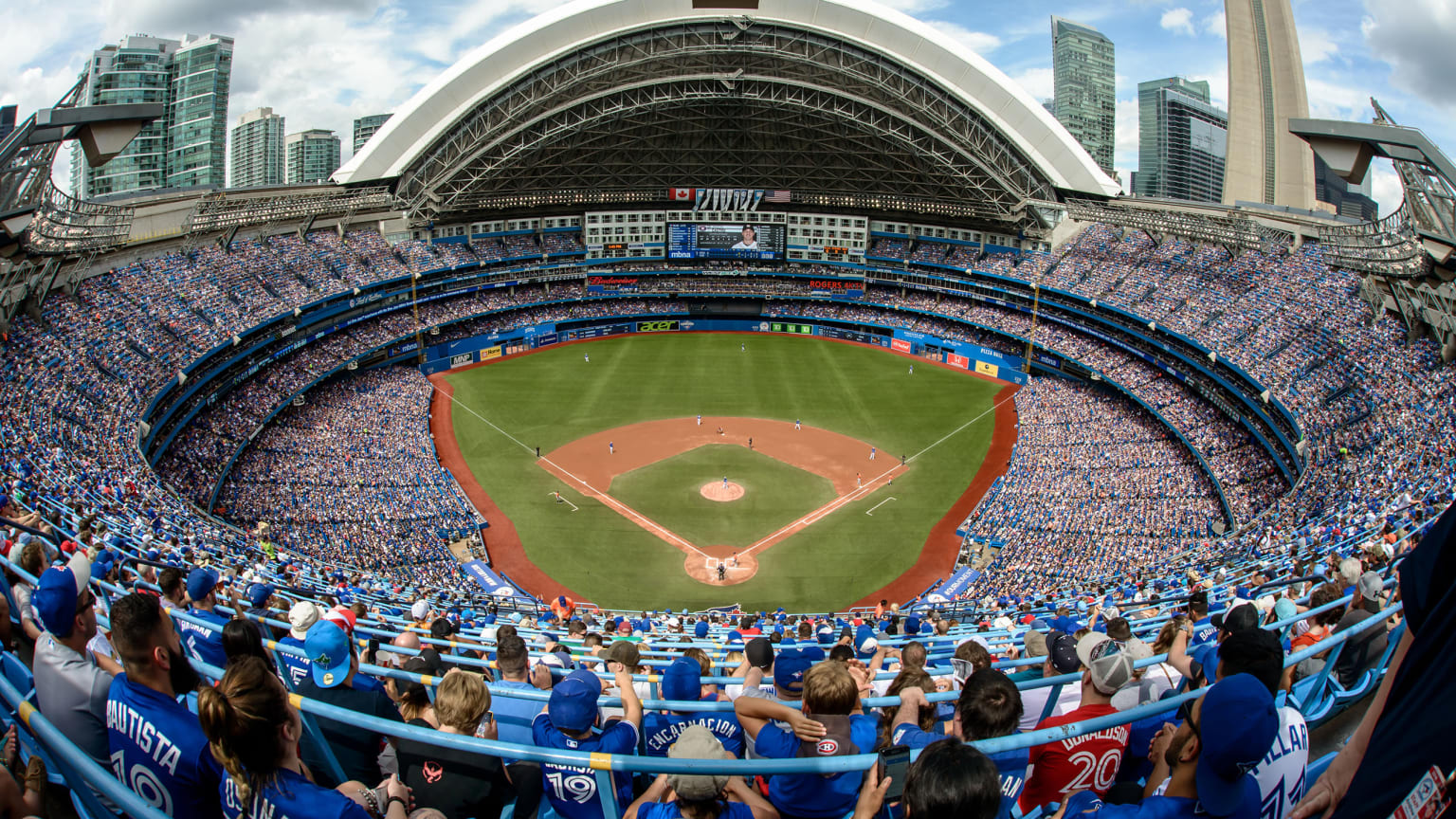 Rogers Centre, located in Toronto, Ontario, is a multi-purpose stadium with a seating capacity of 53,506.
It is home to the Toronto Blue Jays of Major League Baseball and is known for its retractable roof, making it suitable for events in any weather.
This iconic venue has hosted a wide range of events, including concerts, trade shows, and major sporting events.
BC Place Stadium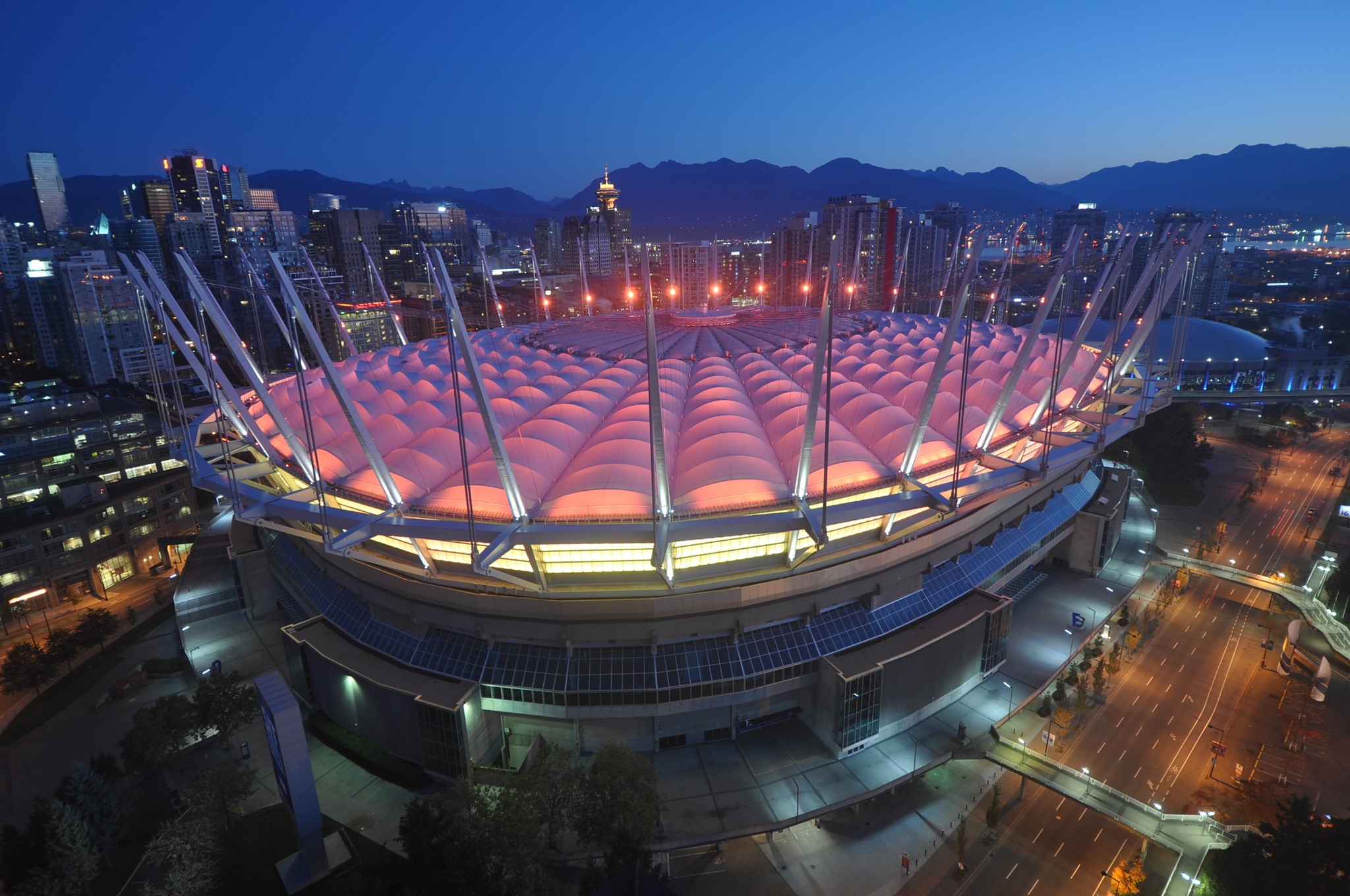 BC Place Stadium is situated in Vancouver, British Columbia.
With a capacity of 54,500, it is the largest multipurpose stadium in the province.
It features an impressive retractable roof and serves as the home of the BC Lions of the Canadian Football League and Vancouver Whitecaps FC of Major League Soccer.
The venue has also hosted various concerts, trade shows, and international sports competitions.
Scotiabank Arena
Scotiabank Arena, formerly known as the Air Canada Centre, is located in downtown Toronto, Ontario.
It is a premier sports and entertainment venue with a seating capacity of 19,800. The arena is primarily used for hockey and basketball games.
It serves as the home of the Toronto Maple Leafs of the National Hockey League and the Toronto Raptors of the National Basketball Association. Scotiabank Arena has also been the site for numerous concerts, family shows, and other special events.
Uses and Events
Stadiums and arenas in Canada are used for a variety of purposes, serving as venues for professional sports, entertainment, and concerts. In this section, we will explore the different types of events taking place in these multi-functional venues.
Professional Sports
Canadian stadiums and arenas host various professional sports, such as:
Hockey: As a hockey-crazed nation, Canada boasts numerous indoor arenas like Toronto's Scotiabank Arena, Montreal's Bell Centre, and Vancouver's Rogers Arena. These venues primarily host National Hockey League (NHL) games and sometimes, international hockey events.
Football: Canadian Football League (CFL) games take place in outdoor stadiums like Tim Hortons Field in Hamilton and BMO Field in Toronto. Additionally, these stadiums host international soccer events and MLS games.
Baseball: Canada has some well-known baseball stadiums such as the Rogers Centre in Toronto, where Major League Baseball's (MLB) Toronto Blue Jays play their home games.
Basketball: The Scotiabank Arena in Toronto serves as the home court for the NBA's Toronto Raptors.
Entertainment and Concerts
In addition to hosting sports events, stadiums and arenas in Canada also provide a stage for various entertainment and concert events. These venues often transform to accommodate diverse performances, such as:
Concerts: World-famous artists often perform at large venues like the Bell Centre in Montreal, Scotiabank Arena in Toronto, and Rogers Arena in Vancouver. These concerts draw large crowds and offer an unforgettable live music experience.
Cultural events: Canadian stadiums and arenas also host cultural events, such as Cirque du Soleil performances or ice skating shows like Disney On Ice.
Trade shows and exhibitions: Some venues, such as the Enercare Centre in Toronto, can accommodate large-scale trade shows and exhibitions, providing ample space for displays, vendors, and visitors.
These multi-purpose stadiums and arenas contribute to the vibrant landscape of Canada's cultural and sporting scene, offering something for every taste and interest.
Economic and Social Impact
Boost to Local Economy
Sports stadiums and arenas in Canada do have an impact on the local economy, but the magnitude and effects can vary. When new stadiums are financed, the belief is that they will create short-term job opportunities during construction and long-term benefits through increased tourism and other activities.
In recent years, Canada has been home to some leading international competitions, such as the 2010 Vancouver Winter Olympic Games and the 2015 Pan American Games (source: "Five Concepts that Drive Community-Focused Stadium Design").
These events have caused an influx of investment in stadium and arena development, which in turn, can aid in job creation and economic growth.
However, it's important to note that not all stadium projects create lasting economic impact.
Some researchers have found no evidence of a strong positive economic impact from professional sports teams and their facilities (source: "PDF Professional Sports Facilities, Franchises and Urban Economic").
Environmental Considerations
With any large-scale construction project, environmental considerations play a vital role in the planning and implementation of stadiums and arenas.
As a leader in community-focused stadium design, Canada is pushing for sustainable, environmentally friendly practices when building new sports facilities.
These practices can include the use of energy-efficient materials, waste management systems, and innovative construction methods that minimize harm to the environment.
Often, architects and designers aim to achieve certifications such as LEED (Leadership in Energy and Environmental Design) to demonstrate their commitment to sustainability.
Not only do these environmental measures reduce the ecological footprint of the structure, but they can also lead to cost savings in the long term, as stadiums and arenas with energy-efficient designs consume less energy, thus resulting in lower maintenance and operating costs.
Future of Stadiums and Arenas
Innovations in Facility Design
In the coming years, Canadian stadiums and arenas are expected to adopt more innovative designs that prioritize efficiency and user experience.
Modular construction is one such approach, as seen in the new Vancouver FC stadium in Langley, B.C., which is currently under construction and expected to be finished by May 7, 2023.
This type of construction allows for easy assembly, disassembly, and reconfiguration, providing optimal flexibility for various events.
Moreover, the focus on spectator experience would drive more investments in advanced technologies, such as augmented and virtual reality, to enrich the overall experience.
Emphasizing accessibility and inclusivity would also become essential in new construction and renovation projects.
Sustainability and Green Initiatives
In addition to innovative designs, sustainable practices and green initiatives are becoming increasingly important in stadium and arena development.
Future facilities are expected to incorporate energy-efficient technologies, use environmentally friendly materials, and adopt waste reduction strategies.
Some measures that can be taken are:
Solar panels: Installing solar panels on rooftops and around stadium premises to generate renewable energy.
Rainwater harvesting: Collection and storage of rainwater for use in irrigation and other non-potable purposes.
Green roofs: Installing vegetated rooftops that provide insulation, absorb rainwater, and create habitats for wildlife.
Energy-efficient lighting: Employing LED lighting and smart lighting controls to reduce energy consumption.
Waste management: Implementing recycling and composting programs to reduce waste generation and promote environmentally responsible behaviors among attendees.
By prioritizing eco-friendly design and operation, Canadian stadiums and arenas can play a significant role in reducing the negative environmental impact of large-scale events and contribute to the larger goal of sustainability.
James is a big time NBA Golden State follower, who makes sure to catch games when he's in the area. He likes to follow International Soccer, with an interest in small town soccer club, Blackburn Rovers located in the North on the UK.