When it comes to the NFL, each team often has a stadium they call their own, a home where they can host their games and build a dedicated local fan base.
With 32 teams in the league, it would be expected that there would be 32 stadiums in which they compete.
However, this is not the case.
There are currently only 30 full-time NFL stadiums, as some teams have chosen to share their homes with others in order to save resources and maximize the use of their facilities.
In the NFL, two sets of teams have chosen this unconventional path of sharing their home ground.
The first example includes the New York teams: the New York Giants and the New York Jets, who both share MetLife Stadium in East Rutherford, New Jersey.
The second example takes place on the other side of the country, with the Los Angeles Rams and the Los Angeles Chargers, who share the impressive SoFi Stadium in Inglewood, California.
While sharing a stadium might be uncommon in the NFL, it has proven to be a practical approach for these teams. Coexisting in the same venue allows for a more efficient use of space and resources, and it showcases how collaboration can lead to success in the highly competitive world of professional football.
Which NFL Teams Share a Stadium
New York Giants and New York Jets
The New York Giants and New York Jets are two NFL teams that share a stadium. They both play their home games at MetLife Stadium, located in East Rutherford, New Jersey. MetLife Stadium, with a seating capacity of over 82,000, serves as the home field for these teams since its opening in 2010.
The Giants and Jets sharing a stadium is a unique arrangement in the NFL, as there are only two instances where teams share a home field. This allows both teams to benefit from the shared infrastructure and resources, while providing fans with an exciting, high-quality football experience within the same location.
Los Angeles Chargers and Los Angeles Rams
Another pair of NFL teams sharing a stadium are the Los Angeles Chargers and Los Angeles Rams. These teams play their home games at the state-of-the-art SoFi Stadium in Inglewood, California. SoFi Stadium is an indoor sports venue with a fixed roof, offering a 70,000-seat capacity for fans to enjoy their favorite teams in action.
The Chargers and Rams began sharing SoFi Stadium in 2020, making it the newest venue for NFL games in the league. The modern facility offers an incredible fan experience, including a massive video board, luxurious suites, and advanced technology integrated throughout the complex.
In conclusion, the New York Giants and New York Jets at MetLife Stadium, as well as the Los Angeles Chargers and Los Angeles Rams at SoFi Stadium, are the only two instances of NFL teams sharing a stadium. These shared venues provide an opportunity for the teams to efficiently utilize resources and offer fans a unique football experience.
History of Shared Stadiums
MetLife Stadium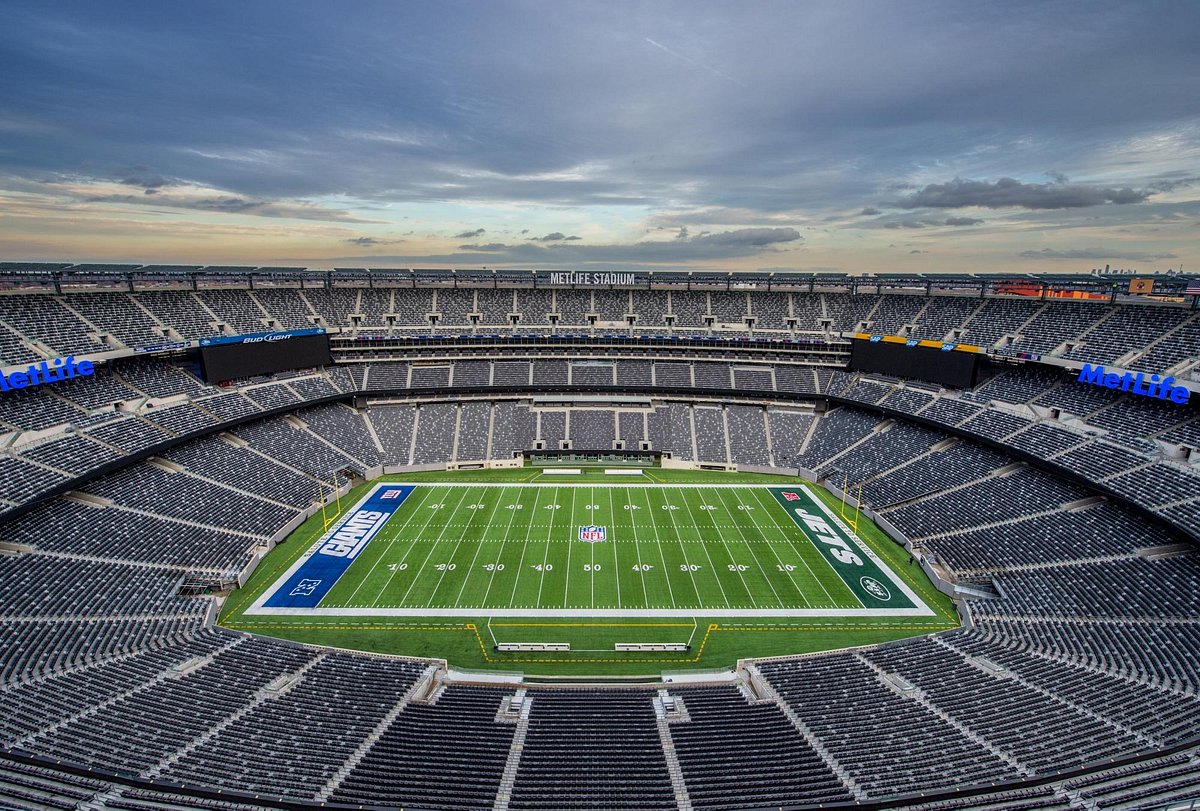 MetLife Stadium, located in East Rutherford, New Jersey, is home to two NFL teams: the New York Giants and the New York Jets. This unique arrangement came about because both teams desired a new stadium but the construction costs were high. So, they decided to collaborate and build a shared stadium which opened in 2010. MetLife Stadium has a seating capacity of approximately 82,000 fans and can accommodate both teams' games, as well as concerts and other events.
SoFi Stadium
SoFi Stadium, located in Inglewood, California, is another example of a shared stadium in the NFL. The Los Angeles Rams and Los Angeles Chargers both call this state-of-the-art facility home. SoFi Stadium was completed in 2020, as part of the Los Angeles Stadium at Hollywood Park complex, which also includes a retail area, restaurants, and office spaces. The stadium has a seating capacity of around 70,000 fans and features a fixed, translucent roof.
Both MetLife Stadium and SoFi Stadium have successfully allowed NFL teams to share a home venue while keeping their individual identities intact. This arrangement not only saves on construction and operational costs but also creates unique fan experiences as supporters of both teams can mingle and enjoy the games together.
Benefits of Shared Stadiums
Sharing a stadium between multiple NFL teams can offer several advantages. One key benefit is the financial aspect. Constructing and maintaining a massive sports facility can be incredibly costly. By sharing the stadium, teams can split expenses, making it more affordable for both parties involved. Notably, the shared SoFi Stadium is home to the Los Angeles Rams and Los Angeles Chargers.
Another advantage is increased utilization. With two teams sharing the same venue, events are held more frequently, keeping the stadium busy throughout the year. This higher level of usage can generate more revenue from ticket sales, concessions, and sponsorships. Shared stadiums can also promote cross-promotion between the teams, further cementing the bond between them and their shared fan base.
In addition to these financial and promotional benefits, shared stadiums can also foster environmental sustainability. By building only one stadium for two teams, the amount of land, materials, and energy required for construction is significantly reduced. As a result, the overall carbon footprint of both teams is diminished.
Moreover, shared stadiums can promote positive competition and a sense of camaraderie among the players and fans of both teams. This friendly rivalry can lead to increased team performance and heightened engagement from fans, as they attend games and support their respective teams.
To summarize, shared NFL stadiums offer various logistical, financial, and environmental benefits. Teams enjoy reduced costs, and fans experience heightened excitement due to the increased utilization and friendly rivalry between the teams using the stadium.
Challenges of Shared Stadiums
Sharing a stadium between NFL teams often comes with various challenges to overcome. One of the main difficulties is creating a balanced and fair scheduling system for both teams. It is essential to ensure that each team's games are rotated fairly and there are no conflicts or overlapping games.
Another challenge shared stadiums face is the changing of the field's layout, markings, and branding to represent the home team for each game. This process requires a dedicated crew to ensure a seamless transition, often overnight. In addition, wear and tear on the playing surface can become an issue as the field experiences double the usage compared to traditional single-team stadiums.
Shared stadiums also force teams to confront logistical challenges when organizing and accommodating fans' needs. Differentiating between the teams' fan bases and providing tailored experiences for them can prove difficult. This includes managing parking lots, concession stands, and merchandise stores to cater to both teams' fans.
Moreover, shared stadiums can impact the teams' financial aspects, as the revenue from stadium-related income, such as naming rights, advertising, and luxury suites, is split between them. In turn, this can influence each team's budget and spending power for attracting players, coaches, and staff.
In conclusion, the challenges of shared stadiums revolve around scheduling, field maintenance, logistics management, and revenue distribution. Despite these obstacles, some NFL teams have successfully navigated stadium sharing, such as the Los Angeles Rams and Los Angeles Chargers, demonstrating that it can be a viable option under certain circumstances.
Conclusion
In summary, there are two sets of NFL teams that share a stadium. The New York Giants and New York Jets share MetLife Stadium, while the Los Angeles Rams and the Los Angeles Chargers share SoFi Stadium. These shared arrangements are unique in the NFL, as there are only 30 stadiums for the 32 teams that comprise the league.
The shared stadium situations provide benefits and challenges for both the teams and the fans. On the one hand, sharing a stadium can lead to reduced costs in terms of construction and maintenance. Additionally, the combined resources of two teams can contribute to a more advanced and feature-rich stadium experience for the fans.
On the other hand, scheduling events can be challenging, particularly when both teams have home games on the same day. However, the NFL is well aware of these potential conflicts and works diligently to create a balanced schedule for the respective teams.
While shared stadiums are less common in professional football, they are more prevalent in other sports such as basketball and hockey, where teams often share arenas. In the end, shared stadiums represent the adaptability of professional sports leagues and their ability to meet the needs of an ever-evolving entertainment landscape.
James is a big time NBA Golden State follower, who makes sure to catch games when he's in the area. He likes to follow International Soccer, with an interest in small town soccer club, Blackburn Rovers located in the North on the UK.