State Farm Stadium, located in Glendale, Arizona, is a premier sports and entertainment destination that hosts various events, including Arizona Cardinals games and major concerts.
Getting to the stadium can be a breeze with proper planning, as there are several transportation options available and guidelines in place to make your visit seamless.
Understanding the various transportation means, like parking options, public transit, and ride-sharing, is crucial for a smooth trip to the stadium. Additionally, familiarizing oneself with the stadium's policies and facility layout can greatly enhance your experience while attending events.
In order to have the best experience, guests should also be aware of available food and drink options, ticketing information, and seating arrangements.
Key Takeaways
Numerous transportation options are available for reaching State Farm Stadium
Familiarize yourself with stadium policies and layout for an enjoyable visit
Consider available food, drink, seating, and ticketing aspects to maximize your experience
Transportation Options
Public Transit
Although State Farm Stadium is not directly served by Phoenix Light Rail, it is possible to use a combination of light rail and bus services to reach the stadium.
The light rail goes south from 19th Ave & Bethany Home Road to Camelback Road, then south to downtown Phoenix, passing by Sky Harbor Airport, Phoenix Zoo, Arizona State University, and finishing its route in downtown Mesa. To complete the journey, transfer to the appropriate bus service to reach the stadium.
Ridesharing
For those who prefer ridesharing services like Uber or Lyft, State Farm Stadium has a designated pick-up and drop-off location in the Black Lot.
The Black Lot is located south of the stadium, across Bethany Home Road / Cardinals Way. This convenient option allows you to leave your car at home and rely on a convenient and affordable transportation option.
Parking
State Farm Stadium is located in the Glendale Sports & Entertainment District off the AZ Loop 101 Freeway between Bethany Home Road/Cardinals Way and Glendale Avenue.
With over 24,000 parking spaces available across numerous car parks, parking is not a concern for those who prefer to drive. The stadium address is: 1 Cardinals Drive Glendale, AZ 85305.
Shuttle Services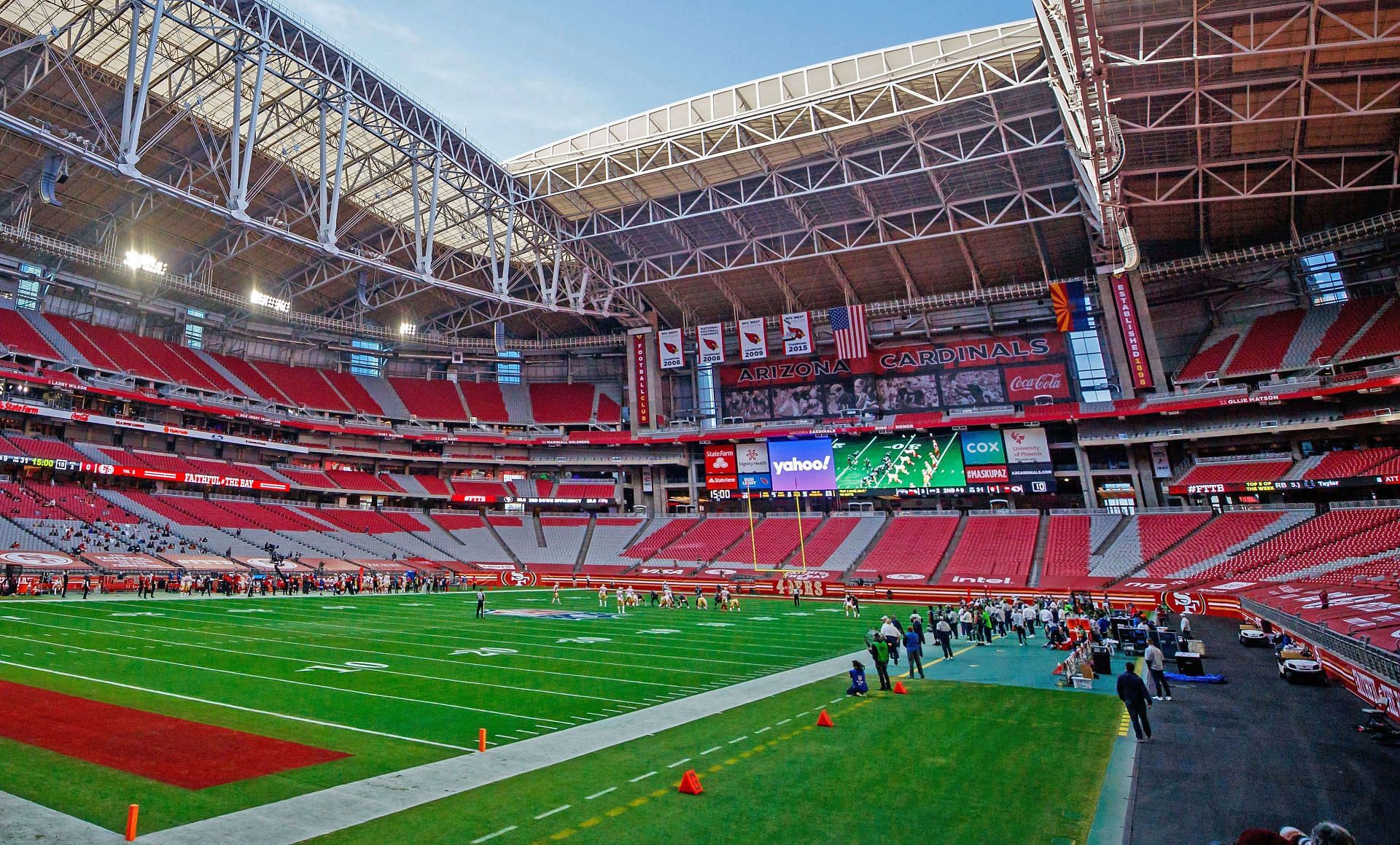 While specific shuttle services may vary depending on the event, some local hotels and businesses may offer shuttle services to and from the stadium.
Be sure to check with your hotel or any nearby establishments to inquire about potential shuttle transportation options.
Important Guidelines
Security Measures
State Farm Stadium implements strict security measures to ensure the safety and well-being of all attendees. Upon entering the stadium, fans are required to go through metal detectors and bag inspections.
It is crucial to follow the Clear Bag Policy, which limits the size and types of bags allowed inside the stadium. For a hassle-free entry, it's best to familiarize yourself with this policy and adhere to it.
Prohibited Items
To maintain a safe and enjoyable environment, State Farm Stadium does not allow certain items inside the venue. Here is a list of some common prohibited items:
Backpacks and large bags
Alcoholic beverages
Outside food and drinks
Professional camera equipment
Selfie sticks
Noise-making devices
It is essential to review the complete list of prohibited items on the stadium's website before attending an event at State Farm Stadium to avoid inconveniences at the entrance.
Accessibility
State Farm Stadium is committed to providing an accessible and comfortable experience for all guests, including those with disabilities. The stadium offers various accessibility features such as:
Accessible seating and companion seats located throughout the venue
Assistive Listening Devices (ALDs) available for fans with hearing impairments
Elevators and ramps to accommodate guests with mobility disabilities
Accessible parking spaces located in the stadium's parking lots
Remember to check the stadium's website for additional accessibility information and specific policies related to service animals, interpreters, and other accommodations.
Eating and Drinking
Inside the Stadium
State Farm Stadium, home to the Arizona Cardinals, offers a wide variety of food and drink options for fans attending events.
You'll find classic stadium food like popcorn, hot dogs, chicken wings, chicken tenders, peanuts, pretzels, water, soda, and beer at various concession stands throughout the concourse.
For a unique treat, consider trying the 4th and Long, a 22-inch hot dog with your favorite condiments.
Nearby Options
If you're looking to grab a bite before or after an event, there are plenty of nearby restaurants to choose from. Some popular options include:
Yard House: Located at 9401 W Westgate Blvd, Glendale, AZ, Yard House offers great American fare and an extensive beer selection.
The Lola: Located at 6770 N Sunrise Blvd suite 109, Glendale, AZ, this spot serves upscale dishes and craft cocktails.
Head to one of these nearby options for satisfying food and drink experiences before or after your time at State Farm Stadium.
Tickets and Seating
Purchasing Tickets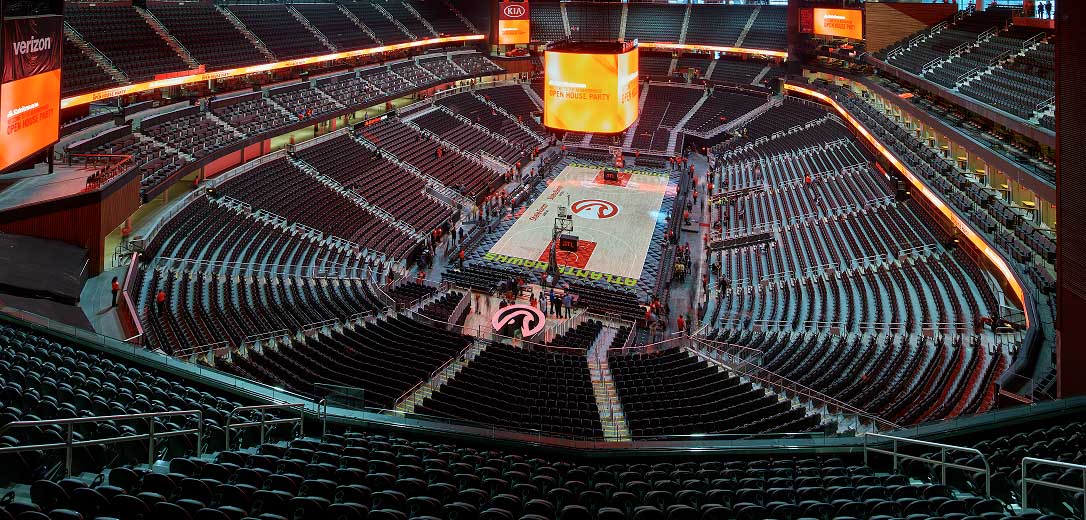 To purchase tickets for events at State Farm Stadium, visit the online ticket platform, SeatGeek.com, as the Stadium Ticket Office does not accept cash or phone orders.
Alternatively, you can visit the State Farm Stadium Ticket Office, which is open Monday through Friday from 10AM – 6PM. For queries, you may contact the Main Ticket Office at (602) 379-0102.
Seating Areas
State Farm Stadium offers a variety of seating options to cater to different preferences and budgets. The Gila River Casinos Club Level, accessible to those with premium seating tickets, provides an exclusive experience. For information regarding Cardinals games, call 602-379-0102, and for concerts, dirt shows, or soccer matches, contact 623-433-7157 or email [email protected].
The Club Level at State Farm Stadium consists of sections on the 200 level, with some of the most desirable seats for Cardinals games and concerts. For a detailed view of the seating areas, explore their interactive seat map.
Remember to check the Clear Bag Policy before attending an event, as it limits the size and types of bags permitted inside the stadium.