Attending an event at FLA Live Arena is an exciting experience, but the quality of your time can depend significantly on where you sit. With a wide array of seating options available, it's essential to know the best and worst seats in the house to make the most out of your next visit. In this article, we'll help you navigate your options by examining various seating sections and offering insights into which ones provide the prime vantage points.
The most common seating layout at FLA Live Arena for concerts features an end-stage setup, with the stage located near sections 122, 123, and 124. However, it's also worth noting that the layout may change slightly depending on the event, including possible general admission areas, fan pits, and secondary stages. Club Level seats at FLA Live Arena are particularly desirable, thanks to their elevated views, cupholders, and extra-padding for comfort.
While some seats may not offer the best view, there's still plenty of enjoyment to be had. By understanding the seating layout and weighing the pros and cons of each section, you'll be better equipped to choose the ideal spot that fits your budget and preferences for a memorable experience at FLA Live Arena.
Best Seats at FLA Live Arena
Lower Level Center
The Lower Level Center sections provide an excellent view of the action at FLA Live Arena. These sections typically include Section 122, Section 123, and Section 124. The lower level center seating gives fans a close look at the stage for concerts and an unobstructed view for other events. These sections provide a great balance between being close to the action and avoiding potential obstructions that come with sitting too close.
Club Level Center
The Club Level Center sections, such as Section CL30, offer a more premium experience for fans attending events at FLA Live Arena. These seats have good sightlines of the stage or the game, while also offering easy access to amenities, such as food and beverages, restrooms, and entrances. The Club Level Center sections are less crowded than other seating areas, allowing for a more comfortable experience. However, be aware that people may stand behind your seats, which could be annoying.
Courtside Sections
For the ultimate up-close experience at FLA Live Arena, Courtside Sections are the way to go. These seats put fans right next to the action, whether it's a basketball game or a live concert. While the seating layout can vary depending on the event, Courtside Sections offer the best view of the action and an unparalleled atmosphere. Keep in mind that sitting this close to the action may result in some areas being difficult to see, but you will undoubtedly be fully immersed in the event.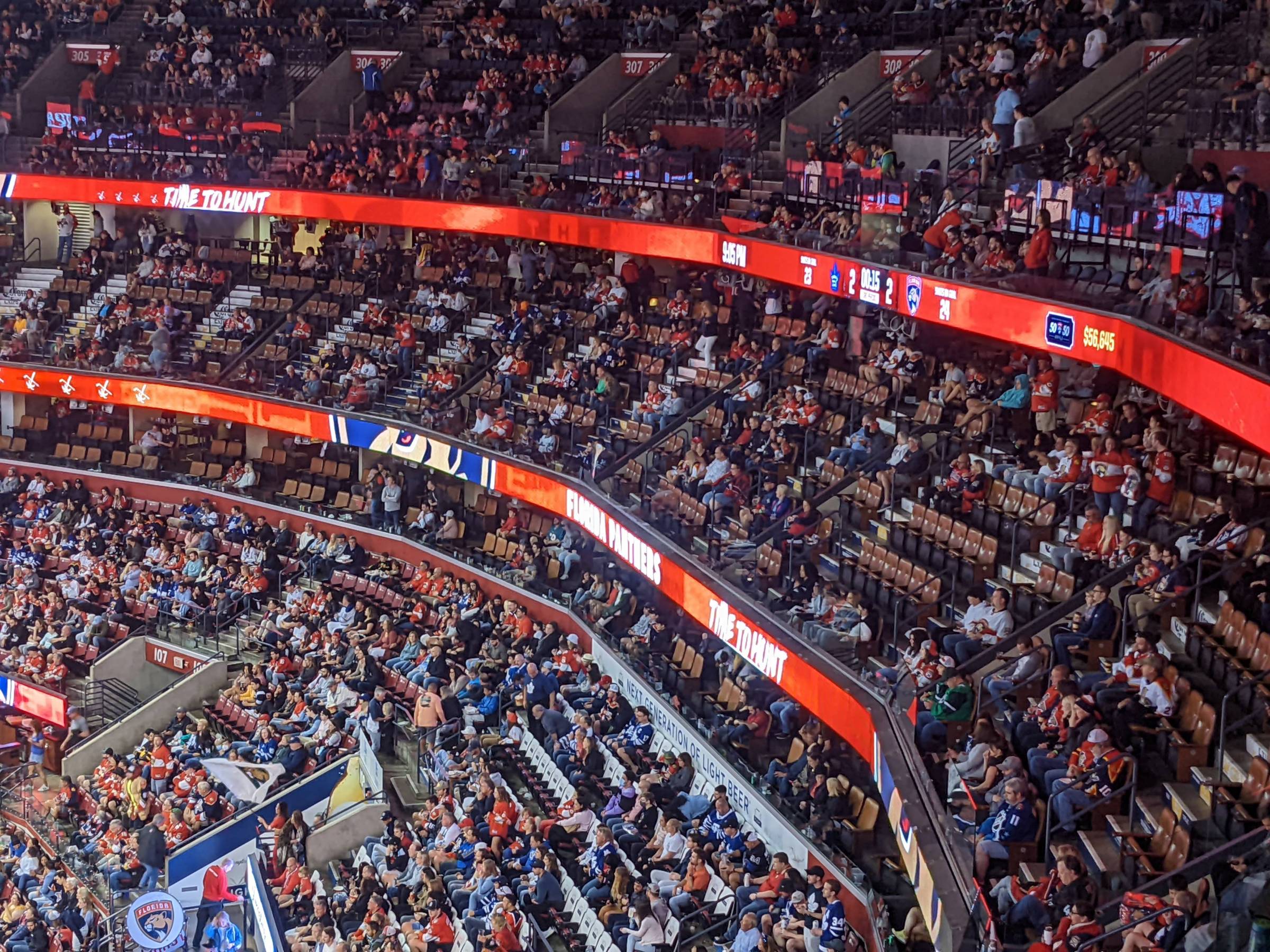 Worst Seats at FLA Live Arena
Upper Level Corners
The upper level corners in FLA Live Arena may not provide the best experience for concertgoers or sports fans. These sections, located far away from the stage or the court, offer limited views, especially when the action is taking place on the opposite side. Furthermore, the steep seating arrangement may make it feel distant and disconnected from the event.
Upper Level Rows
High up in the arena, the upper-level row seats can also be less than ideal. The further back you are in these rows, the more challenging it becomes to see the performers or players and fully enjoy the event. Additionally, depending on the arena's layout, some of these seats may be obstructed or have a partial view due to the venue's infrastructure.
Behind the Stage
Sitting behind the stage at FLA Live Arena might not be the most desired location for an event, as visibility could be obstructed. For concerts, you'll mostly see the back of the performers, and it might be challenging to fully appreciate the visuals and stage production. For sports events, it may also be difficult to follow the action happening on the other side of the venue.
It is essential to keep these factors in mind when purchasing tickets for events at FLA Live Arena, as it can impact your overall experience. Remember that every event may have a unique setup and sometimes different sections might become less desirable based on the venue's configuration for that specific event.
Tips for Choosing Seats
Consider Event Type
When choosing seats at FLA Live Arena, it's important to consider the type of event you'll be attending. For example, a concert might have an end-stage setup with the stage located near sections 122, 123, and 124. This setup might include variations such as General Admission seats, fan pits, and B-stages. In contrast, a Florida Panthers game will have a different seating arrangement. Be sure to look up the seating chart for the specific event you'll be attending, as different events may have unique seating layouts.
Keep Accessibility in Mind
Accessibility is an important factor when selecting seats at FLA Live Arena. If you have mobility issues or are attending with someone who does, consider choosing seats in the Club Level, like Section CL30. These seats offer fewer steps to climb and can provide a better experience for those with mobility concerns. In addition, check with the venue regarding any special accommodations or accessible seating areas they may have available.
Factor in Price Range
Finally, it's essential to consider your budget when selecting seats at FLA Live Arena. Premium seats with better views may be more expensive but can also offer additional perks. For example, Club Level seats come with extra padding and cupholders for added comfort, as well as access to the club level concourse, which features upscale food and beverage options available for purchase. However, other areas of the arena can still provide enjoyable experiences at a more budget-friendly price. Take time to explore seating options within your price range and weigh out the extra amenities offered in each section.
Other Amenities at FLA Live Arena
Food and Beverage Options
FLA Live Arena offers a wide variety of food and beverage options to suit all tastes. Some popular choices include:
Local concession stands with traditional arena fare like hot dogs, burgers, nachos, and soft pretzels
Specialty food stands offer more unique options, such as Latin cuisine, Italian gelato, and gourmet popcorn
Bars and lounges provide an excellent selection of beer, wine, and cocktails for fans looking to enjoy a drink while watching the game or concert
Throughout the arena, vendors accept cash, credit cards, and contactless payment options for added convenience.
Parking and Transportation
FLA Live Arena boasts a convenient location with various parking and transportation options, including:
Multiple parking lots surrounding the arena that offer paid parking
Designated rideshare drop-off and pick-up zones
Nearby bus, shuttle, and car rental services that provide hassle-free transport to and from the venue
Accessible parking for guests with disabilities and special needs
Some events may include parking fees in the ticket price, so be sure to check specific event information before attending.
Special Features
FLA Live Arena also boasts some unique features for guests to enjoy:
Club RED seating: A premium seating area on the club level, offering guests a luxurious experience with comfortable seats, dedicated wait service, and access to a private lounge
Free Wi-Fi: Guests can stay connected and share their memories using the venue's complimentary Wi-Fi service
Family restrooms: Accessible and family-friendly restroom facilities are available for guests with young children or special needs
ATM services: Easy access to cash services, should the need arise during an event
Guests are encouraged to explore all the amenities FLA Live Arena has to offer, ensuring a memorable and enjoyable experience.
James is a big time NBA Golden State follower, who makes sure to catch games when he's in the area. He likes to follow International Soccer, with an interest in small town soccer club, Blackburn Rovers located in the North on the UK.