Heading to a Tampa Bay Rays game at Tropicana Field? Getting there can be a breeze with some planning and know-how.
Tropicana Field, situated in sunny St. Petersburg, Florida, lies directly east of Interstate 275, making it easily accessible by car. For those not driving, you can also hitch a ride using rideshare services or consider walking if you're staying nearby.
Before heading out, it's important to consider your transportation options and parking needs. Depending on your choice of transportation, your arrival at the stadium can be efficient and stress-free. Whether you're parking at the stadium or walking from a nearby hotel or restaurant, this quick guide will help ensure a smooth journey to Tropicana Field.
Key Takeaways
Consider various transportation options to reach Tropicana Field
Plan for parking needs ahead of time for a stress-free arrival
Know your way around the stadium to ensure a seamless and enjoyable experience
Choosing Your Transportation
Public Transportation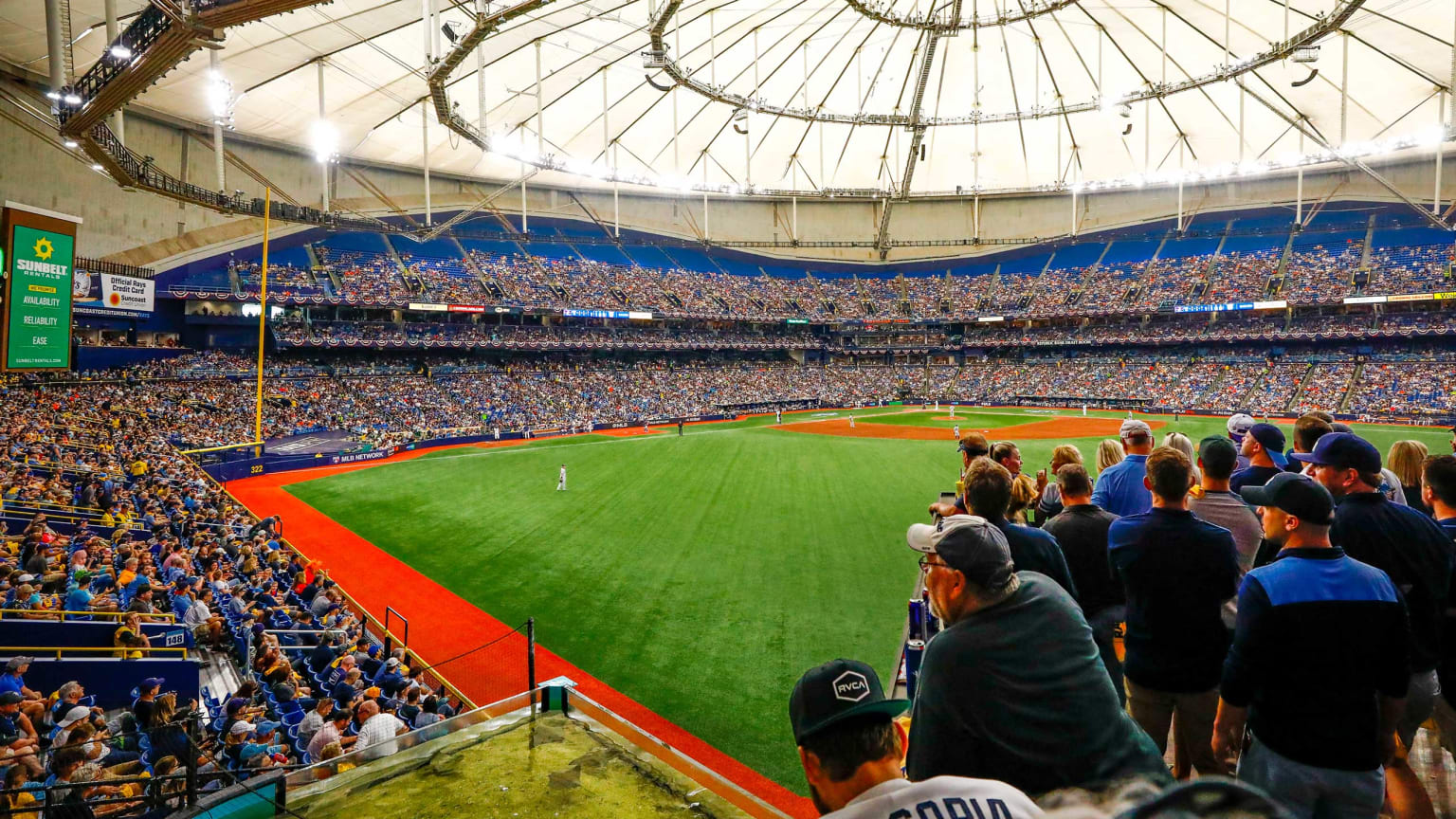 For those looking to use public transportation, one option available is the free Baseball Looper Trolley. The shuttle service departs from the intersection of 2nd Street and Central Avenue in downtown St. Petersburg. The shuttle operates on Tampa Bay Rays game days and is an easy way to reach Tropicana Field without the hassle of driving and parking.
If coming from Tampa, taking the bus from Marion St. N + Kennedy Blvd. E to Dr. Martin Luther King Jr. St. N + 1st Ave N is another option. The journey takes approximately 1 hour and 29 minutes, and fares range from $1 to $35.
Driving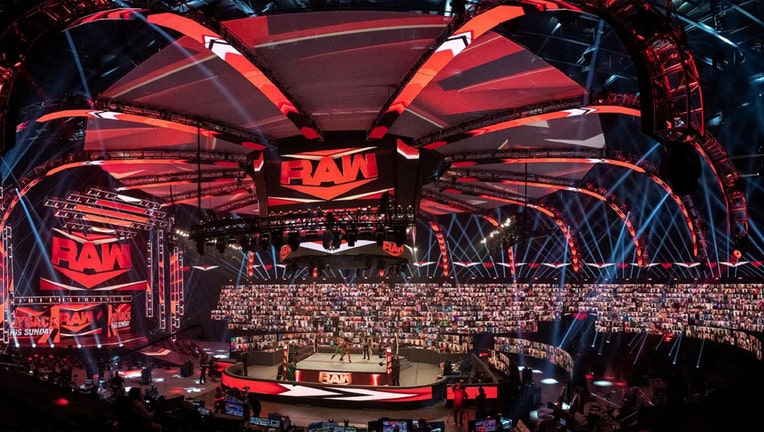 Driving to Tropicana Field is a popular choice for many visitors. Be sure to check the official Tropicana Field website or follow their social media channels for information on parking and directions. Keep in mind that traffic during game days can be quite heavy, so plan accordingly.
Rideshares and Taxis
Tropicana Field offers designated rideshare drop-off and pickup zones for services such as Uber and Lyft. This option can be convenient, particularly if you are not familiar with the area or do not wish to deal with parking. Make sure to follow Tropicana Field's social media channels for specific information about rideshare locations.
Taxis are another alternative for getting to the stadium. Ensure you have the stadium's address or location handy to provide to the taxi driver.
Walking and Biking
If you are staying nearby or within walking distance, consider walking or biking to Tropicana Field. This option can often be the most cost-effective and environmentally-friendly choice. Plus, it's an opportunity to explore the local area and burn off some energy before enjoying the game. Check local maps and routes to find the most direct and safest path to the stadium.
Navigating to the Stadium
Tropicana Field, home of the Tampa Bay Rays, is located in St. Petersburg, Florida, and is easy to access from various transport options.
From Downtown
If you're staying in downtown St. Petersburg, you can use the Baseball Looper Trolley. It's a free shuttle service that leaves from the intersection of 2nd Street and Central Avenue. Just look for the Tropicana Field shuttle sign on the east side of 2nd Street, underneath a pedestrian bridge.
From Surrounding Areas
For those coming from surrounding areas, Tropicana Field is directly east of I-275 in St. Petersburg. There are two highways that lead directly to the stadium, I-375 and I-175, both feeding into the venue. You can use the Tropicana Field Interactive Transportation Map on raysbaseball.com for turn-by-turn directions to your chosen parking lot.
From Tampa International Airport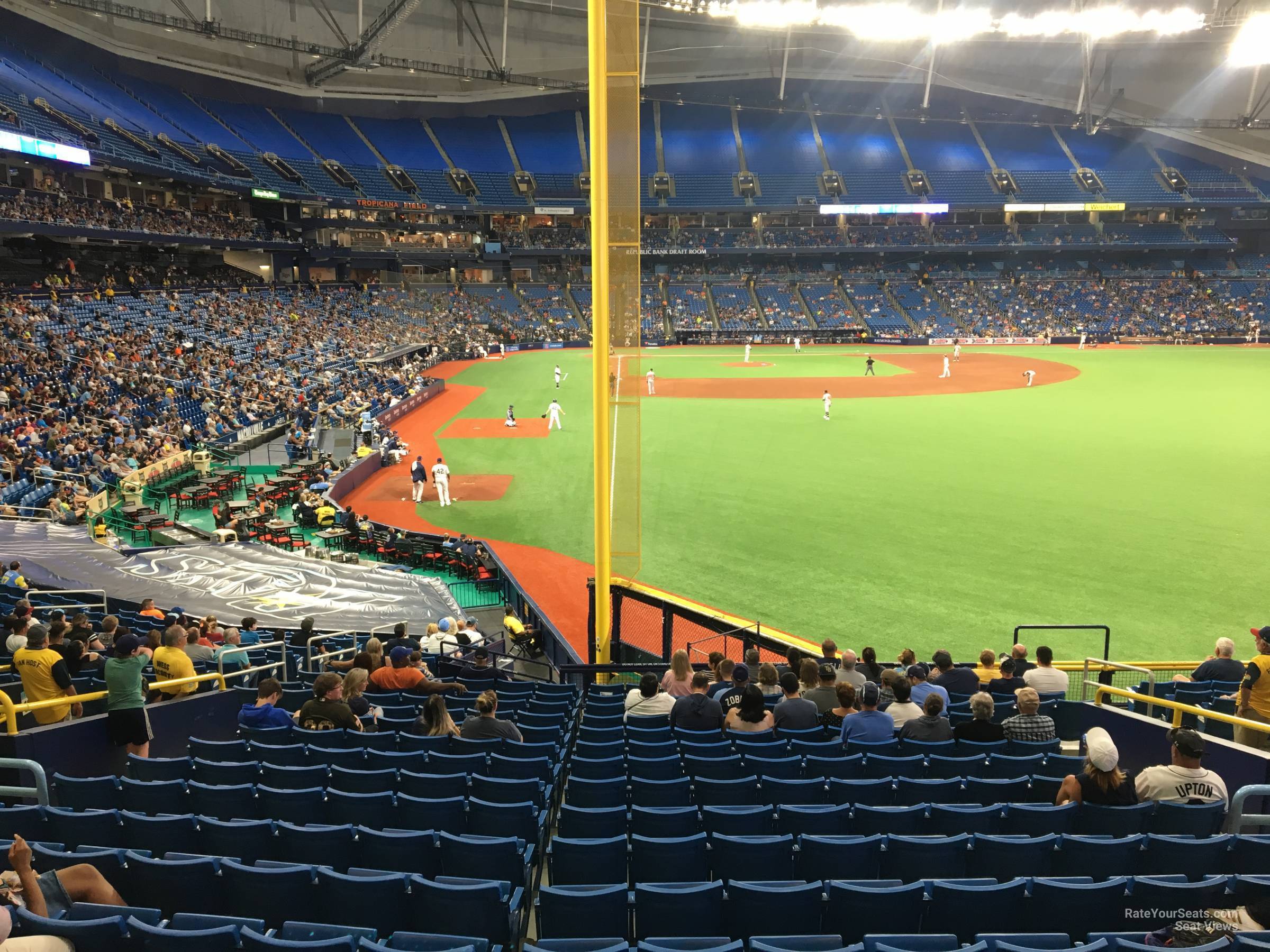 If you're arriving from Tampa International Airport, you can easily reach Tropicana Field:
Follow signs to I-275 South
Keep on I-275 South until Exit 23B (I-375)
Take I-375, which transitions into 5th Avenue North
Continue on 5th Avenue North until you approach Tropicana Field
Remember to factor in potential traffic and parking when planning your departure time.
Parking at Tropicana Field
Official Stadium Parking
Tropicana Field offers multiple on-site parking options for game attendees. Lots 1, 6, and 7 are the most popular for single-game ticket holders, providing ample space and close proximity to the stadium entrance. Lot 1 is recommended for guests sitting in premium areas and directly behind home plate. Please note that cash is not accepted for parking fees, and it's advised to arrive early if you plan to purchase parking upon arrival.
Main parking lots available to single-game ticket holders include:
Lot 1 – Premium Parking
Lot 6 – General Parking
Lot 7 – General Parking
Meanwhile, other lots (2, 3, 4, 5, 8, and 9) may require a permit. For more information on specific lot regulations, visit the Tropicana Field Parking Page.
Off-site and Street Parking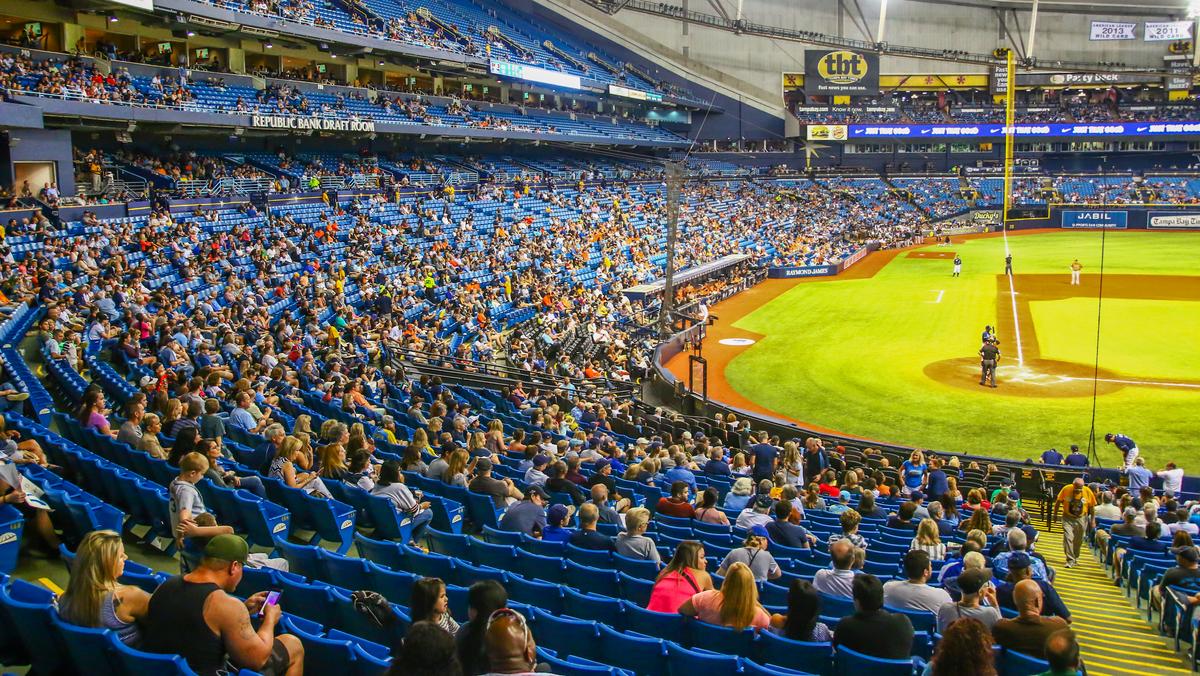 Although official stadium parking is considered the best option for your Tropicana Field visit, there are alternative off-site and street parking options available. Be sure to check nearby establishments for availability and pricing, as these can change depending on the event or day. Additionally, pay attention to local parking restrictions and time limits to avoid any potential fines or towing.
One helpful resource for finding parking spots in advance is ParkMobile, which allows you to reserve and pay for parking using their app. This can be especially useful during busy game days or events when parking spaces might be limited.
In summary, Tropicana Field offers various parking options, both on-site and off-site. By planning ahead and considering your specific needs, you'll be able to find the ideal parking solution for your visit to the stadium.
Understanding Stadium Entrances
Tropicana Field, home to the Tampa Bay Rays, is located in St. Petersburg, Florida, and can be accessed through various entrances to ensure a smooth arrival and entry for fans. When entering Tropicana Field, you'll notice there are multiple gates available, with some being more convenient depending on where you've parked or where your seats are located.
Gates: The primary stadium entrances are the Rotunda Gate (located on the east side) and Gates 4 and 5 (located on the west side). The Rotunda Gate is usually the busiest, as it offers an iconic view of the stadium, but Gates 4 and 5 provide less crowded options without compromising accessibility.
Parking: When it comes to parking at Tropicana Field, there are several lots to choose from, including premium and general parking. Accessible parking is available in Lots 1 and 7, subject to availability. To get to the gates faster, it's important to consider where you've parked. For example, Lots 1 and 5 are closer to stadium entrances and only a 3-minute walk away, while Lots 2, 6, and 7 require a slightly longer walk.
Accessible Seating: Tropicana Field is equipped with ADA-accessible seating options throughout the ballpark, catering to disabled guests and ensuring an enjoyable experience for all fans. If you require accessible seating, it's essential to take note of the stadium entrances when you arrive.
By familiarizing yourself with the different entrances at Tropicana Field and considering factors such as parking and accessible seating, you'll be well-prepared to navigate the stadium confidently and efficiently.
Accessibility Information
Tropicana Field is dedicated to providing an enjoyable experience for all guests, including those with disabilities. The staff works hard to ensure that the venue meets the guidelines set by the Americans with Disabilities Act (ADA).
Accessible parking is available in Lots 1 and 7, subject to availability. For more information on parking options at Tropicana Field, you can consult the Tropicana Field Policies and Procedures page.
When entering the stadium, various accommodations are present to help make your experience more comfortable. The Tropicana Field features unique design elements and fan amenities that are tailored to the needs of guests with disabilities. More information on these amenities can be found in the Tropicana Field Information Guide.
In addition to ADA-accessible seating options, Tropicana Field offers assisted listening devices, and sign interpreters upon request to ensure that all guests can fully enjoy the game. Please contact the stadium in advance to make arrangements or inquire about other accessibility services not mentioned here.
By following this guide and the information provided by the Tampa Bay Rays, you can ensure that your visit to Tropicana Field is a comfortable and enjoyable experience for everyone in your party.
Helpful Tips for Your Visit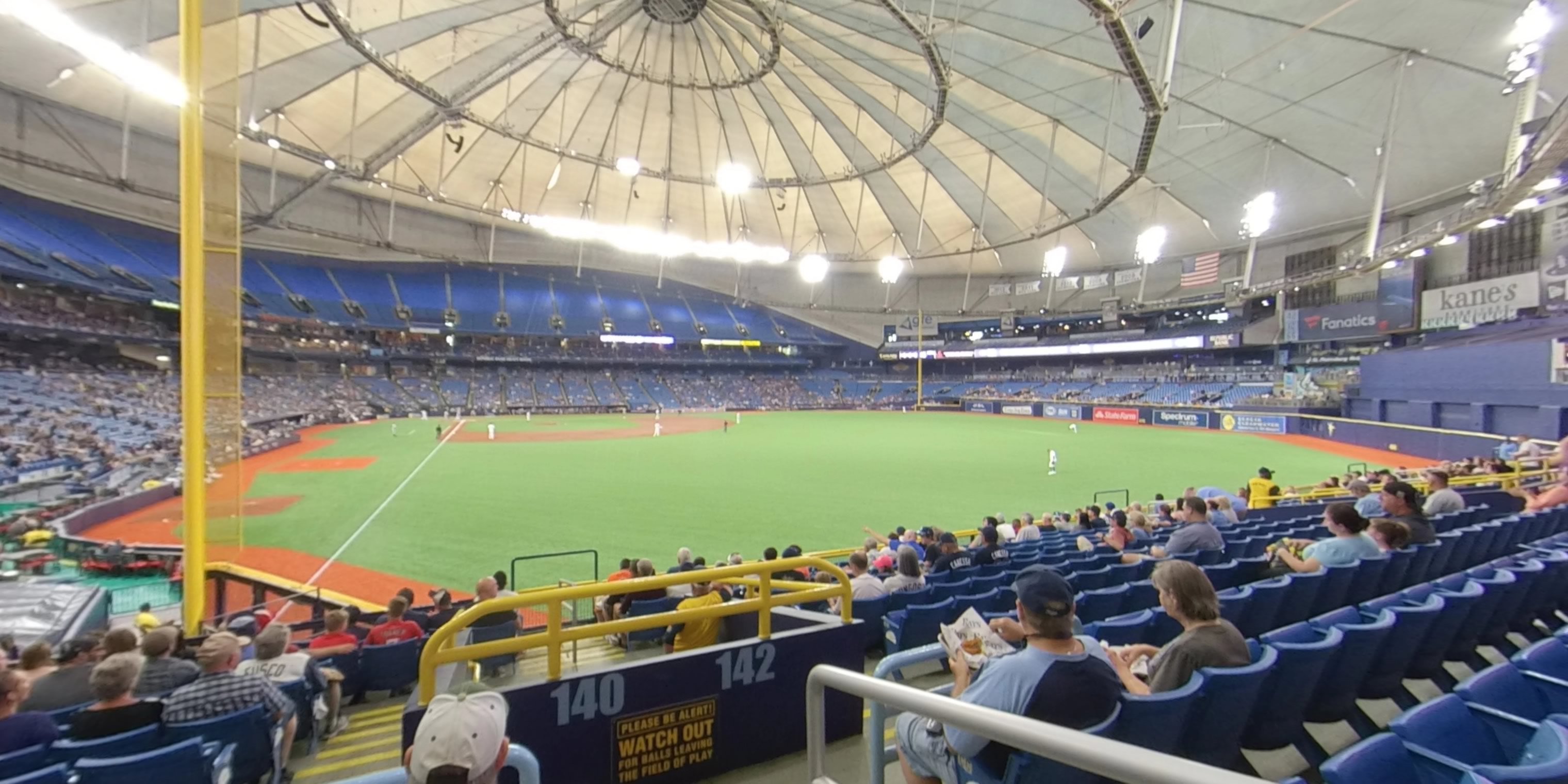 When planning your trip to Tropicana Field for a Tampa Bay Rays game, there are a few key points to consider. By following these tips, you can make your visit more enjoyable and stress-free.
Firstly, since public transportation is limited in the area, driving to the stadium and prepaying for parking is advisable. You can find information on lot locations, carpool, disabled parking, and drop-off zones on the Tampa Bay Rays website. Alternatively, using rideshare services like Uber is another option to get to the ballpark conveniently.
When buying tickets for the game, be sure to explore secondary market venues like TickPick. This can help you score better deals, as Tampa Bay Rays games usually have lower ticket demands, with the exception of high-demand games like Opening Day and weekend Yankees games.
Tropicana Field is surrounded by numerous dining options, both inside and outside the stadium. Do some research to find nearby St. Petersburg restaurants and eateries for pre- or post-game meals. Within the ballpark, you can find a variety of food and drink options, such as local favorites and classic stadium fare.
Finally, plan ahead for your visit by checking the weather and stadium guidelines before you go. Tropicana Field is an indoor stadium, so you won't have to worry about rain, but it's still helpful to know what to expect and what items you can and cannot bring into the ballpark.
By following these tips and doing some research before your visit, you can ensure a smooth and enjoyable time at Tropicana Field.