Foxborough in Massachusetts is most commonly visited because of the frequent events at the Gillette Stadium. People are able to enjoy the hot summer weather in this city while watching a popular football match.
The locals of Foxborough are fully dedicated to the history of their town. This is one of the reasons why they show appreciation for their football team. During game season, visitors of Foxborough prefer to stay in hotels near Gillette Stadium.
Many different restaurants are located near the hotels in Foxborough. Most of these dining areas serve classic American dishes. Locals and visitors are given a chance to try good food and drinks before or after they attend a Gillette Stadium event.
About Gillette Stadium
Foxborough's most famous attraction is the Gillette Stadium. It is the main playing field of the local football team called New England Patriots. Major events have been organized at this stadium over the years because of its 65,000 available seats.
The Gillette Stadium has existed for 20 years. During the course of two decades, events such as NFL matches, ice hockey games as well as college sporting events have been hosted at the Gillette Stadium.
Apart from arranging sporting events, the Gillette Stadium is also famous for welcoming notable artists. Some of the most popular concerts held at this stadium have been performed by Nickelback, Taylor Swift, and Elton John.
5 of the Best Hotels Near Gillette Stadium
Accommodation
The Hilton Garden Inn Hotel in Foxborough offers the opportunity of choosing guest rooms with or without included lounge areas. Depending on the number of people staying in the accommodations, you can make your desired choice.
The basic guest rooms contain either one big bed or two smaller beds. If you are traveling with your partner, the most convenient room for you should have one big bed. The room with two beds is more suitable if you decide to travel with your friend or family member.
Visiting the Hilton Garden Inn Hotel can also offer you a big guest room with a view of the Gillette Stadium. These types of accommodation options mainly include one king bed. They also have a lounge area which isn't separated from the sleeping area.
Dining
The option of having breakfast at the hotel restaurant is provided by Hilton Garden Inn. There is a restaurant within the hotel called Garden Grill. This restaurant is mostly open for breakfast. During busy game days at the stadium, it also offers lunch and dinner.
Traveling to Foxborough for an event at the Gillette Stadium with your children can be challenging. However, there's an included breakfast option in this hotel. This way, the task of quickly finding a place to eat for your hungry kiddos will be avoided.
Within the hotel's restaurant, there is also a bar. This bar is a perfect place with modern design where you can enjoy the company of your friends and loved ones while having casual drinks.
Amenities
Free parking
Gym
Pet-friendly
Non-smoking area
Free Wi-Fi
Additional information
Accommodation
Known as one of the most lavish and fancy hotels near Gillette Stadium, the Renaissance Boston Patriot Place Hotel is perfect for special events. However, that doesn't mean that you shouldn't spend a couple of nights in this hotel when visiting Foxborough on non-event days.
The accommodation options at this hotel may vary depending on the number of guests. Another important factor when it comes to booking a room is how busy this area of the city is. These things have to be taken into consideration before choosing to stay at their hotel rooms.
Some of the available accommodations at the Renaissance Boston Patriot Place Hotel include one bed or two beds. Every room has a large work desk, a TV, and a small lounge area. The bathrooms are luxurious and modern, and they include towels and toiletries for all guests.
Dining
The most extravagant dining experience in Foxborough, Massachusetts, can be experienced right at this hotel. The staff and cooks working at this hotel are known for their exceptional culinary skills and expertise. The hotel kitchen team takes care of all food prepared for special events.
Besides serving as a venue for weddings and meetings, this hotel also offers a more casual dining experience. The guests at this hotel can visit a restaurant called Twenty8 Food & Spirits. Here, you will be able to try some of the classic meals that Foxborough has to offer.
The breakfast menu at the Twenty8 Food & Spirits restaurant includes basic items such as muffins, toasts, and oats. The dinner menu includes more sophisticated meals, such as a charred octopus and seared salmon. This restaurant isn't open during lunchtime at the hotel.
Amenities
High-speed internet
Large terrace
24/7 gym
Indoor pool
Room service
Additional information
Accommodation
America's Best Value Inn is among the best hotels near Gillette Stadium providing several amenities to its guests. This hotel offers the option of choosing between smoking or non-smoking rooms, depending on whether you're a smoker or not.
There are smoking rooms with either one king bed or two double beds. The rooms in which smoking is not allowed also come with one or two beds. The hotel also offers one deluxe room with two double beds, which is non-smoking.
Every accommodation option at America's Best Value Inn has cable TVs. In addition, all guests are provided with laundry service and comfortable bedding. This hotel isn't pet-friendly.
Dining
Within the hotel, there is a dining room in which every guest can enjoy a free breakfast. This area is designed in a rustic style, and the environment is welcoming. You can enjoy your meal in the morning together with a cup of coffee or tea, depending on your preference.
There is also a famous restaurant located at America's Best Value Inn. The restaurant is called Fusion Bar & Grill. At this place, you can enjoy eating donuts, pizza, and steaks together with your family or friends.
Amenities
Internet access
Air conditioning
Parking options
Non-smoking and smoking areas
Free breakfast
Additional information
| | |
| --- | --- |
| Location | Americas Best Value Inn Foxboro |
| Phone number | 508-543-4000 |
| Hotel rating | 2-star hotel |
| Customer rating | 3.8 (very good) |
| Distance from Gillette Stadium | 0.4 miles |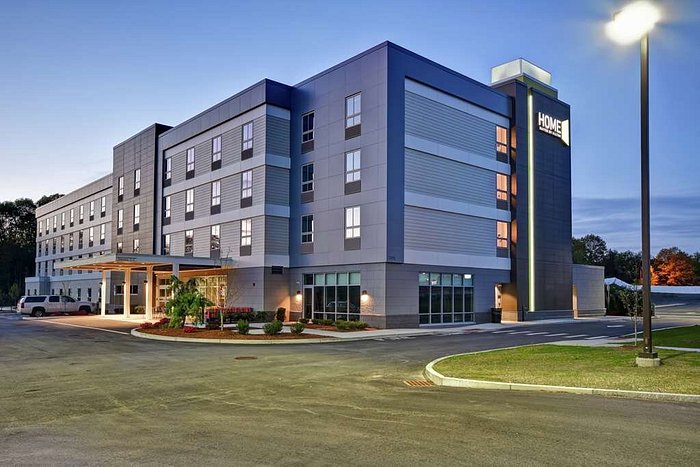 Accommodation
Home2 Suites by Hilton is one of the best hotels near Gillette Stadium. It is famous for its luxe suites and special features that will make your stay enjoyable. Not only that, the beds are comfortable for taking a good night's sleep after watching a football game at the stadium.
All of the suites available at this hotel are non-smoking. The suites with one king bed also include a lounge area that is separated by a curtain. There is also a larger suite with a dining table and a kitchen containing a spacious work desk.
The additional accommodation options include a studio with two queen beds, a large TV, and a big bathroom. There are also certain accessible rooms that are suitable for people with disabilities. This hotel focuses on keeping every guest as comfortable as possible.
Dining
You can enjoy a free breakfast in the dining room of this hotel the next time you visit Foxborough, Massachusetts. The kitchen is well-equipped, and the menu offers many items to choose from. They also serve free coffee and milk.
There is also a supermarket located at the Home2 Suites by Hilton Hotel. Here, you can purchase every ingredient and pre-packaged meals that you might need. Visiting this market will allow you to grab something to eat before taking off to the Gillette Stadium.
Since there is no lunch or dinner service in the dining room of the hotel, you can visit some of the nearby restaurants. Try the most delicious Foxborough donuts at Dunkin'. You can also bring some delicious and quick lunch from D' Angelo Grilled Sandwiches to the Gillette Stadium.
Amenities
Free breakfast
Free Wi-Fi
Pet-friendly
Fitness center
Free parking
Additional information
Accommodation
Smoking and non-smoking rooms are available at the Econo Lodge. Make your reservation according to your needs to ensure that you have the best experience in Foxborough. This hotel is proven to provide hospitable guest treatment.
The best part about reserving a room at the Econo Lodge is that you will get a great deal for staying in a comfortable environment. Choose a double-bed room to ensure the comfort of your entire family, or go for the room with one king bed that is convenient for two guests.
The Econo Lodge provides special features for its guests. Some of these niceties include a working desk, a coffee machine, a fridge, air conditioning, and a TV. Some of the rooms also have microwaves and ironing boards.
Dining
This hotel, located very near to the Gillette Stadium, offers free breakfast for all its visitors. As soon as you enter the hotel, you will be able to see the beautiful dining area. Enjoy a hot and satisfying meal at Econo Lodge. The atmosphere will let you relax before attending a game.
At a close distance from the Econo Lodge, you can visit several different restaurants. Whether you choose a fast-food option or a more sophisticated restaurant, Foxborough has them all. You can have a nice dining experience at the Applebee's Grill & Bar.
You can also try unique barbecue, pizza, and steaks at Clyde's Roadhouse Grill & Bar, located very near Econo Lodge. Although there are no restaurants open for lunch and dinner at the hotel, you can visit many interesting places only minutes away from Econo Lodge.
Amenities
Free phone calls
Smoking allowed
Free coffee
Outdoor parking
No pets allowed
Additional information
| | |
| --- | --- |
| Location | Econo Lodge |
| Phone number | +1 781-784-5800 |
| Hotel rating | 2-star hotel |
| Customer rating | 3.2 (good) |
| Distance from Gillette Stadium | 2.9 miles |