Yankee Stadium, home to the famous New York Yankees, offers a variety of seating options for fans looking to catch a game. Some seats provide incredible views and amenities, while others may leave spectators wishing they had chosen a different section. This article will explore the best and worst seats at Yankee Stadium, helping fans make informed decisions for their next visit.
The best seats at Yankee Stadium are often in the Legends Suite, which provides a fantastic view, top-notch accommodations, and unparalleled comfort. Located just behind home plate, these seats come with perks not available elsewhere in the stadium. On the other hand, some of the more affordable options, such as the bleacher sections 202-204 and 235-238, offer decent views at a lower cost.
However, not all seats in the stadium guarantee a great experience. Issues have been reported with obstructed views due to foul poles in Sections 107 and 132, and some fans have voiced complaints about being blocked by handicapped seating. Additionally, the bleachers may not always provide the most comfortable or enjoyable experience, particularly during hot summer months.
Best Seats at Yankee Stadium
Legends Suite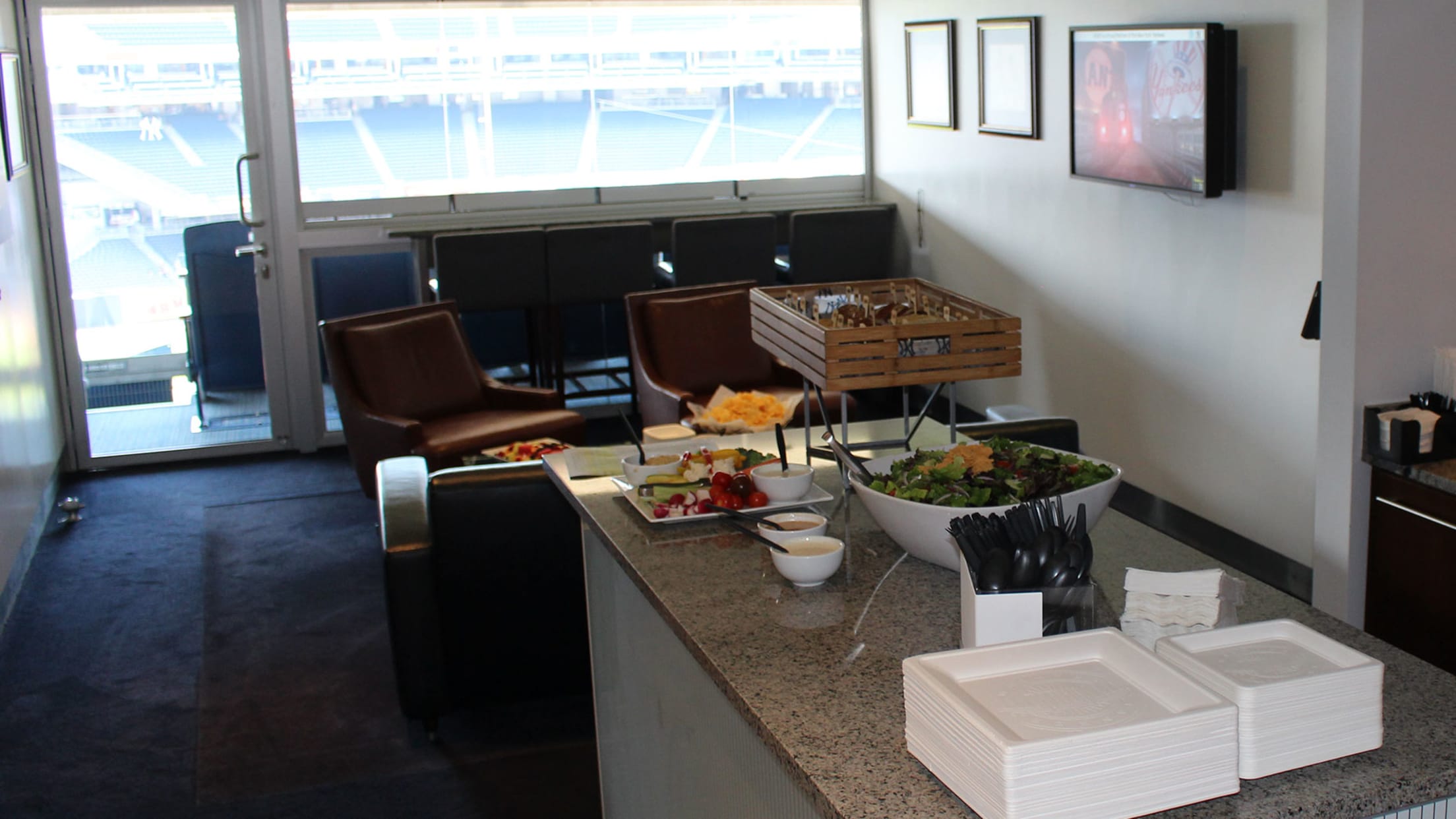 The Legends Suite offers an unparalleled experience for baseball fans, with seats located close to the field and top-notch amenities. These seats, found in sections 11-29, provide excellent sightlines and the best proximity to the players. Legends Suite ticket holders can also enjoy fine dining and premium in-seat service throughout the game.
Delta Sky360 Suite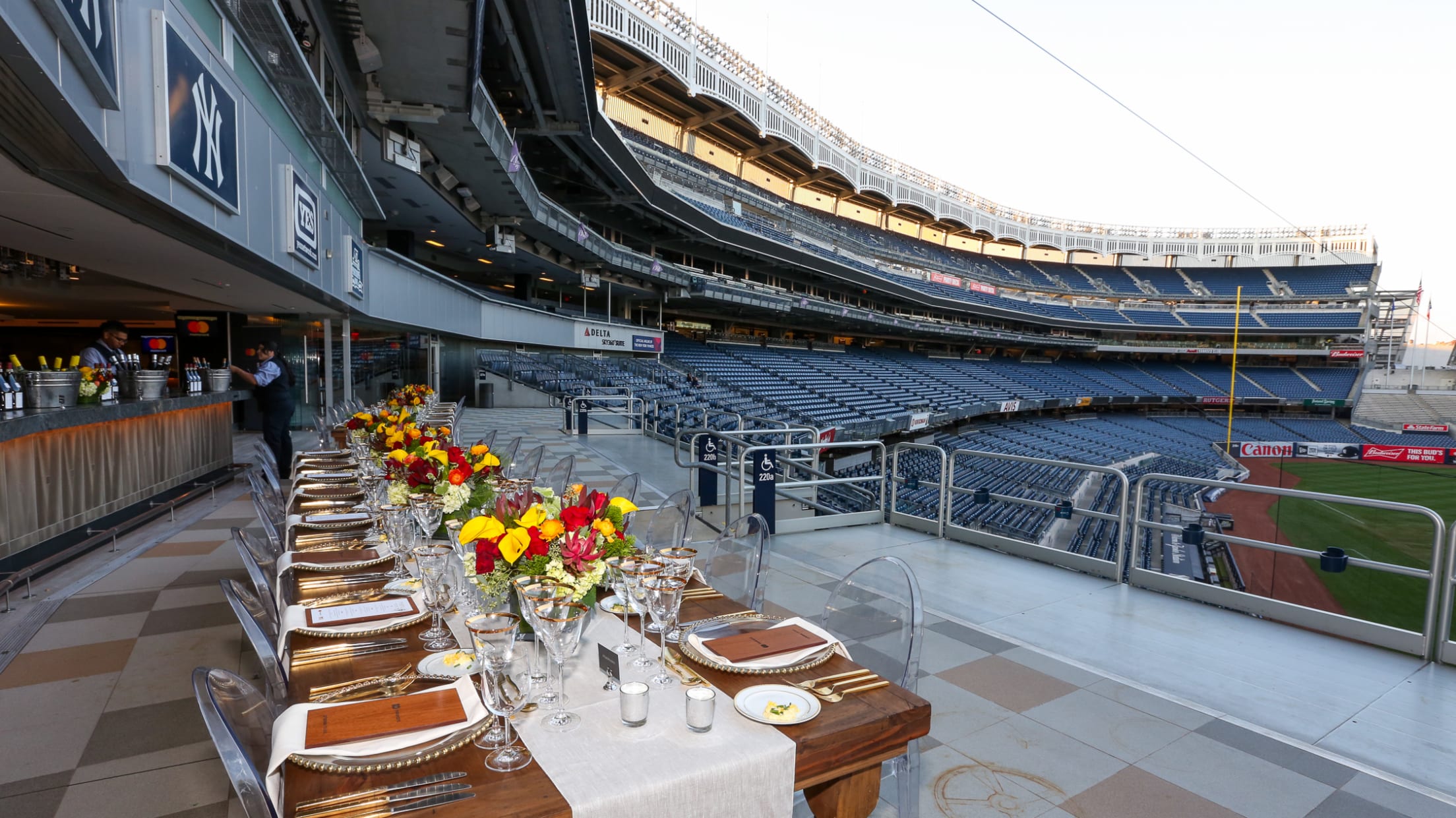 Delta Sky360 Suite seats at Yankee Stadium provide guests with club access and one of the best views in the stadium. Situated behind home plate in Sections 214 and 226, these seats offer a premium experience, including club access and unlimited popcorn, as found in the search results. They are priced higher than other sections but offer a truly memorable experience.
Field Level Infield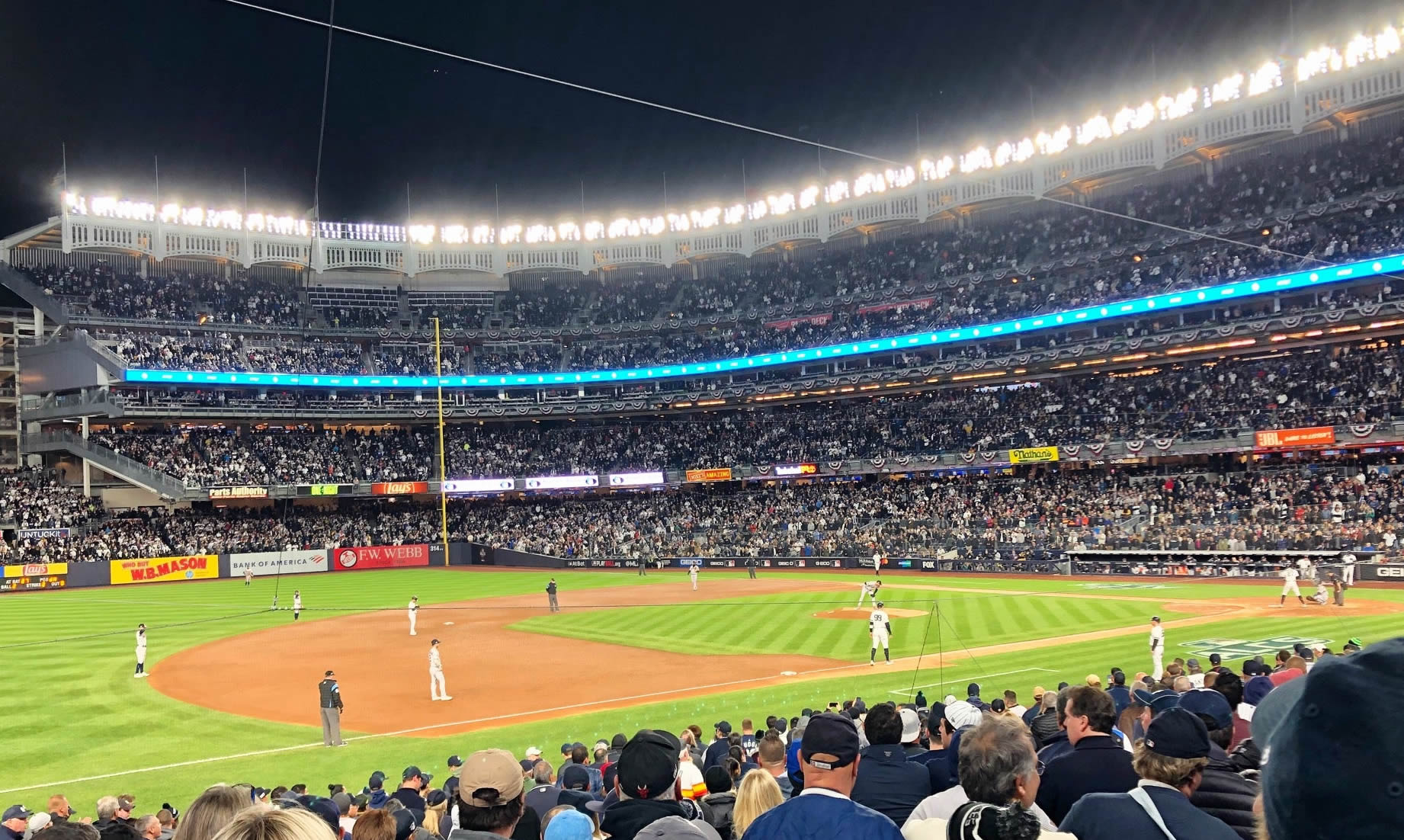 Field Level Infield seats offer fantastic views of the action and are located in sections 115-125. Labelled as Field MVP seats on the Yankees seating chart, these oversized, padded seats start about ten rows from the field, offering a premium and comfortable experience for the fans.
Jim Beam Suite

The Jim Beam Suite is another popular seating area, found in sections 317-323. These seats are popular for their exclusive access to the Jim Beam Suite Lounge, as well as a private entrance, and in-seat wait service. Additionally, their elevated location provides excellent views of the entire stadium.
Sapphire Suite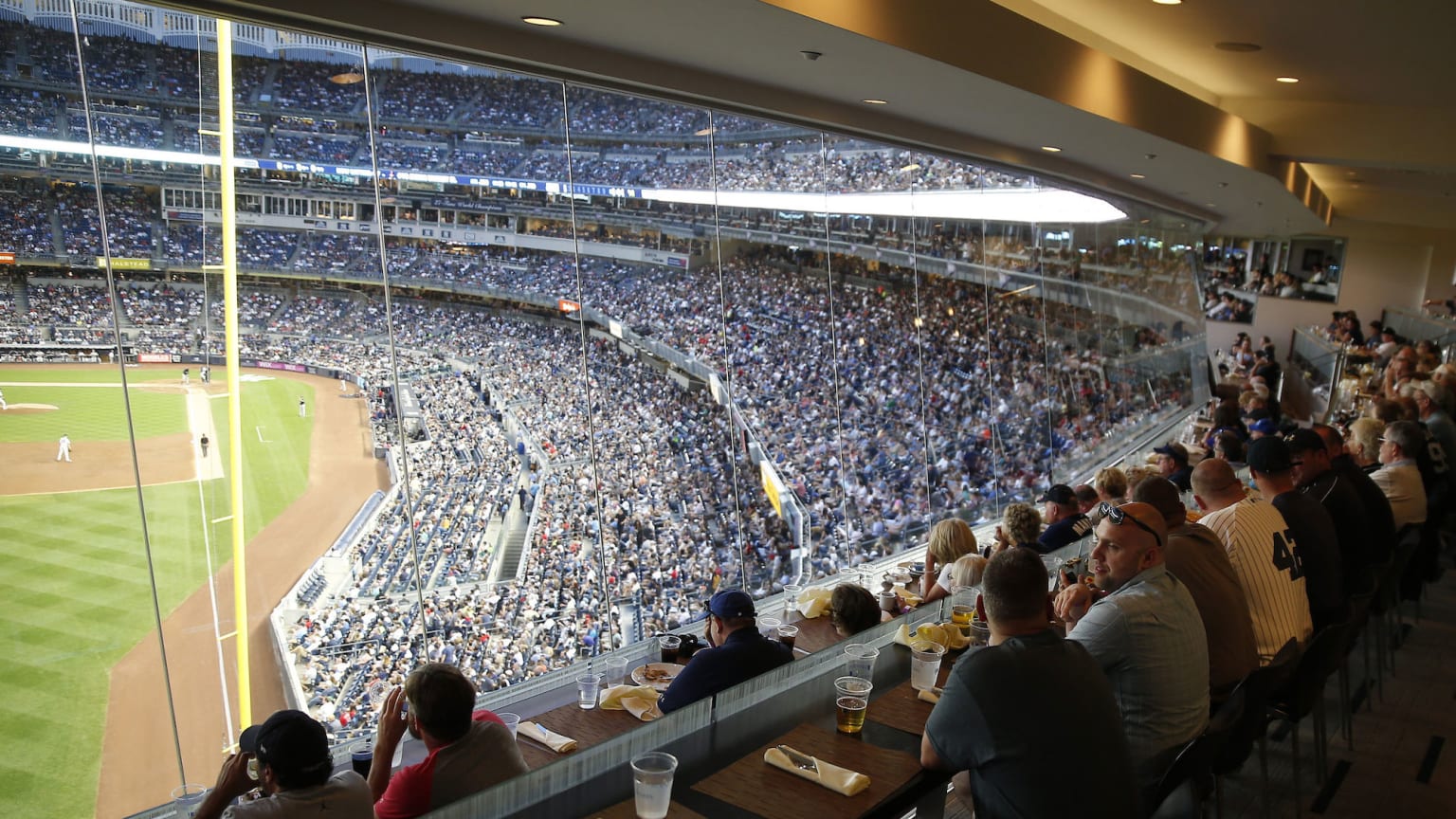 The Sapphire Suite seating area is located on the main level in sections 205-217 and 223-234. These sections hang directly over Field Level seats, offering some of the best views at Yankee Stadium. For Yankees games, these seats are much closer to the field than expected and provide a great vantage point to catch all the action.
In summary, the best seats at Yankee Stadium are found in areas such as the Legends Suite, Delta Sky360 Suite, Field Level Infield, Jim Beam Suite, and Sapphire Suite. Each of these seating areas offers unique amenities, exclusivity, and excellent views of the game, ensuring a memorable experience for baseball fans.
Worst Seats at Yankee Stadium
Upper Deck Outfield
The Upper Deck Outfield seats at Yankee Stadium are located in a high and distant spot, making it challenging to see the action on the field. Additionally, fans might need to lean forward or lean to one side to avoid any obstructions from the fans in the row in front.
Grandstand Outfield
The Grandstand Outfield sections are not ideal due to their elevated location and being far from the infield. While these seats generally have a lower price point, fans in these sections may struggle to follow the game clearly. Furthermore, there might be obstructions from posts or railings in some of the sections.
Bleacher Seats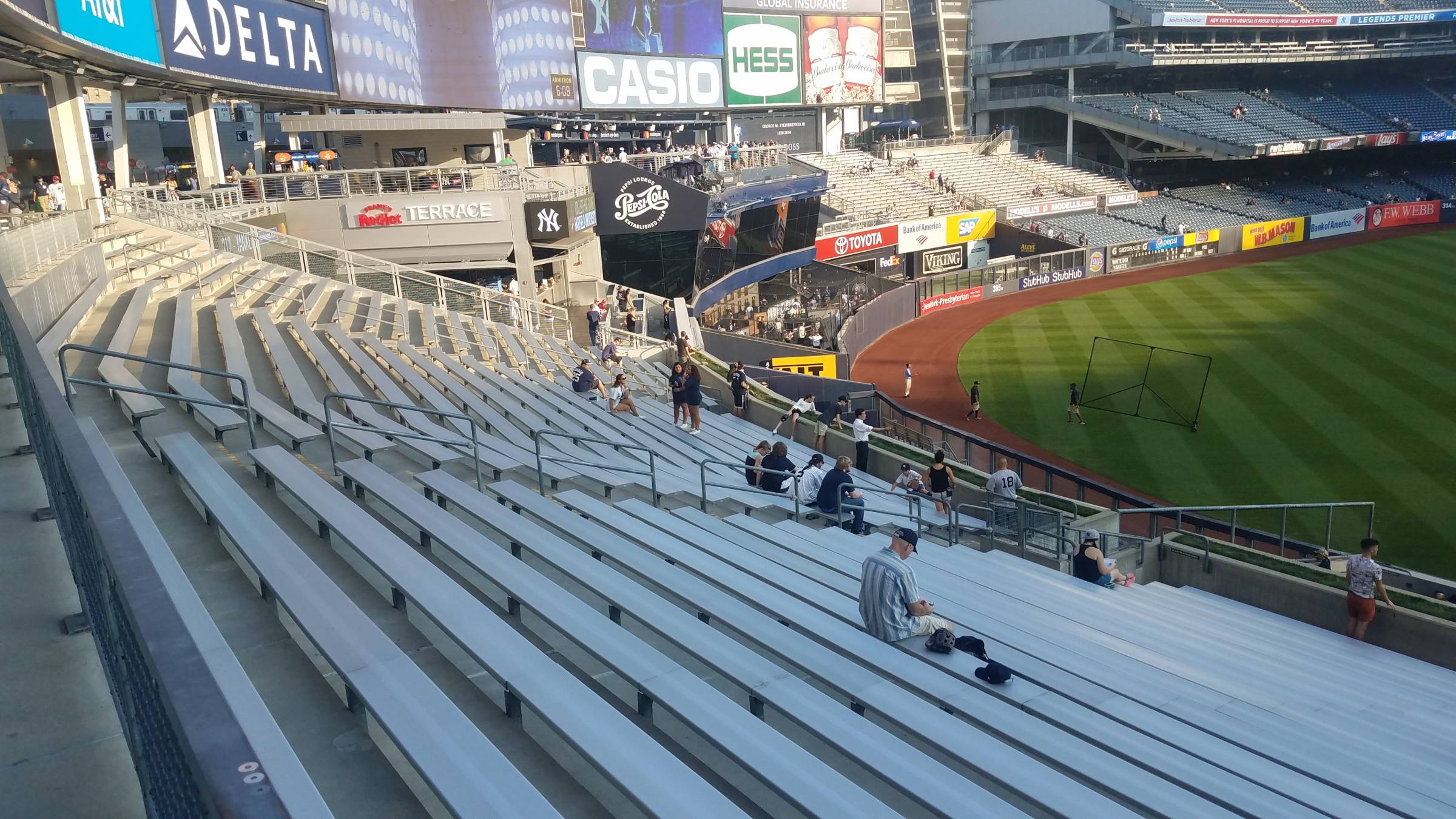 The Bleacher seats in Yankee Stadium, particularly sections 201 and 239, are considered some of the least desirable options. These seats offer a limited view of the field and can be uncomfortable during hot days or long games. Moreover, the distance from the action, combined with the lack of back support, can make sitting in these sections less enjoyable for fans.
When choosing seats at Yankee Stadium, fans may want to avoid these sections to ensure a better game day experience.
Factors Affecting Seat Quality
Price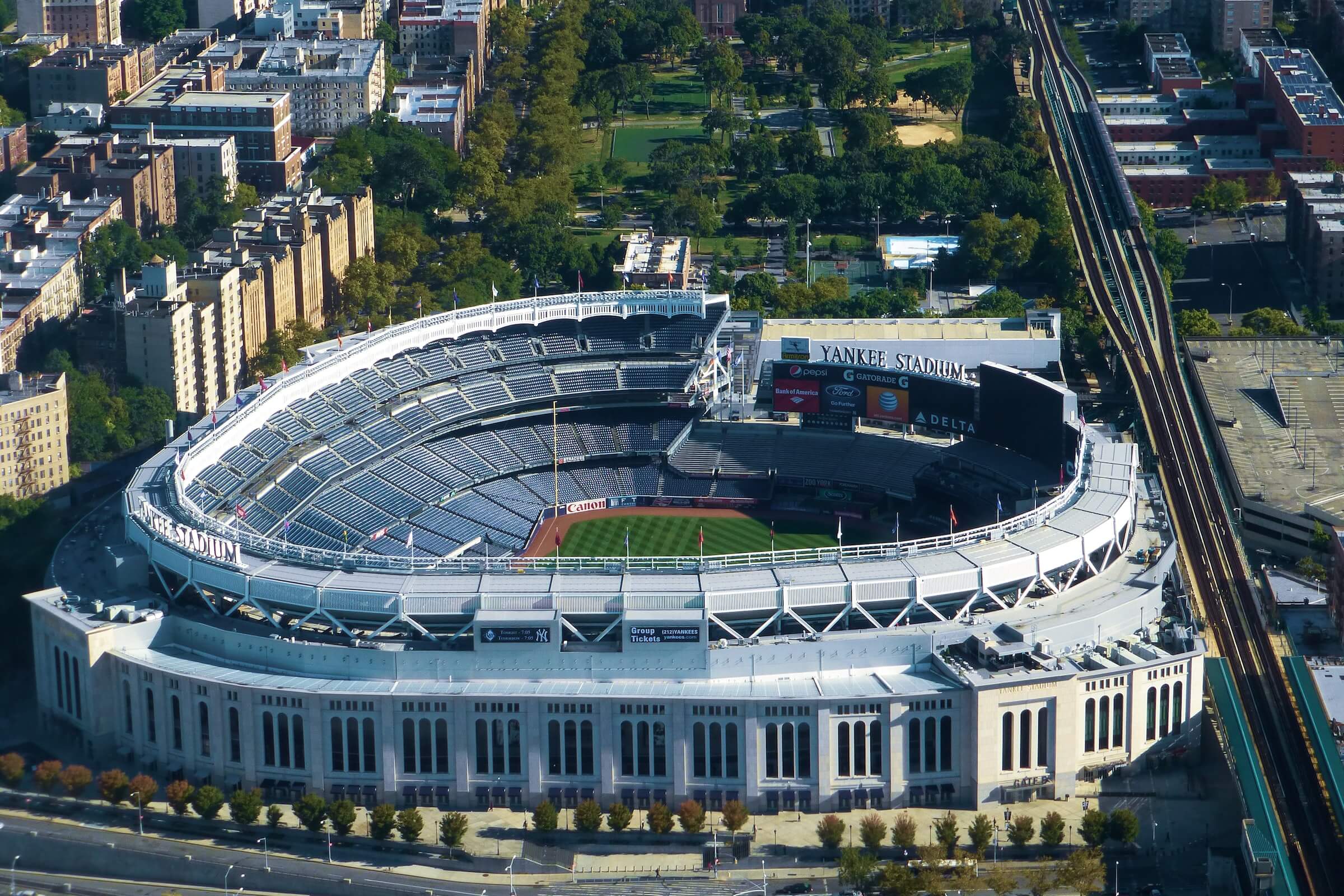 Buying tickets for a game at Yankee Stadium can vary depending on the desired seating area. Some of the best value seats are in the Bleacher sections 202-204 and 235-238, with face values starting at $14. The views from these sections are not bad, and they provide an affordable option for fans. On the other hand, even cheaper seats can be found in sections 201 and 239, with prices starting at $5.
Accessibility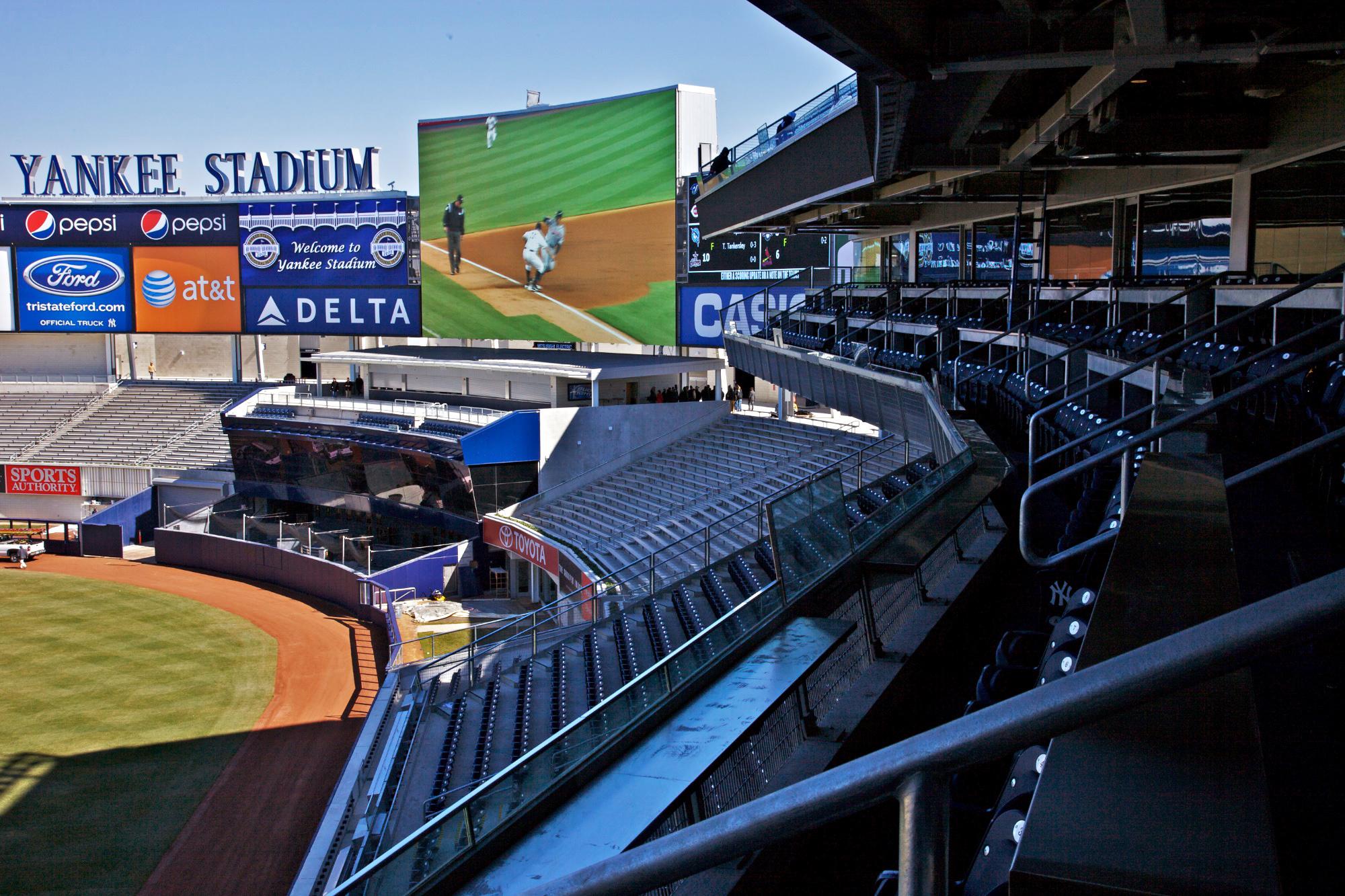 Accessibility is an important factor to consider when selecting seats at Yankee Stadium. Field Level Outfield seats may sometimes be obstructed by foul poles in Sections 107 and 132. Also, some seats may be obstructed by handicapped seating. It is essential to check the specific seating areas before purchasing tickets to avoid any obstructions that may affect the overall experience.
View of the Action
The view of the action is a significant factor when determining the quality of seats at Yankee Stadium. However, not all areas have clear views of the entire field. For example, seats in Section 333 may find it difficult to see the left field corner. In addition, those seated in the bleachers and the upper level seats in the right field may face the sun during night games, which can affect visibility. As a result, it is vital to weigh the pros and cons of different sections when selecting the best seats.
Tips for Choosing the Right Seat at Yankee Stadium
Consider Your Preferences
When selecting a seat at Yankee Stadium, it's essential to consider your personal preferences. Some may prefer sitting close to the action, while others may opt for a birds-eye view. Remember that the sun sets on the third-base side, causing bleachers and upper-level seats in right field to be the last to receive shade for night games. If you want to avoid direct sunlight, consider seats along the first-base line or in left field.
Review Stadium Maps
Before purchasing tickets, review Yankee Stadium seating maps available on ticket websites and the official Yankees website. Familiarizing yourself with the sections and layout will help you better understand the stadium's tiers, including lower-level, mid-level, and upper-level seating. For instance, high row numbers in sections 1xx and 4xx offer natural shade from upper decks or canopies.
Check Availability and Prices
Ticket availability and pricing can vary greatly depending on factors such as team performance, game time, and opponent. Be sure to compare prices across multiple ticket platforms to find the best deal for your budget. Keep in mind that some seats, particularly in sections 205, 206, and 207, are more frequently hit by home run balls but may also have intense sunlight during day games. Once you've determined your ideal seating area, shop around for tickets to ensure you get the best value.
By considering your preferences, reviewing stadium maps, and comparing ticket prices, finding the perfect seat at Yankee Stadium can be a breeze. Happy ticket hunting!