Nationwide Arena, home of the Columbus Blue Jackets and host to various concerts and events, offers a range of seating options to cater to the preferences of its patrons. When attending an event at this venue, knowing the best and worst seats can significantly enhance your overall experience. Furthermore, understanding the seating layout and seat numbering system can clarify expectations and assist you in making the right choice for your preferences and budget.
End-stage setups are the most common layout for concerts at Nationwide Arena, with the stage typically located near sections 101, 117, and 118. However, variations in the layout can be expected depending on the event, including general admission seats, fan pits, and B-stages. For floor seats, the numbering can vary, but usually, there are 12-15 seats per section with seat 1 being on your right as you face the stage. Consequently, the best seats in floor sections 1, 4, and 7 have higher-numbered seats, while those in sections 3, 6, and 8 are closer to seat 1.
Aside from floor seating, club level seats are also recommended, as they offer greater comfort and shorter lines for bars and snack stands. It's worth noting that each section might have its own unique vantage points, so taking the time to review seat views and reviews from previous attendees can be a valuable resource. Regardless of your preference, Nationwide Arena promises to deliver a memorable and enjoyable experience for all who attend its events.
Best Seats at Nationwide Arena
Lower Bowl Center
The Lower Bowl Center sections at Nationwide Arena offer some of the best seats for concerts and events. These sections, which include Section 101, Section 117, and Section 118, provide an excellent view of the stage and allow you to fully immerse yourself in the performance. The seating is comfortable and spacious, which is perfect for enjoying the show.
Club Level Center
Club Level Center seats at Nationwide Arena are another fantastic option for concert-goers. These seats offer a more luxurious experience, as they come with additional amenities such as access to exclusive lounges and shorter lines for food and beverages. The view from Club Level is also great, as you get an elevated perspective of the stage but still remain close enough to see the performers in detail.
Upper Bowl Center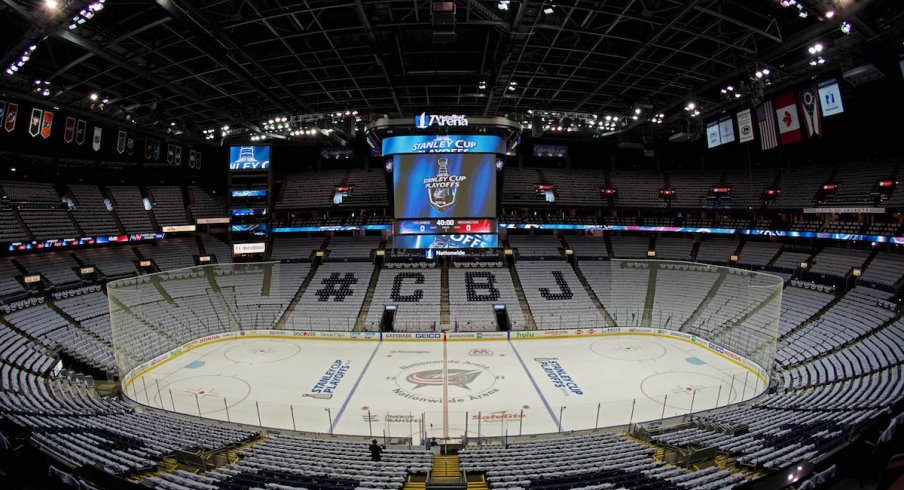 While not as close to the action as the Lower Bowl or Club Level, the Upper Bowl Center sections still offer a good view of the stage. These seats are typically more affordable than the other sections and can be a great option for those on a budget or for attendees who don't mind being a bit further from the stage. The Upper Bowl seating still provides a clear line of sight to the stage, ensuring that you won't miss any of the exciting moments during the concert or event.
Worst Seats at Nationwide Arena
Upper Bowl Ends
The seating section in the upper bowl ends can be seen as not the most perfect spot for viewing certain events at Nationwide Arena. Due to the farther distance and angle from the main stage or playing area, it might be challenging to follow the action and details clearly. Fans may have to rely on video screens for a more enjoyable experience, but they can still enjoy the atmosphere of the event.
Obstructed View Seats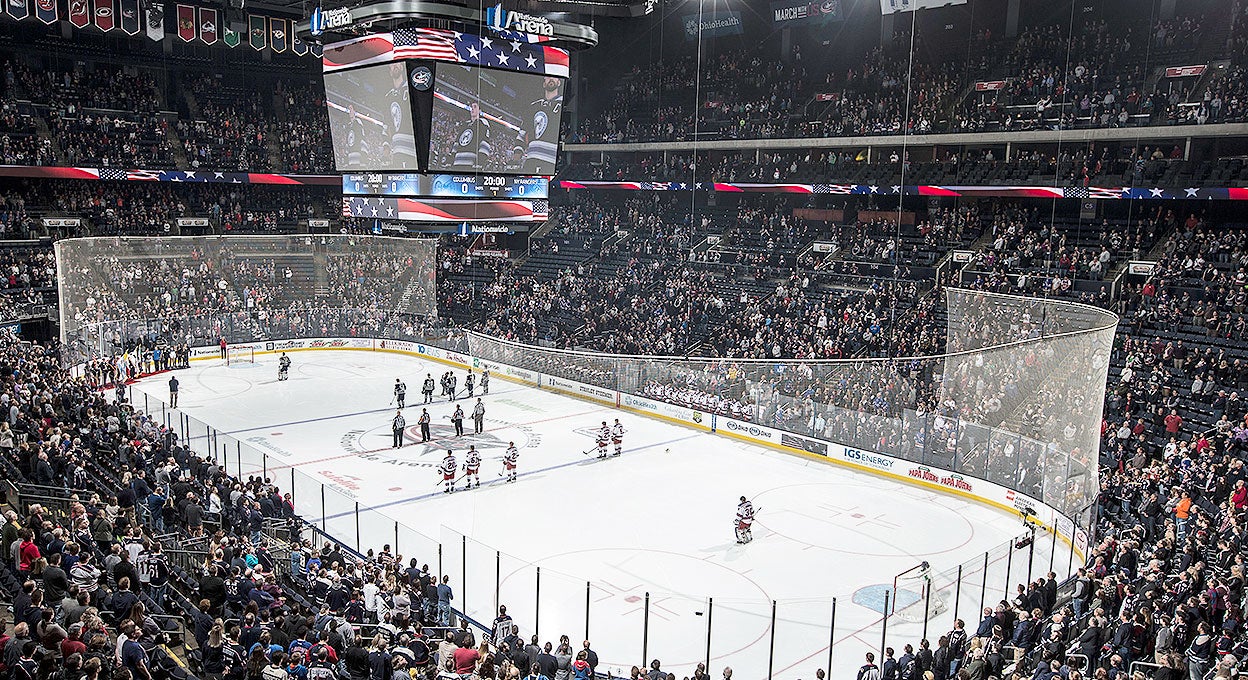 Another suboptimal seating area at Nationwide Arena is the obstructed view seats, which typically occur in the lower level numbered rows behind the baskets. Since these seats are temporary and added specifically for certain sporting events, they don't rise much from the court, causing difficulties to get an unobstructed view of the action. Additionally, some seats may have visual barriers like rails, columns, or equipment, which can hinder the overall experience.
Despite these drawbacks, fans can still find other sections at Nationwide Arena with better views and no obstruction, ensuring a great time during the events.
Factors to Consider When Choosing Seats
When choosing seats at Nationwide Arena, there are several factors to keep in mind. By considering your budget, the view of the game, and available amenities, you'll be able to find the perfect spot to enjoy your event at the arena. In this section, we will explore these factors and provide helpful tips to ensure a great experience for event attendees.
Budget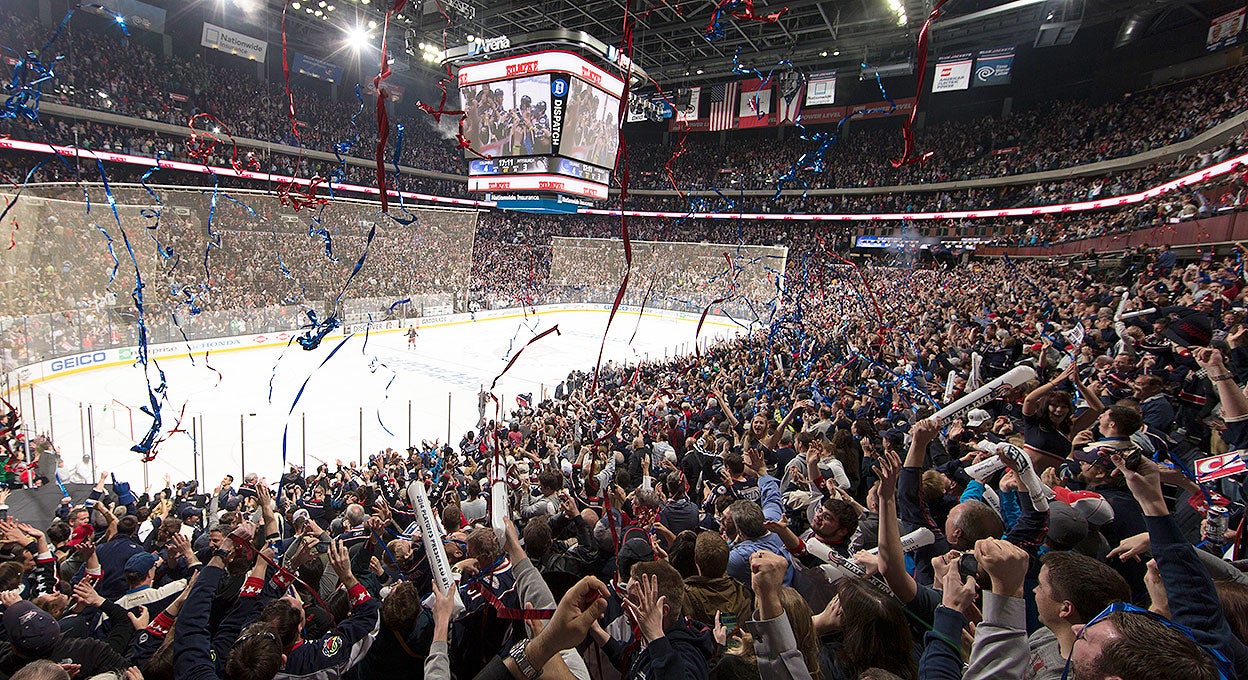 When planning for an event at Nationwide Arena, it's essential to have a clear understanding of your budget for seats. Ticket prices can vary widely, with premium club level seats typically costing more than upper-level seats. Keep in mind that the closer the seat is to the stage or the center of the rink, the higher the ticket price is likely to be. Be prepared to shop around, compare prices, and consider choosing seats further from the action if the best view is outside your budget.
View of the Game
Choose a seat that offers a clear view of the game or event to maximize your enjoyment. Nationwide Arena is designed to provide a good vantage point from most seats, but some areas may offer a better view than others. For example:
Club level seats (sections 215-217) tend to have a good view, along with more comfortable seating and shorter lines at concession stands.
Seats in the upper part of section 117, closer to 116, are a favorite among fans for their view and proximity to the organist.
Floor seats vary depending on the event. In general, higher-number seats in floor sections 1, 4, and 7, and seats closer to seat 1 in floor sections 3, 6, and 8, offer better views for concerts.
Amenities
Lastly, consider the amenities available in different areas of Nationwide Arena:
Club level seats usually provide more comfortable seating options and shorter lines at concession stands.
Seating closer to the organist (upper part of section 117) can provide an immersive and lively atmosphere during games.
Each section may have different amenities in terms of concessions, restrooms, and accessibility, so research and plan accordingly.
In conclusion, when choosing seats at Nationwide Arena, it's essential to find a balance between your budget, the view of the game or event, and available amenities. By considering these factors, you'll be able to make the most of your experience at the arena.
Tips for Attending an Event at Nationwide Arena
Arrive Early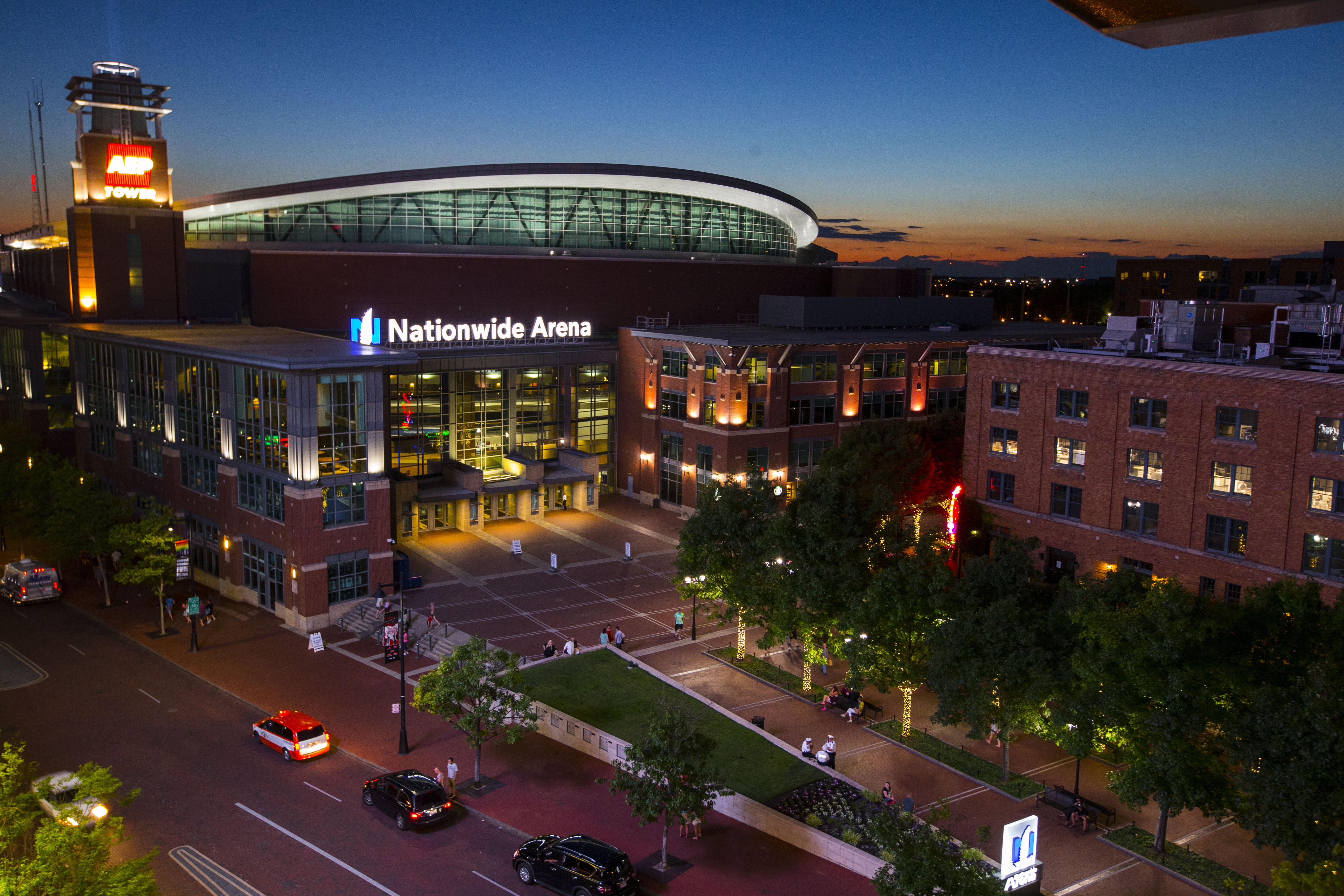 It's always a good idea to arrive early when attending an event at Nationwide Arena. This allows you ample time to navigate through security, find your seat, and settle in before the event begins. It also provides an opportunity to explore the various amenities within the arena, including merchandise stands and food options. Plus, arriving early can help you avoid long lines and potential delays.
Parking Options
Finding parking near Nationwide Arena can be a bit of a challenge, but there are several options available. Some nearby parking garages and lots include:
South Garage (located on the south side of Nationwide Arena)
Marconi Garage (located on Marconi Boulevard)
McConnell Garage (located on McConnell Boulevard)
It's essential to note that availability and pricing may vary depending on the event you're attending. Additionally, consider using a rideshare service or public transportation, like COTA buses, to avoid the hassle of parking altogether.
Food Options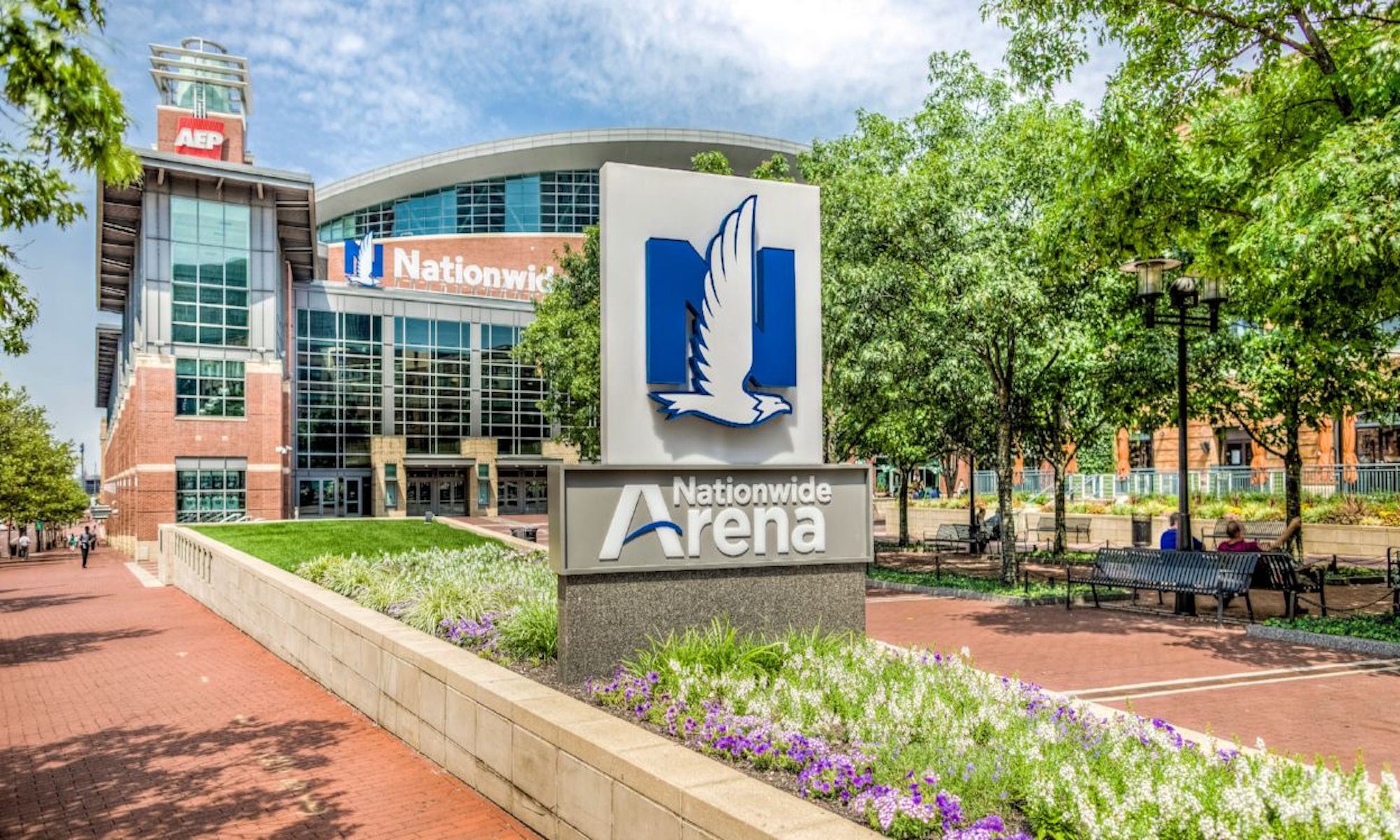 Nationwide Arena offers a variety of food and beverage options for guests to enjoy throughout the event. Some popular options include:
Tim Hortons (Section 106): Enjoy coffee, pastries, and sandwiches from this well-known Canadian chain.
Roosters (Sections 206 and 221): Satisfy your craving for wings, sandwiches, and salads at this local favorite.
Papa John's (Section 110): Grab a slice of pizza from this popular chain.
Smokehouse BBQ (Section 118): Indulge in delicious barbecue options, including pulled pork, brisket, and nachos.
In addition to these permanent locations, some special events may feature food trucks or additional dining options. Be sure to explore the arena to find the perfect meal to complement your experience.