If you are visiting Cleveland and FirstEnergy Stadium, the Cleveland Browns home, there are a few tips you should know. Although the stadium is used mainly for American football, it is also a concert venue.
FirstEnergy Stadium is located between Lake Erie and the North Coast Harbor in downtown Cleveland. Since there are great hotels to stay near the stadium, we have made a list to help you and save you time.
Continue reading this article to find the best hotels near FirstEnergy Stadium, and book your favorite one!
Best Hotels Near FirstEnergy Stadium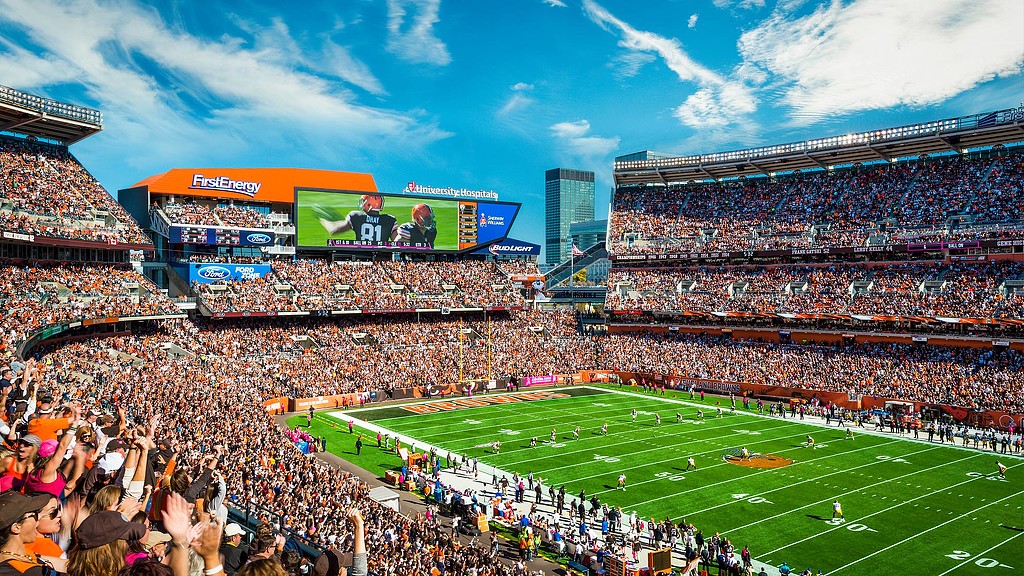 FirstEnergy Stadium is a multifunctional setting located on Lake Erie's shores. Booking a hotel near the stadium is convenient but also a good choice since you have other things to visit besides FirstEnergy Stadium.
We have listed the best six hotels based on location, amenities, and guest ratings.
The Ritz Carlton
Hilton Cleveland Downtown
Cleveland Marriott Downtown at Key Tower
The Westin Cleveland Downtown
Hyatt Regency Cleveland
DoubleTree by Hilton Hotel Downtown – Lakeside
Remember that all of these hotels are within 25 minutes of walking distance, but you can get to them by car as well. If you decide to go by car, several parking options are nearby. Check them online to find rates and availability.
Overview
The high guest rating on TripAdvisor proves that The Ritz Carlton should be among the best hotels near FirstEnergy Stadium.
This is a luxurious, stylish hotel from which you can admire the beauty of the lake and visit the adjacent landmarks of Cleveland, such as the Rock and Roll Hall of Fame, the Great Lakes Science Center, the Arcade, etc.
If you're traveling with your pet, this is your ideal option. Besides being pet-friendly, The Ritz Carlton features a fitness center, lounge club, and an American cuisine bar and kitchen.
Room types and amenities
The hotel has 206 refurbished rooms and suites. Ritz Carlton welcomes its guests with a touch of gray, blue, and metal and beautiful views of the Cleveland Skyline. You have the option of connecting rooms, different types of suites, and many amenities for every guestroom.
The rooms have a marble bathroom, cribs, rollaway beds available upon request, internet access, entertainment, minifridge, and more. This is a non-smoking hotel, and fees apply in case you smoke in the room.
Dining and drinks
You can enjoy modern American dishes in TURN Bar + Kitchen, an all-day dining restaurant. This bar is inspired by the steel-working history of Cleveland.
At the bar, you can taste a smoked cocktail. It's worth mentioning that meats are purchased through local butchers and farmers.
Additional information
The next choice on our list is Hilton Cleveland Downtown. It is located in the heart of Downtown Cleveland, only a mile from Playhouse Square, and within 7 minutes of walking distance from the FirstEnergy Stadium.
The hotel provides guests with a relaxed and comfortable stay since it has a fitness center, an indoor pool, and a top-floor bar overlooking Lake Erie. Hilton Hotel is connected to Huntington Convention Center.
Room types and amenities
Hilton Cleveland offers connecting, non-smoking, and pet-friendly rooms overlooking the city or the lake. Moreover, it has various king-bed size suites, some with stunning lakefront views.
Every room features a 50-inch TV, coffee maker, iron with ironing board, work desk, super topper mattress pad, 250-thread-count sheets, duvet cover, and murals of Lake Erie. Plus, you have valet parking or self-parking available.
Dining and drinks
You can visit Starbucks, which is open 24/7, to begin your day with coffee. Then, you can visit Burnham Restaurant for a buffet breakfast or lunch.
If you are after drinks, you can visit Eliot's Bar, open for drinks and dining, or Bar 32 for a panoramic view of Lake Erie. Enhance your experience with a charcuterie board and wine, enjoying the view from the 32nd floor.
Additional information
Cleveland Marriott is a 10-minute walking distance from FirstEnergy Stadium, located in the vibrant downtown. You'll stay close to Lake Erie, Great Lakes Science Center, Rocket Mortgage Field House, and the Rock and Roll Hall of Fame.
If you decide to stay here, a pleasant stay is inevitable. You can relax at the spa and fitness center that offers private trainers or group classes or dine and drink in the hotel's bars and restaurants. Additionally, the hotel features valet parking.
Room types and amenities
You can book a room or a suite with a city or lake view. All rooms are contemporarily designed with flat-screen TVs, satellite and cable channels, Wi-Fi, room service, and elegant bedding.
Moreover, the rooms and suites have everything you need: air conditioning, a writing desk, a minifridge, an iron, a coffee maker, a hair dryer, and more. Some room types offer accessible mobility rooms or connecting rooms.
Dining and drinks
This hotel has several restaurants and coffee bars. You can taste Italian dishes in the Venetian, Asian cuisine in Marble Room Sushi, or American specialties in the Great Room and Public Square Pantry.
Also, you can have breakfast at M Club or buy a snack 24/7.
Additional information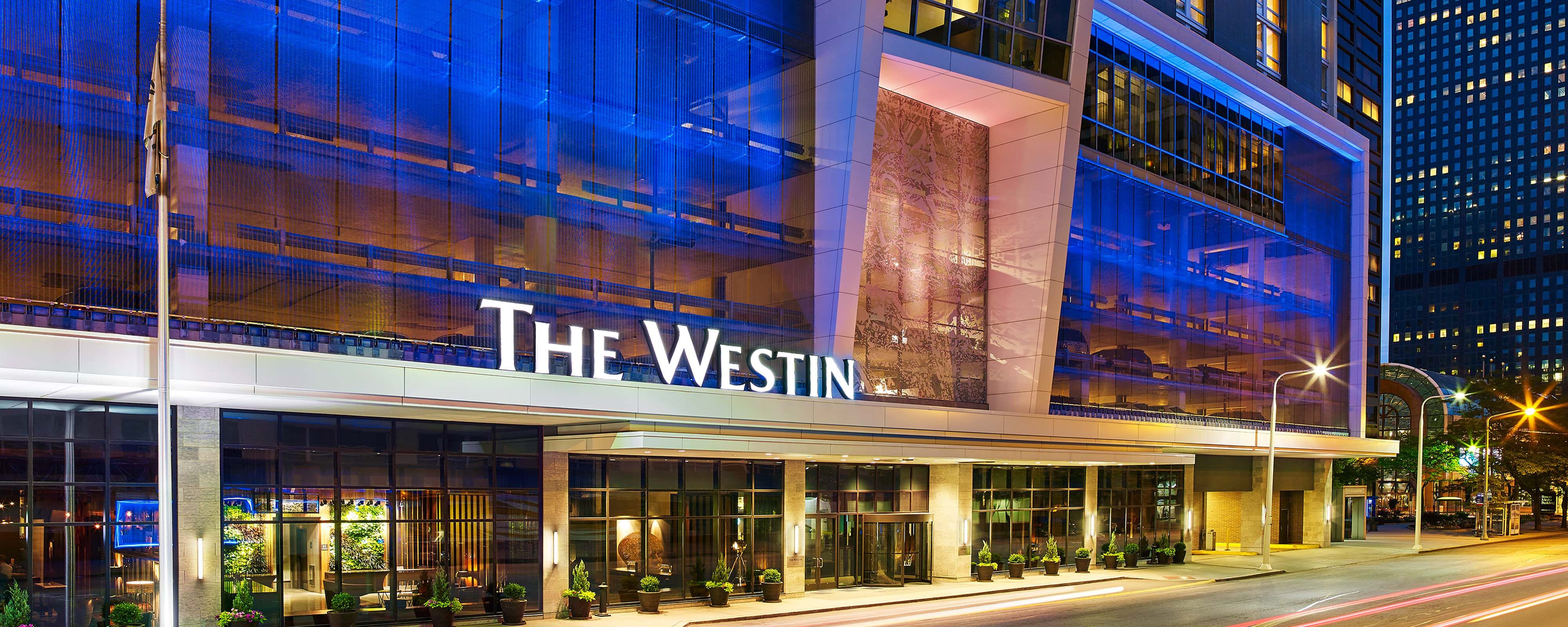 Located just a 15-minute walking distance from the stadium, The Westin rightfully makes it to the list of best hotels near FirstEnergy Stadium. No wonder this is often a sports lover's choice.
It is just blocks away from the Cleveland Convention Center, Rock and Roll Hall of fame, and Great Lakes Science Center.
You can work out in the Fitness Studio or relax in the hotel overlooking Lake Erie. The Westin Workout Fitness Studio features Peloton bikes, and it is open 24/7.
Room types and amenities
All the rooms and suites feature the signature Westin Heavenly Bed and Westin Heavenly Bath, making you have a relaxing stay. Moreover, you can enjoy the lake views from your room.
The hotel has an artistic touch. The lobby is decorated with local artists' artworks. Regarding amenities, you can find everything you need in your room. From luxury bedding to entertainment (cable/satellite TV), Wi-Fi, minifridge, air conditioning, hair dryer, and coffee maker.
Dining and drinks
You can dine at The Westin Cleveland Kitchen at the hotel and experience American dishes. All the ingredients are fresh, local, and organic.
Bear in mind that this is an eco-certified hotel. If you want to try a different cuisine, you can find more restaurants nearby.
Additional information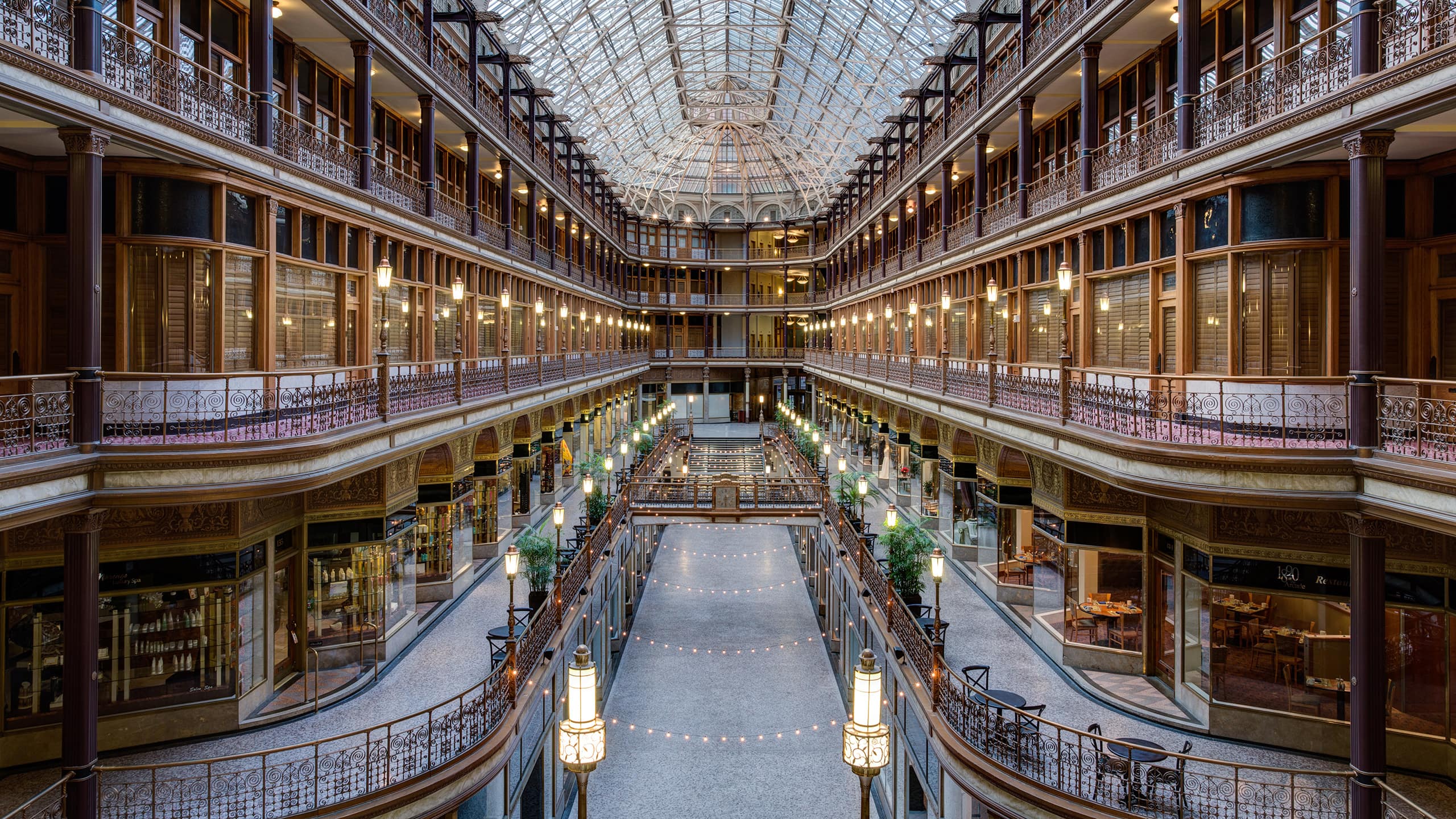 Hyatt Regency at the Arcade is situated in a century-old landmark building, and it is close to all the sports and entertainment venues, including FirstEnergy Stadium. No wonder it is among the best hotels near FirstEnergy Stadium.
You can have a fantastic experience since Hyatt Regency treats its guests with a spa, fitness center, and restaurant on-site.
Moreover, you have a self-service business center that is open 24 hours. You have where to go if you need Wi-Fi, a printer, and a desktop workstation to prepare for a presentation.
Room types and amenities
Hyatt Regency features 293 comfortable rooms, including 5 suites, and 30 junior suites, situated in a historic location. You can opt for Arcade or city view for a better experience. All the guest rooms and suites are refurbished with a sophisticated touch, modern design, and vaulted ceilings.
The hotel offers various amenities, including free internet access, digital check-in and key, laundry service, concierge, minifridge, and more. Additionally, the hotel is easily accessible, and it offers parking.
Dining and drinks
The 1890 Restaurant offers classic American cuisine dining with views of the Arcade. You can also enjoy a cup of coffee or snack in the 1890 Lobby 24/7. Plus, if you want to sip a cocktail, you can visit the 1890 Lounge.
Additional information
DoubleTree by Hilton is within a 10-minute walk to FirstEnergy Stadium. Therefore, if you are going to watch a game or attend a concert, this is another highly recommended place to stay.
You've undoubtedly gotten a sense of the neighborhood so far and are aware that Lake Erie is only a mile away. If you don't like to visit landmarks, use the hotel's fitness center or dine at the on-site restaurant.
Room types and amenities
Regarding the accommodation offered at DoubleTree by Hilton, you can choose between a guest room, a suite, non-smoking and connecting rooms. Additionally, there is mobility access or hearing access rooms.
When it comes to the amenities, as the other hotels on this list, you can have plush, hypo-allergenic bedding, a 55-inch flat-screen, internet access, a fridge, microwave, coffee maker, and more.
Dining and drinks
You can grab a coffee at Wired Bean, situated in the lobby, or enjoy a classic American breakfast or dinner at Stadium 3 Bar and Grille. Keep in mind that this restaurant is closed for lunch.
Additional information
Final Thoughts
Having the list of the six best hotels near FirstEnergy Stadium will make your decision to book one easier. When visiting Cleveland's stadium, staying near is great since you can leave the car and walk there. That way you will avoid the traffic and save time.
All these hotels have a spa or fitness center, great bars and restaurants on location, fantastic views of the lake, and luxurious and spacious rooms.
Keep in mind that Cleveland is a busy city, so we recommend you book in advance to enjoy your stay at the hotel that suits you best.